CTIA Wireless 2003
Intro Preview Day 1 Day 2 Day 3
lg booth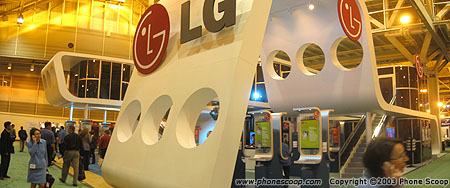 The really retro-cool LG booth. Comparisons with the Sony Ericsson booth were inevitable. Most people I talked to agreed that these two booths were the most impressive. The Siemens "castle" was also pretty interesting. There will be an aerial view of the Siemens booth in the Day 3 report.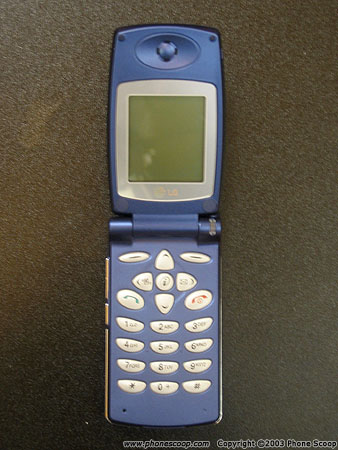 AD article continues below...
In the handset area, one of the biggest announcements was LG's introduction of its first GSM phones for North America. Here is an inside view of the LG 4010.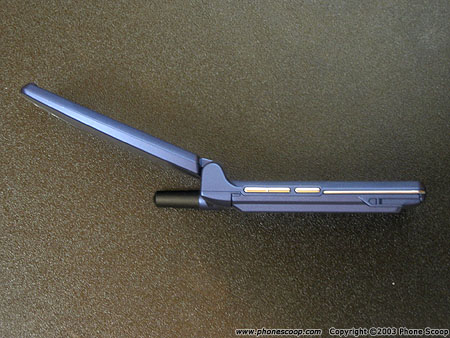 A side view of the 4010. The 4010 fairly small overall, but notable mostly for its incredible thickness - or rather its lack thereof.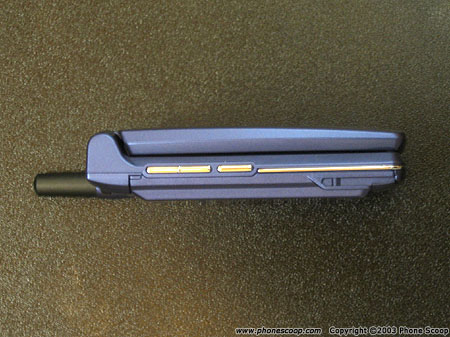 The 4010 fills the need for a small, affordable, folder-style GSM phone for North America. Almost all of the current low-end GSM phones are block-style models. The folder-style models are mostly mid- or high-priced models from Motorola and Samsung. So the 4010 fills an important hole in carriers' lineups, and the ultra-slim form factor is a nice bonus.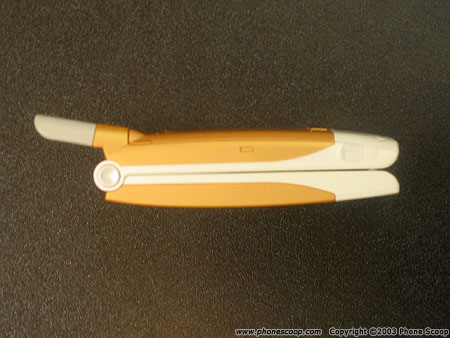 A side view of the new color-display 4050. More photos of this and the other new LG phones can be found in my CTIA LG Gallery. The dark colors shown in the gallery will be the final colors, not orange as shown here. The unique curved edges at the bottom of the phone make it easy to open. Both this phone and the new VX-6000 use the same OLED outer display; the main part of the display is monochrome blue. In addition, there are six multi-color dots at the top that can flash in various patterns. The display is extremely bright and easy to read.
Last year, LG was just starting to establish itself as a new brand for phones in the U.S. This year, they are expanding into GSM. They seem to have some serious momentum going, so I asked "what's next?" The answer: 1xEV-DO. LG is a leader in 1xEV-DO phones in Korea, and they plan to bring that expertise to the U.S. sooner rather than later. For those who don't know, 1xEV-DO is the next step for 3G CDMA after 1xRTT, and it offers very high data speeds - averaging around home DSL speeds! It's plenty fast for full-motion video services. Combine this with the news this week that Verizon is pushing forward with its 1xEV-DO deployment, and I'd say we have a lot to look forward to!
Other news from LG is that their much-delayed VX-9000 smartphone has just been approved by Verizon, and will be available from indirect retailers in the next few weeks. It no longer features Bluetooth, unfortunately. There aren't any additional smartphones on LG's immediate roadmap, but if they do continue in that area, they will go with a standard OS such as Palm or Pocket PC. The VX-9000 and earlier smartphones from LG have used the relatively unknown REX operating system, a choice which has been harshly criticized.
Another area in which LG has been critcized in the past is the user-friendliness and appearance of it user interfaces. LG told me they have been making a big effort to improve in that area, and I'm happy to report that the new phones - I tried the VX-6000 briefly - seem to be a major improvement. It's good to see LG listening to feedback on these important issues and taking action.
Finally, LG will be moving forward on other technology fronts in 2004, including EDGE and GAIT. I was suprised to hear GAIT mentioned, but they confirmed that a GAIT phone is likely (although not finalized) for 2004. I asked Nokia, Sony Ericsson, and Siemens about GAIT, and they all indicated that they weren't seeing strong demand from carriers for additional GAIT models.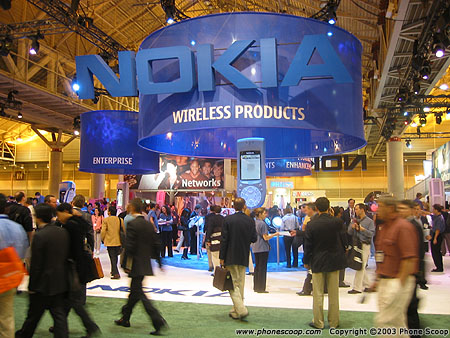 The Nokia booth. One very major announcement that I somehow missed until the third day is the new Nokia 3600 - a GSM 850/1900 version of the 3650 Series 60 camera phone. This is big news - I believe it is the first Series 60 phone designed specifically for North America. It looks identical to the 3650, so that is a jumbo model of it standing in the middle of the booth.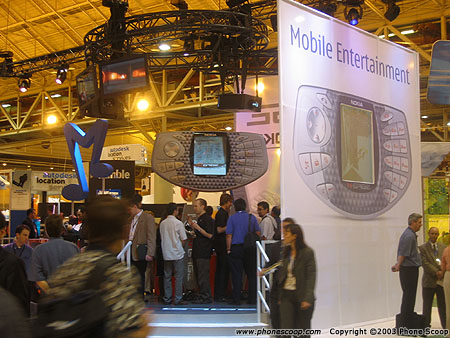 Of course, the N-Gage section of Nokia's booth was a big hit. I played with it a bit - it's really slick. The big advange over the TTPCom Bingo is of course the large development community Nokia has been able to create. That's what makes or breaks a software platform like this.
The N-Gage is fairly flexible in the range of games it can play. At the basic end, it can play Java games, although the performance won't be great. Moving up, it can also play games designed specifically for Series 60 devices. Performance should be a bit better with these. Moving further up, games designed specifically for the N-Gage can take advantage of special hardware acceleration, and of course performance will be best with these games. The serious games will be sold on read-only MMC cards, allowing an unprecedented amount of memory for graphics and high-quality stereo sound.
The N-Gage can be held up to the ear and used as a phone, although the speaker and mic are located along the top edge, so it looks kind of funny when you hold it up at a right angle to your head. Presumably most people will want to use a headset with it.
Look for more on Nokia in my Day 3 report...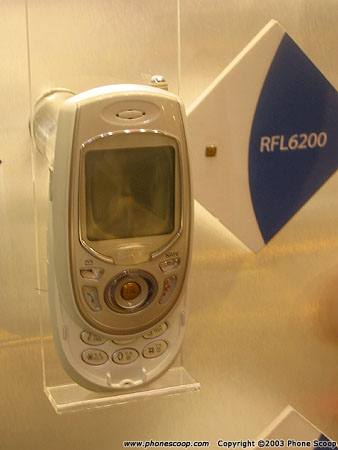 A number of new Korean and Japanese phones were showcased in the Qualcomm booth. This appears to be the Korean phone on which the new Kyocera Slider phone is based.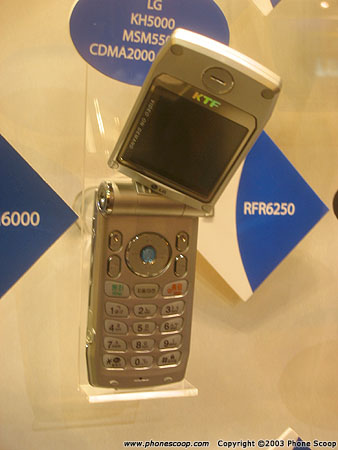 This is a Korean LG 1xEV-DO phone that was demonstrated briefly in the opening keynote. The camera is located in the hinge and faces sideways. The display is therefore designed to stay in position twisted sideways - like a camcorder - for use as a viewfinder. The new Panasonic 3G phone for DoCoMo in Japan also has this design.