CTIA Wireless 2003
Intro Preview Day 1 Day 2 Day 3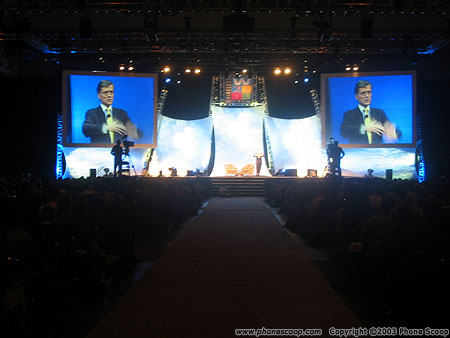 The first day keynote event. Tom Wheeler - President & CEO of CTIA, led discussions with a number of industry leaders. Texas intruments unveiled a new wireless PDA reference design with every major type of wireless - 802.11, GPRS, and Bluetooth. During the Intel demo, Neverwinter Nights was demo'd on several devices, including a Pocket PC and a Microsoft Smartphone. Both the Samsung i600 and the Mitac Smartphone made appearances. On a less serious note, it was clear that Tom Wheeler really likes Neverwinter Nights!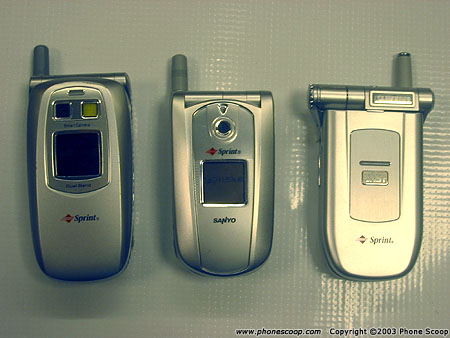 AD article continues below...
Sprint announced two new camera phones: the Sanyo 8100 (middle) and Samsung A600 (right). Both will be available during the 2nd quarter.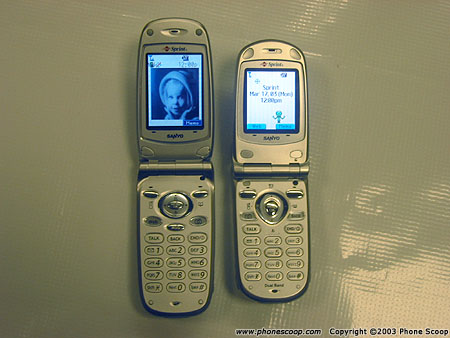 The Sanyo 8100 is smaller than the 5300.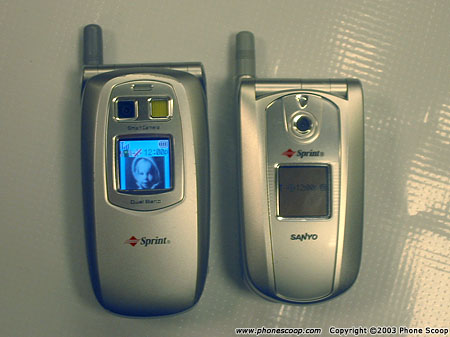 The 8100 can send 10-second voice clips along with photos. This is designed to make it quicker and easier to take a photo and explain it - voice is much faster than text, no matter how fast you are with T9. Improvements have also been made to the UI, to make it faster and easier to take and send photos.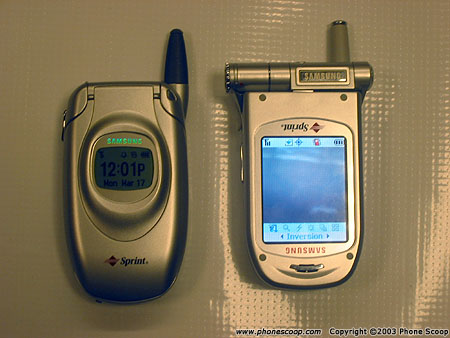 The new Samsung SPH-A600 features Samsung's innovative twisting display. It also has a swivel camera, with a fixed flash on the back.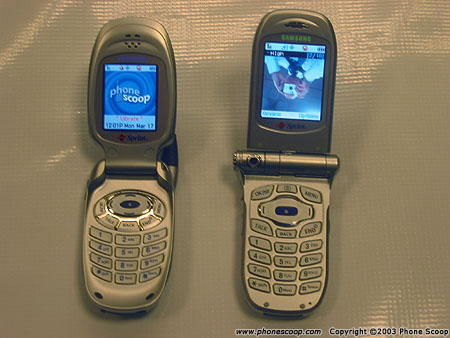 The A600 is larger than the A500, but only by a small amount. The shape makes it look larger.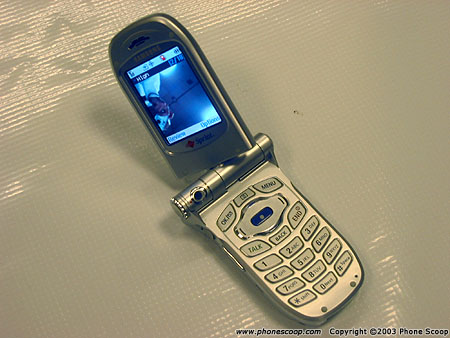 The twisting display in action. The display feels solid, and the twisting action has a good feel to it.
After the Sprint press conference, I went to a Verizon press conference where they announced the commercial launch of 1xEV-DO in Washington and San Diego.
The company recently concluded technology trials in those cities using trial networks. The tests were very successful, and if the same success is found with the commercial trial, Verizon Wireless executive vice president and chief technical officer Dick Lynch seems anxious to take the network nationwide. Verizon's acquisition of Northcoast gives them the spectrum they would need to do this.
The emphasis was on the corporate market, but the service will be available to consumers. I asked Mr. Lynch if he had plans to roll out 1xEV-DO handsets as well, and he indicated that he did. This is pretty exciting, because some of the most advanced phones in the world are the latest 1xEV-DO phones recently introduced in Korea.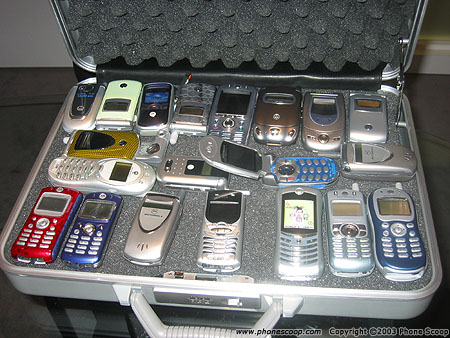 "Motoheaven": the Motorola Phone Case.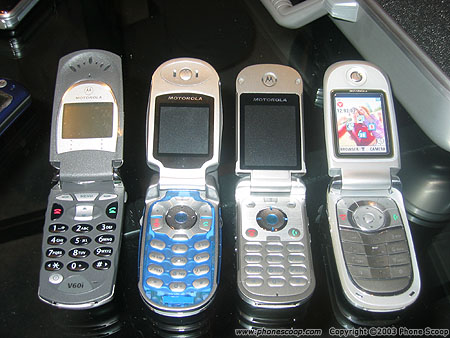 Although there will be no official announcement for it, Motorola has now made the v60x (left) public. It is simply the 1xRTT upgrade to the popular CDMA v60i. Next is the new E310, a gaming-oriented CDMA clamshell. Next to it is the new V810. Last on the right is the V600 GSM phone. (All the units shown are non-working mockups.)