Review: Samsung Galaxy Note 3 for T-Mobile
Article Comments 17
Oct 1, 2013, 8:00 AM by Eric M. Zeman @zeman_e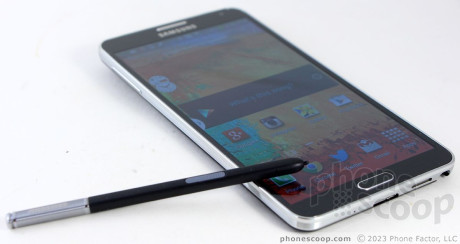 Samsung takes another stab at the Note phablet and might finally have a winner on its hands. Here's what we like and don't like about Samsung's latest large-screen Android smartphone.
AD article continues below...
Form
Is It Your Type?
Samsung's King of Phablets is back, and it's better than ever. This year's Note has a bigger screen, faster processor, thinner/lighter body, and improved S Pen powers. What's not to like? Well, a few things, to be sure. The phablet-averse may find the Note 3 to be too much smartphone, but those who live by the "bigger is better" mantra, the Note 3 delivers.
Body
The Samsung Galaxy Note 3 makes a couple of key improvements over previous generations of the fabled phablet that make it a more usable device.
The first thing you'll notice is the change in design language. Samsung took a page from the design of the Galaxy S 4 and added a new twist that's unique to the Note 3. The device has the same polycarbonate frame that rims the side edges. It is strong and chrome-colored. Samsung has (thankfully!) ditched the flimsy plastic battery cover for one that has a faux leather surface, complete with fake stitching. The faux leather isn't slippery, has an almost-real feel to it, and looks much, much better than the glossy plastic of last year's device. No more gross grime! The result is a classy looking smartphone that exudes professionalism and power. The one undesirable side effect of all this is that there is now a sharper edge where the glass panel meets the polycarbonate frame. Hard edges are the last thing a phone this size needs.
Speaking of which, the Note 3 is a large phone - larger than most flagship phones - and that's the way it is supposed to be. The exceptionally huge 5.7-inch screen necessitates a tall and wide device. Even so, Samsung managed to make the Note 3 narrower than its predecessors. This is a major victory for users. It may be only 1 mm narrower, but the difference in the hand is major. Further, Samsung reduced the depth from 9.7mm to 8.3mm, and the weight from 6.35 ounces to 5.93 ounces. Added together, these reductions in size make the Note 3 feel significantly smaller and lighter when gripped in your hand. Yay!
Usability is definitely improved, but the Note 3 is still big enough that some people will find it hard to use. If you have small hands, the Note 3 is not for you — unless you don't mind using both hands to interact with the phone. It does slip into pockets a little bit easier, but that hard edge makes itself known. The Note II had a rounded profile that was a big more comfortable in tight jeans.
The front of the Note 3 really is all screen. Samsung did a great job minimizing the bezels along the side edges. The bezel above and below the screen is just thick enough to fit the Samsung logo and earpiece speaker grill up top and the physical home button below. The speaker grill has a nice chrome finish to it, and the Home button has a chrome rim encircling it. These adds to the Note 3's classier look. The Home button has excellent travel and feedback. It is also easy to find with your thumb. It is flanked by capacitive buttons for Menu and Back. The capacitive keys work well, and you can adjust how long they remain illuminated, to make them easier to find.
The side buttons are modestly improved compared to earlier Notes. The volume toggle is on the left. It's a thin, chrome-colored button. Even so, it has an excellent profile and even better travel and feedback. The screen lock button on the right edge has a smaller profile, but it still easy enough to find. Importantly, it has good travel and feedback. The stereo headphone jack is on top and the USB port is on the bottom.
The Note 3 is one of the first phones to use USB 3.0. For the uninitiated, micro-USB 3.0 plugs look different. They have two sets of prongs that fit into the port (see photos.) The extra pins support a mode called SuperSpeed, that, as you might guess, transfers data faster. The good news is that USB 3.0 is backwards compatible with USB 2.0 and will accommodate common micro-USB cables for charging and (slower) data. The device ships with a USB 3.0 cable, but I was able to charge it with any old micro-USB cable laying about my office.
Prying the Note 3's battery cover off require some delicate work with your thumbnail. The clips that keep it in place are strong. Once removed, you have access to the battery, SIM card and microSD card. The Note 3 uses a stacked set-up with the two card ports. The microSD card fits on top of the SIM card. The good news is you can swap memory cards without pulling the battery.
The stylus (nee, S Pen) is tucked into the bottom of the Note 3. It's easily retrieved with the help of your thumbnail. It sits tightly enough in its slot, though, that it won't accidentally pop out when the Note 3 is dropped. I don't care for the stylus much itself. It a bit too flexible and weak. Worse, the button is nearly impossible to find without looking at the S Pen directly. The button's travel and feedback is next to nil.
There's no denying that Samsung has crafted a fine phone in the Note 3. Aside from the drawbacks associated with its size, it is a good looking phone, is easier to use, and is well built. Well done, Samsung.
Perform
Screen
The Note 3's display measures 5.7 inches across the diagonal and includes 1920 x 1080 pixels. Samsung continues to use Super AMOLED panels in its displays, and the Note 3's impresses. The Note 3's screen isn't quite as pixel-dense as the GS4's display, (which has the same resolution, but is smaller,) but it's still an excellent screen. The Super AMOLED technology over-saturates colors a bit, but it offers incredible brightness and amazing viewing angles. There's no brightness drop-off or color change when the phone is tilted side-to-side. What's more, it is easily viewed when outdoors, as long as you use the auto brightness feature. Last, the screen works with gloves on. I had no trouble with big swiping gestures when wearing a pair of gloves, but you're better off pulling out the stylus if you have small buttons or screen elements to press. It's a good screen, one of the best for watching HD movies, browsing the web, or viewing slide shows.
Signal
We tested the T-Mobile variant of the Note 3 in and around New York City. It was able to access LTE about half the time we were testing the device. In NYC, it remained on T-Mobile's LTE network without faltering a bit. In fact, I had zippy data access even when attending a packed concert at a theater in Manhattan. The Note 3 was quick to download app updates, upload images, and browse the web over LTE. It performed above average when compared to other T-Mobile devices given the same network conditions. When under HSPA+, data speeds were a bit slower, but the Note 3 still performed well. It connected all calls on the first dial, but managed to drop one call in an area with weak coverage.
Sound
The Note 3 is an excellent voice phone. Not only are calls clear, they are quite loud. The earpiece produces nice, warm tones and enough volume to hurt your ear if you put the volume all the way up. I was easily able to hear calls in noisy restaurants and above the raucous din of a 5-year-old's birthday party. The speakerphone also does a good job with both the volume and quality. Calls sounded very good, and I was able to hear speakerphone calls in a moving car, in a bar, and other noisy places. People with whom I chatted via the Note 3 said I sounded clear. The ringers and alert tones can all be set to volumes that will tick off your roommate, that's for sure. I was able to hear incoming calls even when the Note 3 was on a different floor in my house. The vibrate alert is good and strong.
Battery
I was impressed with the Note 3's battery life. The phone has a 3,200mAh battery inside, which is only a tad bigger than last year's model, but the Snapdragon 800 processor - while quite powerful - is an energy-efficient engine. I had no problem getting more than a full day of heavy use out of the Note 3. Most days, it still had 30% or more battery life by the time I went to bed around midnight. Keep in mind, we were able to test when using T-Mobile's LTE network. Most people will be more comfortable if they charge the Note 3 each night, but it can go longer than that between charges.
Basics
Menus
The Note 3 runs Android 4.3 with Samsung's TouchWiz user interface on top. It behaves exactly like Android and TouchWiz do on the GS4 and other Galaxy-class devices released by Samsung this year, though there are a few changes.
The lock screen can be customized to a wide degree. You can adjust the size of the clock, add widgets, place app shortcuts at the bottom of the screen, as well as control notifications that appear on the lock screen.
There are five home screen panels that are littered with content out of the box, but these can be cleaned up and arranged however you might wish. There are some nice, new animations that are visible when you transition from home screen to home screen.
The main app menu can be viewed as an alphabetized grid, custom grid, or in list form. You can add folders, and in fact, Samsung has taken the liberty of creating a handful for you with its own apps stuffed inside. The preloaded apps appear to be less numerous thanks to the Samsung, Google, and T-Mobile folders in the app menu. Don't fret, though, there are still way too many apps on this phone.
The settings menu is broken into four separate tabs, but you can switch it back to a more-standard single page if you want to. (The four tabs lead to a bit more work as far as I am concerned. I find things easier when it is all on a single page.) There are tons of features on the phone, and adjusting them all can take up a serious amount of time if you let it.
The notifications shade is beginning to get a bit cluttered, if you ask me. The top holds some common quick toggles, such as the Wi-Fi and Bluetooth radios. You can fully customize which ones appear in the main notification shade. Below the toggles you'll see the brightness controller, followed by an ongoing display of your data usage. Only below this will you see your notifications. Fully half the screen is consumed by controls rather than notifications. This is starting to get on my nerves.
There are plenty of wallpapers and sounds for you to customize your device with. The Note 3 includes Samsung's Easy Mode, which reduces user interface clutter at the expense of functionality.
Last, the Note 3 can multitask. The multi-view window lets you open, run, and interact with two full apps at a time. The tool now lets you pair together your two favorite apps for quick opening. You can easily adjust the size of the multitasking windows, as well as drag content from one window to another with no loss of formatting.
The Note 3 has a quad-core Qualcomm Snapdragon 800 processor under the hood with each core rated at 2.3GHz. The processor is paired with a class-leading 3GB of RAM. Let's just call this arrangement a monster. The Note 3 doesn't have any performance issues of any kind. It is screaming fast, doesn't get bogged down, and was able to run every service/app I threw at it. The Snapdragon 800 is an incredible processor, and it gives the Note 3 all the computing power a smartphone needs.
Calls/Contacts
The phone app itself is more or less the stock version of the Android dialer, but it has been reskinned so it looks a bit different. It offers plenty of customization powers that really let you dig in and make the phone's behavior your own. When the dial pad is visible, tap the menu button and you'll see an options screen for the phone. Here is where you can set rejection behaviors, alerts, answering/ending calls, set up voicemail, and control the TTY functions. You can turn on/off noise cancellation, as well as dial in your own preferences for volume, clarity, and warmth. Since we're testing the T-Mobile variant of the Note 3, Wi-Fi calling is available. This functionality lets you send phone calls over your home Wi-Fi network rather than the cellular network. Cal quality over Wi-Fi was very good.
The contact app behaves more or less like the stock Android People app. Favorites are accessible from a tab at the top of the phone app, as is the entire contact database. There are standard home screen shortcuts for direct access to a contact on the home screen panel, as well as a direct dial, and direct message, but there isn't a larger widget for your favorite contacts, which seems an odd omission.
Messaging
The Note 3 has the typical list of messaging apps. The native communication tools include email, Gmail, Google+, and Hangouts. Neither Facebook nor Twitter is pre-installed, but Samsung's own ChatOn is. ChatOn is a cross-platform IM app that uses data rather than SMS to deliver messages.
S Pen
Samsung performed a bunch of studies on the use of its S Pen stylus and associated apps. It found that many people forget that the S Pen is there, but when they remember, they want access to certain features right away. Hence the Air Command tool, a new, easier-to-decipher S Pen menu. Here's what it's all about.
Air Command
Pull out the S Pen, and you'll receive two alerts that let you know the Note 3 is ready to rock some stylus action. First, the device vibrates to signal that the stylus has been removed. Second, it automatically launches Air Command, a small, pop-up menu that lets you access the five different S Pen tools. The Air Command menu itself can be dismissed or called up with the stylus (when you press the stylus button and hover). It comes and goes as needed and offers one-tap control over the essential stylus functions.
Action Memo
The first new tool in Air Command is the Action Memo. It represents the old S Note app, but is far more powerful. You can use the stylus to write notes or whatever content you're in the mood to create. The real use, though, is adding actions to the text you've written. The app lets you write down a phone number, for example, and then use the action tool call it, add it to a contact, send a message, perform a web search, and so on. It does this by reading your handwriting, but it's more than that. In effect, the memos you write are now actionable, thus Action Memo. It's really useful if you write down an address and then want to open it in Google Maps, or if you write down a web address and want to open it in the browser. It's a very cool tool.
ScrapBooker
This is an interesting addition to the S Pen. In effect, it lets you collect web or other content for later use. For example, let's say you're browsing the web and see a DooDad that you really like on a web site. Open the ScrapBooker tool, draw a circle around the DooDad on the web site in question, and the S Pen will port the the information on the web page, including images, tags, phone numbers, etc., to a ScrapBook file. You've basically just saved a piece of a web page and all its associated meta data. The cool thing is, it only saves the portion of the page you circled, and not the entire thing. You can then, later, open the ScrapBook and click on links, perform searches, and so on based on what you saved. This is not a Pinterest replacement, but rather a way to save more web data for later use.
This tool requires that you're ready to select the content before you open it. For example, it does you no good to open ScrapBooker when you're on the home screen, because you don't have any web content loaded to encircle.
Screen Write
The Screen Write tool is pretty straight forward. When you select this option from Air Command, the Note 3 automatically takes a screenshot and then opens the S Note function again. You can use various pen styles and colors to mark up the screen shot, as well as crop, erase, undo/redo, and then share your annotation with whomever via whatever method you like (text, email, etc.). Nothing you write on this screen is actionable, though; it's just marked up. Again, you have to have your content ready to go when you tap the Screen Write feature, because it takes the shot immediately.
S Finder
The S Finder tool is a search function added to the stylus powers. Perhaps the biggest enhancement is that it can be used to search for handwritten notes. It provides users with a wide degree of control over the search parameters. For example you can search for notes written in the last 30 days, past 7 days, yesterday, today, and so on. You can look for just notes with handwriting in them, as well as notes that have images, video or music files, that contain personal information, and so on. These parameters really help to parse through your notes, especially if you take a lot of them.
I was impressed with S Finder's ability to find handwritten notes, in particular. I have some pretty sloppy chickenscratch, and it was able to locate those files on the Note 3.
Pen Window
The Pen Window sort of mimics LG's QSlide apps. Honestly, I don't know why Samsung put this feature in the Air Command, because it's not really dependent on the stylus (or at least it shouldn't be.) Open Air Command, select the Pen Window option, and then draw a box anywhere on the screen. Once you've drawn the box, it will open a window containing eight little mini-apps that can run floating over the main apps. The mini-apps that can run here are the calculator, clock, Youtube, phone, contacts, ChatOn, Hangouts, and Internet. Like LG's QSlide apps, the S Pen apps can be placed anywhere on the screen and they remain on top of whatever else you might be doing. You can have two running at the same time. The multiwindow view, which splits the screen it two and runs two full apps at a time, is far more functional and useful, in my opinion.
Gear
The Galaxy Gear smartwatch is an accessory for the Galaxy Note 3 (and eventually other Galaxy smartphones).
The Gear is made mostly from plastic. It has a metallic face and comes in six different colors. The shades include black, beige, gray, green, orange, and gold. It looks really large when you hold it in your hand, but doesn't feel awkward or weird on your wrist. I had trouble adjusting the strap to fit, but once I found the right size it was comfortable. There is only one button on the watch and it is easy to find and use. It is a Home button that always takes the Gear back to the home screen, which is a clock and the weather.
The little screen looks surprisingly good. It measures 1.63 inches across the diagonal and offers 320 x 320 pixels. It uses an AMOLED display panel and is bright and colorful. Though most of the menus are black and white, photos that I saw really popped. There's a pretty steep brightness cut-off when the device is viewed at an angle, though, and that's kind of crummy for a watch.
The Gear is not really a stand-alone device. It can be used without a smartphone, but will only be able to offer some of the features. The Galaxy Gear does not have Wi-Fi, nor an independent connection to the internet. Similar to Sony's SmartWatch, it relies on a nearby smartphone for most of its functionality. This is perhaps its greatest strength and greatest limitation.
Setting it up is not too hard thanks to NFC. You sit the Gear in its cradle and tap the Note 3 to the cradle. (The Gear itself doesn't have NFC, but it is built into the charging cradle.) This will initiate the Bluetooth pairing, as well as download the Gear Manager app from the app store. Though a number of the Gear's features can be controlled directly on the watch itself, it is much easier to manage its settings and functions from the Note 3. The Gear Manager interface walks you through the steps of setting up your preferred clock face, which apps you want prioritized in the Gear's menu, and so on.
According to Samsung, the Gear should provide about 25 hours of total battery life. That includes standby time. My results were a bit better than that. I saw closer to 30 hours, including standby.
The Gear is neat, but for $299 it is a tough sell. Sony's SmartWatch 2, for example, does many of the same things and costs half as much. I am glad that Samsung jumped into the wearables market, but hope to see it refine future products further.
The Gear Manger lets you arrange your favorites, which means they are the easiest apps to access on the watch itself. The favorites are limited to just six apps/functions. Everything else falls into the App folder on the Gear. Out of the box, there are more than a dozen Samsung-made apps preinstalled on the Gear, but most of them are fairly basic (pedometer, stop watch, etc.). You can, if you so desire, use the Gear Manger to download and install a number of third-party apps, such as Evernote, MyFitnessPal, Path, ChatOn, and others. These third-party apps are a bit more graphically pleasing to use since they actually make use of color and not just black and white icons.
Most of the native tools on the Gear interact with the Note 3. You can access the phone's contacts, dialer, and media, for example. Doing so requires a Bluetooth connection between both devices, which means they have to be in proximity with one another (between 30 and 50 feet). It isn't too much trouble to redial missed calls, or sort through contacts on the watch.
The controls take a bit of getting used to. The Home button on the side always takes the Gear back to the home screen, which is the watch face itself with the time and, if you choose, weather. On this screen, you swipe side to side to access your favorite apps and the App Menu. The reaction times aren't great, it is a bit slow. There's also a swiping down gesture that takes you back one screen, but I had trouble with this gesture. It rarely seemed to work the first time. It's also hard to use some of the apps themselves thanks to too-tiny buttons or other controls. The learning curve isn't the steepest I've encountered, but it's not an intuitive device to use.
According to Samsung, the primary way you *should* be interacting with the Gear is via S Voice. The Gear is fairly responsive to voice commands and can be used to dial calls, transcribe text messages, and perform other tasks. It is impossible — and dangerous — to attempt to use the Gear when driving, for example. If you're behind the wheel, the voice commands will let you do what needs to be done without taking your eyes off the road.
What should be the Gear's crown jewel, rich notifications, is just not good enough. The Gear will alert you to incoming calls, texts, and emails, and you can acknowledge them, but you can't do much more than that. You need to open the notification on the Note 3 to fully respond. If you get really comfortable with S Voice, you can respond in a limited capacity, but many people probably want to be able to do more than what the Gear offers in that respect.
Though the Gear has plenty of its own apps, it can't be used as a stand-alone music player. In fact, if you want to listen to music, you'll have to do so with Bluetooth headphones, as the Gear doesn't have a headphone jack. The lack of an on-board music player stinks in my opinion.
Two of the surprising features include a 1.9-megapixel camera baked into the band that can also record 720p HD video and a speakerphone. The camera may not offer the best quality in the world, but it's a last resort for those can't-miss opportunities that sneak up every now and again. Using it wasn't too awkward, though it's hardly quick to launch. You can make it a favorite app which gets it higher in the menu hierarchy, but it is still several steps to open. The results are mediocre at best.
The speakerphone is a more useful tool, in my opinion. Once paired, it is easy to use for phone calls without a Bluetooth headset. I guess the idea is you can leave your phone in your briefcase or pocket and use the Gear instead. The quality isn't too bad, and it is just loud enough to make using the Gear for phone calls a worthwhile endeavor. It works well in quiet spots, but I didn't think it was loud enough when in a noisy car, for example. The Note 3's own speakerphone was more capable in that respect.
Extras
Media
The Note 3 comes with a significant amount of media software. In addition to the stock Google apps and services, the Note 3 also includes options from Samsung. For example, the Samsung Hub is on board for purchasing and renting music and movies. In my opinion, the Google Play Store is a better option based on its wider selection and easier usability. The Note 3 also has Samsung's WatchOn software, which is based on the Peel engine and lets you discover video content across the web and play it back on your device or TV. WatchOn can also act as a remote control for your TV, DVR, and other pieces of home theater equipment. (We reviewed these features in full in our look at the Galaxy S4. It's the same on the Note 3.)
The Note 3 comes with Samsung Link, a tool that makes it easier to stream content across different devices. It uses DLNA to connect to devices (smartphones, tablets, laptops, cameras, and TVs) and lets the user stream photos, music, and video between devices somewhat easily.
The Note 3 also includes Samsung's Group Play app, which lets the Note 3 share music in real time on other Samsung Galaxy phones nearby.
Last, the Note 3 adds an IR blaster and Samsung's remote control application. This allows the Note 3 to interact with your home theater equipment. Set up is quick and painless.
Camera
The Note 3's camera is a direct carryover from the Galaxy S4. It can be launched with a lock screen shortcut, but there is no dedicated hardware button associated with the camera. Due to its size, I found the Note 3 awkward to hold for photo taking, though it's not as goofy looking as using the Galaxy Mega or a full-size tablet.
The user interface lets you easily switch between 10 different shooting modes, which include Night, Sports, Panorama, HDR, Sound & Shot, Best Face, Continuous Shot, Best Photo, Beauty Face, and Auto. (We have extensive explanations of each mode here.)
In addition to the extensive selection of shooting modes, the Note 3 also lets users take control of resolution, metering, ISO, white balance, exposure, GPS tagging, and so on. It's an incredibly feature-rich camera.
It doesn't take long to figure out how to use all the modes and tools to take creative photos. The Note 3's large HD screen makes framing shots easy thanks to the ample canvas, and it operates quickly across the board.
Photos
The Note 3 has a 13-megapixel sensor in the main camera. I was particularly impressed with the quality of the photos I took. Look at the concert images below. Concerts are notorious for producing junky results, and the detail visible in the shots I got the other night rivals what I've seen from dSLR cameras. Take a look at the color of the pumpkins. The focus is razor sharp, exposure is perfect, and white balance is spot on. This is true of the wide majority of shots I captured with the Note 3. I'd say it edges out the GS4 in terms of overall quality and results.
The user-facing camera, which rates 2-megapixels, more than suffices for selfies and video chats. It produces results that have more grain, but focus, exposure, and white balance were all good.
Video
Color me equally impressed with the video results. The results delivered by the Note 3 were in focus, and exposed correctly. The 1080p footage was vibrant and lifelike. It truly represented the real-world scene it was meant to capture. You can also use several effects, such as slow-motion, fast motion, and smooth motion. The slow-motion does what it advertises and slows down what you've recorded. The fast motion tool does the opposite and often produces comical results. I didn't see any benefit to using the smooth motion mode. People won't be embarrassed to share the results across social networks or on big screen TVs.
Gallery
The Note 3 uses the stock Android 4.3 gallery application, with a few extra features tossed in for good measure. The top-level view of your albums can get distracting if you're not careful. The device will automatically sync thumbnails from your Google+ and Dropbox accounts, but you can thankfully turn these off. There's a drop-down menu accessible from a button at the top of the screen for sorting between albums.
When you dive down into the individual galleries, the Note 3 goes into a split-screen mode: a vertical list of other galleries forms a strip along one edge of the screen, and the rest is reserved to show larger thumbnails of the images in the gallery you chose to view. You have to press one of the thumbnail images to go into a full-screen view of that image. Once there, you can swipe through photos, perform edits, and share quite easily thanks to the numerous options in the gallery app.
The editing features don't go beyond those offered by the standard Android gallery app, which means you can crop and rotate, take out red-eye and apply a load of filters.
Apps
The Note 3 ships with a wide range of applications made by Samsung, many of which we covered in detail in our review of the Galaxy S4.
Some of the most prominent apps are: Story Album, which lets users create photo albums and even order physical copies. S Voice is Samsung's Siri and Google Now clone. It accepts spoken queries and commands. S Translator lets users speak one language and have it automatically translated into another. There's also a separate Samsung App store, which is — as the name implies — an app store curated by Samsung. You'll see most of Samsung's apps and services available in there, as well as apps made by third parties that Samsung happens to like. The Note 3 also includes gimmicky features such as Air View and Air Gesture, which let you interact with certain apps without actually touching the screen. Air View, for example, can be used to preview the content of emails, while Air Gesture can be used to answer calls or advance through a photo album. Both work when hovering either the stylus or your finger over compatible content.
Browser
The Note 3 ships with both Chrome and the generic Android browser on board. Both are fine tools for browsing the web and do a good job of rendering HTML web sites. Chrome offers more features in that it can be synced with the desktop version of Chrome, but the generic Android browser offers simpler controls. Both were quick to load web sites via T-Mobile's HSPA+ and LTE networks. I was impressed with the browsing performance whenever the Note 3 had a good signal.
Bluetooth
The Note 3's Bluetooth radio works quite well. It paired with a handful of other devices without any problem. Phone calls sent to a mono headset sounded very good. Both volume and quality were excellent. Music sent to stereo Bluetooth headphones was also good. I didn't have any trouble pairing the Note 3 with PCs and other hardware.
Clock
The lock screen clock takes some work in order to be useful. Out of the box, Samsung has placed a really small digital clock on the home screen. I found it somewhat hard to see when I wanted to check the time quickly. If you choose to set up lock screen shortcuts, you can select a different view of the lock screen that makes the clock much, much bigger. It takes a few steps, but it's worth it.
GPS
The Note 3 includes Google Maps. Google Maps works the same as on any other Android device. It interacted with the Note 3's GPS hardware without issue. The Note 3 was very quick to pinpoint my location to within about 25 feet.
Wrap-Up
The Samsung Galaxy Note 3 is the best Note yet. Samsung made improvements to the hardware and the software that result in a device that's easier to use, yet more powerful than ever.
The Note 3 is lighter, thinner, and narrower than its predecessor, which makes it less fatiguing to hold and use. There are no downsides to the Note 3's amazing display, battery life, or call quality. The device managed to perform well on T-Mobile's LTE network, too. The phone's camera exceeded my expectations.
Samsung's TouchWiz user interface is as flexible and adjustable as on other Galaxy-branded smartphones, and lets people take control over plenty of the phone's features and functions. The added Air Command and related stylus tools take the S Pen functionality not one, but several steps further. By breaking out the different functions that are available to the S Pen, users will have an easier time getting traction with each (once they jump past the learning curve, that is.)
Perhaps the only negative I can think of is the Note 3's price: most U.S. carriers are selling it for $299 with a contract. Off contract, prices are likely to surpass $700. Would I recommend the Note 3? Yes, if you like large-screened phones, the Note 3 is the large-screened phone to get.
Old Sammy vs New Sammy
Years ago, I had fallen into the category of being a Samsung hater. I simply hated the build quality and customer support. I had turned my attention to HTC as the all around best product.

Today, I have fallen into the Samsung is awesome category. They have proved that they can manufacture a very thin design while still retaining key features into the lifestyles of many. My galaxy 3 has performed flawlessly and I really enjoy being able to remove the battery to visually inspect it on a monthly basis. I love the removable SD Card and Samsung's live chat with customer service has re-instated my confidence into the company.

I don't need metal hardware and I don't need companies to tell me what I can have or can't have. Samsung has provid...
(continues)
John,
I think many people have feelings on brands on something they may have bought in the past, even somewhat recent. Best is to have an open mind. LG is an example, I think they have come along way in making some nice devices. Yes the Note 3...
(continues)
Is it the design or design language?
This phone has a few differences in design from the GN2. Or maybe I'm speaking the wrong design language. Please join me in barring this nonsense jargon from our common language.
Am I the only one whose head that went over? If you're referring to the new trend in only referring to the construction of the device's casing as "design," then I agree with you. It's nonsensical and confusing to technical jargon. If you're referring ...
(continues)
'Rich Corinthian Leather'
This phone seems inspired by the people who put Bentley grills on cheap Chryslers and throw in the kitchen sink with aftermarket mods and a Wal-Mart special LCD headunits and stick-on wood trim.

That 'corinthian leather' back is particularly offensive. What's a shame is there's a lot of -good- ideas about the Note. I love the memo and stylus. It's a shame they're tacked on to every single bad directive Samsung has to the point where despite Android becoming a rather attractive, coherent OS, not a single screenshot in this review shows matching icons. Yikes.
I've given up on icons. Only Nexus devices have a coherent look in that respect. I'd have to call out every phone, every phone maker for screwing it up.
Wow, I actually think the back cover and icons are pretty nice. When you say matching icons, are you referring to the color scheme, design, both, or something else?

Software wise, I haven't used TouchWiz since I had my Omnia 2, but from what I've s...
(continues)
---" not a single screenshot in this review shows matching icons."---

I guess I can understand your gripe a little. However, the aesthetic looks of the icons never seem to have any bearing on my purchases or even bother me for that matter. Maybe we...
(continues)
>>That 'corinthian leather' back is particularly offensive.

Then by all means go get you an artsy fartsy iPhone that still doesn't have HD screeen or half the features of the Note 3, and rant and rave to your heart's content about how awesome it is...
(continues)
Me wants!
Me needs! Me will get!
Great Review!
Thanks for covering all of the details on the Note 3. Well done!

I'm patiently waiting to purchase it on Verizon. I've had my Samsung Galaxy Nexus since the day it was released, and it has served me very well for nearly two years. However, I have been wanting a more powerful device for quite a while now. My upgrade became available on Aug 15th, 2013, and I cannot wait to own the Note 3! It's the only smart phablet that I'm interested in.