Samsung Galaxy Gear Smartwatch Is a Companion for Note 3
Article Comments 26
Sep 4, 2013, 12:30 PM by Eric M. Zeman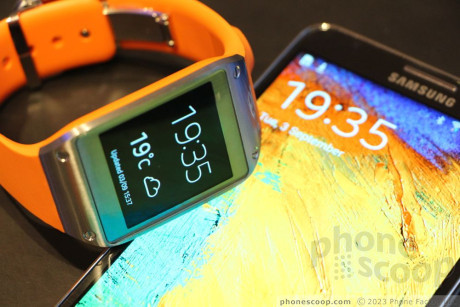 Samsung today announced the Galaxy Gear, a smartwatch that serves as an accessory to smartphones such as the Galaxy Note 3. The Gear has a 1.63-inch touch screen, 800MHz processor with 512MB of RAM, and uses Bluetooth 4.0LE to communicate with the Note 3. The Gear includes a 1.9-megapixel camera and a speakerphone, both of which are embedded in the wristband. The camera can record 720p HD video, and images and video are synced to the Note 3 for safekeeping. The Gear runs Android from Google, but uses a unique user interface from Samsung that permits users to swipe from screen to screen and from app to app. The Gear runs several native apps, such as pedometer and clock, and also interacts with the Note 3. When paired with a smartphone, it can be used to place phones, view rich notifications, and interact with Samsung's S Voice app. The Gear runs third-party apps as well, and will ship with several from the likes of eBay, Evernote, RunKeeper, TripIt, and others. The Galaxy Gear will go on sale after September 25, but pricing was not announced.
source: Samsung
I like it, but. . .
I was hoping it would include Samsungs flexible screen, and bend a little, or should I say curve, just a little down the side of the wrist.

I don't think it will sell millions, but it will have some consumer appeal. I hope Samsung doesn't give up on it with future iterations.
Once they start making flexible processor chips and batteries, broseph. 🤣

How are you?
Is it...
...Waterproof??

I would asume that a SmartWatch, taking in mind that it's "Smart", is waterproof. But I just failed to read that information.
It is, indeed.
And can also pair with the GS4 (and the s-heatlh app)

I think that it's water resistance will be similar to that of smartphones (3ft of water during about 30 minutes). You are supposed to sweat a lot while you are excercising with t...
(continues)