Samsung Note 3 Offers Bigger Screen, Smaller Footprint, Updated S Pen
Article Comments 13
Sep 4, 2013, 12:30 PM by Eric M. Zeman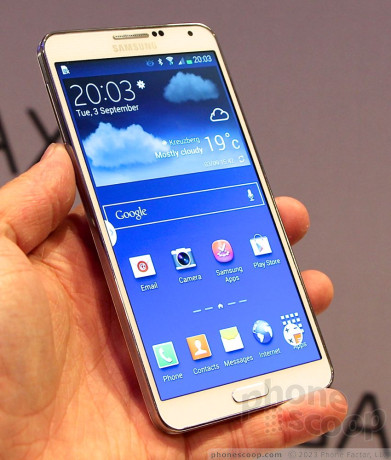 Samsung today announced the Galaxy Note 3, its third-generation phablet with S Pen stylus. The Note 3 increases the screen from last year's 5.5-inch display to 5.7 inches. It also improves the resolution from 1280 x 800 to 1920 x 1080 full HD. Despite the larger screen, the Note 3 is 1mm narrower and 1mm thinner than the Note 2, and also weighs significantly less thanks to the use of polycarbonate in the frame. Samsung also refreshed the design language, giving the Note 3 a faux leather texture to the back cover rather than the glossy plastics of the Note and Note 2. The Note 3 will come in two variants, an LTE version with a 2.3GHz quad-core Snapdragon 800 processor, and an HSPA+ version with 1.9GHz eight-core Samsung Exynos 5 Octa processor. Both will include 3GB of RAM. The Note 3's camera has been improved to 13 megapixels, and the user-facing camera rates 2 megapixels. Both can record 1080p HD video and carry over all the camera features Samsung first debuted with the Galaxy S4 earlier this year. Other specs include a removable 3,200mAh battery; 32/64GB of storage with support for microSD cards up to 64GB; Wi-Fi, Bluetooth 4.0LE, GPS, and GLONASS radios; and infrared for controlling TVs, MHL for connecting to TVs, and USB 3.0. The Note runs Android 4.3 as well as Samsung's TouchWiz user interface. Most of the software is carried over from the Galaxy S4, but Samsung made a number of improvements to the S Pen stylus and its accompanying software. A new Air Command tool brings the S Pen functions front and center, and they let users take instant screen shots, create actionable memos, search through handwritten notes, create searchable scrapbooks, and of course scribble simple notes. Last the Note 3 includes improved multitasking with Pen apps. The Pen apps resemble LG's QSlide apps, and place a small app such as a calculator, web browser, or YouTube window on top of any other app. The Samsung Galaxy Note 3.0 will by sold in the U.S. by AT&T, Sprint, T-Mobile, U.S. Cellular, and Verizon Wireless. Pricing and availability was not announced.
source: Samsung
Note III Active??
so....any plans for a waterproof Note 3? I'd hate to get this when it's available and 2 months later an "Active" version comes out.

Am I the only one wondering?
This is a more business oriented device.
An "active" variant of this device isn't likely to appear (Unless you know some people that like jogging using their business outfits).
Galaxy S4 Extra Large
So essentially a larger Galaxy S4 and not anything special. Disappointed in Samsung this round. Pathetic.
Just curious what you were expecting? It certainly blows away everything else on the market. What were you hoping to see that they missed?
I believe you missed the point of the key differences between and S4 and a Note device. Personally the S4 is a pile compared to a Note 2. Note 3 is awesome!
Lets Hope?
Lets hope this ships with an unlockable bootloader.
Ya, I agree. But even if it doesn't, it's only a matter of time before someone roots it. The community is usually pretty good about figuring out all that stuff in a matter of weeks. But with all the custom software Samsung adds I'm not so sure ill be ...
(continues)
Me wants
Was hoping for a 5.9" or 6.1" screen and a bigger battery. But other than that, this is the device for me.
You should just get a Samsung Galaxy Mega. 6.3 inch screen, Brother
New charge port?
Looks like the port that I have on my USB 3.0 Western Digital external hard drive.