Samsung Debuts GamePad for Android Phones
Article Comments 4
Dec 16, 2013, 7:19 PM by Eric M. Zeman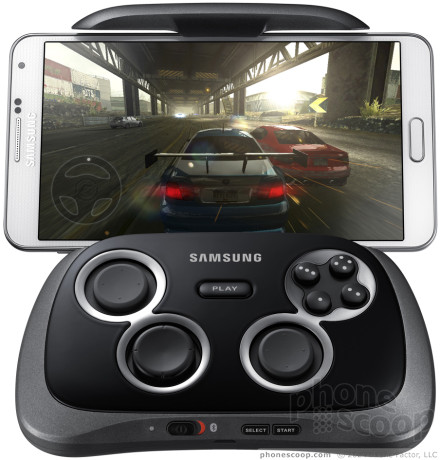 Samsung today announced the GamePad, a gaming accessory for its Android smartphones. The GamePad resembles a gaming control unit from today's living room gaming consoles. It supports a number of Samsung smartphones, cradling devices with screens ranging from 4 inches to 6.3 inches. It connects to smartphones via Bluetooth and an associated application. The GamePad provides physical controls for games, and connects to TVs through an HDMI cable or AllShare Screen Mirroring. The GamePad requires Android 4.3 Jelly Bean and Samsung recommends it be used with devices such as the Galaxy S III and S4, and the Note II and Note 3. The GamePad includes support for NFC for easy device pairing. The Mobile Console app for the GamePad is available for download through the Samsung App store. The Samsung GamePad is launching first in European markets with others to follow in the coming weeks. Samsung has not shared specific plans to offer the GamePad in the U.S. yet.
would seem heavy to me...
so a control pad AND a phone..curious to know the wieght as compared to the weight of a DS, etc.
MOGA PRO + Note 3 = Retro & current gaming heaven
this: http://www.amazon.com/Mobile-Gaming-Android-S martphones-Smartphone-Tablet/dp/B00BTDBSXU/re f=sr_1_3?s=wireless&ie=UTF8&qid=1387249026&sr =1-3&keywords=bluetooth+controller

Go to amazon, read the review By Branden Crom Jr.

It says it all..

MK3
Street Fighter Alpha
Link to the Past
Super Metroid
Mario 64
MK Trilogy
Sonic New(Android) & Old
Kid Camelion
Uni racers

THe list goes on!
Bigg RiE,
This is a decent idea, basically uses what you have without haing to get a dedicated android gaming platform like an Ouya. So depending on what they charge for the Moga, get double use. That and the phone has more power.
I copied and pasted your link but nothing comes up. what am I missing?