Hands-On: Samsung Galaxy Note 3 and Gear
Note 3 Gear Smartwatch Comments 16
Sep 4, 2013, 12:30 PM by Eric M. Zeman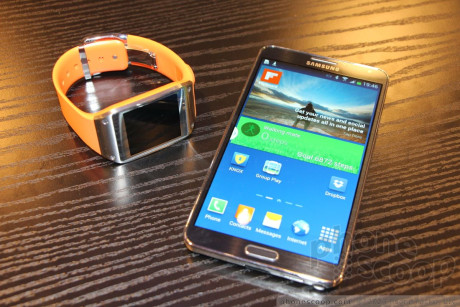 Samsung's third-generation phablet is an impressive improvement and the Gear adds a unique twist to how we interact with smartphones.
source: Samsung
The Samsung Galaxy Note 3 is a marriage of the Note 2 and the Galaxy S4 with a few unique details tossed in for good measure. It's the latest phablet from Samsung and isn't shy about offering the best specs on a device this year from the Korean company.
The Note 3 is a bit boxier than last year's device, with sharper corners and sharper edges, to boot. The phone takes some design cues from the GS4 with its silver-colored polycarbonate edge, but thankfully makes a big change with the rear cover. Samsung has ditched the oft-bemoaned slippery battery cover for one that has a faux leather feel to it. The back cover has a soft-touch finish that looks and feels like hardened leather, though it is still made from plastic. If you're thinking it must be cheesy, don't worry, it isn't.
The Note 3 is still quite large. I have grown used to the size of the Note 2 over the course of the last year, and the Note 3 is a bit smaller. I have mixed feelings about the feel in the hand thanks to sharper edges. I wish it had the rounder profile of the Note 2. It is big, but still pocketable thanks to its slim profile. It is also lighter than last year's phone. I think the weight is really quite nice, and it is easier to hold onto for a long period of time.
The display is fantastic. It measures 5.7 inches across the diagonal and uses Samsung's Super AMOLED technology. It is a full HD screen, which gives it 1920 x 1080 pixels. Colors pop off the screen and everything looks razor sharp. I honestly can't offer enough praise for the screen, it's that good.
As with Samsung's higher end devices, there is a single physical button below the screen for accessing the Home screen. There are capacitive buttons on either side, left is Menu, right is Back. They worked just fine in our time with the device. The rest of the buttons are placed right where you expect to find them. The volume rocker is on the left and the screen lock button is on the right. Both have great profiles and feel very good to use. There's a clean satisfying click when they are pressed that I really like.
The device runs Samsung's latest version of TouchWiz on top of Android 4.3 Jelly Bean. It carriers over most features from the GS4, but adds several new features that have to do with the S Pen (see video).
Samsung found that many people don't use the stylus because they forget it is there. Samsung made the stylus stand out a bit more along the bottom, and when it is removed a smart piece of software called Air Command launches to let you know what you can do with the S Pen. Air Command is a tool that lets you access all the other tools that are part of the S Pen and its software.
The new functions are called Action Memo, Scrapbook, Screen Write, S Finder, and Pen Window. Action Memo makes scribbled notes actionable by letting you interact with phone numbers or addresses. It's pretty cool. Scrapbook lets you capture content from a web site or other document and store it in a scrapbook-like app. What's better is the content is live and searchable. The Screen Write feature takes a screen shot when opened and then lets you write notes on top of the screen shot. The S Finder tool lets you search through all your notes (even the handwritten ones) and everything else on the device as well. It's really cool that the Note 3 lets you search your handwritten notes, that's a big feature to add to the device. You can also tag your notes to make them more easily found. Last, Pen Window acts just like LG's QSlide apps. It opens small sub-apps that run on top of whatever other app you're using. This means you can use a calculator when looking at a spreadsheet, or watch YouTube videos while also scanning your email.
Last, Samsung updated the multifunction feature. It is now possible to drag and drop content from one window to another. For example, you can drag a photo from the gallery and drop it directly into an email that you're composing. It's a really neat addition to the multi-pan functionality.
The Note 3 is Samsung's premiere device, and it didn't leave out anything. Every spec and feature you can think of is included. It will be available from U.S. carriers beginning later this month. Pricing has not yet been announced, but expect it to fall in line with that of last year's phone.
Rich Corinthian Leather
It's funny that a phone marketed to creatives manages to combine so many bad stylistic decisions- even for Samsung, who has a record streak of building really ugly stuff. Fake leather, fake aluminum, and chunky cheap plastic. Apple was raked over the coals for it on the software end, but at least they executed it well- this is just a hot mess.

But the new functionality looks killer. Multi-window is already awesome, and this makes it moreso. And the scrapbook function is brilliant.
bluecoyote said:
It's funny that a phone marketed to creatives manages to combine so many bad stylistic decisions- even for Samsung, who has a record streak of building really ugly stuff. Fake leather, fake aluminum, and chunky che
...
(continues)
Portable devices I have owned over the years:

Flashlight
Boombox
Walkman
Headphones
Wristwatch
Dewalt Impact Wrench
Various other battery operated power tools
TV remote
Screw driver
Can opener
MP3 player
Ink Pen
Thumb Drive
External HD...
(continues)
One knows one has a winner when Apple's favorite fanboy puts in an appearance to bash one's device.
i got to be negative nancy... :(
Dont get me wrong its a great phone. its awsome and beautiful and i WILL get it....however, it has a small battery for how big the screen is and how high the res on the screen and that awsome prosessor.... i dont see the battery lasting a full day without rooting it. or finding a way to only use a portion of the processor at a time if you can get away with it............9.2 gigahurtz is alot of power for a phone to support... and the screen is so bright and beautiful. i dont know if im gunna just get a bigger battery or see how it handels all this awsome sauce..... also if u think im wrong ur intiteled to ur opion but 3200mah is only 100 mah bigger then the last note... and only 200 mah bigger then the lg g2 witch people say is to small fer ...
(continues)
Samsung has done it again!
Great article, thanks. I was already impressed with the rumored hardware. The new software features look very intuitive, I'm loving that square that you can draw to bring up a window on top of an app.
I can't wait for my contract to expire. The Note 3 will be mine!
Shut up and take my money Samsung.

haha. That watch is so rad!
Bravo!
Usually reports on Samsung phones/phablets from PhoneScoop are rough - there's usually a sarcastic comment used to describe the materials - so not having this type of "usual" critics and finding only good ones does make me feel that there's something very extraordinary on this device.

Good report BTW, I like how the information is based on how the apps feel/respond and device performance other than focusing on materials.