Review: Samsung Galaxy Note 3 for Verizon
Form Performance Basics S Pen Extras Wrap-Up Comments 14
Oct 18, 2013, 2:00 PM by Eric M. Zeman @zeman_e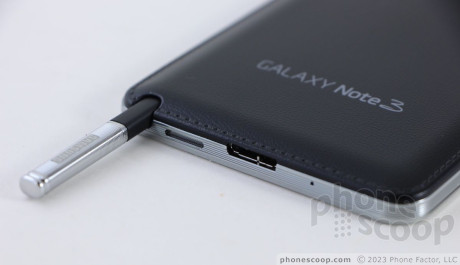 The Galaxy Note 3 from Samsung is a powerful Android smartphone for Verizon thanks to the S Pen and multitasking.
AD article continues below...
Is It Your Type?
Samsung's King of Phablets is back, and it's better than ever. This year's Note has a bigger screen, faster processor, thinner/lighter body, and improved S Pen powers. What's not to like? Well, a few things, to be sure. The phablet-averse may find the Note 3 to be too much smartphone, but those who live by the "bigger is better" mantra, the Note 3 delivers.
Body
Editor's Note: Because the Galaxy Note 3 is nearly identical across carriers, much of the following text has been carried over from earlier reviews of the device. Rest assured, however. We fully tested the major components that set the Verizon model apart from other models.
The Samsung Galaxy Note 3 makes a couple of key improvements over previous generations of the fabled phablet that make it a more usable device.
The first thing you'll notice is the change in design language. Samsung took a page from the design of the Galaxy S 4 and added a new twist that's unique to the Note 3. The device has the same polycarbonate frame that rims the side edges. It is strong and chrome-colored. Samsung has (thankfully!) ditched the flimsy plastic battery cover for one that has a faux leather surface, complete with fake stitching. The faux leather isn't slippery, has an almost-real feel to it, and looks much, much better than the glossy plastic of last year's device. No more gross grime! The result is a classy looking smartphone that exudes professionalism and power. The one undesirable side effect of all this is that there is now a sharper edge where the glass panel meets the polycarbonate frame. Hard edges are the last thing a phone this size needs.
Speaking of which, the Note 3 is a large phone - larger than most flagship phones - and that's the way it is supposed to be. The exceptionally huge 5.7-inch screen necessitates a tall and wide device. Even so, Samsung managed to make the Note 3 narrower than its predecessors. This is a major victory for users. It may be only 1 mm narrower, but the difference in the hand is major. Further, Samsung reduced the depth from 9.7mm to 8.3mm, and the weight from 6.35 ounces to 5.93 ounces. Added together, these reductions in size make the Note 3 feel significantly smaller and lighter when gripped in your hand. Yay!
Usability is definitely improved, but the Note 3 is still big enough that some people will find it hard to use. If you have small hands, the Note 3 is not for you — unless you don't mind using both hands to interact with the phone. It does slip into pockets a little bit easier, but that hard edge makes itself known. The Note II had a rounded profile that was a big more comfortable in tight jeans.
The front of the Note 3 really is all screen. Samsung did a great job minimizing the bezels along the side edges. The bezel above and below the screen is just thick enough to fit the Samsung logo and earpiece speaker grill up top and the physical home button below. The speaker grill has a nice chrome finish to it, and the Home button has a chrome rim encircling it. These adds to the Note 3's classier look. The Home button has excellent travel and feedback. It is also easy to find with your thumb. It is flanked by capacitive buttons for Menu and Back. The capacitive keys work well, and you can adjust how long they remain illuminated, to make them easier to find.
The side buttons are modestly improved compared to earlier Notes. The volume toggle is on the left. It's a thin, chrome-colored button. Even so, it has an excellent profile and even better travel and feedback. The screen lock button on the right edge has a smaller profile, but it still easy enough to find. Importantly, it has good travel and feedback. The stereo headphone jack is on top and the USB port is on the bottom.
The Note 3 is one of the first phones to use USB 3.0. For the uninitiated, micro-USB 3.0 plugs look different. They have two sets of prongs that fit into the port (see photos.) The extra pins support a mode called SuperSpeed, that, as you might guess, transfers data faster. The good news is that USB 3.0 is backwards compatible with USB 2.0 and will accommodate common micro-USB cables for charging and (slower) data. The device ships with a USB 3.0 cable, but I was able to charge it with any old micro-USB cable laying about my office.
Prying the Note 3's battery cover off requires some delicate work with your thumbnail. The clips that keep it in place are strong. Once removed, you have access to the battery, SIM card and microSD card. The Note 3 uses a stacked set-up with the two card ports. The microSD card fits on top of the SIM card. The good news is you can swap memory cards without pulling the battery.
The stylus (nee, S Pen) is tucked into the bottom of the Note 3. It's easily retrieved with the help of your thumbnail. It sits tightly enough in its slot, though, that it won't accidentally pop out when the Note 3 is dropped. I don't care for the stylus much itself. It a bit too flexible and weak. Worse, the button is nearly impossible to find without looking at the S Pen directly. The button's travel and feedback is next to nil.
There's no denying that Samsung has crafted a fine phone in the Note 3. Aside from the drawbacks associated with its size, it is a good looking phone, is easier to use, and is well built. Well done, Samsung.
The screen is lousy
Compared to the Note 2, it's better, but.... barely. The pentile subpixel arrangement means it's not a true 1080p display, and certain colors look particularly pockmarked (especially red.)

The worst part about Samsung AMOLED displays is the ghosting that appears after a month of use. Your display just looks constantly dirty as time wears on.
My Samsung Galaxy S III that I got at launch has no ghosting at all. The screen is just as amazing as it was the first day I got it. It doesn't look dirty at all. I assume you've never owned one, and if you have, my guess is you dont take care of your...
(continues)
bluecoyote has got to be a troll.
Had my GS3 since 1st day out. GF has one too. Many of my friends have the GS2, 3, 4 -- NONE have screen ghosting issues.
I have two buddies who have GS II and GS III, I have used both of their phones, and the GS II is about two years old. Not only is there no "ghosting" on the screens, but there are no anomalies of any kind, and the GS II's screen is still bright, sharp...
(continues)
...........................................__ ______
....................................,.-'".... ...............``~.,
.............................,.-"............ ......................."-.,
.........................,/.................. ...........
(continues)
Nobody wants this phone!
- Said no one ever.
There are 2 reasons why I don't want it:
1) I'm just not ready to try large phones yet(personal preference)
2) I do not like Touchwiz, if they would make Galaxy Note Play Store edition I would be very tempted.
I'm a moderate person, I don't like ginormous phones!
Slower data speeds on Note 3?
I've noticed my Note 3 has much slower data speeds in the same exact areas, versus my Motorola phones I've used. My various Moto phones could peak 60 Mbps quite consistently, but I'm lucky to hit 30 Mbps on my Note 3. Either way, both are MASSIVE overkill's for a smartphone, but I want to know if this is a carrier setting with the new Samsung phones, or if it's a specific setting or channel my Note 3 is defaulting to.
But I would love for you to cry me a river over your 30 mbps. 😁 Granted, half of what your network is apparently capable of is not so good, but I would kill for a consistent 30!

Edit: okay so I missed the part where you admitted where either is a...
(continues)