LG V50 ThinQ 5G
Info Photos News Forum 9 Hands-On ›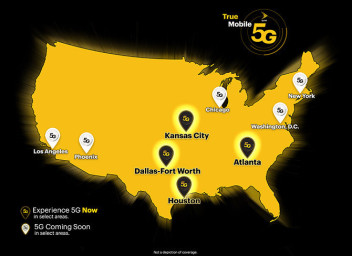 Sprint's 5G network launches tomorrow in Atlanta, Dallas-Fort Worth, Houston, and Kansas City, as previously announced. In the coming weeks, Chicago, Los Angeles, New York City, Phoenix, and Washington, DC will also gain 5G service. At that point, Sprint's 5G network will cover a total of 2,180 square miles and 11.5 million people, the largest 5G coverage area in the US by far. Sprint is using the 2.5 GHz frequency band (band 41) for its initial 5G network, which offers much better coverage and building penetration than the mmWave frequencies that Verizon and AT&T have launched 5G with so far. Sprint also uses band 41 for LTE, and its new Massive MIMO antennas are delivering 4G LTE and 5G NR simultaneously in band 41, with similar coverage for each technology. Sprint's 5G network in Dallas-Fort Worth covers approximately 575 square miles and 1.6 million people. In Houston, Sprint 5G covers approximately 165 square miles and 800,000 people. In Kansas City: 225 square miles and 625,000 people. In Atlanta: 150 square miles and 565,000 people. Sprint's first 5G phone is the LG V50 ThinQ 5G, which goes on sale tomorrow in cities with Sprint 5G service. Sprint will offer the Samsung Galaxy S10 5G later this summer.
---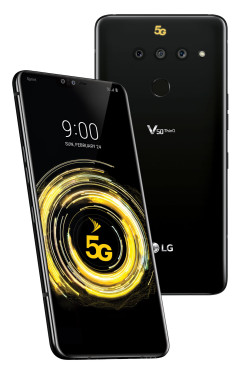 Sprint's first 5G phone — the LG V50 ThinQ 5G — will launch on May 31st. Pre-orders start tomorrow, May 17th, and the company is offering special pre-order pricing on the LG V50: 50% off ($24/month with a "Sprint Flex lease"). The company is also offering a 5G mobile hotspot from HTC. Sprint's initial 5G coverage includes Atlanta, Dallas, Houston, and Kansas City. In "the next few weeks", Sprint will switch on 5G in Chicago, Los Angeles, New York City, Phoenix. and Washington, DC. Sprint's initial 5G network uses band 41, which is near 2500 MHz, offering much better coverage and building penetration than the mmWave bands Verizon and AT&T are using for their initial 5G networks. Sprint is offering a free three-month trial of the Hatch game-streaming service on its 5G phones, including the LG V50.
---
Verizon launched the first part of its commercial, mobile 5G network today in parts of Chicago and Minneapolis. Consumers can experience 5G service with the Motorola Moto z3 when used with the 5G Moto Mod accessory, which also goes on sale to the general public today. Verizon says early customers in Chicago and Minneapolis should expect typical download speeds of 450 Mbps, with peak speeds of nearly 1 Gbps, and latency less than 30 milliseconds. Verizon had originally announced April 11 as the launch date, but moved the launch up to today in order to beat Korea's SK Telecom to claim the "first commercial 5G network in the world that works with a 5G smartphone". SK Telecom just today announced its plans to launch commercial 5G on April 5th with the Samsung Galaxy S10 5G. Verizon has announced plans to carry the Samsung Galaxy S10 5G and LG V50 ThinQ phones, both of which have 5G fully integrated, but it appears SK Telecom will be the first to offer a phone with integrated 5G. Verizon's 5G service costs an extra $10/month. The company has announced plans to expand its 5G network to over 30 US cities this year. Verizon's 5G network launching today relies on the 28 GHz frequency band, which is considered mmWave. Such high frequencies have limited range and do not penetrate well indoors. Sprint plans to launch its 5G network — using much lower frequencies — starting next month, offering the LG V50 ThinQ. AT&T claims it launched its mmWave 5G network last year, but has yet to make compatible devices available to the general public. AT&T has promised to offer a 5G phone in the first half of 2019.
---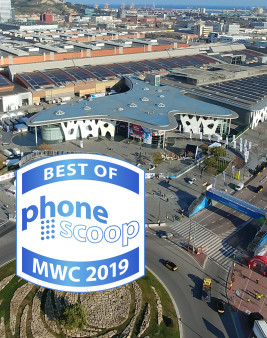 Each year, we trek to Barcelona to check out the mobile industry's latest and greatest at the industry's largest trade show: MWC. It's not all great, so after seeing it all in person, we pick out the real winners for our Best of MWC awards. This year, a lot of exciting phones were announced, including the first commercial 5G and foldable phones. Four of them really stood out.
---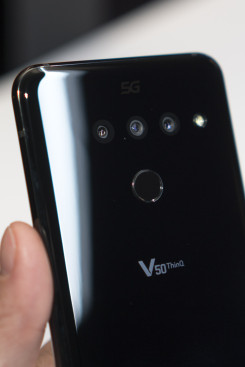 LG's V50 ThinQ is the first 5G phone for Sprint, and the first phone in the US to use 5G on low-frequency bands that provide broad coverage. LG took the V40 and somehow added both 5G and a larger battery, without making it any bigger. It keeps the V40's triple cameras, and other hallmark features of the V-series like wireless charging, 3.5mm audio jack... and memory card support. LG didn't leave anything out. There's also a sleek new design. How is it? We took it for a quick spin.
---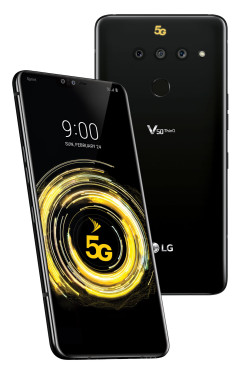 The LG V50 is the same size as last year's V40, but manages to include both 5G and a larger battery. Most other 5G phones this year are noticeably larger than their 4G counterparts. (The V50 is technically 0.7mm taller and 0.4mm thicker (8.3 vs 7.9mm) than the V40, a difference not obvious in person.) The V50's battery rates 4,000 mAh (compared to 3,300 in the V40). The V50 includes three rear cameras (standard, wide, and tele) plus two on the front (standard and wide). Its quad-HD OLED display measures 6.4 inches. A new vapor-chamber cooling system should reduce processor throttling during gaming sessions. Like the smaller G8, it has a Snapdragon 855 processor, 6 GB RAM, 128 GB built-in storage, stereo speakers, IP68 water resistance, fingerprint reader on the back, Quick Charge 3.0, NFC, stereo speakers, and 32-bit Hi-Fi Quad DAC. It has both a memory card slot and 3.5mm audio jack. Sprint will carry the V50 ThinQ first, this spring, followed by Verizon in the summer.
---