Samsung Galaxy S 4 (GSM)
Info Photos News Forum 100+ Reviews 23
The Samsung Galaxy S4 will be available at some MetroPCS stores beginning today for $549 without a contract. The device operates on T-Mobile's network, even though it is being sold under the MetroPCS brand. That means it is compatible with T-Mobile's HSPA+/LTE networks. MetroPCS is launching the GS4 in a limited number of markets (Atlanta, Boston, Dallas-Ft. Worth, Hartford, Las Vegas, New York, Philadelphia, San Francisco) though it will see a broader launch in the coming weeks. MetroPCS does not require contracts and monthly service plans for the GS4 start at $40 per month.
---
A newly-revealed vulnerability in Android allows attackers to bypass the usual app authenticity and integrity checks. Normally, the checks allow Android to verify that an app has not been modified. This new issue allows those with ill intent to modify an app with malicious code, without breaking the security signature. This will cause Android to report that the app is genuine and unmodified, when in fact it is not. The issue does not affect apps downloaded and updated exclusively through Google's Play Store. Apps downloaded or updated through any other sources may be affected. Full protection can only be provided by a patch to Android itself, which is up to phone manufacturers (and carriers) to provide. Samsung has implemented a fix on its Galaxy S 4, but the fix has not been confirmed for any other phones, and Google has not yet patched the issue in the base Android code, nor on its Nexus devices. Google was first notified about the issue in February, and notified its major partners in March. It affects all versions of Android from 1.6 through 4.2.
---
AT&T would like to strike more Wi-Fi roaming agreements with its international peers. Bill Hague, AT&T's executive vice president of international affairs, said that such agreements would benefit not only consumers, but the network operators, too. "Roaming agreements will increase revenue for everyone, and far more than anyone could do individually," said Hague while speaking at the Wi-Fi Globall Congress this week. "In much the same way as GSMA standardization secured its international success, so we need to do the same with Wi-Fi." Specifically, AT&T is looking at the Wireless Broadband Alliance (WBA) and its Passpoint program, which will allow cell phone users roam from cell network to Wi-Fi hotspots seamlessly, even in other countries. Passpoint and the Next Generation Hotspot (Hotspot 2.0) programs require that devices be certifed by the WBA, since a big piece of the puzzle is authentication of the user between the various networks. The standards are still in progress and the industry has yet to settle on one. Apple's recently-announced iOS 7 includes support for Hotspot 2.0, as does the Samsung Galaxy S4. The initiative is expected to go live for consumers early next year.
---
T-Mobile today is making a minor system update available to the Samsung Galaxy S 4. The update boosts the device to Android 4.2.2 and makes improvements to the visual voicemail and Isis applications. It can be downloaded over the air or installed via Kies.
---
AT&T today announced that it will offer the 32GB variant of the Samsung Galaxy S 4 beginning May 10. The 32GB GS4 will cost $249.99 with a new two-year agreement.
---
T-Mobile USA has indicated that the Samsung Galaxy S 4 will not be available through its web site on April 24 as originally planned. The company said that an unforeseen inventory problem will delay the GS4's availability by five days. T-Mobile now expects the Galaxy S 4 to go onsale April 29. It apologized for the inconvenience to its customers.
---
T-Mobile USA today announced that its variant of the Samsung Galaxy S 4 will be available online beginning April 24 and in stores May 1. It will require a downpayment of $149.99 and 24 monthly payments of $20. T-Mobile is only selling the 16GB model, and has no plans to sell the 32GB or 64GB models.
---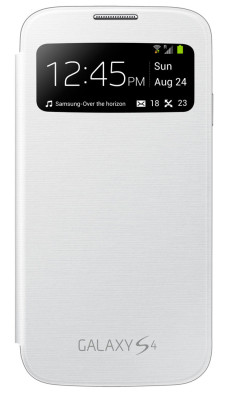 Samsung today announced that the Galaxy S 4 will be available from seven different wireless network operators before the end of April. The four national carriers, AT&T, Sprint, T-Mobile USA, and Verizon Wireless, as will smaller carriers U.S. Cellular, Cricket, and C Spire, will each have customized variants of the device specific for their 4G LTE and 3G networks. Samsung said that individual carriers will announce exact availability and pricing during the course of the next few weeks. In addition to carrier availability, the GS4 can also be purchased at various electronics stores, including Best Buy and Best Buy Mobile, Costco, Radio Shack, Sam's Club, Staples, Target, and Wal-Mart. The Galaxy S 4 has a 5-inch FHD display, 1.9GHz quad-core processor, 13-megapixel camera, Android 4.2.2 Jelly Bean, and tons of Samsung software, including Air View and Air Gesture, Drama Shot and Eraser Shot, and Easy Mode and a customizable notification tray. Last, Samsung revealed a few more details about accessories for the GS4. The S View Flip Cover has a window through which GS4 owners can read text messages, answer or reject calls, and view the battery status. The S View Flip Cover, which is sold separately, retails for $59.99. Availability details of the cover were not shared.
---
AT&T has begun accepting preorders for the Samsung Galaxy S 4 on its web site. AT&T is listing the 16GB model for $199.99 with a new contract ($639.99 full price) and a ship date of April 30. No formal announcements about the GS4's availability have been made, however.
---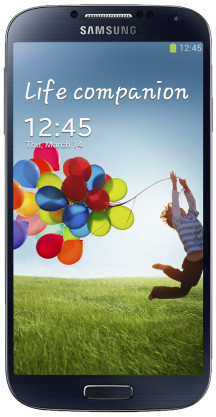 AT&T today announced that it will begin accepting preorders for the Samsung Galaxy S 4 beginning April 16. AT&T is asking $249 for the Galaxy S 4, though AT&T did not specify which storage option it is offering (the S 4 comes in 16GB, 32GB, and 64GB variants). AT&T also did not say when the device will be available for purchase. AT&T recommends interested customers sign up for more information on its web site. The $249 price point requires a two-year contract. T-Mobile USA recently announced that it will begin selling the Galaxy S 4 May 1 for a downpayment of $99.
---
The FCC today approved Sprint's version of Samsung's flagship Galaxy S 4 phone. The approval documents show support for GSM and WCDMA, in additional to Sprint's CDMA and LTE networks, indicating that the phone is intended to have global roaming capability. Last year's Galaxy S III for Sprint was the only Galaxy S III for a top-tier carrier without global roaming. The FCC also approved the Galaxy S 4 variant for U.S. Cellular (and, most likely, Cricket); it does not appear to support overseas networks.
---
T-Mobile USA was the first U.S. carrier to say when the Galaxy S 4 will reach its network. It pegged May 1 as the date Samsung's flagship phone will be available for a downpayment of $99.
---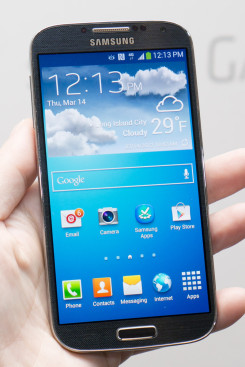 Samsung's new Galaxy smartphone makes minor improvements to the hardware but massive innovations with the software. There's no doubt it will be another winner for Samsung.
---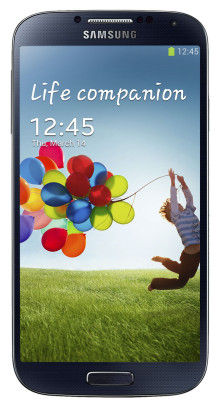 Samsung today announced the Galaxy S 4, its flagship smartphone for 2013. The S 4 builds on the foundation laid by the S 3 and features a similar design and appearance. It is made from a mix of plastics, polycarbonate, and glass. The footprint is slightly narrower and thinner than the S 3, but the S 4 houses a larger, 5-inch 1080p HD Super AMOLED display. The S 4 runs Android 4.2.2 Jelly Bean with Samsung's customary TouchWiz user interface. The device will feature different processors based on region. In the U.S., the S 4 will use Qualcomm's Snapdragon processor (quad-core 1.9GHz 600), while markets outside the U.S. will see the Exyonos 5 octa-core chip under the hood. The S 4 will support global LTE networks. Other hardware specs include a 13-megapixel main camera that shoots 1080p HD video and a 2-megapixel user-facing camera that shoots 1080p HD video. The device will be sold in 16GB, 32GB, and 64GB variants, though it also supports microSD cards up to 64GB. It has 2GB of RAM. It includes a bevy of radios, including 802.11a/b/c/g/n Wi-Fi, NFC, Bluetooth, and GPS. Beyond the hardware, Samsung has added innovative camera features, such as Dual Shot and Dual Recording, each of which lets the S 4 shoot either still pictures or video using both the main camera and secondary camera at the same time. The camera can also be used to create GIFs, combinable bursts, and still images with background audio. Samsung went big with new gestures. Air Gesture, for example, can be used to change audio tracks, advance photos, or switch between browser tabs by waving a hand across the front of the S 4. The S 4 also includes the Air View features found on the Note II, but works without a stylus. Air View lets S 4 owners see previews of content, such as SMS messages, without opening the message by hovering their finger over the display. The S 4 will be available globally during the second quarter of the year, and will be sold by AT&T, Cricket, Sprint, T-Mobile USA, U.S. Cellular, and Verizon Wireless in the U.S. Pricing was not disclosed.
---