Samsung's Galaxy S 4 Packs Advanced Camera and Gesture Features
Article Comments 32
Mar 14, 2013, 6:30 PM by Eric M. Zeman
updated Mar 15, 2013, 1:09 PM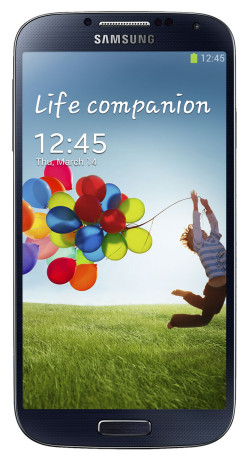 Samsung today announced the Galaxy S 4, its flagship smartphone for 2013. The S 4 builds on the foundation laid by the S 3 and features a similar design and appearance. It is made from a mix of plastics, polycarbonate, and glass. The footprint is slightly narrower and thinner than the S 3, but the S 4 houses a larger, 5-inch 1080p HD Super AMOLED display. The S 4 runs Android 4.2.2 Jelly Bean with Samsung's customary TouchWiz user interface. The device will feature different processors based on region. In the U.S., the S 4 will use Qualcomm's Snapdragon processor (quad-core 1.9GHz 600), while markets outside the U.S. will see the Exyonos 5 octa-core chip under the hood. The S 4 will support global LTE networks. Other hardware specs include a 13-megapixel main camera that shoots 1080p HD video and a 2-megapixel user-facing camera that shoots 1080p HD video. The device will be sold in 16GB, 32GB, and 64GB variants, though it also supports microSD cards up to 64GB. It has 2GB of RAM. It includes a bevy of radios, including 802.11a/b/c/g/n Wi-Fi, NFC, Bluetooth, and GPS. Beyond the hardware, Samsung has added innovative camera features, such as Dual Shot and Dual Recording, each of which lets the S 4 shoot either still pictures or video using both the main camera and secondary camera at the same time. The camera can also be used to create GIFs, combinable bursts, and still images with background audio. Samsung went big with new gestures. Air Gesture, for example, can be used to change audio tracks, advance photos, or switch between browser tabs by waving a hand across the front of the S 4. The S 4 also includes the Air View features found on the Note II, but works without a stylus. Air View lets S 4 owners see previews of content, such as SMS messages, without opening the message by hovering their finger over the display. The S 4 will be available globally during the second quarter of the year, and will be sold by AT&T, Cricket, Sprint, T-Mobile USA, U.S. Cellular, and Verizon Wireless in the U.S. Pricing was not disclosed.
source: Samsung
A Win For The Consumer.
In my opinion, no high end phone should ever, and I mean EVER, be rendered useless just because of a damn battery failure whether it happens to a minority of users or not.

I also feel expandable SD slots are essential for two reasons:

1) Why offer 16, 32 or 64g choices? A device should be custom tailored to needs. And if needs grow, the phone should be able to follow. Manufacturers are trying to groom consumers into spending far more in purchasing the next size memory in a phone when removable is so much cheaper.

2) While not often, I have had 5 phones in the course of 27 years where the internal memory failed or phone suffered total malfunction. Having the ability to immediatly save info to a removable card when downloaded is pric...
(continues)
+1!!!

I haven't decided if I will get the S4, or an S3 at a reduced price.

Hmm...is the Snapdragon 600 reeeally THAT great if a processor???. . .
The states get a worse processor than the international ?
Why are the States getting a $#;++;er processor than the international version? Did the s3 suffer this fate too? This reminds me of the HTC One X(L) for AT&T. I bought it (the X) because of the RAVE reviews here and elsewhere, and it's been a major disappointment from day 1. Will Samsung release an octacore version in 6 months ala the One X+, thereby screwing consumers who bought their "flagship" device (hello HTC!)? Nah. I'm too burnt by the One X to trust any of these guys now. I may get an s3 when it's cheaper and ROOT THE EFF out of it. Seems like a better option.
Yes, this happens all the time... European models get all the untested hardware first kinda like Guinepigs. US customers get tested and approved hardware so 4 Cores is all we are getting this year.

You know since americans think they are entitled ...
(continues)
AT&T had the gs3 refurbished for $30! Hope it's up to its hype. I can't use Navigator or Smart Truck on my phone now. One of HTC's "features" (their words not mine) is they kill apps for you so they can't run in the background. Nav only works in 2d mo...
(continues)
Which Qualcomm processor?
Snapdragon 600, or 800?

And is there really going to be a 64GB version THIS TIME??? Samsung said there was going to be a 64GB S3, there never was.
The processor is a Snapdragon S4. Don't know the exact chipset involved yet.
Jay,

Haven't heard much on a quad core 800. Most buzz is on the 600 with some parts of the internet actually confirming this. My guess is the 800 "may" be used in Samsung's upcoming tablets.

As far as the memory, I'm more interested in remova...
(continues)
Sorry, guys, my original info was bad. Qualcomm says the Samsung Galaxy S 4 will use a Snapdragon 600 processor. It will have four cores at 1.9GHz per core.
Meh
Same plastic build, same cartoony screen. Why couldn't Samsung ditch the damn pentile ? 🙄
Wouldn't you put your phone in a case anyways? So who cares about the plastic build?
not impressed
Its too big of a screen... Between s3 and note. Little hardware changes. Android 4.2.2 which I have already on s3 and gestures. I'm gunna wait for this Motorola x phone being talked about. I would have went back to HTC if it had a menu button or something but no.


IMO its nothing much you could have different than a rooted s3 but better world roaming
I currently have the Samsung Droid Charge, essentially equivalent to the S1,...S4 is nice, but once it's out, I think I would be satisfied with getting the S3 at a reduced price.

Likely the S3 will get the Key Lime Pie software upgrade.
should have just named it the note 1.2
What is it that you are missing?
I wonder how long....
I wonder how long before there's a version of Cyanogenmod for it? 🙂

I'd love to have one, but only if I could get that touchwiz crap off it.