Review: Samsung Galaxy S 4 for AT&T
Form Perform Menus Imaging Media Extras Wrap-Up Comments 44
May 10, 2013, 11:12 AM by Eric M. Zeman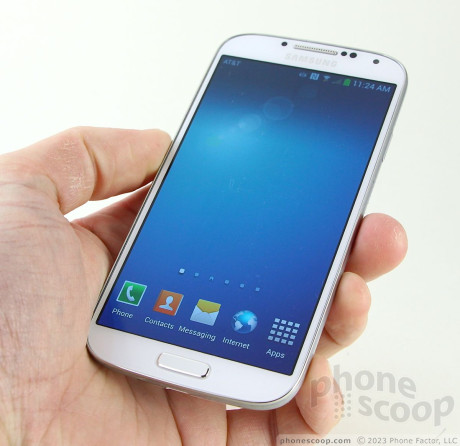 The Galaxy S 4 performs very well on AT&T's network. Here is Phone Scoop's review of Samsung's 2013 flagship Android smartphone.
Is It Your Type?
The Samsung Galaxy S 4 is one of the biggest phones of the year. It's Samsung's flagship device for 2013, and comes with a feature list long enough to put most stand-alone computers, cameras, and home theaters to shame. Considering the success of the Galaxy S 3, the GS4 is more or less guaranteed to be a smash hit. For the shopper who wants all the bells and whistles, the GS4 is ringing loudly and tooting your tune. In this review, we get to put in through the ringer on AT&T's network.
Editor's Note: Phone Scoop has already reviewed the Sprint version of the Galaxy S 4. Because so many features are identical, we carried over portions of the text from that review. We've fully re-tested the device on AT&T's network and updated the relevant portions of the review to reflect those results.
Body
From a short distance, most people will not be able to tell the Galaxy S 3 and Galaxy S 4 apart. Their appearance is almost identical, save for a few details that only the sharpest eyes will see. It is only upon close inspection that some of the differences really begin to take shape, and even then they are subtle. The GS4 has a pleasing look that's typical of the design language Samsung has used for the last year or so. It is smooth, has rounded corners, and is somewhat conservative.
The design detail that I like most is the metal-like band that encircles the edge. It's not actually made of metal mind you (Samsung says it is polycarbonate,) but it passes for metal. This polycarbonate band is also incredibly strong, and lends the GS4 a much-needed solid feel.
The GS4 comes in two colors, black(ish) and white. Both have unique characteristics that I find appealing. The black, for example, has a texture that catches light and reveals a dimpled pattern when held at the certain angles. The whole device is wrapped in what looks like lacquer, as it is glossy, reflective, and prone to collecting grossly apparent fingerprints.
Samsung was able to reduce the thickness and the weight of the GS4 compared to the GS3. It's an amazingly thin and light phone. Samsung was able to do this, in part, because it used no metals to build the frame or outer shell of the GS4. As with every Galaxy S before it, the GS4 is made mostly of plastics. Though it clearly makes gains over the GS3 in terms of quality, it doesn't go far enough to compete with the superb build of devices such as the HTC One and Apple iPhone 5. There's simply no comparison: HTC and Apple have crafted devices that exude the best in modern design. The GS4 is an evolutionary step from Samsung that makes no attempt to offer owners high-class anything. It's clear that Samsung is not paying attention to complaints of its phones being too plastic. Instead, it is paying attention to the huge number of Galaxy S phones it has sold over the years. One clearly speaks louder than the other. For my money, the GS4 still comes off somewhat cheap-feeling in the hand, but it is comfortable to hold and use, and slips into any pocket with ease.
It is a big phone, though. I have large hands, and sometimes found reaching my thumb all the way across the screen to be a balancing act. Those with smaller hands might find the GS4 to be too large.
The GS4's front surface is nearly all display. The bezel along the side edges is minimal, and even the framing above and below the display are slim. There's barely enough room for the Samsung logo, earpiece grill, and camera above the screen, for example. As with last year's model, the GS4 has a physical Home button that has an excellent feel to it. Not only is it easy to find, it offers satisfying travel and feedback. The capacitive Menu and Back buttons flank it, to the left and right, respectively.
There are only two other buttons adorning the Galaxy S 4. As expected, Samsung has placed the volume toggle on the left edge of the device, and the lock button on the right. Both buttons have a good shape and offer excellent travel and feedback. The lock button, in particular, is among the best such buttons from Samsung. The microUSB port is tucked into the bottom edge; the stereo headphone jack is on top. There are no hatches, nor is there a dedicated camera button.
One design element that Samsung uses as a selling point is the GS4's removable back cover. The HTC One and Apple iPhone 5 have sealed batteries; the GS4 does not. The GS4's battery cover is easy to remove, and is incredibly flimsy. It fits snugly against the back portion of the GS4's chassis, and the seams are nice and tight, but nothing prevents me from cringing about how cheap this piece of plastic really is. Once you've peeled it off, though, you have access to the battery, the SIM card, and microSD card. It's great that the GS4 supports memory cards up to 64GB, and even better than you can remove the card without removing the battery.
I Just Don't Get It
---"Though it clearly makes gains over the GS3 in terms of quality, it doesn't go far enough to compete with the superb build of devices such as the HTC One and Apple iPhone 5"---

I've used cellphones for over 27 years and have never once had a problem with MPM(Molded Polycarbonate Material). While I may understand the wish for better materials by some individuals, MPM doesn't seem to be effecting sales of the Galaxy. In fact, a recent poll of smartphone users on another site, gave 52% to those that prefer to have plastic if it means retaining removable batteries.

This tells me that less push should be on metal alloy phones until it can incorporate best of both worlds. Manufacturers should pay attention to this.

And while we are on...
(continues)
Slammer said:

I'm disappointed that phone geeks don't look further at the landscape. You are a musician Eric. How inconvenient would it be to have your battery short for wireless transmitter with no way to swap it out. Or how wou
...
(continues)
First of all I would say that MPM is a BETTER material than a metal phone. There is a reason and that is because metal blocks radio signals more than MDM!!!

Also once upon a time people said they would not buy a car with fiberglass bumpers. Um. ...
(continues)
It's that it creaks like crazy and has backlash when gripped tightly after a couple weeks of usage. I haven't had a phone feel this flimsy since my first-generation Sprint PCS phone from 2004. This isn't acceptable anymore and hasn't been since the Mo...
(continues)
Hardware???
Why is it that Phonescoop's notion of hardware always seems to be limited to the construction materials of the enclosure/case? And while this is one form of hardware, it is usually a menial aspect of hardware for the rest of the technological community. Usually when we talk about hardware we mean the processor, memory, screen, camera, memory card slot, and other elements that comprise the main physical architecture of the device. But the aesthetic elements, enclosure/case, buttons, paint job, etc., although technically hardware themselves, usually take a back seat to the functional ones.

For instance, if I said that Asus uses better hardware than Dell, I wouldn't mean that I think the case is really slick and that I like the keyboard and...
(continues)
Although you make a good point and it does make sense when reviewing a electronic device it is kinda pointless to do so when you are reviewing cell phones such as the Galaxy S4 when they are offered across all networks. The hardware is virtually the s...
(continues)
100% agree...

Too many people caught up on this... Not to mention the difference in exterior build quality is much less significant than before. Weight and feel of the One and S4 are not as far off as usual, and if you drop either phone, you are p...
(continues)
Thanks for the feedback. It's always appreciated.

We've put a lot of thought into what we cover and in what detail.

Phones are devices you hold in your hand and manipulated frequently throughout the day. That's just one of the factors that makes...
(continues)
Zpike - The big thing you're missing here is that Phone Scoop doesn't write reviews for the technological community. We write reviews that average Janes and Joes can understand. Most of the people I know in the real world don't give a rat's a&& about ...
(continues)
Vibrate- other user feedback?
The Phone Scoop reviewer gave the vibrate a so-so review with the caveat that he missed a few texts. Does anyone who owns this have anything to add?
I am coming from a Galaxy Nexus, which had plenty of vibrate power for me. I actually bought a Nexus 4 last week but the vibrate is pathetic (otherwise a great phone though). I like to keep the phone on vibrate at work and when out and about, so having a decent vibrate is an important feature for me.
I'm thinking about returning the N4 and getting back on contract to get the S4 and get LTE speeds but was hoping some other people could comment.
I suppose I could go to the store and play with the phone, but I prefer real world feedback.
Will the AT&T Phone work Internationally?
So confused here...I was given the S4 AT&T version as a gift. I need to use this phone in the UK and would also like to tether my laptop to the S4's data plan. Should I get the AT&T version with world roaming? Or should I just sign up with a UK carrier, but if so, does the AT&T version work with UK carriers?