Review: Samsung Galaxy S 4 for AT&T
Article Comments 44
May 10, 2013, 11:12 AM by Eric M. Zeman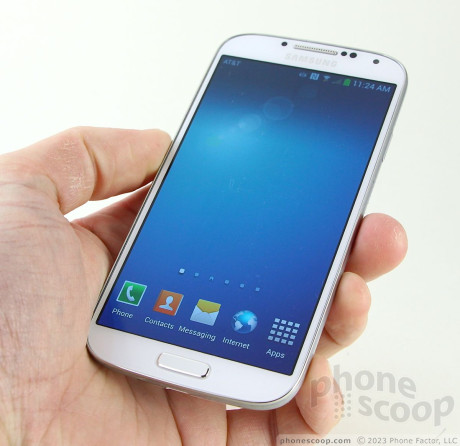 The Galaxy S 4 performs very well on AT&T's network. Here is Phone Scoop's review of Samsung's 2013 flagship Android smartphone.
Form
Is It Your Type?
The Samsung Galaxy S 4 is one of the biggest phones of the year. It's Samsung's flagship device for 2013, and comes with a feature list long enough to put most stand-alone computers, cameras, and home theaters to shame. Considering the success of the Galaxy S 3, the GS4 is more or less guaranteed to be a smash hit. For the shopper who wants all the bells and whistles, the GS4 is ringing loudly and tooting your tune. In this review, we get to put in through the ringer on AT&T's network.
Editor's Note: Phone Scoop has already reviewed the Sprint version of the Galaxy S 4. Because so many features are identical, we carried over portions of the text from that review. We've fully re-tested the device on AT&T's network and updated the relevant portions of the review to reflect those results.
Body
From a short distance, most people will not be able to tell the Galaxy S 3 and Galaxy S 4 apart. Their appearance is almost identical, save for a few details that only the sharpest eyes will see. It is only upon close inspection that some of the differences really begin to take shape, and even then they are subtle. The GS4 has a pleasing look that's typical of the design language Samsung has used for the last year or so. It is smooth, has rounded corners, and is somewhat conservative.
The design detail that I like most is the metal-like band that encircles the edge. It's not actually made of metal mind you (Samsung says it is polycarbonate,) but it passes for metal. This polycarbonate band is also incredibly strong, and lends the GS4 a much-needed solid feel.
The GS4 comes in two colors, black(ish) and white. Both have unique characteristics that I find appealing. The black, for example, has a texture that catches light and reveals a dimpled pattern when held at the certain angles. The whole device is wrapped in what looks like lacquer, as it is glossy, reflective, and prone to collecting grossly apparent fingerprints.
Samsung was able to reduce the thickness and the weight of the GS4 compared to the GS3. It's an amazingly thin and light phone. Samsung was able to do this, in part, because it used no metals to build the frame or outer shell of the GS4. As with every Galaxy S before it, the GS4 is made mostly of plastics. Though it clearly makes gains over the GS3 in terms of quality, it doesn't go far enough to compete with the superb build of devices such as the HTC One and Apple iPhone 5. There's simply no comparison: HTC and Apple have crafted devices that exude the best in modern design. The GS4 is an evolutionary step from Samsung that makes no attempt to offer owners high-class anything. It's clear that Samsung is not paying attention to complaints of its phones being too plastic. Instead, it is paying attention to the huge number of Galaxy S phones it has sold over the years. One clearly speaks louder than the other. For my money, the GS4 still comes off somewhat cheap-feeling in the hand, but it is comfortable to hold and use, and slips into any pocket with ease.
It is a big phone, though. I have large hands, and sometimes found reaching my thumb all the way across the screen to be a balancing act. Those with smaller hands might find the GS4 to be too large.
The GS4's front surface is nearly all display. The bezel along the side edges is minimal, and even the framing above and below the display are slim. There's barely enough room for the Samsung logo, earpiece grill, and camera above the screen, for example. As with last year's model, the GS4 has a physical Home button that has an excellent feel to it. Not only is it easy to find, it offers satisfying travel and feedback. The capacitive Menu and Back buttons flank it, to the left and right, respectively.
There are only two other buttons adorning the Galaxy S 4. As expected, Samsung has placed the volume toggle on the left edge of the device, and the lock button on the right. Both buttons have a good shape and offer excellent travel and feedback. The lock button, in particular, is among the best such buttons from Samsung. The microUSB port is tucked into the bottom edge; the stereo headphone jack is on top. There are no hatches, nor is there a dedicated camera button.
One design element that Samsung uses as a selling point is the GS4's removable back cover. The HTC One and Apple iPhone 5 have sealed batteries; the GS4 does not. The GS4's battery cover is easy to remove, and is incredibly flimsy. It fits snugly against the back portion of the GS4's chassis, and the seams are nice and tight, but nothing prevents me from cringing about how cheap this piece of plastic really is. Once you've peeled it off, though, you have access to the battery, the SIM card, and microSD card. It's great that the GS4 supports memory cards up to 64GB, and even better than you can remove the card without removing the battery.
Perform
Screen
To call the Galaxy S 4's display impressive is an understatement. The screen measures 5-inches across the diagonal and includes 1920 x 1080 pixels. Though the HTC One (which has a 4.7-inch display and the same resolution) beats the GS4 in terms of pixel density, the GS4 beats the HTC One handily in brightness and viewing angles. There's absolutely no brightness drop-off when the GS4 is tilted to the side, and colors remain accurate no matter what angle from which the GS4 is viewed. These statements do not apply to the HTC One, which sees a big brightness reduction and a slight bluing effect when tilted. Samsung's OLED display is a fantastic screen, no doubt, though colors are a bit oversaturated (which is typical from Samsung displays). Pictures, movies, web sites, and other content look flat-out amazing on the screen.
Signal
I've spent the better part of a week testing the AT&T variant of the Galaxy S 4 around the New York City metropolitan region and came away impressed with the GS4's performance on AT&T's HSPA+ and LTE networks. The GS4 manages to hold on firmly to AT&T's network no matter where I took it. It performed on par with other AT&T devices in terms of connecting calls the first time, or maintaining calls once connected. Data speeds were a bit more consistent on the GS4 than a handful of other AT&T devices I've tested of late. AT&T's HSPA+ network routinely delivered average downloads in the 3.5Mbps range, while LTE ratcheted things up almost fourfold to 13.5Mbps. The GS4 was better able to maintain a data connection in weak coverage areas compared to the iPhone 5 on AT&T's network when tested in the same spot.
Sound
Similar to the Sprint model, the AT&T variant of the GS4 produced voice calls of excellent quality. I was very impressed with the tone and clarity of calls. In addition to the pleasant calls, the volume of the earpiece is flat-out incredible. Using the volume rocker, setting it all the way up produces calls that are bordering on painful. If you enable the "extra volume" tool, the earpiece speaker is boosted into the "holy-cow-that's-loud" realm. The GS4 also includes noise cancellation, which is meant to reduce background noise for the person on the other end of the call. In that respect, it worked well. When holding a conversation next to a busy intersection, the person with whom I was speaking heard no background noise of any kind.
Calls routed to the speakerphone were just as clear as those sent to the earpiece (this is an improvement over the Sprint version.) Further, the volume was extremely loud (also an improvement over the Sprint variant.) I was able to hear the speakerphone quite clearly even when standing next to a street sweeper as it trundled down the road next to my home. You'll be able to hear calls with the GS4's speakerphone just about anywhere, save for perhaps directly behind a jet engine.
Ringers and alert tones, which are the same nature-inspired, drippy-drops as on the GS3, can be heard in most environments. The GS4 can be set to boost the ringer volume when it senses the device is in a pocket, a feature that works well. I thought the vibrate alert was OK, but could have been better. I missed a few text messages when the phone was in my pocket because I couldn't feel the GS4's vibrations.
Battery
Battery life was average for a device in this class. What does that mean? Well, it will get you from 7 AM to 11 PM, or thereabouts, depending on how you use the phone. Light use (email, Twitter, browsing, and some calls) barely taxes the battery at all and it easily lasted from the crack of dawn until well after I went to bed. Heavier use (streaming audio, watching video, using the camera) had a noticeable impact on battery life. Shooting video sapped the battery quickly. Using the GS4 under LTE data didn't appear to have any negative impact on the GS4, though. Bottom line, you can expect a day from the GS4, but mileage will vary.
Menus
The Galaxy S 4 runs Android 4.2.2 Jelly Bean, but Samsung's TouchWiz user interface is what owners of the GS4 will be coping with on a daily basis. The latest iteration of TouchWiz crams in more features than most owners of the device will ever notice, let alone use.
The GS4 starts with a highly customizable lock screen. You can choose to leave it simple, or add up five lock screen widgets plus a large digital clock. The latter was the setup I preferred, as it allows for quick access to key apps, such as the camera, browser, and Gmail, if you wish. You can include a password, too, to keep the device secure. The password works even if you have the lock screen shortcuts enabled.
Once you've made it to the home screen, you'll see a familiar layout. On the surface, it is hard to tell the previous version of TouchWiz from the new one. The basic appearance of the home screen panels is essentially unchanged. There are five panels active when you first boot the GS4, but that can be altered at will. They are stuffed with widgets for Samsung's apps, such as the Media Hub, and Lifemate/Exercise app. The home screen panels remain to be as flexible as ever.
Samsung has made some changes elsewhere in TouchWiz. For example, the notification tray lets you control far more features than before. When you first swipe down, you see five toggles at the top that let you turn on/off various features. You can swipe these toggles to the left to gain access to more. With the notification tray open, you'll notice a cog wheel icon in the status bar for accessing the full settings menu, and a little square block icon. Press this block icon to gain access to all the toggles, of which there are 19 (Wi-Fi, NFC, Screen Mirroring, Airplane Mode, S Beam, Air View, and so on.) Further, you can customize where the toggles appear in this tool. You can also adjust the brightness from the notification tray, and of course see inbound notifications.
As always, the main app menu is accessed by pressing a button that persists in the dock at the bottom of the home screen panels. The app menu is among the more customizable I've seen among Android handsets. Samsung allows users to see the apps in alphabetical or customized grids, in addition to an alphabetical list. Apps can be hidden or stuffed into folders, and tabs at the top of the screen let you quickly view which apps you downloaded, and what widgets are available. There are 20 apps visible on each page. Samsung lays out the app drawer pages horizontally, so you swipe side-to-side to access more apps. A little indicator at the bottom tells you how many pages of apps there are.
On most Android devices, the main settings tools are listed on a single screen that you scroll up and down. According to its research, Samsung says people don't like scrolling. It decided to break the settings tools into four separate screens: Connections, My Device, Accounts, and More. As the names imply, they each let the owner focus on making adjustments to one set of behaviors per screen. Obviously, the Connections tab is where you'll find controls for the wireless radios, Wi-Fi networks, NFC, S Beam, and so on. The My Device tab lets you adjust the wallpapers, ringtones, accessibility, gestures, and things of that nature. Personally, I don't like this setup. I'd prefer everything to be accessible from the same screen. It doesn't help that Samsung made some odd choices for organizing these control screens.
For example, I'd expect to find location services under the Connections tab, but it's not; it's under the More tab. Even though the My Device tab has many controls for adjusting user preferences, the application manager, battery, and storage tools are all under the More tab, too. Bottom line: people who are used to anything else - even earlier versions of TouchWiz - will need to spend some time relearning where to find their controls.
The GS4 includes Samsung's Starter Mode. The mode greatly reduces home screen clutter, drastically cuts down on menu confusion, and hides a lot of the GS4's features. This mode is meant for first-time smartphone owners who might be overwhelmed by the GS4. I looks utilitarian, but Starter Mode is much easier to make sense of, if you don't mind losing half the device's features.
The last major component of the GS4's menu system is the split-screen mode. This feature lets you interact with two apps at the same time, albeit in tiny little windows. Split-screen mode was previously reserved only for Samsung's larger Galaxy Note phones and tablets. The tool is pretty straightforward to use, but the number of apps that can use this feature is somewhat limited (Chrome, email/Gmail, Facebook, Twitter, Maps, Google Talk, YouTube, S Memo, etc.). The idea is to let you actually do two things at once, such as watch a YouTube video in one window while replying to Gmail in the other window. The windows can be swapped and resized. Though the GS4 has a 5-inch screen, this feature definitely works better on devices with even larger screens. It could also be much more intuitive to figure out. (You have to open the multitasking drawer and then drag-and-drop the apps you want to appear in the split screen mode.)
If there's anything that can be said for TouchWiz, it's that it offers GS4 owners an (over)abundance of options from which to choose when it comes to interacting with and customizing their device.
A note about performance: The US versions of the Galaxy S 4 come with a Qualcomm 600 quad-core processor, not the eight-core Exynos processor intended for international markets. The AT&T model did not show any of the screen stutters or app crashes that I saw on the Sprint model. In fact, everything functioned perfectly. Apps opened in a blink, screen transitions were smooth, and even the most intense games, such as Iron Man 3, didn't cause the GS4 to gasp for breath.
Calls/Contacts
Managing the phone and contact applications couldn't be easier. The phone app itself is more or less the stock version of the Android dialer, but it has been gussied up TouchWiz style.
The phone app itself offers the same set of customization powers from the GS3 that really let you dig in and make the phone's behavior your own. When the dial pad is visible, tap the menu button and you'll see an options screen for the phone. Here is where you can set rejection behaviors, alerts, answering/ending calls, set up voicemail, and control the TTY functions. You can turn on/off noise cancellation, as well as dial in your own preferences for volume, clarity, and warmth. Despite the huge number of behaviors you can modify, the GS4 doesn't come with alternate dialpad skins.
The contact app behaves more or less like the stock Android contact app. Favorites are accessible from a tab at the top of the phone app, as is the entire contact database. There are standard home screen shortcuts for direct access to a contact on the home screen panel, as well as a direct dial, and direct message, but there isn't a larger widget for your favorite contacts, which seems an odd omission.
Messaging
The GS4 has the typical list of messaging apps. The native communication tools include email, Gmail, Google+ Google+ Messenger, Google Talk, and Google Voice. Facebook and Twitter are also both preinstalled. I couldn't find any new features that are special or exclusive to the GS4 in these apps; they function just as they do on other Android smartphones.
Samsung has put Flipboard on the GS4 to cover your social digital magazine needs, but Samsung's ChatOn messaging application is conspicuously absent. (ChatOn is a cross-platform IM app that uses data rather than SMS to deliver messages.) ChatOn is, however, available for you to download from the Samsung Apps Hub, which is on board.
Last, AT&T's Messaging app is included. This is a catch-all instant messaging app that bundles together IM functions and SMS into one app. The idea is to give you one spot in which to manage your SMS and IM threads. It's an OK service, and accomplishes its main goal without trouble. However, in my opinion, it's a bit clunky to use, and the individual apps it attempts to replace (SMS, Google Talk, Yahoo IM, etc.) are more feature-rich.
Imaging
Camera
There are so many features in the GS4's camera, it's ridiculous. Some of them genuinely delight, others are somewhat silly. One thing Samsung hoped to do with its camera software was to make it easier to use. In that goal, I think it is fair to say Samsung succeeded.
There's no dedicated camera button, but the camera can be launched from the lock screen. The camera is the only app that will bypass a password. The app opens quickly enough and presents owners with a camera user interface similar to what we've seen on other Galaxy-branded devices over the last few years.
Samsung has taken a cue from HTC and combined the camera/video camera controls on one screen. There's no longer a "camera mode" and "video mode." Instead, the GS4 has both a camera button and video camera button on the right side of the screen at all times. This way, either media type can be captured without first requiring the user to swap modes. This is a good thing. The other benefit of this setup is that you can capture stills while also recording video. There's a third button below these two shutter buttons called Mode. We'll get to that in a second.
There's a button for switching to the user-facing camera, a button that activates the picture-in-picture mode, and a button to open the full settings menu. Pressing the settings button first opens an expanded view of the control strip, with more options (flash, microphone mute, night shot). These can be customized if you wish. As usual, owners can fine-tune most aspects of the camera software (pixels, aspect ratio, white balance, exposure, etc.).
The GS4 has 12 different "modes" for capturing images, and there are two ways to interact with them. The first time you press the mode button, you'll see a carousel view of the different modes with a detailed explanation of each mode and what it produces. You can spin through the carousel options quickly to find the mode you're looking for. Alternately, there's a button that lets you see all the modes laid out in a visual grid. This grid layout is a faster way to access the shooting modes once you're familiar with the way operate.
Most smartphone or camera users should be familiar with about half the shooting modes: auto, sports, night, panorama, HDR, and portrait (called "Beauty Shot" by Samsung). The rest are worth explaining a little bit.
Best Photo: This shooting mode takes a series of pictures and then lets you pick the best one. Rather than bracketing exposures, it simply takes a handful of shots timed about a half-second apart from one another. You then select one final image from the bunch.
Best Face: This mode helps you create a group shot in which everyone is smiling and has their eyes open. It takes a series of five shots and you can then pick the best version of each person's face and then merge the results into one image.
Sound & Shot: I don't really get this one. When Sound & Shot is used, the GS4 takes a single shot and then records up to 9 seconds of audio, and then combines the still image with the audio into a single picture with sound. I guess you could use it to create a still image that has audio of everyone shouting "Happy Birthday, Grandma!"
Drama Shot: This is my favorite. This mode will take several shots of an action scene and then merge them together into a cool image. There are some caveats: First, you have to hold the camera still, as the drama shot wants the background image to be static. Second, you can't be too close to your subject (don't as me, the camera software freaks out if you're too close). The idea is to capture something as it moves across the still background. For example, I was able to get a neat shot of my daughter running around and you can see 4 images of her overlaid on the same background as she dashed across the screen. This would be pretty cool for sports photography, too.
Eraser Shot: As the name implies, this mode takes a number of shots and lets you erase unwanted objects from the final result. The obvious example is when your friend photobombs what would otherwise be a nice image of your parents. You can use Eraser Shot to eliminate your friend. Of course, you have to remember to turn on Erase Shot in the first place...
Animated Shot: This feature lets you create animated GIFs with the GS4 and was a feature that first appeared on phones with the Nokia Lumia 920 last year. Basically, the GS4 records a really short video. You can then choose to isolate some motion in the photo so that one piece, say, someone's arm, is moving while everything else is still. Think of all those silly 3-second cat pictures you've seen on the internet, and you'll get the general idea. The feature worked just fine.
The GS4 walks you through the process of learning how to create each of these types of images. They may sound somewhat involved, but they are really quite simple.
I don't know why the picture-in-picture mode is separate from the other modes, but it is. As the name implies, this feature uses both the front and rear cameras at the same time. You use the main camera to take a picture of, say, your car, and the user-facing camera lets you insert your head next to the car, or behind the wheel, etc. The picture-in-picture frame can be resized, and offers several different shapes (postage stamp, fisheye, oval, etc.). It's fun, but takes a little bit of practice to master. You can also swap it so the main camera shoots the small image, and the user-facing camera shoots the main image. Last, you can give each camera equal weight, and place the two images side-by-side for a "split screen" effect.
Not only are these camera features fun to use, they're pretty easy to use. It takes less than 5 minutes to learn how to use them all, and they open up a wide range of creative possibilities.
Photos
I took the AT&T GS4 variant for a spin and the images it captured had all the same qualities I saw in results from the Sprint version. The GS4 has a 13-megapixel camera, which is about the practical limit in terms of megapixels for a sensor this size. The pictures I shot were generally good, but they didn't bowl me over. Focus was sharp about two-thirds of the time, but a bit soft the other one-third of the time. Colors and white balance were rich and accurate most of the time, but every so often images would look washed out and dull. Exposure was more consistently accurate. I didn't see any grain problems, even when I shot images at a concert (admittedly, a challenging environment). The GS4 takes pictures that are good enough, but short of excellent.
Video
The GS4's ability to record video was more consistently good. Things such as color, focus, and exposure were much better, in general. The clarity of the 1080p video I captured was exceptional at times. The GS4 can surely record YouTube-worthy video.
Gallery
The GS4's gallery is one area that Samsung left alone. It uses the stock Android 4.2 Jelly Bean gallery application, with a few extra features tossed in for good measure. The top-level view of your albums can get distracting if you're not careful. The device will automatically sync thumbnails from your Google+ and Dropbox accounts, but you can thankfully turn these off (they add ridiculous amounts of clutter to the gallery). There's a drop-down menu accessible from a button at the top of the screen for sorting between albums.
When you dive down into the individual galleries, the GS4 goes into a split-screen mode: a vertical list of other galleries forms a strip along the left edge of the screen, and the rest is reserved to show larger thumbnails of the images in the gallery you chose to view. You have to press one of the thumbnail images to go into a full-screen view of that image. Once there, you can swipe through photos, perform edits, and share quite easily thanks to the numerous options in the gallery app.
Story Album
Story Album is an app that lets you create photo albums. The app is separate from the gallery or camera apps, but it has hooks in the gallery app and pulls images from there. It can automatically create albums for you based on date or location, or cede full control to the artiste in you. The tools are easy to figure out and the GS4 walks you through the process. Story Album offers a handful of themes and layout configurations, you can manually manipulate photos, add captions, and more. Once you've put albums together, you can export them as PDFs for printing or sharing, as well as order an actual photo album that is professionally printed and delivered via mail.
Media
Samsung wants to take over your living room, and the Galaxy S 4 is bursting with applications and services to help it do that. Some are more successful efforts than others.
Samsung Hub
Samsung is pitching the Samsung Hub hard on the GS4. Though it has offered its content store on devices for years, Samsung really means it this time. The Samsung Hub is featured much more prominently on the GS4 and competes directly with Google's own offering. The Samsung Hub can be used to purchase/rent music, movies, books, and games.
The top-level navigation tools within Samsung Hub look gorgeous. You slide the screen side-to-side to see featured music, video, book, and game content; here, the images/fonts used are clean, crisp, and pleasing to look at. Touch anywhere on these top-level navigation screens to dive down into each individual content store. This is where things get messy. Browsing for content is a horribly clunky experience that made me want to tear my hair out.
Browsing through the music store, for example, it shows just a few featured artists/recordings on the main screeen. You can't go far beyond this screen without stumbling into the search tool, which is finnicky. My searches generally turned up no results, or thousands of results. Further, the selection/availability of titles was sorely lacking. For example, the new Ghost album isn't in the store even though it's been out for a week.
To be quite honest, the app is so clunky to use and the selection so inconsistent, I can't imagine why anyone would want to skip Google's content store (which also has limitations) in favor of the Samsung Hub. Samsung told me that music purchased from its Hub is free of DRM, but movies are limited to playback on other Samsung devices, be they tablets, laptops, or TVs. At least the content you buy from Google can be played back on a larger range of devices.
The Google Play Store itself - which recently saw a significant visual overhaul - is a decent piece of software for finding, purchasing, and downloading apps, books, music, and videos. Prices are comparable to other content stores. The Google Play Music, Play Video, Play Books, and Play Magazine apps are all simple-to-use and haven't changed much in the last year or so.
The GS4 also includes the bare-bones MP3 and video player apps, as well as the stock YouTube app. These are your best options if you choose to listen to music or watch videos you've stored on a microSD cards.
Last, if you think these aren't enough, AT&T's Live TV app is installed, as well. Really, AT&T and Samsung, how many redundant content stores does anyone need on a phone? AT&T's mobile TV app, which is a for-pay subscription service, streams live and recorded TV over AT&T's network. Performance depends on a having a solid connection to the network. Considering all the other free options on the GS4, why anyone would bother to use this service is beyond me.
Group Play
Group Play is a feature that only works with other GS4's, so it won't be of much use to most people, at least not right away. It essentially allows one GS4 owner to play some music and have others connect to and stream the same song at the same time. Samsung showed us how it works in a demonstration with about six handsets. The software is dead simple to use and relies on Wi-Fi Direct technology to hand-shake and pair everything. With music playing on the host device, everyone can hear it in unison, and it creates an immersive surround-sound effect. The app has a cool visualizer, too, for added ambiance. Other than at a party or family get together, I can't imagine this feature being very useful, but it is pretty neat.
Samsung Link
Samsung Link is slightly more useful than Group Play in that it connects the GS4 to other DLNA-compatible devices for playing back more types of media. It offers a really simple set of screens to help users connect their GS4 to their TV, stereo system, etc., and stream music, photos, and movies to those devices. I found the software significantly easier to use than previous iterations and I had no trouble pairing with my Samsung TV.
WatchOn
The last component of Samsung's new living room push is WatchOn. This multi-functional app wants to be your TV remote and content guide on steroids. First and foremost, WatchOn acts as a remote control for your television set, cable box, and home theater. The IR blaster is hidden in the top of the GS4. The process to setup the remote app so that it properly controls your gear is very simple and requires but a few steps. The IR blaster is somewhat finicky, though, and requires you to aim pretty carefully at the devices you want to control in order to work.
Beyond the basic remote functionality, WatchOn includes a massive content guide (powered by the Peel engine) that lets GS4 owners view their TV show data, search for shows, schedule recordings, see what movies are available for streaming on which services (Netflix, Hulu, YouTube, etc.), and more. It also lets you place-shift whatever is on the main TV to the GS4 so that program can be watched even if you leave the room. WatchOn has a recommendation engine that learns user behaviors over time, and will suggest things like, "Hey, your favorite show is on now, check it out," along with similar content it thinks you might like.
There's also one more feature that's specific to Samsung Smart TVs and the GS4. In households with a Samsung Smart TV, the GS4 owner can be in another room and, though the home network, log into the Samsung Smart TV to see what content is being played on that particular TV. Samsung pitched it as a way for parents to keep tabs on what the kids are watching.
Having the TV remote alone is a very useful feature. Personally, I don't have much immediate need for all the powers of WatchOn, but I see the value it offers for those who want to place/time-shift their content.
Extras
Air View / Air Gesture
These are two gimmicky features that I found rarely worked well. Air View was previously only available on the Galaxy Note. It lets you see previews of items (emails, links) without forcing you to open them. For example, you can see the text of an email without leaving your inbox by hovering your finger about a centimeter off the display. This feature did not work consistently. Samsung calls it a time-saving feature.
Air Gesture can be used to advance through a photo album, through open browser tabs, or answer calls. This feature worked better than Air View. Basically, when in select apps, you wave your hand over the GS4 as if performing a magic trick. The best use of this feature is for answering calls. The way to imagine it is to think of a scenario when you're eating a sloppy lunch with your fingers and the GS4 is on the table next to you. Rather than smear grease all over the display, you can wave your hand above the screen and it will answer the call and go straight to the speakerphone. Neat. My only complaint with this feature is that it requires a rather grand and dramatic wave of the arm. You really have to move your arm to get this feature to work.
Apps
The GS4 comes chock full of apps and services from both Samsung and AT&T. The usual spate of AT&T atrocities are on board, such as AT&T Drive Mode, Family Map, Locker, Navigator, Smart Wi-Fi, Messages, Hotspot, Mobile TV, myAT&T, and YP Mobile. Most of these cannot be deleted, but they can be hidden from view in they get on your nerves.
Bluetooth
Of course the GS4 includes a Bluetooth radio. I had no trouble connecting the GS4 to a variety of devices (PC, laptop, other smartphones, headsets, keyboard, etc.). Discovery and setup was a snap thanks to Samsung's on-screen prompts. The quality of phone calls passed through a mono headset was much improved compared to the Sprint version. Both clarity and volume were excellent. The same is true of music sent to a set of wireless speakers. I had the best results with my car's hands-free system, where quality and volume were good.
Browser
The GS4 ships with both Chrome and the generic Android browser on board. Honestly, I don't see why any device needs to ship with two browsers, but whatever. Both are fine tools for browsing the web and do a good job of rendering HTML web sites. Chrome offers more features in that it can be synced with the desktop version of Chrome, but the generic Android browser offers simpler controls. Both were quick to load web sites via AT&T's HSPA+/LTE networks. I was impressed with the browsing performance everywhere I took the GS4.
Clock
The lock screen clock takes some work in order for it to be useful. Out of the box, Samsung has placed a really small digital clock on the home screen. I found it somewhat hard to see when I wanted to check the time quickly. If you choose to set up lock screen shortcuts, you can select a different view of the lock screen that makes the clock much, much bigger. It takes a few steps, but checking the time is much easier with the bigger clock enabled.
GPS
The GS4 includes Google Maps and AT&T Navigator. Google Maps works the same as on any other Android devices. AT&T's service, which costs $10 per month, works well, too, but you aren't getting any extra features for that monthly fee. Both apps interacted with the GS4's GPS hardware without issue. The GS4 was very quick to pinpoint my location to within about 25 feet most of the time.
Optical Reader / S Translator
This application is nothing truly new, but it is neat just the same. It uses the camera to recognize text, QR codes, and business cards. I don't see much use for the text feature other than to perhaps pair the results with a Google search for a word you might not recognize. The QR code reader works as you'd expect it to. What surprised me was the accuracy of the business card reader. I've seen this feature on phones for years, but the GS4's Optical Reader was perfect almost 100% of the time. Better, it integrates directly with your Google Contacts and instantly syncs to your Gmail account. I imagine this will be a great help for business professionals. The Optical Reader can also translate written languages from one to another.
Similarly, the GS4 has another tool, called S Translator, that can be used to carry out a conversation between two people. You speak one one language, and the app will use voice-to-text to transcribe what you've said and then spit it back out in another language of your choice. It supports 12 languages and works well.
Smart Scroll / Smart Stay
There are two more gimmicky features that worked sporadically. Both use the GS4's front camera to detect the user's face/eyes. With Smart Scroll, it is supposed to be able to scroll up and down pages, like web sites, if you tilt your head up and down when looking at the screen. I couldn't get it to work at all. Smart Stay, however, was better. This feature will stop video playback if the phone senses you've turned your eyes away from the screen. I tested it with the YouTube and Google Play Movies apps, and it worked perfectly in both. The video stops playing the instant you turn your eyes away from the screen, and resumes playing about 1 second after you face the phone again.
S Health
Samsung wants you to be happy and healthy. After all, Samsung calls the GS4 a "life companion". Hence S Health, a set of apps and services meant to help owners manage their diet and exercise. The app requires that you enter in some personal details (age, weight, sex) and so on to get you started. It offers a handful of tools for paying attention to your activity and what you eat.
First, there's Walking Mate and Exercise Mate. These two features let you track activity and record it. They rarely worked. For example, I set a goal of 10,000 steps per day, put the GS4 in my pocket and then walked a mile. When I got home, the GS4 had recorded 7 steps. Yeah, 7. Later, I tried again and walked a half mile on my treadmill. This time it recorded 1,400 steps, which is about on target for my stride. I tried once more walking around the block, a distance of perhaps 200m. It recorded 750 steps, which was far too many. Bah. The Exercise Mate is meant to time and gauge calories burned of dedicated workouts.
Last, there's something called Comfort Level. This measures the ambient temperature and humidity and offers a visual representation of how "comfortable" the air conditions are based on the readings. Um, I know when I am comfortable and when I am not, thanks very much.
Wrap-Up
Whew, right? Yeah, the Samsung Galaxy S 4 includes everything and the kitchen sink. The term "feature creep" was probably invented for devices such as the GS4, which has a dizzying array of apps, services, tools, and features. But did I like it, and would I recommend it?
Though the GS4 doesn't match the high-quality feel of the HTC One or Apple iPhone 5, Samsung did a good job improving upon the quality of the GS4 compared to previous Galaxy S devices. It is thin, light, easy to use, and has an incredible display. The removable battery and memory card might be selling points for some. Our test unit performed quite well on AT&T's network and offered good signal/voice performance. I would have liked it if the battery lasted a bit longer.
The GS4 really shines when it comes to the software. Samsung has crammed tons of new features into TouchWiz, though only about half of them are as useful as Samsung claims they are. Standouts include WatchOn, Smart Stay, and Air Gesture, while duds include S Health, Smart Scroll, and Air View. The camera, in particular, adds some fun-to-use shooting modes that produce new and interesting types of images. I only wish the camera itself took slightly better pictures.
The GS4 offers a completely different experience from the HTC One in terms of both hardware and software. At the end of the day, I like the HTC's hardware much more than Samsung's, but Samsung's software only slightly more HTC's. It's a really, really tough call between these two handsets.
I Just Don't Get It
---"Though it clearly makes gains over the GS3 in terms of quality, it doesn't go far enough to compete with the superb build of devices such as the HTC One and Apple iPhone 5"---

I've used cellphones for over 27 years and have never once had a problem with MPM(Molded Polycarbonate Material). While I may understand the wish for better materials by some individuals, MPM doesn't seem to be effecting sales of the Galaxy. In fact, a recent poll of smartphone users on another site, gave 52% to those that prefer to have plastic if it means retaining removable batteries.

This tells me that less push should be on metal alloy phones until it can incorporate best of both worlds. Manufacturers should pay attention to this.

And while we are on...
(continues)
Slammer said:

I'm disappointed that phone geeks don't look further at the landscape. You are a musician Eric. How inconvenient would it be to have your battery short for wireless transmitter with no way to swap it out. Or how wou
...
(continues)
First of all I would say that MPM is a BETTER material than a metal phone. There is a reason and that is because metal blocks radio signals more than MDM!!!

Also once upon a time people said they would not buy a car with fiberglass bumpers. Um. ...
(continues)
It's that it creaks like crazy and has backlash when gripped tightly after a couple weeks of usage. I haven't had a phone feel this flimsy since my first-generation Sprint PCS phone from 2004. This isn't acceptable anymore and hasn't been since the Mo...
(continues)
Hardware???
Why is it that Phonescoop's notion of hardware always seems to be limited to the construction materials of the enclosure/case? And while this is one form of hardware, it is usually a menial aspect of hardware for the rest of the technological community. Usually when we talk about hardware we mean the processor, memory, screen, camera, memory card slot, and other elements that comprise the main physical architecture of the device. But the aesthetic elements, enclosure/case, buttons, paint job, etc., although technically hardware themselves, usually take a back seat to the functional ones.

For instance, if I said that Asus uses better hardware than Dell, I wouldn't mean that I think the case is really slick and that I like the keyboard and...
(continues)
Although you make a good point and it does make sense when reviewing a electronic device it is kinda pointless to do so when you are reviewing cell phones such as the Galaxy S4 when they are offered across all networks. The hardware is virtually the s...
(continues)
100% agree...

Too many people caught up on this... Not to mention the difference in exterior build quality is much less significant than before. Weight and feel of the One and S4 are not as far off as usual, and if you drop either phone, you are p...
(continues)
Thanks for the feedback. It's always appreciated.

We've put a lot of thought into what we cover and in what detail.

Phones are devices you hold in your hand and manipulated frequently throughout the day. That's just one of the factors that makes...
(continues)
Zpike - The big thing you're missing here is that Phone Scoop doesn't write reviews for the technological community. We write reviews that average Janes and Joes can understand. Most of the people I know in the real world don't give a rat's a&& about ...
(continues)
Vibrate- other user feedback?
The Phone Scoop reviewer gave the vibrate a so-so review with the caveat that he missed a few texts. Does anyone who owns this have anything to add?
I am coming from a Galaxy Nexus, which had plenty of vibrate power for me. I actually bought a Nexus 4 last week but the vibrate is pathetic (otherwise a great phone though). I like to keep the phone on vibrate at work and when out and about, so having a decent vibrate is an important feature for me.
I'm thinking about returning the N4 and getting back on contract to get the S4 and get LTE speeds but was hoping some other people could comment.
I suppose I could go to the store and play with the phone, but I prefer real world feedback.
Will the AT&T Phone work Internationally?
So confused here...I was given the S4 AT&T version as a gift. I need to use this phone in the UK and would also like to tether my laptop to the S4's data plan. Should I get the AT&T version with world roaming? Or should I just sign up with a UK carrier, but if so, does the AT&T version work with UK carriers?