Doro
Phones & Info News
KaiOS says Google has agreed to invest $22 million in its light-weight mobile operating system. The investment from Google follows commitments made earlier this year by Google, Facebook, and Twitter to support the platform. "This funding will help us fast-track development and global deployment of KaiOS-enabled smart feature phones, allowing us to connect the vast population that still cannot access the internet, especially in emerging markets," said Sebastien Codeville, CEO of KaiOS Technologies. KaiOS is already available on a number of low-cost phones, including Nokia's 8110 5G "banana" phone and the Doro Phone 7050. KaiOS says it is working with other manufacturers, including TCL, HMD Global, and Micromax, and that it has partnerships with carriers including AT&T, Sprint, and T-Mobile. Beyond the investment, Google plans to bring Google Assistant, Google Maps, YouTube, and Google Search to KaiOS. Google said it is "excited to work with KaiOS to further improve access to information for feature phone users around the world."
---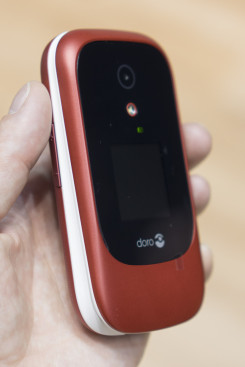 Doro has long made a name for itself as a purveyor of simple phones for older folks. Their latest entry is a super-basic, old-school flip phone with classic, easy-to-use design, Doro's special easy interface, and unique software powering it. We take it for a quick spin in this hands-on.
---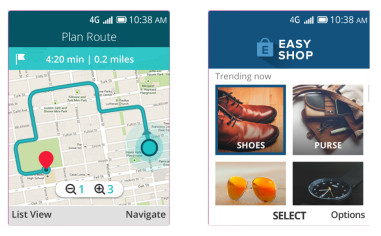 Kai says its small operating system is about to get a lot bigger. The company has struck agreements with Airfind, Facebook, Google, and Twitter, each of which will offer its core apps to the fledgling platform. KaiOS is based on HTML5 (the old Firefox OS) and can run on devices with as little as 512MB of RAM. Kai's goal is to serve as the platform of choice for the 500 million feature phones sold to those who want or need something less expensive than a modern smartphone. Airfind will bring its news and weather apps to KaiOS, while Google will bring Search, Assistant and Maps, and Facebook and Twitter will each bring their namesake apps. Kai has scored some wins with hardware makers, too. For example, Nokia's 8110 5G "banana" phone runs KaiOS, as does the new Doro Phone 7050, and a forthcoming device from Bullitt Group. Kai also has the support of silicon makers NXP, Spreadtrum, and Qualcomm. KaiOS' HTML5 core is easily targeted by developers. What gives Kai a leg up on older platforms is its support for 4G. Kai expects to launch a storefront for these apps in the coming months.
---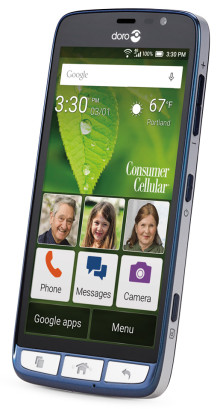 Consumer Cellular today announced the Doro 824 SmartEasy handset, an Android phone that features a user interface simplified for senior users. The 824 is based on Android 5.1, but trades in the typical home screen experience for an action-based menu for sending messages, making calls, browsing the web, and so on. The device looks similar to last year's Doro 825. It has a 5-inch 720p HD screen and is powered by a quad-core 1.2 GHz processor with 8 GB of storage and support for memory cards up to 32 GB. The phone includes an 8-megapixel camera with full HD video capture and a front camera for selfies and video chats. Other features include hearing-aid compatibility, Bluetooth, and WiFi. Consumer Cellular is selling the Doro 824 SmartEasy for $200.
---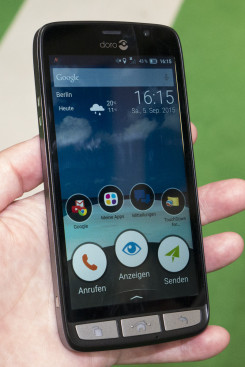 The Doro Liberto 825 is a smartphone for people who don't like smartphones. It's an Android phone with a an unique, extra-simple interface, that can still run any Android apps you like. It has a huge screen and huge physical buttons. It has extensive remote-management features to enable good ol' family tech support. There's a large, dedicated emergency button on the back. Is this the phone to get grandma? Read on for our hands-on report.
---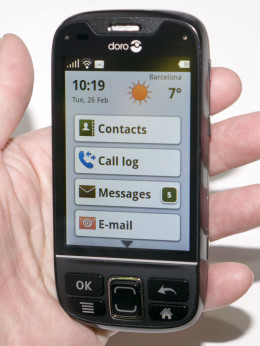 Doro is known for making really simple phones aimed at seniors. Now that the world is moving to smartphones, they've developed an interface that simplifies Android, and they're working to bring it to other manufacturer's Android phones in the U.S. Check it out in our hands-on.
---
Consumer Cellular today announced that more of its devices will be available at Sears retail stores beginning later this month. The Huawei 8800, an Android smartphone, and the Doro PhoneEasy 618 feature phone are among the new handsets being made available for $149.99 and $59.99, respectively. The Motorola WX416 will continue to be available for $34.99, but now in red and black colors. Consumer Cellular's plans start as low as $10 per month.
---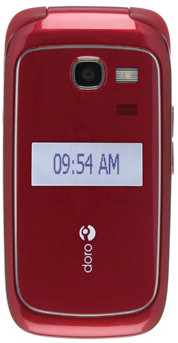 Consumer Cellular today announced the availability of the Doro PhoneEasy 618, a new flip phone designed for easy use by senior citizens. The 618's primary feature is its 3.2-megapixel camera that has a dedicated key, built-in flash, and easy MMS (picture messaging) tools. The Doro PhoneEasy 618 also includes large buttons, dual displays, speakerphone, an emergency call button, Bluetooth, and an FM radio. The 618 is available directly from Consumer Cellular today, and will reach Sears stores beginning in January. It costs $60.
---