Hands On with the Doro Liberto 825
Article Comments
Sep 8, 2015, 7:30 AM by Rich Brome
updated Sep 10, 2015, 5:56 PM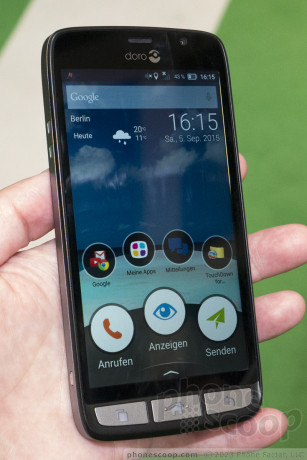 The Doro Liberto 825 is a smartphone for people who don't like smartphones. It's an Android phone with a an unique, extra-simple interface, that can still run any Android apps you like. It has a huge screen and huge physical buttons. It has extensive remote-management features to enable good ol' family tech support. There's a large, dedicated emergency button on the back. Is this the phone to get grandma? Read on for our hands-on report.
Doro isn't shy about who this phone is aimed at. The brochure features a white-haired couple going for a light jog. Their grandkids aren't pictured, but they're implied. Hearing aid compatibility is a headline feature in the marketing materials. There's a magnifying glass app that uses the camera, and the setup process guides you through choosing an appropriately huge system font size. The SOS button on the back can be made to call a family member for help.
The 5-inch screen is probably an ideal size. It makes everything large and easy to read, without crossing the lime into full phablet size; it'll still fit in a man's pocket. The design is exceptionally plain. The focus is squarely on function, here, and that's probably fine. The back is coated in a rubberized material, which feels comfortable and makes the phone extremely easy to keep a grip on.
The large buttons below the display are truly huge, and work well. If you're new to Android and don't know what the buttons do, don't worry: the setup process teaches you. The side buttons are small, but work well. The camera button would be a welcome addition, but oddly, it doesn't launch the camera; it can only be used to take a photo once already in the camera app. The SOS button on the back is recessed a bit so you won't press it by accident. There are metal contacts on the side for a charging cradle. Dropping it in will turn it into a bedside clock, or a digital photo frame.
In terms of other specs, the processor isn't the fastest, but that's probably OK for this device. The screen is HD resolution (720p), making it sharp enough. It has LTE, an 8-megapixel camera, front camera, a memory card slot, and — surprisingly — even NFC. They've also been sure to include HD Voice, which is excellent for hearing your family members clearly.
The software is quite unique. By default, the main buttons on the home screen are part of a verb-driven interface. "Call", "View", and "Send" are the three main options. Swiping up reveals more verbs, such as "Search", "Add", and "Set". Touching one of these leads to a menu that narrows it down to a specific action, such as "Send… A picture or video" or "Add… An alarm". Doro claims "this is how older people think." I'm not entirely convinced, but it's an interesting idea. The options are so big and simple that it does at least look like an easy, welcoming interface.
There's a great setup process that teaches you basics like swiping and using the back button, if you're new to smartphones. It also lets you skip ahead if you know what you're doing. There are also interactive tips that guide you step-by-step through the process of sending your first text message, for example. Finally, if you're still confused about anything, there's a help center complete with full tutorial videos to teach you various aspects of the phone. Doro has done everything they can to make this phone easy to set up and start using.
Swiping sideways from the home screen leads to a more traditional "my apps" grid of icons. You're not really limited from doing anything Android can do. There's a simple Settings interface, but one tap takes you to the advanced version. You can create contact shortcuts on the home screen, and even use widgets if you like.
There is remote management software, which will run on any Android or iOS phone. That way grandpa can get help with his phone from a family member at any time. Most useful are the features for remotely setting speed-dial phone numbers, and installing apps (although that only works from another Android phone.) If you want to get your family member using Skype, for example, this is much easier than explaining over the phone how to find and install an app. Perhaps less useful are the tech-support features, which are limited to oddly specific scenarios. For example, if gramps is having trouble making calls, Doro assumes the problem is going to be that the volume has been accidentally turned down, and it lets you turn it up remotely. That's great, but if the problem is something else, you're out of luck.
The Liberto 825 is coming to AT&T "very soon". It's probably a better option for older users than a flip phone, and most of the design choices seem smart for the older market. It looks promising. We look forward to reviewing it.
Update: Doro has since retracted the claim that this phone is coming to AT&T.
No messages