Consumer Cellular Intros Doro PhoneEasy 618
Article Comments 6
Dec 10, 2012, 10:48 AM by Eric M. Zeman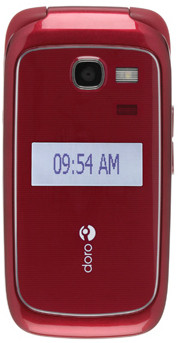 Consumer Cellular today announced the availability of the Doro PhoneEasy 618, a new flip phone designed for easy use by senior citizens. The 618's primary feature is its 3.2-megapixel camera that has a dedicated key, built-in flash, and easy MMS (picture messaging) tools. The Doro PhoneEasy 618 also includes large buttons, dual displays, speakerphone, an emergency call button, Bluetooth, and an FM radio. The 618 is available directly from Consumer Cellular today, and will reach Sears stores beginning in January. It costs $60.
Demographic Marketing
It is interesting that a phone aimed at an older group would be marketed at Sears. I don't have any inside info but they fits well with my impression of Sears shoppers.
Well, when you think about it, it makes sense. Back in the day, Sears sold EVERYTHING, and if you couldn't get it at your local store, you could get it through the catalog. In fact, that catalog was a shopping lifeline to people in very rural areas,...
(continues)
It may be "targeted at the older group" for sale, but the phone and Consumer Cellular is hoping that "older group" is:

- very very techno savy
- doesn't need much assistance
- and will put up with it to get a good price

In other words, the old...
(continues)
Consumer Cellular Customer Service
Consumer Cellular claims, "Help is at your finger tips! Free and Easy Call 800-..."

What they don't tell you anywhere in writing or on the Web site is that Customer Service only works during daylight hours Eastern Time. The Customer Service hours are not published anywhere. It's a secret apparently.

So if you want someone to help you, you are stuck waiting until the folks in the Eastern Time zone get up and see the sun. Other than that, Customer Service is "Happy to help!"
☹️
NOT that Easy
😢

Some comments about the Doro PhoneEasy 618.

Easy is not all that EASY.

1.It is not Easy to switch to silent mode, there should be a one button option to do that. In order to get to change the phone to Silent Mode you have to traverse several screens.

2. The lanyard attachment is Easy to lose since it is not a permanent thing. Take of the back cover and the lanyard falls off. The phone should have an EASY permanent way to attach the lanyard.

3. The day of the week is NOT displayed on the main screen and there is no option to select how to do that. The alternative is NOT easy to find, there are at least 5 screens to go through to get to the Calendar and then find out the day of the week.

Other than that, The PhoneEas...
(continues)
when i was a kid
i played the "pokemon" series of games... and there was an item called a pokeball that looks exactly like the branding logo on this phone.

anyone else know what im talking about? lol