Everything 5G
All Verizon AT&T Samsung T-Mobile more... Discuss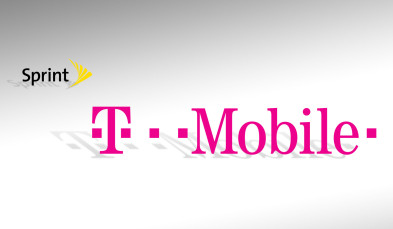 T-Mobile has officially completed its merger with Sprint. For the moment, the merger has little effect on customers, but "Sprint" lives only as a brand of T-Mobile, not a separate company. As of today, Sprint is no longer trading under its own symbol on the stock exchange. Current Sprint customers can keep their plans for the near future. As a condition of regulatory approval, T-Mobile has committed to not raise prices for three years. But over time, the Sprint brand will be replaced by T-Mobile. The companies have been making technical preparations for the merger since it was announced. Most new phones introduced by Sprint and T-Mobile in the past year are capable of accessing both networks, ensuring a smoother transition. The companies have already announced expanded roaming for Sprint customers on the T-Mobile network, for Sprint customers with those newer phones. While all major US wireless carriers are deploying 5G in both sub-6 GHz and mmWave radio frequencies, the new T-Mobile will have the key advantage of access to mid-band frequencies in the form of Sprint's unique band 41 (2.5 GHz). 5G in this band can offer a unique balance between high speeds (like mmWave) as well as broad coverage (like other sub-6 bands). The company claims that combining the two networks into one will allow the company to offer "14 times more capacity in the next six years than T-Mobile alone has today", "average 5G speeds up to eight times faster than current LTE in just a few years", and "$43 billion in synergies for all shareholders", mostly from "reducing redundant cell sites and rapidly deploying spectrum and other technologies more efficiently." The new company announced plans to invest "$40 billion into its network, business and more over the next three years." The company also announced that Mike Sievert will replace John Legere as T-Mobile CEO effective today, one month earlier than previously announced.
T-Mobile is launching its cheaper T-Mobile Connect plans starting this Wednesday, March 25th, instead of waiting until its merger with Sprint closes, as originally planned. There are two plan options: $15/month (plus tax) for 2 GB of high-speed phone data, or $25/month for 5 GB of high-speed phone data. Both plans include unlimited talk and text, and include access to 5G with a compatible 5G phone. T-Mobile has also promised to automatically add a 1/2 GB of monthly data to each plan, each year for the next five years. The company also introduced new special offers for Metro customers to help them stay connected during the current pandemic. For the next two months, Metro is offering a $15 plan, half the price of the current most affordable plan. For 60 days after customers activate, it's $15/month for unlimited talk and text plus 2 GB of high-speed phone data. Also, new and current Metro customers with any voice line can also get a free 8" tablet with a new $15/month unlimited tablet data plan. Finally, Metro is offering half-off its dedicated mobile hotspot devices, and the $35/month hotspot data plan will include 20 GB — double the normal monthly data — for the next 60 days.
US carriers have revealed launch plans for the new LG V60 ThinQ 5G flagship-class phone. T-Mobile will offer it starting March 20th for $800, or $900 in a bundle with LG's Dual Screen accessory. T-Mobile is also offering a buy-one-get-one (BOGO) deal where customers with two or more lines can get a second V60 for free, if both phones are purchased on a 24-month payment plan. AT&T will start taking online orders for the V60 on Friday, March 20th. The phone will cost $900, which includes a free Dual Screen accessory from LG. AT&T is also offering a BOGO deal, but it requires a new line of service. Verizon's version will be slightly pricier and ship later, reflecting that its unique variant supports mmWave 5G, which requires extra components and engineering. (Versions for other US carriers only support sub-6 5G, which is generally slower but offers broader coverage.) Verizon brands mmWave 5G as "Ultra Wideband", which is why its unique variant will be called the LG V60 ThinQ 5G UW. Verizon will sell the phone for $950, with pre-orders starting March 26th. Like AT&T, Verizon is offering a BOGO deal for customers adding a new line, and Verizon customers purchasing a V60 are eligible for a free Dual Screen from LG.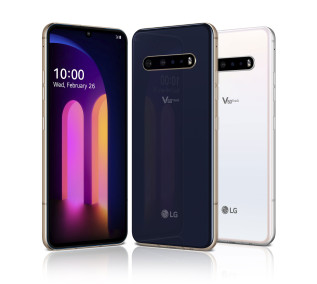 LG today announced the V60 ThinQ 5G with LG Dual Screen. Its specs are flagship-level, but not quite as top-end as past V-series phones. Verizon, AT&T, T-Mobile, and US Cellular will offer the V60 "in the coming weeks". As with the Samsung Galaxy S20, Verizon's version will supports both mmWave and sub-6 5G, while other versions will only support sub-6 5G (which offers better coverage but not the fastest 5G speeds.) The V60 will be packaged with LG's Dual Screen accessory, which adds a second display identical to phone's main display, connected to the phone with a 360-degree hinge, plus a 2.1-inch monochrome outer display. The V60's is powered by a Qualcomm Snapdragon 865 chipset, and features a 6.8-inch full-HD+ OLED display, 5,000 mAh battery, 8 GB of RAM, 128 GB storage, memory card slot, and Android 10. It also features two rear cameras plus a ToF depth camera. The main camera is 64 megapixel (f/1.8), while the wide-angle camera is 13 megapixel (f/1.9, 117º). It can capture 8K video, as well as 4K time-lapse or 60 fps video. It has stereo speakers and 4 microphones, plus an ASMR recording mode. The phone also features an in-display fingerprint reader, 32-bit Hi-Fi Quad DAC, Quick Charge 4+, IP68 water rating, NFC, Bluetooth 5.1, Wi-Fi 6, and USB-C (3.1). It will be available in blue or white. Specific launch dates and pricing will be announced by US carriers in coming weeks.
T-Mobile will launch the first 5G service for US prepaid customers on its Metro brand this Friday, Dec. 6th, the same day the company's nationwide 5G service becomes available to T-Mobile customers. T-Mobile "launched" its nationwide 5G network today, but compatible 5G phones won't be available with either T-Mobile or Metro until Dec. 6th. Metro will offer the Samsung Galaxy Note10+ 5G. T-Mobile will offer that phone as well as the OnePlus 7T Pro 5G McLaren. T-Mobile's new "nationwide" 5G network covers 5,000 cities and towns across the country, 200 million people, and more than 1 million square miles. It uses low frequency bands that have the same coverage as 4G service, unlike mmWave 5G that can only cover small areas.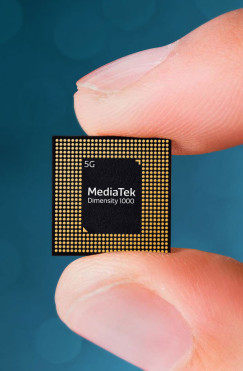 MediaTek has revealed that its first SoC with integrated 5G modem and high-end processor will be called the Dimensity 1000. The company revealed the first set of details on the chip in May. Now that it has a name, MediaTek has revealed additional details of the SoC. It's fabricated using the latest 7nm process and is designed for "premium and flagship" phones. The 5G modem component supports SA (stand-alone) and NSA (non-stand-alone) 5G networks, as well as DSS (Dynamic Spectrum Sharing) that allows 4G and 5G to efficiently share the same frequency band. It also supports 5G carrier aggregation, which enables downlink speeds up to 4.7 Gbps and seamless handovers as users move around. It also supports dual 5G SIMs, which MediaTek claims is a first. The processor part of the chip includes a five-core image signal processor (ISP) to power cameras up to 80 megapixel at 24fps. Its AI processor assists with camera functions, offering features like multi-frame video HDR, which MediaTek claims is another first. The chip also supports Full HD+ displays with refresh rates up to 120Hz, and 2K+ up to 90Hz. The Dimensity 1000 only supports 5G in sub-6 GHz frequency bands, not mmWave. By the end of this year, AT&T, T-Mobile, and Sprint will all offer sub-6 GHz 5G networks with broad coverage. The first devices powered by the Dimensity 1000 will ship in the US by the end of this year, which is earlier than previously announced. The new Dimensity brand will include a whole line of chips with integrated 5G.
T-Mobile today announced plans to offer three new programs offering 5G service for free to certain groups, or cheaply for everyone else. The company is promising to launch the programs when and if it is allowed to merge with Sprint. Although the federal government has approved the merger, over a dozen state attorneys general are suing to stop the merger on antitrust grounds, claiming the move would lead to higher prices for consumers. The new programs are:
Connecting Heroes Initiative: Free unlimited wireless service — including 5G data, talk, and text — for all first responders in the country. This would include every public and non-profit state and local police, fire and EMS first responder agency in the US. T-Mobile is promising to offer this program for 10 years, spending "up to $7.7 billion" on it.
Project 10Million: In an attempt to address "the homework gap", T-Mobile will offer free mobile hotspots and 100 GB/year of free data to low-income families with children and no home internet access. The company promises to spend $700 million equipping 10 million households with free hardware, and spend $10 billion offering free service for five years.
T-Mobile Connect: A $15/month prepaid plan available to everyone that offers 2GB of high-speed data plus unlimited talk and text. A step-up plan would offer 5GB of data for $25/month. T-Mobile also commits to increase the data limit of each plan by 0.5 GB every year for the next five years.
The state AGs suing to stop the merger have a number of other complaints. T-Mobile's announcement today also includes a number of specific promises that address most aspects of those arguments directly.
T-Mobile has announced December 6th as the launch date for its low-band 5G network, which will use band 71 (600 MHz). The nationwide network will cover more than 200 million Americans and more than 5,000 cities and towns across the country. Unlike mmWave 5G networks that have limited coverage and building penetration, T-Mobile's low-band 5G network uses a frequency band already used for 4G, and will thus offer the same coverage and properties as the 4G network. Sprint is pursuing a similar strategy with its 5G network, and AT&T plans to add low-band to its 5G network in the coming months. T-Mobile has also launched mmWave 5G in parts of Atlanta, Cleveland, Dallas, Las Vegas, Los Angeles, and New York. T-Mobile will offer three 5G phones. The Samsung Galaxy S10 5G only supports the mmWave networks. The Samsung Galaxy Note10+ 5G and OnePlus 7T Pro 5G McLaren only support the new low-band network launching Dec. 6.
When T-Mobile launches low-band 5G later this year, the two phones that support it will also be capable of supporting Sprint's already-launched mid-band 5G network, should the two companies be allowed to merge. The OnePlus 7T Pro 5G McLaren and Samsung Galaxy Note 10+ will both support 5G in bands 71 (T-Mobile's 600 MHz) and 41 (Sprint's 2,500 MHz). Those two phones do not, however, support 5G in the mmWave bands, which T-Mobile has launched in several cities. T-Mobile does sell the Samsung Galaxy S10 5G which supports its mmWave 5G network but not the upcoming low-band network. When T-Mobile launches low-band 5G this year, it will cover 200 million people, far more than any other US 5G network to date.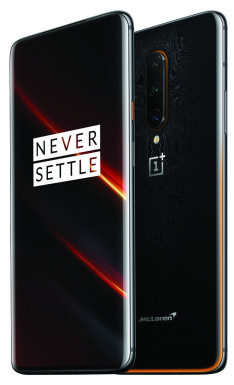 OnePlus announced the OnePlus 7T Pro two weeks ago, saying that the phone would not come to the US. That was half true. The 5G version of the phone will come to T-Mobile later this year, and it will be the special McLaren limited edition of the phone. The OnePlus 7T Pro 5G McLaren is the second 5G phone to be announced by T-Mobile, after the Samsung Galaxy Note10+ 5G. The new OnePlus will support sub-6 GHz 5G, specifically in band 71, T-Mobile's low-band 600 MHz spectrum that reaches farther than most other frequency bands. The OnePlus 7T Pro is based on the 7 Pro, with updated specs to match and best the newer 7T. It packs a Qualcomm Snapdragon 855+ chip, 12 GB of RAM, three cameras (including a 48 megapixel main camera and 3x optical zoom), 4085 mAh battery, and Warp Charge 30T fast charging. Its 6.67-inch OLED display sports HDR, 90 Hz refresh, and quad-HD resolution; it's curved at the sides and covers the whole face with no notch, thanks to a pop-up selfie camera. The McLaren design sports a carbon-fiber back with a wood-grain look, and accents in McLaren's "hallmark papaya orange racing tint." It comes with a case accented in carbon fiber and Alcantara. T-Mobile is not yet announcing pricing nor a specific release date.
The Samsung Galaxy Note10+ 5G will be the first phone to support sub-6 GHz FDD 5G for T-Mobile and AT&T. However, the AT&T and T-Mobile versions will not support mmWave 5G that offers faster speeds in central areas of major cities, even though the Verizon version will support only mmWave 5G. T-Mobile and AT&T spokespeople have confirmed to Phone Scoop that their versions will not support mmWave. Sub-6 GHz FDD bands (low-band) are the same bands used for 4G service today, and offer broad coverage that mmWave frequencies cannot. T-Mobile and AT&T have announced plans to launch 5G on sub-6 GHz FDD bands later this year. Verizon will be first to sell the Note10+ 5G on August 23rd. Verizon will have an undisclosed period of exclusivity, after which AT&T, T-Mobile, and Sprint will also offer it. Verizon will charge $1300 for the 256 GB model, available in black, white, or a prismatic "Aura Glow", and $1400 for the 512 GB version, available in black. The 5G and 4G versions of the Note10+ are identical in appearance, size, and features. The only difference is a 2 gram weight difference to account for the 5G components. The Note10 series includes Play Galaxy Link, which lets you stream games from your home PC to your phone, a feature that will benefit greatly from the data speeds and low latency offered by 5G.
T-Mobile plans to launch standalone 5G in 2020. Standalone (SA) technology differs from the 5G NR NSA (non-stand-alone) technology that has been launched to date, which is dependent on, and integrated with, a 4G LTE network. Toward its goal, T-Mobile successfully tested 5G NR SA technology in its labs, a first in North America. The test was the first in the world with a multi-vendor network, including equipment from Ericsson, Nokia, and Cisco. The 5G mobile device tested used a MediaTek chipset. The 5G network that Dish plans to build will also use 5G NR SA technology.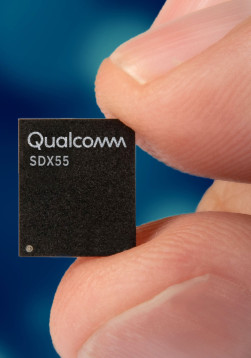 Qualcomm and T-Mobile have successfully completed the first data call using Qualcomm's X55 modem, the first 5G chip for phones to support all 5G networks to be launched in the US in 2019, including T-Mobile's band 71 (600 MHz). All 5G phones currently on the market in the US use the X50 chip, which only supports mmWave bands and TDD bands such as Sprint's band 41. mmWave bands offer high speeds, but short range and poor building penetration. US carriers will only offer mmWave 5G in central areas of major cities. T-Mobile and AT&T will offer broader 5G coverage using sub-6-GHz FDD bands later this year, and the first phones in the US to support those networks will use this new X55 chip.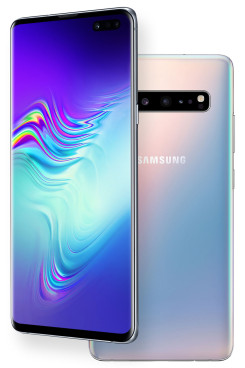 In a surprise move, T-Mobile is launching its first 5G phone and a limited 5G network ahead of schedule. The 5G network is currently only using mmWave spectrum (both 28 GHz and 39 GHz), which offers high speeds but limited coverage. It's available in parts of six downtown areas: Atlanta, Cleveland, Dallas, Las Vegas, Los Angeles and New York. T-Mobile has published coverage maps showing where customers can expect mmWave 5G service outdoors. The company's first 5G phone will be the Samsung Galaxy S10 5G, available this Friday, June 28. The S10 5G only supports T-Mobile's mmWave 5G launching this week, not the sub-6-GHz 5G that will form the bulk of T-Mobile's 5G coverage later this year. The Samsung Galaxy S10 5G will be available in select stores in the six cities with 5G service for $1,300. Well-qualified customers can finance it with no interest for $550 down plus $31.25/month for 24 months. T-Mobile does not charge extra for 5G service.
The Samsung Galaxy Fold will be on display and available for purchase on April 26th at AT&T, T-Mobile, Best Buy, and Samsung Experience Stores. T-Mobile will start accepting online orders the night before, at midnight ET / 9pm PT. Samsung will start accepting pre-orders tomorrow, April 12th, exclusively for people who have signed up to receive Galaxy Fold updates on samsung.com. Samsung also confirmed that the Galaxy S10 5G will launch in the US in May. Verizon has previously announced that it will be the first US carrier to offer the phone, with a period of exclusivity. AT&T also recently revealed that it will offer the S10 5G in the "spring", which implies that AT&T will launch the phone in June. Samsung says pre-orders for the S10 5G will start "soon".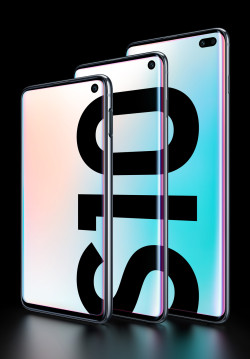 The tenth edition of Samsung's Galaxy S series of flagship phones includes, for the first time, four different models spanning a range of sizes and price points. Samsung announced the Galaxy S10 series today at an event in San Francisco. In addition to the standard S10 and (larger) S10+ that mirror pervious years' offerings, Samsung also revealed a smaller, cheaper S10e, as well as the S10 5G, which is even larger than the S10+. All of the S10 models include the new, top-end Snapdragon 855 processor, Cat. 20 LTE, a new "Dynamic" AMOLED display with hole-punch design and HDR10+, and two-way wireless charging that can charge other phones or accessories. For photography, they all include the same 12-megapixel main camera as the S9 (with dual-pixel and dual-aperture technology), a 16-megapixel wide-angle camera, and a new 10-megapixel, auto-focus front camera that can record 4K video. All models keep the 3.5mm audio jack, as well as IP68 rating for water-resistance. Most S10 models (the S10e excluded) also have an ultrasonic fingerprint reader embedded in the display, a third camera on the back for telephoto shots, an Infinity Edge display that curves at the sides for thinner bezels, heart rate sensor, and a minimum of 8 GB of RAM / 128 GB built-in storage. The S10 5G also adds 3D depth cameras to both the front and back and 25W fast charging. The S10, S10e, and S10+ go on sale worldwide March 8th, with pre-orders available starting tonight at midnight Eastern time. Those models will be available in the US in Prism Black, Prism White, Prism Blue, and Flamingo Pink (which is based on Pantone's color of the year, Living Coral). Pricing will be the same unlocked and at all major US carriers: The S10e will start at $750, the S10 at $900, and the S10+ at $1,000. Variants with added memory will cost more. All four top US carriers will offer all four models. Those who pre-order the S10 or S10+ will receive a free set of Galaxy Buds fully wireless earbuds (normally $129). Samsung is also offering trade-in deals worth up to $550. The S10 5G will be available in the 2nd quarter, first with Verizon before the middle of the year, followed by AT&T, Sprint, T-Mobile, Spectrum, and Xfinity "at a later date this summer." Read on for more details.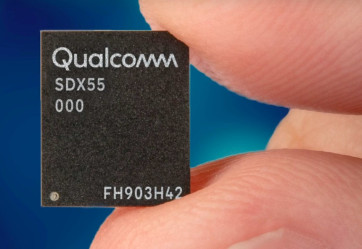 Qualcomm's new X55 standalone modem chip supports 5G in all major frequency bands as well as FDD and TDD modes. Support for FDD makes it the first chip to support T-Mobile's planned 5G network in the 600 MHz band. Qualcomm's first 5G modem chip, the X50, only supported TDD modes. Verizon, AT&T, and Sprint all have TDD (unpaired) spectrum they will use for some or all of their initial 5G deployment. T-Mobile is focused on its existing FDD bands for 5G. The X55 also includes both 5G and 4G, and is the first chip to support Cat. 22 LTE, offering up to 2.5 Gbps speed. Furthermore, it supports dynamic spectrum sharing between 4G and 5G, for carriers planning to use existing cellular bands for both 4G and 5G simultaneously. The X55 also supports both SA (standalone) and NSA (non-standalone) 5G networks. The X55 can deliver speeds up to 7 Gbps down (and 3 Gbps up) on 5G networks. Qualcomm also introduced a new front-end 5G solution designed to work with the X55, providing the other components needed for 5G. These include a new mmWave antenna that supports band 258 (26 GHz), and is thinner than the current model, allowing 5G phones as thin as 8mm. The X55 and companion parts will appear in commercial devices by "late 2019".
Sprint joined the other top-tier US carriers in committing to sell Samsung's 5G phone next year. AT&T and Verizon have committed to offering the unnamed phone in the first half of next year. Sprint plans to launch the phone in "summer", which likely puts its launch after the other two carriers, although Sprint will offer a 5G phone from LG in the first half of the year. T-Mobile will offer the same Samsung phone, but has only committed to launching it some time in 2019. Sprint's version of the Samsung phone will access 5G in Sprint's 2.5 GHz radio frequency band, as well as 4G LTE in all of Sprint's usual bands. In the first half of 2019 Sprint plans to launch its mobile 5G network in nine cities: Atlanta, Chicago, Dallas, Houston, Kansas City, Los Angeles, New York City, Phoenix and Washington, D.C., with additional markets to be announced.
T-Mobile has successfully tested 5G technology on three different radio frequency bands, including 600 MHz (band 71), in a real setting outside of a lab. The company is working toward offering 5G service nationwide in 2020. T-Mobile worked with Ericsson and Intel to complete the recent test, which involved three users participating in a video call, using 600 MHz, 28 GHz and 39 GHz bands. While the GHz bands offer greater speed and capacity, the 600 MHz band offers better "blanket" coverage. During the tests, the teams generated a 5G signal capable of covering more than a thousand square miles from a single tower.
T-Mobile today said a 5G phone will be among its first mobile 5G devices, and that phone is the same Samsung device that AT&T and Verizon confirmed earlier this month. "That's right," exclaimed Neville Ray, T-Mobile CFO, in a blog post. "T-Mobile is working on that phone too — and other 5G devices with other OEMs and chipset manufacturers. In fact, we expect to have multiple 5G devices — that will work across multiple spectrum bands — in 2019." Ray said that rather than focus on being the first to market with 5G, something he believes AT&T and Verizon are "hyperventilating" about, it will focus on "getting it right." Verizon kicked off fixed, non-standard 5G service in a handful of markets in October. AT&T's mobile, standards-based 5G services goes live December 21 with a mobile hotspot. T-Mobile has only specified that it will launch 5G in 2019. The company hopes for a much broader launch so it can deliver 5G to more people at once.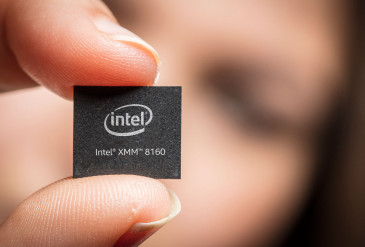 Intel today introduced the XMM 8160, a 5G modem that will bring high-speed connectivity to mobile phones, computers, and other broadband devices in 2020. The modem supports the 5G NR spec, including both standalone (SA) and non-standalone (NSA) modes for fixed and mobile service. The XMM 8160 will be backwards compatible with 4G, 3G, and 2G networks. It supports both mmWave and sub-6 GHz spectrum (including T-Mobile's 600 MHz Band 71), and will be capable of peak download speeds of 6 Gbps. Intel claims the multi-mode baseband will allow device makers to create smaller and more power-efficient gear that can support old and new networking technologies. For example, it includes simultaneous connectivity, allowing devices to seamlessly switch between 5G and LTE 4G when 5G is not available. Intel says the modem has support from carriers and device makers and is compatible with a wide range of platform. The Intel XMM 8160 5G modem will ship to device makers in the second half of 2019 and will reach commercially available equipment during the first half of 2020. This is an accelerated timeline. Previously, Intel said its 5G modem wouldn't be available until early 2020, with devices arriving in late 2020. Intel is facing fierce competition from Qualcomm, which has the Snapdragon X50 5G modem on deck for the first wave of mobile 5G devices.
T-Mobile is still hyping its forthcoming TV service, though its plans don't appear to be coming together as quickly as the company initially promised. During the company's recent earnings call with press, T-Mobile's Mike Sievert said when the TV service launches later this year, it won't be mobile. Instead, T-Mobile will offer some sort of fixed, in-home TV service. The mobile TV offering won't become a reality until next year. "We have our heads down creating the first TV service for the 5G era," said Sievert. "The journey will start later this year. We're very excited about that. And the second phase of the journey, next year, will be expanding into mobile. Because 5G is about mobility, not just fixed." Sievert went on to say the offering will include hundreds of high definition channels without the need for a cable box. All this will be based on the technology it gained when it purchased Layer3 TV. Layer3 already offers TV service in four markets in the U.S., though it is a more traditional, in-home service offering. T-Mobile hasn't said exactly when either TV service, in-home or mobile, will truly launch. The in-home service was initially expected to arrive in November. T-Mobile's 5G network won't get off the ground until some point during the first half of next year, so the mobile TV service will wait at least that long.
Qualcomm expects to see two major waves of 5G handsets arrive throughout 2019. Speaking at the 4G/5G Summit in Hong Kong, Qualcomm president Cristiano Amon said, based on its viewpoint, there will be an initial set of launches along with the arrival of 5G mobile networks themselves. U.S. carriers are expecting to get their 5G mobile networks up and running during the first six months of 2019, and some may launch during the first quarter. Amon believes a second wave of 5G phones — all flagships — will hit the market in the latter part of the year ahead of the holiday shopping season. OnePlus CEO, Carl Pei, who joined Amon on stage, says his company will have one of the first, if not the actual first, 5G phones to reach consumer hands. Pei noted that OnePlus has already begun conducting 5G tests with partner Qualcomm in San Diego. OnePlus is prepared to launch the OnePlus 6T at an event in New York on October 29. It is likely the 6T's successor that will include 5G. Earlier this year, Sprint claimed it would be the first carrier to launch a 5G handset with partner LG. Given OnePlus' recent tie-up with T-Mobile, it's possible OnePlus' 5G smartphone will operate on T-Mobile's network. Neither Sprint nor T-Mobile has provided a firm 5G launch date for 2019.
Metro by T-Mobile, T-Mobile's recently-renamed prepaid brand, will offer 5G service to customers at about the same time T-Mobile rolls out 5G to its postpaid subscribers. "When we talk about 5G for all, it's not just nationwide 5G service, but it's all shades of T-Mobile, magenta and purple," said Neville Ray, chief technology officer at T-Mobile, at an event today. T-Mobile says it will launch 5G in some 30 markets during the first half of 2019, and both T-Mobile and Metro customers will be able to access the faster speeds and lower latency. Metro's new service plans, announced earlier this month, are available starting today. Metro's $40 plan doubles the amount of high-speed data to 10 GB per month. The new $50 plan allows for unlimited data and includes Google One online cloud storage (Android only). The $60 plan includes unlimited data, Google One, and Amazon Prime. T-Mobile says Metro customers' data is prioritized below that of some T-Mobile customers when the network is congested. On all plans, customers who consume more than 35 GB per month may notice reduced speeds due to deprioritization.
The FCC is stripping power away from state and local governments in order to facilitate the installment of 5G infrastructure. This week the agency moved forward on an earlier proposal that sets limits on fees municipalities can charge for cell site applications, as well as the timeframe in which those applications need to be approved. Carriers must apply locally within towns, cities, and states to install new cell sites. Local governments can impede progress by denying permission to put up new sites for any number of reasons, as well as charge fees. Since 5G requires more cells in more locations, the FCC believes the process needs to change. To start, the FCC is setting limits on the fees that can be charged by municipalities for applications, processing the applications, and adjusting the right-of-way around such sites. The FCC is mandating that local governments charge no more than is reasonable. The FCC has also shortened the shot clocks afforded to local governments to weigh such applications. For example, new equipment that is to be added to existing cell sites will have a 60-day shot clock, and entirely new cell sites will have a 90-day shot clock. Local governments that charge onerous fees or sit on applications past the new 60- and 90-day windows will be presumed to be denying the applications and will need to have legitimate reasons prepared. AT&T, Sprint, T-Mobile, and Verizon Wireless are all in various stages of building their 5G networks. This step by the FCC helps these companies at the expense of local governmental control. Earlier this year, the FCC made similar changes at the federal level.
Don't expect to be able to use the same phone across 5G networks, at least in the early days, says AT&T. "It's not because there isn't a desire and we don't want to," explained Gordon Mansfield, AT&T's VP of radio networks and device design, to PCMag. Technical challenges are the roadblock that will prevent 5G roaming from the onset. Specifically, phones won't be able to contain the 28 GHz 5G radio used by Verizon and T-Mobile, and the 39 GHz 5G radio used by AT&T in a single device. This means the first 5G phones will likely be carrier exclusives. The same story played out when LTE 4G first launched, as network operators used disparate bands for their high-speed service. It wasn't until 4G radios began to support multiple bands that LTE roaming became a reality. Mansfield believes this scenario won't last too long with 5G. "As an industry, that will be very quickly overcome; I don't think the single band introduction from the millimeter-wave point of view will last very long," he said. AT&T's first 5G device, expected before the end of the year, will be a puck-style mobile hotspot. The carrier hasn't said when it will go on sale, nor how much it will cost. The company is also preparing 5G-enabled smartphones, though those aren't expected to reach the market until 2019.
T-Mobile today announced that it plans to spend $3.5 billion on networking equipment from Ericsson over the next few years. Ericsson will supply T-Mobile with its 3GPP-compliant 5G NR hardware and software for its 5G network. T-Mobile plans to use various spectrum bands for 5G, all of which can be covered by Ericsson's equipment. In addition to powering 5G, T-Mobile will rely on Ericsson's gear to bolster its LTE 4G network. T-Mobile's existing Ericsson-supplied LTE base stations can eventually be upgraded to 5G NR with a software update. News of the T-Mobile's deal with Ericsson comes as all the major network operators are scrambling to be the first to launch 5G. Each is taking a slightly different approach.
The FCC wants to ensure that wireless companies don't hit any unnecessary hurdles thrown in the way by state or local governments as they build out their 5G networks. As it works today, carriers typically have to apply locally within towns, cities, and states to install new cell sites. Local government can impede progress by denying permission to put up new sites for any number of reasons. Since future 5G will require more cells in more locations, the FCC believes the process needs to change. A new Declaratory Ruling and Report and Order seeks to establish new guidelines. For example, the FCC wants to set limits on the fees that can be charged by municipalities for applications, processing the applications, and adjusting the right-of-way around such sites. The FCC also wants to shorten the shot clocks afforded to local governments to weigh such applications. For example, it wants to see a 60-day approval window when carriers seek to adjust an existing cell site and a 90-day window for installing new cell sites. The Order will codify the existing 90 and 150 day shot clocks for larger wireless facility deployments. Local governments that don't comply with the new clocks will be presumed to be denying the applications and will need to have legit reasons prepared. "This is part of a national strategy to promote the timely buildout of this new infrastructure across the country by eliminating regulatory impediments that unnecessarily add delays and costs to bringing advanced wireless services to the public," argued the FCC. AT&T, Sprint, T-Mobile, and Verizon Wirless are all in various stages of building their 5G networks.
Verizon Wireless today said that Houston will join Los Angeles and Sacramento as one of its launch markets for 5G. This particular deployment will be fixed residential 5G broadband service. Verizon is testing a number of different technologies for its forthcoming 5G network, including millimeter wave. Verizon and its carrier competitors are all racing to be first to deploy 5G, with AT&T and T-Mobile also targeting late 2018 launches. Initial rollouts will include fixed broadband service, with mobile service to follow. Qualcomm recently announced new wireless antennas that make mobile 5G a possibility on phones. Phones with 5G may reach the market as soon as the first half of 2019. AT&T has gone on the record saying its first mobile 5G device with be a puck, or mobile hotspot.
OnePlus hopes to distribute its phones through carriers in the U.S., reports PCMag. OnePlus CEO and founder Pete Lau told PCMag that the company is holding discussions with U.S. carriers, though it didn't specify which ones. Moreover, the company plans to release a 5G phone next year, which will coincide with the expected launch of 5G service in the U.S. For the moment, OnePlus sells its phones unlocked on the open market. Its most recent device, the OnePlus 6, includes support for AT&T and T-Mobile. OnePlus said its good working relationship with Qualcomm has helped pave its path towards 5G.
T-Mobile and partner Nokia today said they successfully completed what they claim was the nation's first two-way over-the-air 5G data session on a 3GPP-compliant 5G New Radio system. This means the mobile device was able to upload information to the network as well as download information from it. The pair completed the test in a T-Mobile lab using a simulated phone and Nokia's 5G NR equipment in the 28 GHz band. "This test is a big step forward in building real 5G that will work on actual smartphones," said Neville Ray, CTO at T-Mobile. According to T-Mobile, the companies relied on the Nokia AirScale baseband and radio, AirFrame server, and AirScale Cloud RAN with compliant software. They didn't say much about the simulated mobile device. T-Mobile and its competitors are rushing to roll out 5G services in at least some capacity by the end of the year. Each carrier is taking a slightly different approach. The goal of 5G development is to create service with 1 Gbps speeds, minimal latency, and advanced media support, such as augmented/virtual reality. T-Mobile says it will have 5G up and running in some markets by December. "¯
Qualcomm today announced the FSM100xx, a 5G NR product designed for small cells and remote radio heads. Qualcomm says the FSM100xx builds on its existing Qualcomm FSM Platform for 3G and 4G small cells. It supports 5G NR in sub-6 GHz and mmWave spectrum, allowing network operators to make use of whatever spectrum is available to them in a given location. Qualcomm designed the FSM Platform for flexibility. It is based on 10nm mobile technologies for controlling power consumption while allowing for fast performance. Qualcomm says the FSM100xx can address the propagation characteristics of mmWave spectrum in real time, particularly in indoor spaces where small cells are most often deployed. Further, it supports MIMO and multi-gigabit throughout, as well as power-over-ethernet for broader outdoor deployments. Last, the FSM100xx includes a software-defined modem, which gives carriers the flexibility to control and update their hardware when needed to comply with future 3GPP releases of the 5G NR spec. Qualcomm says it expects the FSM100xx to begin sampling in 2019. Meanwhile, AT&T, Verizon, and T-Mobile all claim they will launch 5G in select markets by the end of 2018.
T-Mobile today provided more details concerning its forthcoming 5G network. It will be building 5G across 30 cities in the U.S. this year. It will start with New York City in the 600 MHz and mmWave spectrum bands. Other named cities include Dallas, Las Vegas, and Los Angeles. The company has been fortifying its LTE 4G network with technologies such as carrier aggregation, 4x4 MIMO, 256 QAM, License Assisted Access, and FD-MIMO with 64 antennas (32 transmit, 32 receive). The company is not going to cap its LTE network in any form, continuing to use it for the foreseeable future. All these technologies have helped the company prepare for 5G. T-Mobile says 5G and 4G are going to coexist and live together. T-Mobile reiterated that it will first use its 600 MHz spectrum for 5G, though it is also eyeing the 3.5 GHz mid-band and 28 GHz mmWave spectrum. The FCC expects to auction off 28GHz later this year. T-Mobile didn't specify what mmWave spectrum it will us for its 5G network. T-Mobile sees 5G encompassing fixed broadband (routers), mobile service (phones, AR/VR, wearables, drones), and IoT (sensors, industrial automation). It will cover every inch of the U.S. with some 5G service by 2020 with equipment from Nokia and Ericsson. The company is already deploying 5G NR-capable hardware in its base stations. T-Mobile expects to debut the first 5G smartphones and other products during the first quarter of 2019.
FCC Chairman Ajit Pai said the agency will commence an auction for 28 GHz airwaves as soon as November. Pai expects the spectrum in question will be used for 5G. As soon as the auction for 28 GHz spectrum is finished, the FCC will move forward with another auction for 24 GHz spectrum for the same purposes. Pai is seeking public input on the idea. "To set the foundation for these auctions, the FCC will ask for public input this spring on the right procedures for these auctions," said Pai in remarks made at the Mobile World Congress trade show in Barcelona. In order for the auctions to proceed, Pai says Congress will need to pass legislation by May 13 concerning upfront payments to be made by potential bidders. The agency is already looking at the use of 6 GHz spectrum for 5G based on feedback provided by the public last year. Future 5G networks will likely be deployed on low-band, mid-band, and high-band spectrum. For example, T-Mobile expects to launch 5G using its 600 MHz spectrum (low) holdings, while Sprint is looking at its 2.5 GHz spectrum (mid) for 5G. Further, the FCC says it has already changed some rules to help speed up 5G deployment. "We want to remove outdated rules and make it easier to deploy wireless infrastructure," said Pai. Relaxing rules governing how cell sites are deployed will let carriers put small cells where they need to in order to densify their networks. The FCC Chairman also spent time espousing the value of his open internet order, which removes net neutrality rules. He called the "light-touch regulation" one of the major pillars to his approach to 5G.
A new bipartisan act proposed by Congressman Leonard Lance of New Jersey and Congressman Mike Doyle of Pennsylvania aims to ensure the licensed and unlicensed spectrum needed for 5G is available. The Advancing Innovation and Reinvigorating Widespread Access to Viable Electromagnetic Spectrum, or AIRWAVES Act, explicitly suggests the government free up high-band spectrum via auction in order to lay the groundwork for 5G. Part of the act requires that 10% of the proceeds of spectrum sales go toward the development wireless broadband in rural areas. "The bipartisan AIRWAVES Act is the kind of bill that will make a difference in the lives of Internet users," said Lance. "The internet is the lifeblood of the American economy. To compete in the 21st century we must have a robust spectrum pipeline so we can win the race to 5G. We also have to close the connectivity divide and bring reliable internet service to a larger segment of Americans — especially those in unserved areas." The 3GPP 5G NR specification includes support for low-band spectrum (600 MHz), mid-band spectrum (3.5 GHz), and high-band spectrum (50 GHz). While some U.S. operators (T-Mobile) have 600 MHz spectrum holdings, the 3.5 GHz and 50 GHz bands are not generally available. The FCC will need to open them up and auction them off to jumpstart true 5G deployments.
T-Mobile has agreed to purchase mmWave spectrum in Ohio that it has earmarked for 5G. Specifically, it is looking at 1150 MHz of LMDS spectrum. LMDS spectrum falls in the 28 GHz to 31 GHz range. "The requested spectrum assignments will allow T-Mobile to deploy the 27,500 to 28,350 MHz portion of the licenses for next generational 5G mobile services in accordance with recent technologies that can leverage millimeter wave bands for fixed and mobile wireless communications," said the company in its filings with the FCC. T-Mobile would also use some of the LMDS spectrum for microwave backhaul. The move is attention-grabbing mostly because to-date T-Mobile has said it will deploy 5G in its existing 600 MHz footprint. Last year, T-Mobile eschewed the idea of mmWave spectrum when it first announced its plans for 5G. Many of the benefits of the 5G NR spec will be found in mmWave spectrum. The company has little spectrum in the mmWave bands, particularly when compared to competitors AT&T and Verizon. The terms of T-Mobile's purchase of LMDS spectrum were not disclosed.
T-Mobile today said it will deploy 5G across much of the country within a few years using its low-band 600 MHz spectrum. "We're committed to drive a 5G rollout by 2020 across the nation," said T-Mobile CTO Neville Ray during an investor conference. That doesn't mean T-Mobile is ignoring high-band spectrum, which competitors AT&T and Verizon are pursuing. "There's been a lot of discussion of millimeter wave and the kind of surgical, tactical deployments of 5G, and we'll be there too. But we'll deploy in the 600 MHz for 5G as we move into the next decade." AT&T, T-Mobile, and Verizon Wireless are all pushing to deploy 5G technologies as soon as possible even though the standard has not been defined. Al three are already pushing out gigabit LTE, a stepping stone to 5G. AT&T is its own 5G technology in Houston and Indianapolis. T-Mobile didn't say what markets might see potential 5G service first.
T-Mobile today said it plans to use some of its recently acquired 600 MHz spectrum to support a future 5G network. The company successfully won an average of 31 MHz (ranging between 20 MHz and 50 MHz) of the 70 MHz low-band spectrum auctioned off by TV stations and the FCC earlier this year. The winnings give T-Mobile 100% coverage of the U.S. and Puerto Rico. T-Mobile already voiced its intent to use the 600 MHz spectrum later this year for LTE. It appears T-Mobile will use the 600 MHz spectrum for 4G and 5G. The move is curious, as the 3GPP and other standards bodies are exploring much higher-band spectrum for 5G, including the 28 GHz, 37 GHz, 39 GHz, and 64-71 GHz bands. T-Mobile's 600 MHz spectrum will surely provide coast-to-coast coverage, but not necessarily the speeds expected of future 5G networks. T-Mobile CTO Neville Ray countered this notion. "There's no such thing as '5G spectrum,' and in the next decade we'll see everything moving to 5G," remarked Ray. "Nationwide Mobile 5G will require both high-band and broad low-band coverage, and having unused nationwide 600 MHz spectrum means T-Mobile is in an ideal position to deliver." Ray insists the company's 600 MHz spectrum can support low latency, longer battery life, and improved capacity that are part of the in-progress 5G standard. Further, T-Mobile said it will eventually use it mid-band spectrum holdings (1700 MHz) and high-band spectrum holdings (28/39 GHz) to enhance its base 600 MHz 5G service, particularly in urban areas where T-Mobile has typically enjoyed the best coverage. T-Mobile claims it has 200 MHz of 28/39 GHz spectrum covering nearly 100 million people in major metro areas around the country. The company plans to work with chip makers, infrastructure vendors, device manufacturers, and the 3GPP to ensure that 5G will work on 600 MHz spectrum. The company did not specify what wireless technologies will be involved. T-Mobile expects to roll out 5G in 2019, with complete nationwide coverage completed by 2020.
Verizon Wireless today said it plans to trial 5G technology in 11 U.S. markets later this year. This "pre-commercial service" will be offered to a very limited number of customers and not necessarily made available to consumers. The tests will involve the 5GTF spec Verizon developed past year. The trial markets include Ann Arbor, Atlanta, Bernardsville, Brockton, Dallas, Denver, Houston, Miami, Sacramento, Seattle, and Washington, D.C. Verizon competitors AT&T, T-Mobile, and Sprint are each testing their own variants of potential 5G technologies. The actual 5G spec has yet to be defined by the International Telecommunications Union, but carriers and telecom equipment makers around the world are hoping their technologies will be included in the final standard.
T-Mobile and Ericsson today said lab tests demonstrate the power of forthcoming 5G technology. The two firms pushed data speeds to 12 Gbps over a wireless connection, with latency as low as 2 milliseconds, in the 28 GHz band. The companies also conducted a voice call between 4G and 5G networks, and say 8x8 MIMO can transmit four 4K video streams over the network at the same time. T-Mobile and Ericsson expect to continue testing this technology in the lab and the field during the back half of 2016. T-Mobile CTO Neville Ray said, "At T-Mobile, we will put 5G to work for people, like we always have with new technologies. And, true wireless 5G on our network has the potential to change things radically, accelerating long-term trends, creating immersive experiences and increasing mobile productivity and entertainment for everyone." Ray doesn't expect 5G will begin to reach consumers until 2020.