MWC 2018
The world's largest annual mobile event - Mobile World Congress - takes place on the last days of February. We're on the ground in Barcelona to bring you all of the week's news. Tune in here for our full coverage, including hands-on with new phones from Samsung, ZTE, Nokia, Sony, Alcatel, Huawei, and more.
Also, follow us on Twitter for up-to-the-second news and extras:
All Samsung Nokia LG Sprint more... Discuss
Sprint today indicated which markets will be first to see 5G service from the carrier at some point in the first half of 2019. Sprint said customers in Atlanta, Chicago, Dallas, Houston, Los Angeles, and Washington, D.C. will be first to experience the company's 5G network. First, however, Sprint plans to bring massive MIMO to Chicago, Dallas and Los Angeles in April, with Atlanta, Houston and Washington, D.C. to follow later this year. Sprint says massive MIMO is a critical bridge that will span its LTE 4G and future 5G networks. The company is preparing to deploy thousands of massive MIMO radios with 128 radios (64 transmit, 64 receive). All Sprint subscribers who have a device with 2.5 GHz (Band 41) will benefit from the increased capacity and speed provided by massive MIMO. Sprint is working with Qualcomm and device manufacturers on 5G mobile devices, which it expects to launch in the first half of 2019.
---
FCC Chairman Ajit Pai said the agency will commence an auction for 28 GHz airwaves as soon as November. Pai expects the spectrum in question will be used for 5G. As soon as the auction for 28 GHz spectrum is finished, the FCC will move forward with another auction for 24 GHz spectrum for the same purposes. Pai is seeking public input on the idea. "To set the foundation for these auctions, the FCC will ask for public input this spring on the right procedures for these auctions," said Pai in remarks made at the Mobile World Congress trade show in Barcelona. In order for the auctions to proceed, Pai says Congress will need to pass legislation by May 13 concerning upfront payments to be made by potential bidders. The agency is already looking at the use of 6 GHz spectrum for 5G based on feedback provided by the public last year. Future 5G networks will likely be deployed on low-band, mid-band, and high-band spectrum. For example, T-Mobile expects to launch 5G using its 600 MHz spectrum (low) holdings, while Sprint is looking at its 2.5 GHz spectrum (mid) for 5G. Further, the FCC says it has already changed some rules to help speed up 5G deployment. "We want to remove outdated rules and make it easier to deploy wireless infrastructure," said Pai. Relaxing rules governing how cell sites are deployed will let carriers put small cells where they need to in order to densify their networks. The FCC Chairman also spent time espousing the value of his open internet order, which removes net neutrality rules. He called the "light-touch regulation" one of the major pillars to his approach to 5G.
---
A handful of companies have banded together with the goal of bringing real broadband to airplane passengers. The founding members of the Seamless Air Alliance include Sprint, Delta, Airbus, OneWeb, and Airtel. The idea is to let carriers "extend their services into airline cabins" so passengers have immediate access to high-speed internet while in the air. Mobile network operators would be able to reach airline passengers through the Seamless Air Alliance's satellites, which the group claims deliver the "same high speed, low latency connectivity from ground, to air and back again" as traditional cellular networks. One of the goals is to improve the on-boarding process. Today's in-flight WiFi service often requires painful connection steps that include entering credit card information. The Seamless Air Alliance believes in can "eliminate the immense costs and hurdles commonly associated with acquisition, installation, and operation of data access infrastructure" on airplanes with an open specification for interoperability. "With our 5G network rolling out next year we're investing heavily to make sure our customers have the best mobile internet experience possible," said Dow Draper, CCO at Sprint. "As an initial member of the Seamless Alliance, we're looking forward to enabling customers to experience Sprint's high-speed connectivity in the air, hassle-free." The founding members are inviting others to join the initiative.
---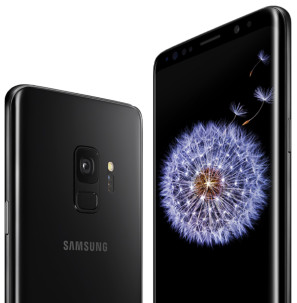 All four major carriers in the U.S. plan to sell the Samsung Galaxy S9 and S9+ beginning in March. Preorders for the phones kick off March 2 and the handset is expected to be available in stores on March 16. Samsung itself is selling the unlocked version via its web site. The S9 costs $720 and the S9+ costs $840. Customers can apply for financing from Samsung to break down the cost of the phone over 24 months. Samsung is offering app to $350 off the price with a qualifying trade-in. Pricing from U.S. carriers varies significantly.
AT&T: AT&T is asking subscribers to its AT&T Next plans to pay $26.34 per month for 30 months for the S9 (total: $790), or $30.50 per month for 30 months for the S9+ (total: $915). AT&T says business customers can get a $150 activation credit with they by the S9 or S9+ on an installment plan. The devices support Band 14, and thus the AT&T-run FirstNet public safety network. AT&T's prepaid brand, Cricket Wireless, plans to sell the Galaxy S9 and S9+ at full cost.
Sprint: Sprint is selling the S9 for $33.00 per month with $0 down on a Sprint Flex lease (total: $792). The Galaxy S9+ will be $38.00 per month with $0 down on a Sprint Flex lease (total: $912).
T-Mobile: T-Mobile is asking customers to pay $30 per month for 24 months for the S9 with $0 down (total: $720), and $30 per month for 24 months for the S9+ with $120 down (total: $840) For a limited time, postpaid customers can get up to $360 off either phone with a qualifying trade-in when the S9 or S9+ is purchased on an equipment installment plan. T-Mobile's prepaid brand, MetroPCS, will sell the Galaxy S9 starting March 16 for full price.
Verizon Wireless: Last, Verizon Wireless is charging $33.33 per month for 24 months for the S9 (total: $799) and $38.74 per month for 24 months for the S9+ (total: $930). Customers who switch to Verizon, port in their line, and trade in an old phone may get up to $500 in bill credits towards the purchase of a Galaxy S9 or S9+.
---
Google says its Android Messages app is on the upswing thanks to new RCS-based tools and growing support from phone makers and wireless network operators. To start, brands now have more power to interact with consumers thanks to RCS business messaging. Google says brands can "send more useful and interactive messages" to their customers with photos, videos, and links for purchasing. A number of companies have been testing RCS business messaging via Google's Early Access Program. Some include 1-800 Contacts, 1-800-Flowers.com, Booking.com, SnapTravel, and Subway — all on Sprint in the U.S. Google says more businesses will be deploying richer messaging via the Android Messages app over the coming months. The Android Messages app has gained a lot of traction with phone makers and carriers, and more support is on the way. Moving forward, Alcatel, BlackBerry, Transsion, Blu, Positivo, Multilaser, Mobiwire, Azumi, and Essential will all preload Android Messages as the default SMS/messaging app. A number of phone makers already offer Android Messages, including Huawei, LG, HMD Global, HTC, Kyocera, Motorola, Sony, and ZTE. The app has a growing footprint with carriers, as well. Google says America Movil, AT&T in Mexico, Celcom Axiata Berhad, Freedom Mobile, Oi, Telia Company, and Telefonica have joined Deutsche Telekom, Globe Telecom, Orange, Rogers Communications, Sprint, and Telenor in their commitment to launch RCS messaging. Sprint is the lone U.S. carrier to go all-in with Google's RCS and Android Messages. AT&T and Verizon each offers its own RCS-based messaging client for Android handsets. Google believes this new momentum for RCS and Android Messages will eventually mean a better messaging experience between people, brands, and more.
---
Google today said the Google Assistant is prepared to grow in a number of significant ways. First, the voice-activated tool is picking up some new languages. Google says Assistant will speak Danish, Dutch, Hindi, Indonesian, Norwegian, Swedish, and Thai on Android phones and iPhones in the next few months, with more languages on the way. Google expects Assistant to understand as many as 30 languages by the end of the year. Further, Google Assistant will be able to understand multiple languages at a time, meaning people can speak both English and German to their Assistant without changing settings. This feature will first be available between English, French, and German, with other languages to follow. Google also noted that it is working more directly from carriers and phone makers to improve Assistant. For example, LG, Sony, and Xiaomi are all prepared to rollout device-specific commands and features based on Google Assistant. Moreover, carriers Sprint, Koodo, Telus, and Vodafone are developing integrations with Assistant. Between the phone makers and carriers, Google expects Assistant to support individual device features, customer service queries, and more. Last, Google Assistant is adding two new tools to help people manage their day. Routines let people issue one command and set off a chain of actions. For example, say "Hey Google, I'm home" and the Assistant on Google Home or phone can turn on the lights, share any home reminders, play your favorite music, and more. Location-based reminders have now expanded to Google Home speakers. People can tell Assistant on their speaker to set reminders for specific locations, such as to get milk when at the store, and the alert will popup when appropriate. Google expects to bring even more features to Assistant throughout the year.
---