CTIA Fall 2008
Part 1 Part 2 Part 3 Comments 16
BlackBerry Sprint OneClick LG Lotus Kyocera Virgin Shuttle
Sep 11, 2008, 2:38 AM by Eric M. Zeman & Rich Brome
updated Sep 12, 2008, 5:50 PM
Our report from the fall CTIA trade show in San Francisco. Hands-on with the latest from HTC, Samsung, Velocity, BlackBerry, LG, Kyocera, PCD, and Motorola.
Research In Motion (RIM) announced a couple of major new BlackBerry devices, including their first clamshell-style model ever, and their first iDEN phone in quite some time.
The clamshell model is the Pearl Flip 8220. Like the Pearl 8120, it has WiFi, which will work with UMA. The 8220 will be exclusive to T-Mobile in the US, and will naturally work with their HotSpot @Home service.
The Pearl Flip confirms rumors that have been floating around for quite a while. Those rumors also speak of an 8210 model, which - if past model numbering is any indicator - would have GPS in place of WiFi. If you're hoping for such a phone to arrive at AT&T for the holidays, you'll be sorely disappointed. RIM informed us that T-Mobile has complete exclusivity on all Pearl Flip models in the US through the end of 2008.
The Pearl Flip isn't small, but it's not quite as large as we were expecting based on some early photos. It's a decently small size for the company's first try at this form factor. Nokia's first clamshell phones were much larger. Most impressive is the weight; it's extremely light.
Clamshell-style phones typically allow for a roomier keypad and larger display, and the keypad is indeed roomy on the Pearl Flip, and feels nice. The keypad is almost too large, though. For those with small hands, you'll find your thumb getting quite a workout stretching all the way from the top row to the bottom as you type out a message. The display is full QVGA resolution, which makes it slightly higher-resolution than a standard Pearl display.
The outer display is new for a BlackBerry. It's large, although it's not as bright as it could be, and the glossy surface can make it tough to see through the glare at times.
It can display a large clock, which can be analog or digital. It also shows color caller-ID, and can even show caller-ID photos for incoming text messages and emails. By default it will show a face and one line of an incoming text message, then after a few seconds show the full text message. (See example photos.) You can disable this if you're worried about private messages being displayed on the face of your phone.
The Pearl Flip also the latest BlackBerry software, previously seen only on the Bold. This new OS includes an updated browser, HTML email display, and a new "Precision" theme for icons that has a very clean, crisp look to it.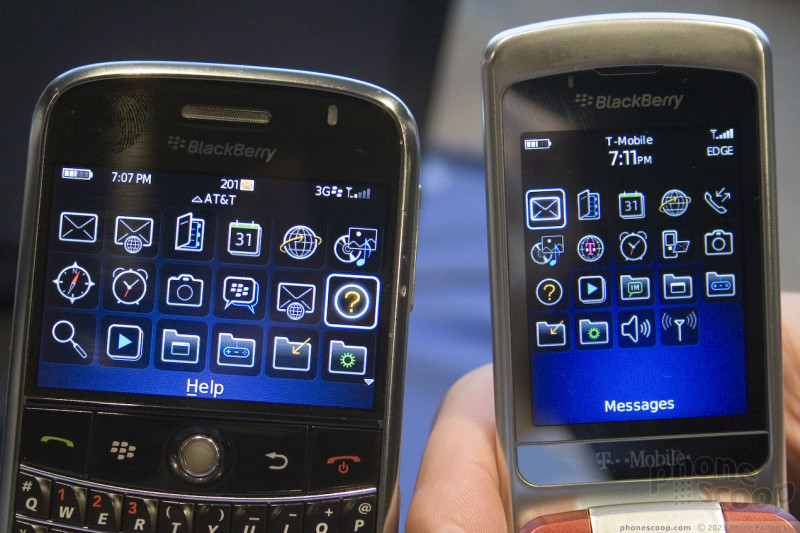 The other new BlackBerry this week is the Curve 8350i. This 'Berry runs on the Nextel iDEN network. It's quite heavy on features for a BlackBerry, sporting both GPS and WiFi, a combination previously only seen on the Bold. It also has Curve standard features such as Bluetooth, memory card slot, and a 2 megapixel camera. Combine all that with Nextel Direct Connect push-to-talk, and you have quite a feature set.
As one might expect, it's a bit thicker than other Curve models, but not as much as we expected. It's really quite a nice size. The lack of an external antenna is quite something for an iDEN phone. The only other Nextel phone to date with an internal antenna is the entry-level i335. The soft-touch finish on the back feels nice.
There's not much else to say. It's a Curve for iDEN networks; that pretty much says it all. The prototypes at the show were running old software; the shipping version will have the same new BlackBerry software as the Bold and Pearl Flip.
Expect to see both new BlackBerrys in stores by the end of the year.
Here is a quick video tour of the Pearl Flip:
Blackberry Flip? Lotus, and one click
why a flip blackberry? looks okay but do you really want to have to worry about hardware, software, and breaking it in half?

lotus? fashion statement, i dont think so. looks like the creators of the Scion xB got ahold of blitz and thought it needed a little bit of tweaking... still have no idea which pocket it would go...

one click? as long as they dont start restricting the internet and downloads like verizon its all good. looks like a good way to simplify the interfaces. now if only all manufaturers could agree on a charger design.
Flip Blackberry? Because BB has been targeting normal consumers instead of business professionals. Like the pearl, tbey're aiming at the young professionals and the teens that beg mommy and daddy to get them what everyone else is getting

Lotus? ...
(continues)
Wow! Debby Downer, what a negative thread for someone who has never touch any of these products! ☹️

It cracks me up how people who have never held a product, will go and get all negative about them.

"Waaaaaaaa, I love my iPhone so much that ...
(continues)
👿 😈 🙂 😁 🤤 ☹️ 😢 🤭 👀 😲 😳 🤨 😕 😎 🤣 😡 😛 🙄 😉
3G prepaid?
why....

just why??
Because people want the same service as those with a contract but do not want the contract part. That's way, duh! 🤣
kyocera
can you say lg rumor knock off.
um.... if u looked closer, u could see that it had no normal keypad just a screen and keyBoard, as where the rumor has a normal KEYPAD and a qwerty KEYBOARD 🙄 🙄 🙄