Review: Samsung Highnote
Form Basics Extras Conclusion Comments 14
Is It Your Type? Body The 3 S's
Nov 23, 2008, 11:08 PM by Stewart Wolpin
The Samsung HighNote packages a high-end feature set and solid music capabilities in a less-than slick slider. Learn what makes it click.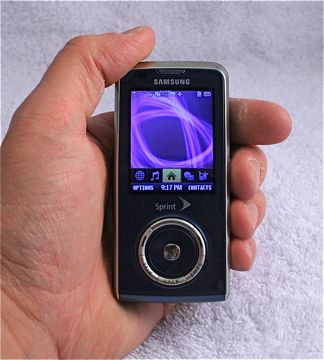 The Samsung Highnote is filled with state-of-the-art functionality – 3G EV-DO network connectivity, music player, a-GPS navigation mapping and direction, streaming TV, user configurable user interface, POP/IMAP email, to name a few. But other than its dual slider design – slide the top up and you get a traditional alphanumeric dial pad, slide the top down to reveal a stereo speaker array – Highnote doesn't look much like a cutting edge cellphone. So is Highnote a modern phone in a retro package, or are its modern functions inhibited by its lack of modern ergonomics?
It fails in it's key duty as a music player phone.
If this phone is supposed to be a music player phone, it fails. In the review, the worst part of this phone was the music player. Partially Sprint's fault (with their insistence to latch music store), but also Samsung, who have not taken the music listening experience as seriously as Sony Ericsson or Nokia in the music world.

And the phone looks like a cheap Chocolate 2 phone.
cheap vers of a chocolate 🤨 ???? you must be joking buddy! samsung has been making cell phones a lot longer, and also makes a much better quality cell phone!!

please enlighten me as to how the highnote fails specifically as a music phone.......??...
(continues)
Nice Phone
this would be a great phone for people who dont know a lot about cell phones but want to have a cool phone to use.
THIS IS NOT A BASIC PHONE. THIS IS A PHONE/MP3 PLAYER. THIS PHONE IS THE SHIZZNETT!!!