Review: Samsung Highnote
Article Comments 5
Nov 23, 2008, 11:08 PM by Stewart Wolpin
The Samsung HighNote packages a high-end feature set and solid music capabilities in a less-than slick slider. Learn what makes it click.
AD article continues below...
Form
Is It Your Type?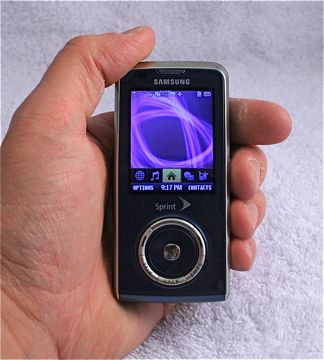 The Samsung Highnote is filled with state-of-the-art functionality – 3G EV-DO network connectivity, music player, a-GPS navigation mapping and direction, streaming TV, user configurable user interface, POP/IMAP email, to name a few. But other than its dual slider design – slide the top up and you get a traditional alphanumeric dial pad, slide the top down to reveal a stereo speaker array – Highnote doesn't look much like a cutting edge cellphone. So is Highnote a modern phone in a retro package, or are its modern functions inhibited by its lack of modern ergonomics?
Body
Highnote's front panel is dominated by its 2-inch 176 x 220 pixel LCD screen, positioned above a circular navigation and function array.
The bottom 270 degrees of the outer ring of its navigation array is comprised of five arched keys: Back, Talk, End and two soft keys that correspond with menu choices on the bottom of the screen. The top 90 degrees or so of the circle does nothing.
While this is an interesting arrangement, it offers no improvements to the traditional Send and End key placement. Worse, "Talk," "Back" and "End" are etched in black into the arched keys and are difficult to read. Since "Talk" and "End" aren't backlit in traditional green and red, you lose the quick visual cue and instead pause an extra annoying nano second to ensure you're hitting the right key.
Inside the control ring is a textured floating disk. Press it directionally (left, right, up, down) as you would any navigation array and the on-screen cursor or highlight moves accordingly. But you can also spin the disk to move the cursor as well, sort of a physical version of iPod's click wheel. In the middle of the disk is a "Menu/OK" select button.
Like the navigation ring controls, the spin wheel is nice, but it doesn't improve on the usual left-right-up-down control. In fact, it gets in the way. As you tap the disk left-right-up-down, your touch may actually move the cursor first causing you to accidentally click on the wrong item.
On the right spine of the phone is the micro USB jack, a "sound" button – tap it and the ringer volume setting is displayed, hold it down to activate the music player – and the camera activation button/shutter release.
On the left spine is the 3.5mm headphone jack, the volume up/down toggle, a "Hold" lock key that deactivates the front navigation array, and the microSDHC card slot.
On the rear is the Highnote's 2 MP camera lens.
As noted, sliding the top down reveals Highnote's stereo speaker array. Sliding the top up reveals its alphanumeric dial keypad, comprised of small black highly readable tablet-shaped keys with bright white backlighting inset against a grey background.
Above the usual 12 alphanumeric keys on the dialpad are three separate function controls, Mute, Text, which supposedly toggles between multi-tap and predictive text input while in email mode (it didn't work for me), and a Car switch that activates the voice function to read out messages, dialpad taps, etc. Again, nice, but, again, they get in the way. If you "dial" (tap) by feel, you'll end up hitting one of these function keys instead of a 1, 2 or 3, which usually comprise the top row of dialpad keys.
The 3 S's
Screen
Even though Highnote is compatible with Sprint's streaming TV service, its screen isn't as high quality as expected. While about average in brightness, it is below average in color reproduction and clarity, and has a surprisingly narrow viewing angle.
None of these negatives affect menu drilling or other non-graphic activities, but video looks polarized off-angle, and small text such as on-screen identifications for talking heads is nearly unreadable, even when switched to full screen mode.
Signal
Using the phone in and around varying parts of New York City, Highnote pulled in signal in impressive places, deep into train tunnels and high-rise elevators, as well as fringe reception areas (such as my apartment).
Highnote dropped some of our test calls to an otherwise reliable cellphone (the T-Mobile G1), and signal didn't stay consistent during calls, with audible shifts in reception even when stationary. Reception during a conversation with another Sprint subscriber was especially inconsistent.
Sound
Highnote voice quality is akin to that old Catskill complaint – the food is terrible but large portions: voices were thick and muddy but with plenty of volume. On cell-to-cell calls, the mud is exacerbated by the usual cellphone warble and intermittent dropouts. At the other end of a landline call, we got reports of over-modulation – the voice signal overwhelmed the ability of the phone's speaker to produce clear conversation, resulting in garbled sound and a slight buzz.
Ringtone volume also was above-average loud, which means you'll be able to hear Highnote ringing even if the phone is in a pocket or a bag.
However, the slide down stereo speaker vastly improved matters. Voice quality was so much cleaner and clearer that you'll be tempted to use the speaker instead of the earpiece. Just make sure you lower the volume.
Highnote's speakerphone also is full duplex. Neither I nor my co-conversationalists experienced any dropouts when two people talked over one another.
Music sound through the speaker also was excellent, considering we're talking about a cellphone speaker. There's plenty of small clock radio-like room-filling volume, again with the buzz of over-modulation when pushed to its upper loudness limits.
Battery
In admittedly unscientific tests, Highnote lasted around 4:45-4:50 for talking on a single charge. While this battery life falls far short of Highnote's rated 5.6 hour talk time, it's still about an hour more talk time than you'll find on most phones of any kind or price.
Sprint does not release standby, music or video play time ratings. I got around 12.5 hours of continual music playback, which is about average for non-iPhone music phones.
Highnote's battery meter is a bit misleading. It hangs on at three and two bars bar segments for a while, but it'll move from one bar to low-battery-beeping in half the time. If you're at two, you're probably down to about an hour of talk/usage life and you'll want to think about jacking in.
Basics
Menus
On the Highnote home screen are white menu icons arranged in the standard 3 x 4 icon grid. But arrayed across the bottom of the Highnote splash screen is what Samsung calls a "carousel," a rotating row of menu options that can be horizontally scrolled through using the disk, either in directional mode or, less precisely, by spinning the disk.
The carousel includes direct access to many features and even submenus that automatically pop up as a particular multi-option icon (such as the Google search, which also gives you a sub-menu to access Google Maps, Gmail, YouTube and Google News). I guess this is what Sprint means by One Click navigation.
All function and application menu list items are numbered and can be accessed either by scrolling down and selecting a specific option or simply tapping the corresponding numeric key.
Calls/Contacts
Highnote's "add contact" form is delightfully Spartan. It has spaces for name, phone number, email address, IM address, URL, memo, default ringtone and a picture, all simply laid out and easy to navigate and complete. Once you enter a phone number, you have the option of adding a second or third or up to seven phone numbers. There is space for up to 600 entries.
Messaging
Highnote includes pre-installed settings for AIM, Windows Live and Yahoo! instant messaging that allows you to save conversations. There are also pre-configured settings for Gmail, AOL Mail, AIM Mail, Hotmail and Yahoo! Mail POP3 or IMAP accounts.
Signing into both the Gmail and AOL pre-installed accounts was as easy as entering my user or screen name and my password. Highnote doesn't make allowances for entering email addresses, however, which means you'll have to poke around the "1" key symbols page for "@" and "dot" and type out "com."
For "other" email services not pre-installed, you'll need to fill in SMTP and other account information, often not required on other POP3/IMAP enabled phones I've used.
Emails are black type on a white background, but messaging is white type on a black background.
Highnote does not do threaded messaging.
Extras
Music
My on-going complaint with all Sprint music-enabled phones is the grafting the music store to the player. In other words, when you boot the player, you are also booting the music store, and you get tabs for each on the music player page.
I'm not sure if loading the store is the problem, but when you press the side music key, you are alerted that Java is booting. Why you need to know this I don't know. You are then informed to please wait. And wait. And wait. It takes 40-50 seconds for the player to boot up, either because it's also booting up the store app or loading up your songs. The more songs you've got, the longer it takes. But even with a minimal number of tracks, expect to wait at least 15-20 seconds before you can do anything.
Then, instead of getting your track list, you get an interstitial page with two tabs, one to get access to Sprint's music store and for the actual music player. Under the music player tab is the last song played, All My Music and a Create Playlist choices.
Once you select All My Music, you'll wait another 7-10 seconds, depending on how many tracks you have, for all your music to be loaded. I side loaded around 6 GB of music from Windows Media Player to an 8 GB microSD card, and waited nearly a minute before I could actually start listening to music.
Oddly, you cannot put your collection into shuffle play mode until after a track has started playing, not before as a preset, although once set, the phone stays in shuffle mode until you change it again. Instead of just hitting "Play" and getting a song at random, you'll have to choose one to get the shuffle play rolling, or continue from the Last Played track.
Your song list is not presented in alphabetical order, and I could not figure out how to put them into alphabetical order by track name, if it's even possible. When you get to All My Music, you have tabs that list your tracks by Artist, Genre and Album, but not alphabetical by track name. To switch between each of these tabs takes 7-10 seconds each time, and you have to wait for each list to fill before you can move to the next tab listing.
Highnote is compatible with MP3, AAC and AAC+. Getting your iPod tracks onto the Highnote, as with all MP3/AAC devices, is a challenge, since Windows Media Player doesn't recognize AAC and iTunes doesn't recognize non-Apple devices. You'll need an SD card reader an drag-and-drop AAC tracks onto the Highnote.
Once music starts playing, the Highnote begins to behave more like an MP3 player. While there are no direct music control keys, the navigation array works fine for pause/play and skip. But you'd think with the plethora of competing music phones, Samsung and/or Sprint would have figured out how to build a faster player into a phone being hawked as music-centric.
Camera
Highnote is equipped with the usual 2 MP camera (1600 x 1200 pixels maximum resolution) with up to a 10x zoom, depending on the resolution setting. There is no zoom available at the top 2 MP resolution setting, and there's no flash or vanity mirror. Although not fancy, the camera shutter lag is faster than most (and faster than Samsung's previous cell cameras) similarly-priced cellcams I've used.
Pressing the side camera control once brings up a camera menu which includes camera, camcorder, My Albums, PictBridge, Order Prints and Settings and Info. You can go directly to the camera simply by pressing and holding the camera key until the camera boots.
Clicking the left-right control (in portrait mode, up-down in landscape) increases or decreases the "EV" (exposure value, usually labeled the less pretentious "brightness" on other cellphones) control, a toggle I've never seen placed so prominently on a cellcam. Zoom is available at a lower resolution settings.
Highnote's camera is equipped with a 5- and 10-second self-timer; a 3, 5 or 10 Series Shot multi-shot option; a 4- , 9- or 16-shot "Divided Shot," essentially Highnote's stitched multi-shot setting; you can choose from a variety of fun frames or tinting options, depending on resolution; and, brightness, white balance, night shot and metering controls and settings.
The camcorder records 15 frame per second QCIF 176 x 144 pixel videos. Choosing Video Mail limits your clips to 30 seconds; choosing Long Video lets you record for as long as your memory holds out.
Photos/Video
Pictures in sunlight are bright, colorful and crisp, above average for a 2 MP imager. The EV control actually comes in handy because contrast levels at the default setting are slightly exaggerated in sunlight, more so than with other cellcams I've used (all sample shots are using the default EV setting).
Indoor shots are, of course, not as bright, a little less colorful and a little less focused, all of which is normal for cellcams sans flash.
The tiny 176 x 144 pixel QCIF 15 fps video are as nearly unwatchable as they are on every other cellcamcorder I've ever used; too small in actual size to discern anything, over-digitalized to see anything when expanded.
Samsung Highnote Fountains video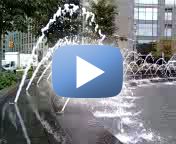 QuickTime format
File size: 288 KB
Samsung Highnote Apple turning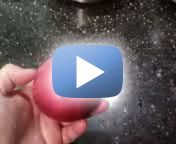 QuickTime format
File size: 348 KB
Browse/Customize
Browse
Highnote is a plain EV-DO phone, not Rev. A. But Highnote zips along the Internet as fast as most of Sprint's EV-DO non-Rev. A phones, around 7-15 seconds to load a page, depending on that page's graphical content.
Highnote's WAP 2.0 browser defaults to Sprint's aggregated content home page, from which you can cursor down to news, games, sports, entertainment, etc. Within each of these categories are additional sub-menus with links to popular destinations such as CNN.com, ESPN.com, FoxNews.com, USAToday.com, etc. You can change your home page, if you'd like, through the Settings menu.
A Google search bar is included in the One Click carousel, which speeds Web searches considerably since you can skip the content category home page. This carousel Google menu includes links to Google Maps, Gmail and YouTube. You can add Google News, Photos, Google SMS, Orkut, Calendar, Reader, Docs and Notebook to this list.
In case you forget about the independent Google bubble, there's a Google search bar on the content aggregate home page as well. You also can enter a URL via the browser's "go to web address" soft menu option.
Customize
Sprint's One Click carousel's claim to fame is its customization options. For instance, you can add "bubbles," which provide direct access to Web-based information sites. There are currently five "bubbles" to choose from to add: Finance (for stock quotes), Horoscope, News, Sports News and Weather. Theoretically, additional bubbles are to be added with firmware updates.
Adding "bubbles" is easy. One of icons in the carousel is a paint brush for personalizing the carousel – changing the ringtone, screensaver or wallpaper, deleting or adding a "bubble." You also can delete some of the carousel icon tiles if you don't want or need quick access to that particular function.
There also is a Shortcuts bubble where you can add direct access icons to functions or applications not already in the carousel. Most of what you'll need semi-instant access to is already represented in the carousel, however, with a couple of major exceptions.
For instance, when connecting the phone to a PC to sync music, et al, you have to go through the Tools menu to switch the phone to PC mode. You can add a shortcut to get to this option, but that's besides the point. The PC knew the Highnote was connected – I got a pop-up window in Vista telling me it was. So why doesn't the Highnote know it's connected and provide a pop-up message to ask me if I want to switch to sync mode, instead of making me drill through multiple menus or create a shortcut?
You can use your own picture or one of the included graphics to decorate your home page. Make sure the picture you choose is in portrait mode – there's no way to crop or rotate a photo to fit within Highnote's display parameters.
You can change the white-on-black dial font from small to large, which produces characters about a third larger, about a fifth of the total screen height. These "large" fonts are still small compared to other models I've seen.
Extras
Apps
While not as pretty as the mapping on iPhone or the T-Mobile G1, Sprint Navigation was as fast if not faster since it doesn't have to render large touch maps on a 3-inch-plus screen, and just as informational. But unlike the free navigation services offered on other phones (i.e. iPhone, T-Mobile G1), you'll have to pay $9.99 a month for Sprint Navigation.
Once subscribed to, Sprint Navigation is zippier than I expected. It located me on a map in around 10 seconds even though I was indoors, and after initiating a search for local McDonald's, it listed all of Ronald's places with two miles in about the same zippy time. Each of the listings provided contact and address info and flagged all the locations on a map.
A complementary service is Sprint's Family Locator, a $5/month service that let's you find up to four opt-in cellphone numbers on a map, either on a phone or a PC.
Highnote also is compatible with Sprint TV, Sprint's streaming subscription video services, which loaded in around 8-10 seconds. Sprint TV includes both 2-4 minute video clips from almost all the major broadcast and cable channels tiered into a variety of basic and premium bundles, as well as Sprint Radio and the pay-per-view Sprint Movies, 24-hour movie rentals that run between $3.99 and $5.99 each.
Our sample phone included demos for Boom Blox, Puzzle Question: Warlord and Street Fighter II CE.
Bluetooth
It's a bit disappointing that Highnote doesn't include Bluetooth 2.1, but you still get all the wireless connectivity using 2.0 you need.
Fortunately, Highnote has two generous "visibility" or discovery options, for 3 minutes or always visible. But why are there TWO Bluetooth menu options, one in Settings and one in Tools? You can turn Bluetooth on from either spot. But you can only turn Bluetooth off and change the visibility options in the Settings menu, and you can only pair devices in Tools menu. Duplicating these Bluetooth options – giving you the same set of options in both places – makes a lot more sense than splitting them in half.
Connecting to Bluetooth earpieces and to both PCs and Macs was nearly trouble free; I always have difficulty with the timing of when I get the security code from a PC and when the phone wants me to input them. It usually takes me a couple of tries to get the PC sync security code precisely when the phone asks for it.
We had no trouble up- and downloading photos or using Bluetooth to explore Highnote's content folders.
Clock
Highnote will not make a good substitute clock. The time is displayed only on the home screen and the menu grid screen, in between the soft menu options just below the One Click carousel.
There is no "clock" option in settings to change the font or style (e.g. military time). In the Tools menu, you get three alarm settings and a world clock.
Conclusion
Highnote is a Jack-of-all-trades but master of few. Even though Highnote is hyped as a music phone, getting to your tunes takes an annoyingly and indefensibly long time. But my annoyance with the music player doesn't mean that Highnote is a bad phone, especially considering its price. Web speed is exemplary for such an inexpensive phone, the browser, while not spectacular, is workman-like and presents no unnecessary roadblocks to surfing, the speaker for both music and voice is far above average, there are copious email options, and the camera, even if it lacks a flash, takes decent pictures as long as you've got good light. For the price, it's hard to denigrate Highnote's expansive feature set, even if you have to sometimes wrestle with them to make them work.
It fails in it's key duty as a music player phone.
If this phone is supposed to be a music player phone, it fails. In the review, the worst part of this phone was the music player. Partially Sprint's fault (with their insistence to latch music store), but also Samsung, who have not taken the music listening experience as seriously as Sony Ericsson or Nokia in the music world.

And the phone looks like a cheap Chocolate 2 phone.
cheap vers of a chocolate 🤨 ???? you must be joking buddy! samsung has been making cell phones a lot longer, and also makes a much better quality cell phone!!

please enlighten me as to how the highnote fails specifically as a music phone.......??...
(continues)
Nice Phone
this would be a great phone for people who dont know a lot about cell phones but want to have a cool phone to use.
THIS IS NOT A BASIC PHONE. THIS IS A PHONE/MP3 PLAYER. THIS PHONE IS THE SHIZZNETT!!!