Review: LG Lotus
Form Basics Extras Video Wrap Up Comments 7
Is It Your Type? Body The Three S's
Oct 31, 2008, 11:21 AM by Eric M. Zeman
The LG Lotus is one odd duck. Hidden in its goofy shape is an average phone that does many things, some of them well, others not so much.
Advertisements article continues below...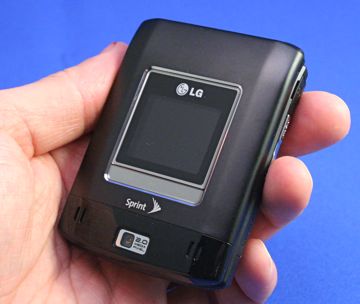 If you like the unconventional and have a high tolerance for being made fun of, the Lotus might be the phone you're looking for. With its squarish shape, there's no doubt it is somewhat odd in appearance. If you're willing to look past appearances and judge the Lotus on what's inside (because that's what really counts, right?), there's a lot to like about the Lotus.
Why no mention?
Probably the biggest features of the new one click phones is the threaded text messaging interface.

I didnt see a single mention of it in the review, yet thats a feature that people clamor for on phones all the time.

Maybe a quick edit is in order?
No worries you must have just missed it... it was in there.
Taken from the review from the Messaging section that stands alone in a tab 🙂

The Lotus offers SMS, PictureMail, IM, VoiceSMS, Chatting and Email. Not all of them are available from the Messaging icon in the carousel. You have to open the messagin...
(continues)
THIS PHONE...!!!
😁 personally i would buy this phone!!! but i live in the UK and i'm not sure if they sell it here yet. i will search thoroughly though. Its either this or the Motorola Rokr U9.
plz will sum1 also comment me back saying how much this would roughly cost in £...? 😁
This methodology for measuring signal strength is flawed
You've done it in one of your other reviews and it's a step down a slippery slope. You can't measure signal perforformance based off of signal bars shown on the handset, especially between different BRANDS and TECHNOLOGIES of handsets. Even if you are comparing the "bars" to other phones on the same carrier, manufactures don't use the same measures for displaying the true db (signal) counts. Just becuase a Sanyo shows 2-3 bars and a LG shows 1-2 does NOT mean the Sanyo is somehow pulling in a better signal. You need to access the debug menu on these phones if you want an accurate measure of the true signal they are pulling in. This way of categorizing signal strengh

The vault test was a much more practical means to measuring signal streng...
(continues)
all they did was just do a little mistake!! no1's perfect! 😉
This is a good phone
I've spent a lot of time with the Lotus and this may be one of my favorite feature phones on any provider. Never thought I'd say that about an LG, let alone one on Sprint. The keypad is excellent, as is the battery life and sound quality.

Sprint's new home screen menu is a colossal step in the right direction, and I dig the widgets. The interface is surprisingly polished, especially for an LG phone.

Another major plus is the fact applications can be suspended in the background.