Review: Kyocera DuraXV for Verizon Wireless
Form Performance Basics Extras Wrap-Up Comments 3
Feb 3, 2015, 11:30 AM by Eric M. Zeman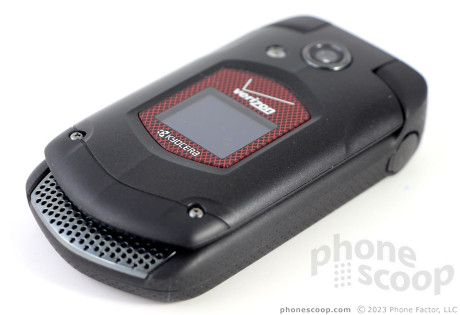 Kyocera's latest handset for Verizon Wireless is the rugged and waterproof DuraXV. This capable flip phone is tough, but offers only basic functionality.
Is It Your Type?
The Kyocera DuraXV is a rugged clamshell. This waterproof phone is best suited to those needing something tough enough to withstand abuse day in and day out. If you're looking for a smartphone, look elsewhere; the DuraXV is about covering the basics.
Body
Kyocera has been churning out ruggedized, waterproof handsets for a long time. The DuraXV takes a page from the 2012-era DuraXT. It's a tough-as-nails flip phone that offers essential communications tools and few frills.
Rugged handsets are quite often bricks. The XV is meaty, but it's not overly blocky and large. Kyocera gave it a space-age look. It's got different angles, textures, and surfaces running in every which direction. The front is perhaps overly busy, while the back is as plain as it gets. Like Vin Diesel or Danny Trejo, it looks tough even from a distance. You don't want to mess with it unless you want your teeth knocked in.
I like its relatively compact size. I had no trouble wrapping my hands all the way around the XV. Its rounded edges make it comfortable to grip and use. The XV has a nice weight to it. It's hefty enough so you trust it, but not so heavy that you dislike carrying it around. The materials are all heavy duty plastics that are fitted together tightly. There's nothing refined about it; it favors function over form. You can get away with sticking the XV in your pants pocket, but you may prefer to attach it to your belt with a holster.
The front of the phone has a lot going on. There's a large camera module close to the top with an LED flash offset to the left. There's a large indentation with a red frame around a small external display. There are some exposed screws and what looks to be a metal cheese grater forming the phone's chin. In actuality, the cheese grater is a plastic speaker grill.
Buttons and controls are placed strategically on the side and top surfaces. The volume toggle, for example, is on the left edge very close to the top. It's a short nub of a button. It's easy to find and use, but it's practically impossible to tell up from down when wearing gloves. Travel and feedback is solid. The USB port is also on the left side. It's covered by a heavy duty hatch with a gasket to keep water out. The hatch is easy to interact with. The headphone jack is on the right side and is also protected by a thick hatch. The hatch is so big it almost qualifies as a plug. There's a small menu button on the top as well as a speakerphone button. They are both somewhat hard to find and use even without gloves. The buttons are nearly flush with the top edge and have minimal travel and feedback. Using them with gloves on was all but impossible.
There's a nice groove separating the two halves of the phone, which means it's easy to flip open whether or not you're wearing gloves. The top swings open with a satisfying "thunk" thanks to the spring-assisted hinge. The hinge is solid and strong.
The numerical dialpad and navigation controls are arranged as we've come to expect on feature phones. The large buttons and generous spacing make most of the keys easy to find and use. The navigation cluster is fairly good. The d-pad is about the size of a quarter; it has a raised, flat edge that makes it easy to find even with gloves. The four directionals all offer great travel and feedback. The central "OK" button also works flawlessly. Surrounding the d-pad are two soft keys plus dedicated camera and speaker buttons. These four buttons are smaller than the others. They are easy to use barehanded, but less so with gloves on.
The dial-pad buttons have a nice shape to them, which makes them easy to tell apart. Travel and feedback is great on all the buttons.
The back cover is removable, but you'll need a coin to loosen the screw first. The battery cover is fitted tightly and includes a gasket to keep water out. With the cover off, you can remove the battery, access the SIM card, and even add a (bigger) memory card.
The Kyocera DuraXV is a really usable phone.
PTT-capable, no PTT button?
I must be missing something obvious, but so far I can't see it.
The Specs & Features page shows this phone to be PTT capable, yet there is no PTT button on the side (as their is will all of Kyocera's rugged flip phones on Sprint).
If there is no PTT button on this simple, rugged flip phone, how does it do PTT?
Which then begs the question, does anyone actually use Verizon PTT anyway?
Just curious what I'm missing.
Just for historical perspective, compare this review of the Dura-XV to the old Moto i580 (two links below: User reviews at Phonescoop, Editor's review at CNET):
https://www.phonescoop.com/phones/user_reviews.php?p ... »
http://www.cnet.com/products/motorola-i580/ »
Despite having the i580 as the high-water m...
(continues)
Like Vin Diesel or Danny Trejo
"Like Vin Diesel or Danny Trejo, it looks tough even from a distance. You don't want to mess with it unless you want your teeth knocked in."

No better words to describe a Rugged phone! Suddenly, I feel like reading your reviews.
Clunky?
While I haven't tried this version of Kyocera's feature phones, I do have the DuraXT with Sprint, and I have found that access and use of basic phone features are WAY better than with the best smartphone.

In my opinion, "clunky" best describes a feature that requires a minimum of three key presses to access, then requires a second or two to load. Once you set your shortcuts on phones like these, one button press gains you instant access to the feature you wish to utilize.