Verizon Now Selling Kyocera's DuraXV Handset
Article Comments 3
Jan 22, 2015, 3:07 PM by Eric M. Zeman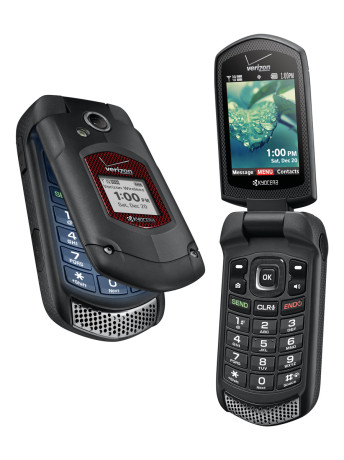 Verizon Wireless recently added the Kyocera DuraXV to its lineup of rugged handsets. The DuraXV, a successor to Kyocera's DuraXT, is a flip phone that meets mil-spec standards for protection against temperature extremes, dust, and shock. It is also waterproof in depths up to six feet for 30 minutes. The DuraXV features Kyocera's Smart Sonic Receiver technology for clear phone calls, and includes dual front-facing speakers. It has two screens with the main color display measuring 2.4 inches with 320 x 240 pixels. The phone has a 5-megapixel camera, but Verizon also sells a variant with no camera. The phone runs the Brew MP operating system. The Kyocera DuraXV costs $199 at full price, $99 with a two-year contract, or $8.33 per month with a Verizon Edge plan. U.S. Cellular is also selling the phone as the Kyocera DuraXA. It is charging $199, but is offering a $50 mail-in rebate to cut the total cost to $149.
The Way to Go for Basic Phones in 2015 -- PTT
For those of us who don't care about smartphones, this is a trip back to 2004. Phones like these have decent cameras WITH flash and video capture, MP3 players, basic tools, and good predictive text.

It is not necessary to have the PTT service, just the phone. Other "basic" phones in their lineup are missing some of the aforementioned features.
I would have never thought Verizon at this stage of the game would release such a phone, but I'm sure glad they have. I have placed my order can't wait to get it.