Review: Samsung Galaxy Note 4 for AT&T
Form Performance Basics S Pen Extras Wrap-Up Comments 15
Samsung made only minor adjustments to its S Pen and the associated software. First, the S Pen itself is even thinner and sturdier than earlier models. The button is easier to find and has better travel and feedback. According to Samsung, the software that interacts with the S Pen is much more sensitive to pressure. It now senses more than 2,000 levels of pressure, twice that from the Note 3. Samsung claims it's more like writing on paper than ever. (Instant Judgement: Um, nope, still feels like writing on glass to me.) Pulling the S Pen out automatically launches Air Command.
Air Command
Air Command is a small pop-up menu that lets you access the different S Pen tools. The Air Command menu itself can be dismissed or called up with the stylus (when you press the stylus button and hover). It comes and goes as needed and offers one-tap control over the essential stylus functions.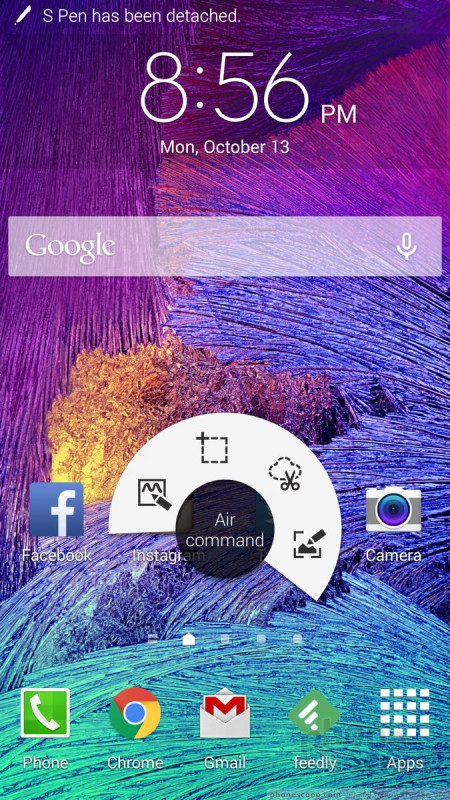 Advertisements article continues below...
Action Memo
The most useful tool in Air Command is the Action Memo. You can use the stylus to write notes or whatever content you're in the mood to create. The real use, though, is adding actions to the text you've written. The app lets you write down a phone number, for example, and then use the action tool to call it, add it to a contact, send a message, perform a web search, and so on. It does this by reading your handwriting, but it's more than that. In effect, the memos you write are now actionable, thus Action Memo. It's really useful if you write down an address and then want to open it in Google Maps, or if you write down a web address and want to open it in the browser.
Smart Select
This tool does more or less what the name implies. Using the Pen, you draw a square or rectangle against some content you want to capture, such as a web page. The tool will then grab the text, images, hyperlinks, and the actual web address of the web page you select. This is very handy if you want to send someone the specific details from a web page.
Image Clip
Image Clip is similar to smart select, but there are some key differences. First, you can draw any shape you want, be it a box, circle, star, or trapezoid. Rather than pick up text and hyperlinks, however, image clip is only capturing an image of whatever is inside the shape you draw. So, if you open Facebook and draw a star right in the middle of your news feed, the tool will clip a star-shaped image from your newsfeed. You can then add the clip to an S Note document, save it, comment on it, or share it.
Screen Write
The last of the Air Command tools is called Screen Write. When you select this option from Air Command, the Note 4 automatically takes a screenshot and then opens the S Note function again. You can use various pen styles and colors to mark up the screen shot, as well as crop, erase, undo/redo, and then share your annotation with whomever via whatever method you like (text, email, etc.). Nothing you write on this screen is actionable, though; it's just marked up.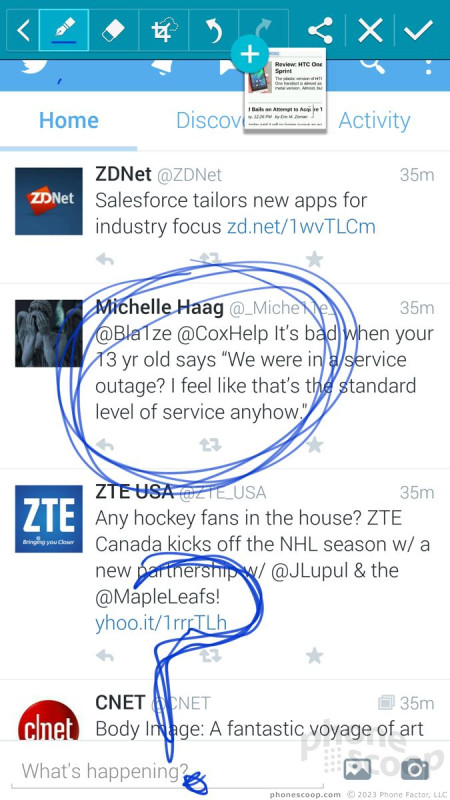 Misc.
Samsung appears to have gotten rid of the S Finder tool, which turned the stylus into a search function. Further, Samsung removed the ScrapBooker tool from Air Command and dumped it into the app menu. It's now called simply Scrapbook and can be used to create collections of images, videos, and sounds.