Hands on with Samsung's Galaxy Note 4
Article Comments 7
Sep 3, 2014, 10:08 AM by Rich Brome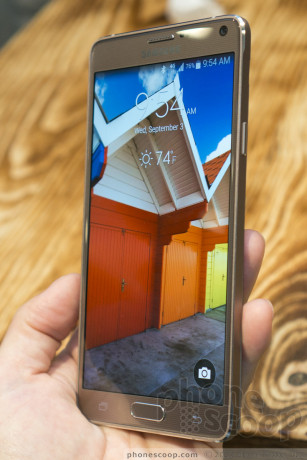 Samsung today announced its latest Galaxy Note phablet. This year's iteration refines the design with a metal frame and the latest specs, including a quad-HD display, 2.7 GHz processor, and heart rate monitor. We checked it out for you and share out first impressions.
The Galaxy Note has always been about straddling the line between phone and tablet, while sticking firmly to the "huge phone" side of that fence. It's for people who want the most powerful phone money can buy, and don't mind a larger device to get it. It's also for people who want a phone-first device that's large and powerful enough to handle a lot of tablet tasks.
To that end, this baby has a large quad-HD 5.7-inch screen, the latest, fastest 2.7 GHz processor from Qualcomm, a large battery, and a 16-megapixel main camera with optical image stabilization. The screen is simply gorgeous; sharp and can be, bright, and extremely colorful.
It carries over the faux leather back, which has a cheesy iridescent sheen. (Imagine a leather oil slick and you've pretty much got it. Classy.) The front is glass with pinstripes painted underneath and an odd bevel. An executive claimed they tried to bring over the glass bevel from the Galaxy S III; if that was the goal, they failed; it's not as curved and not as nice. It's a very small detail, but a strange-looking one nonetheless.
I do have high praise for the true metal frame that forms the sides, iPhone-style. It's carried over from the Galaxy Alpha; it looks and feels marvelous. However the front, side, and back each seem to be a different style and they all clash a bit. It's like a sandwich of three different phones from different designers. I doubt this will end up in MoMA any time soon, but then again I'm not a modern industrial design critic; you may love the design.
The body feels solid enough, mostly due to the metal frame. The side keys are all small and a bit uncomfortable, but they're easy to find by feel and work very well. The faux leather back is unfortunately quick slick; that texture doesn't help with grip one bit.
The S Pen slides into the bottom and is easy enough to remove and replace. Its button is flush and difficult to feel, but once you learn the feel of the stylus, you quickly learn to just squeeze both sides at a certain place above the tip, and that works well enough.
The S Pen has some improvements that make it easier to use for scrolling (why?) and selecting text (awesome.)
On to the software, most of the software is standard for a high-end Samsung and few things have changed from last year's Note 3. There is of course the heart rate monitor software, and some new camera features focus on taking selfies in every way possible with either camera, including selfie panoramas and using the heart rate monitor as a shutter button.
The big software bump is the improvements to multi-tasking. It's now easier to launch multi-tasking with multi-window buttons that appear on compatible apps in the standard Android recent-app switcher. You can also choose to float apps in little windows or use a split-screen mode with a movable divider between two apps.
Wait for the reviews
There is a very real possibility that the "premium metal" body will interfere with reception. Who cares how great it looks if it doesn't work right - that's what iPhones are for. Good thing thing they tried this crap on the Note 4. I won't be upgrading before the Note 5, which will give them plenty of time to go back to materials that are durable and don't interfere with electrical signals.
Carriers....
Did I miss something or do we know who the carriers will be and the availability dates?
All four major US carriers will offer both the Note 4 and Edge.

US Cellular will also offer the Note 4.

As far as I know, the most specific date is US Cellular saying "October" for the Note 4. I doubt they'll be first, so look for the majors t...
(continues)
Sweet!
I'll be renewing my contract in a few months, so this is what I'm getting for sure!
It has Samsung's notoriously accurate built in pedometer so you can argue with it over who is more wrong!