HTC One A9
Info Photos News Forum 11 Reviews 2
HTC's Mo Versi today announced via Twitter that the late-2015 One A9 smartphone will be updated to Android 7 Nougat. HTC is pushing the system update to the unlocked variant of the phone first. The revised operating system will be delivered via an over-the-air update. HTC didn't say when carrier-branded versions of the One A9 will receive Nougat.
---
HTC today said some of its phones will be updated to Android N. The devices include the HTC 10, One A9, and the One M9. These are HTC's more powerful, high-end handsets. HTC didn't say when the update might be pushed out.
---
HTC has cancelled plans to add support for Verizon's LTE network to the One A9 smartphone. The unlocked phone does not include CDMA and was expected to be Verizon's first LTE-only handset. "HTC is committed to providing the best experience for all of our device owners. Following extensive testing, we are unable to support the Verizon network with the Unlocked HTC One A9," said the company in a statement provided to Droid-Life. HTC says Verizon customers who ordered the unlocked One A9 can return it for a refund and 20% discount on any phone sold by HTC. Customers are urged to contact HTC Care to discuss options.
---
HTC representative Mo Versi said the unlocked variants of the One A9 and M9 will see system updates arrive in the next 24 hours. The A9 will be updated to Android 6.0.1, while the M9 will be updated to Android 6.0 Marshmallow. HTC hasn't said when carrier versions of these handsets will receive the same updates.
---
AT&T and Sprint stores are now selling the HTC One A9. The phone's introductory price of $399 is no longer available, and HTC and its carrier partners are charging full price for the handset. AT&T is offering the One A9 for $17.34, $21.67, or $26 per month with its Next 24, Next 18, or Next 12 payment plans, respectively. Alternately, customers can pay $99.99 if they are willing to sign a two-year contract. Sprint is leasing the One A9 for $20 per month, financing it for $29 per month, or asking for $199.99 up front with a contract. The One A9 sports a premium metal unibody design with thin profile. Key features include 5-inch full-HD display, 13-megapixel camera, fingerprint reader, NFC, and memory card slot.
---
AT&T today said customers can place orders for the HTC One A9 smartphone starting today. The phone will reach stores Nov. 6. AT&T is offering the One A9 for $0 down followed buy monthly payments of $17.34, $21.67, or $26 with a Next 24, Next 18, or Next 12 plan, respectively. Alternately, the handset is available for $99.99 with a two-year contract. AT&T did not specify full retail pricing, though HTC is selling the One A9 unlocked via HTC.com for $399 through Nov. 6.
---
HTC today issued a statement clarifying that the announced $400 price for its One A9 in the U.S. is only a limited-time introductory sale price. On November 7, the price will jump to $500. The lower intro pricing is only for unlocked units purchased directly from HTC's U.S. web site. Full carrier pricing is expected to run closer to the $500 price.
---
HTC today said is will not launch a wearable with Under Armour this year as expected, and is now targeting early 2016 instead. The company first revealed the HTC Grip in March. In July, the company shelved the product in favor of other form factors. HTC now says those products won't make it to market before the year is over. "As we continue to develop the Connected Fitness platform and elevate our product offerings, Under Armour and HTC have decided to launch a fully integrated digital ecosystem of products early next year," said the company in a statement. "This global launch will provide the tools needed to help athletes of all levels track, manage, and improve their health and fitness. Our teams have done a remarkable job bringing these products to life and we're excited to share them with the public soon." HTC is using Under Armour's fitness platform to give its wearables life. Earlier this week, HTC announced the One A9, a new Android smartphone.
---
HTC said the unlocked One A9, announced today, will receive system updates from HTC quicker than most phones in the market. "This One A9 unlocked edition will provide you with every Android software update within 15 days of when Google first pushes to their Nexus line," said HTC's Jason Mackenzie during the phone's introduction. The One A9 is among the first phones to ship with Android 6.0 Marshmallow. Google itself has only recently pushed the system update to the Nexus 5 and Nexus 6 smartphones. HTC has attempted to deliver Android system updates quickly in the past, but wasn't always successful. HTC is selling the unlocked One A9 directly via its web site for $399. U.S. carriers also plan to sell the device in early November, but carrier-branded variants will not be party to fast system updates.
---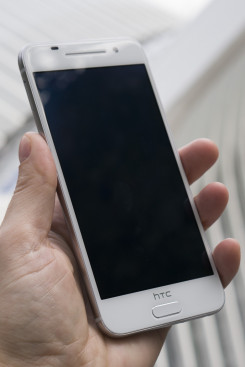 The One A9 is HTC's new flagship for late 2015. It replaces the One M9 in HTC's current U.S. lineup. Although it's a very high-end phone, it's not really trying to compete with other flagships on cutting-edge specs and technology. Rather, HTC is aiming to create a flagship that competes on design. They're also gunning for the iPhone, of course, and are following a similar strategy of focusing on design over specs numbers. The One A9 represents a few subtle but key shifts in strategy for HTC. How is the end result? Read on....
---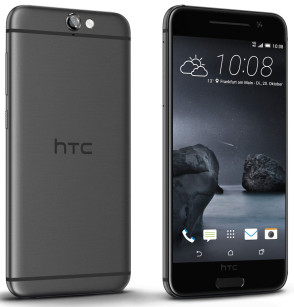 HTC today announced the One A9, a stylish handset that offers top-notch build quality and is among the first to ship with Android 6.0 Marshmallow. The A9 takes HTC's design in a slightly different direction when compared to the One M9 and M8. HTC retained the unibody metal construction, but flattened out the rear surface, rounded off the side edges, and curved the glass display slightly to meet the metal frame. The A9 is slim and, thanks to the 5-inch full HD display, smaller than many of today's flagships. HTC is positioning the phone as a sub-flagship. Rather than rely on the fastest silicon from Qualcomm, the A9 runs an octa-core Snapdragon 617 processor (four cores at 1.5GHz, four cores at 1.2GHz) paired with 3GB of RAM an either 16GB or 32GB of storage. The A9 supports memory cards up to 2TB. The phone has a 13-megapixel main camera with optical image stabilization, pro mode, timelapse capture, and Zoes. The front camera relies on HTC's UltraPixel design; both the front and rear can capture 1080p HD video. HTC added a fingerprint sensor to the front of the phone, which can be used to secure the handset or authorize Android Pay transactions. The phone has a non-removable 2150mAh battery that supports QuickCharge 2.0 and is forward-compatible with QuickCharge 3.0 for rapid charging. The device offers Dolby audio, but it doesn't have stereo speakers like some older HTC handsets. HTC added its own Sense 7.0 user interface to the Android 6.0 Marshmallow platform, though HTC says it is somewhat toned down compared to previous versions. The phone is available for order directly from HTC.com beginning today. It costs $399 and is sold unlocked and with Uh Oh Protection. HTC said U.S. carriers will announce pricing and availability separately. It will initially be available in gray and silver, with garnet and gold to follow.
---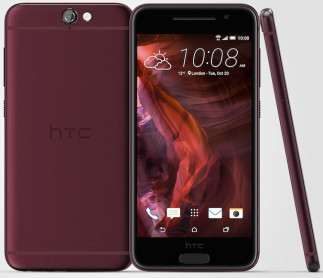 HTC will sell an unlocked version of its new One A9 that can be used on Verizon's LTE network, even though the phone lacks the legacy CDMA technology found in all other Verizon phones to date. That makes the One A9 the first phone announced for use with Verizon in LTE-only mode. Verizon has upgraded its entire network footprint to LTE technology, including VoLTE (Voice over LTE, which enables voice calls using only the LTE network.) These upgrades make older CDMA technology obsolete, but the CDMA network will continue to operate until around 2021, and Verizon phones so far have supported the older CDMA technology in addition to LTE. Verizon has separately announced plans to offer an LTE-only phone by the end of this year, but has yet to announce one that it will sell directly. The One A9 variant in question will work with Verizon LTE after a software update, available shortly after launch. It will also work with AT&T and T-Mobile LTE and 3G networks. A separate version is designed for Sprint LTE and CDMA networks. HTC says previously-activated SIM cards (i.e., those pulled from a working Verizon phone) will have full support to voice, SMS/MMS, and data services via LTE on the One A9. Customers will not be able to activate a new Verizon SIM on the A9, nor can the A9 be activated in Verizon stores. The unlocked One A9 comes with an unlocked bootloader, 6 months of Google Play Music for free, and Uh Oh Protection. It costs $399 and will be available in the weeks ahead.
---