Hands On with the HTC One A9
Article Comments
Oct 20, 2015, 11:16 AM by Rich Brome @rbrome
updated Oct 27, 2015, 7:18 AM
The One A9 is HTC's new flagship for late 2015. It replaces the One M9 in HTC's current U.S. lineup. Although it's a very high-end phone, it's not really trying to compete with other flagships on cutting-edge specs and technology. Rather, HTC is aiming to create a flagship that competes on design. They're also gunning for the iPhone, of course, and are following a similar strategy of focusing on design over specs numbers. The One A9 represents a few subtle but key shifts in strategy for HTC. How is the end result? Read on....
Advertisements article continues below...
We're obligated to discuss the elephant in the room. There's no denying that the One A9 looks an awful lot like the iPhone 6 and 6s. The shape is the same. The design is similar. The ports and speaker on the bottom look the same. Even the protruding camera and flash have the same exact, distinct design. Sure, there are only so many ways to make a nice-looking, ergonomic, premium-feeling slab of smartphone. But this phone… this one looks far more like the iPhone than most. HTC has a reasonable answer for most of their design choices, but no one can defend that camera lens and flash design. It's just a straight-up copy.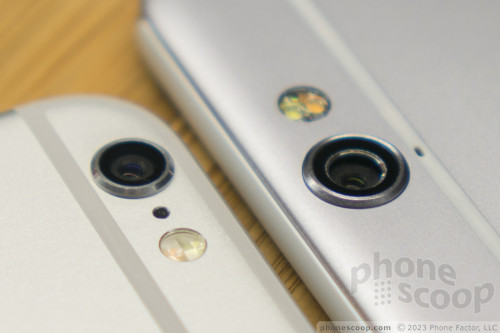 With that said, HTC will say that they pioneered most of these design innovations way before Apple, and they're right. People have even accused Apple of copying HTC, and that's not unfair to suggest. HTC was absolutely first with machined unibody metal casings, and first to employ injected plastic bands to accommodate antennas integrated into a metal unibody design. That has been a signature HTC innovation and design since long before the iPhone 6 came out. The One M7 was a great example of this; it preceded the iPhone 6 by over a year. HTC was also way ahead of Apple on curved-edge front glass. The HTC First was a great example of this; it has the same exact shape and rounded front glass as the iPhone 6, but the First came… first.
HTC is also proud of the small ways the One A9 differs from the iPhone 6 design. The One A9 doesn't have ugly, large plastic rings around the top and bottom of the back; its thin, straight bands are far more elegant. They also managed to center the camera, which not only looks better, but makes it easier to frame a shot perfectly in some situations.
It's a shame that HTC made the design choices it did, because it taints all discussion of this phone. Whether the design copies the iPhone 6 or not isn't actually that important. The real question is whether this is a good phone.
The body of the One A9 has all of the class and premium feel you'd expect from a high-end HTC phone. Materials and build quality are where HTC shines, and they're top-notch here. The metal side buttons are superb, especially the new lock button with oversize notches that make it extra-easy to tell apart from the volume button by touch. The curves of the front glass and sides make this phone exceptionally comfortable to hold. My only niggle is the soft plastic plate on top that covers the GPS antenna. It doesn't fit as smoothly as it could.
The ergonomics of the phone are okay, but I do have a few minor issues here. The sides of phone hug the 5-inch display closely, making the phone narrow enough to hold comfortably in one hand. Still, it would be even better with a curved back, like the One M9. The fingerprint reader would also be much easier and faster to use were it on the back. Finally, the volume key is very high up on the side of this relatively tall phone; small hands will need to adjust their grip to reach it. None of these issues should be deal-breakers for anyone, though.
The One A9 has HTC's unique dual-tone finish with an ultra-fine brushed metal finish on the back and a slightly shinier finish on the sides. Visually, it's nice if you notice it, but it's also very easy to miss. The feel of the brushed finish in the solid (6063-grade) aluminum is exceptional, though; it's silky smooth. Which is actually a problem. It's so silky that it's extremely prone to slipping out of your hand. You will need a case on this phone, or you will drop it. I guarantee it.
A word on specs: spec-hounds will immediately be disappointed to learn that the One A9 is powered by a Snapdragon 617 instead of an 800-series processor. The 810 has been a problematic chip, and the 820 isn't available yet, so I have no problem with HTC opting for a 600-series chip. The 617 — the newest available in that series — does sport the X8 modem for solid LTE speeds, and it has QuickCharge 3.0, which is fully implemented in the One A9. The 617 doesn't support 4K video, which is probably why this phone is limited to 1080p. On the other hand, having a generous 3 GB of RAM should help prevent annoying, random slow-downs. Also, HTC is quick to point out that the 617 has benefits on price and battery life.
The full-HD (1080p) OLED screen is clear and bright. It does have the offset pixel pattern ("PenTile") that bothers some purists. As a result, if you put your eyeball up to the glass, you'll notice that text doesn't look as smooth as it could. But at normal viewing distance, it looks plenty sharp.
HTC's signature BoomSound front-facing stereo speakers are sadly missing on the A9. HTC says that decision was about making the phone smaller and thinner. As someone highly annoyed by loud music and video soundtracks in public (get off my lawn!) this doesn't bother me in the slightest. But some might miss it. The speaker that remains on the bottom edge is pleasantly loud and clear, just don't expect much bass.
The fingerprint reader works quickly and reliably. Just touching it wakes and unlocks the phone. It can also double as a home button. It's not a physical button like on the iPhone and Galaxy S6; it just doubles as a capacitive shortcut, duplicating the home button also displayed on the screen.
The One A9 will be one of the first phones to ship with Android 6 ("Marshmallow") software, outside of Google's own Nexus phones.
Starting with the One A9, HTC is taking a slimmed-down approach to its Sense software. That should please Android purists, and lead to even faster OS updates and patches from HTC. HTC is no longer doing its own notification / quick settings shade, leaving the standard Android version in place. They've also dropped their own mail and music apps, and killed their own custom emoji set. (I'm actually sad about the emoji, as Google's emoji "blobs" are simply terrible.)
There's a lot of Sense left, though, including HTC's custom app menu, keyboard, and custom interface tweaks like the toggles in Settings. BlinkFeed is also still around, as is the Themes tool, and HTC apps like their own Gallery, Calendar (why?!), and Weather. Naturally, there's also the Zoe Highlights app; and HTC's Setup, Club, and Help apps.
The camera app has some great features. The default "camera" mode is mostly automatic, and works well enough. It's slow to focus and snap in low light, but that could be the early software build I tried. There are the usual buttons for selfie, flash, and HDR. In a quick test, HDR performed well at making dark areas visible, without overdoing it. An icon of four circles gives you a menu of primary camera modes, including a duplicate selfie option (why?), panorama, Pro, slow-motion, and Hyperlapse. These modes are all well-implemented.
The Pro mode is worth calling out for two reasons. First, its manual controls are excellent. An intuitive interface lets you choose which settings to control manually, and overlaid sliders let you preview results quickly. You can even crank the shutter speed to 2 seconds, which is great for night shots where you're able keep the phone steady. It can also capture RAW mode. In what may be a first in a phone, it will also let you process RAW photos right on the phone. That processing is limited to a simple auto-enhance function, and it takes around 15 seconds, but we tested it, and it can indeed produce a usable photo from one that would otherwise be hopelessly over- or under-exposed.
There's also a Zoe option, which is much like Apple's Live Photos. Of course HTC did this a long time ago, way before Apple. (There's basically no question that Apple copied HTC on this.) It takes a 3-second video along with each still photo. Unfortunately, it no longer captures the moment before the still photo; just three seconds of video after. For casual photography, that may produce less compelling video clips of your friends, kids, pets, etc. That was my experience in a day of testing, but your mileage may vary. Also, Zoe mode is only available when you've chosen a resolution that's 16:9 ratio. So if you choose full 13-megapixel mode, you can't use Zoe mode; you need to choose the 10-megapixel option. I had to figure that out by trial and error; it could be much clearer in the interface.
Sadly, the ability to configure and save your own custom modes seems to have been removed.
The 13-megapixel sensor with advanced OIS is one that HTC claims is its best ever. After HTC was criticized for its low-resolution UltraPixel sensor in the One M7 and M8, and then for its low-quality 20-megapixel sensor in the M9, the company claims this new sensor is the "Goldilocks" that will deliver the best balance of quality, resolution, and low-light performance. In brief tests, it looks promising. Daylight shots were good. Night shots were decent and vastly crisper than those from an iPhone 6. Color was sometimes exaggerated, but that's often the kind of thing that gets tweaked in final software.
The One A9 will sell for $400 unlocked initially, which is an excellent price. This is a phone comparable to the Moto X Pure Edition, but that phone sets you back $450 for one with the same 32 GB of storage. This phone is 90% flagship phone for 2/3 the price. That's a solid deal. Unfortunately, it's a limited-time offer only until Nov. 7. After that, it will run for $500 unlocked, which, unfortunately, isn't quite competitive. You can pre-order it today, in Opal Silver or Carbon Gray. A Deep Garnet (red) version is due "in the coming weeks." (Overseas, some countries will see a gold version as well.) (Updated Oct. 27, 2015 with new pricing info.)
There's a special version for Sprint's network, but the standard U.S. version will run on AT&T and T-Mobile LTE networks, (naturally.)
What's really interesting is that the AT&T / T-Mobile version will also work on Verizon in LTE-only mode, with a forthcoming software update. A phone on Verizon without 2G (CDMA) is a first. Verizon has blanketed 100% of its network area with 4G LTE and has been running ads touting this fact for a few months. And you can make calls using just LTE (that's called VoLTE), so you don't technically need legacy CDMA technology in a Verizon phone any more. Still, this is the first phone we've heard of to take advantage of that. A phone that's effectively LTE-only (when used domestically) is something we really look forward to testing. It's an important step forward for cell phone technology.
We look forward to fully reviewing the One A9 to see how it measures up under the microscope.
No messages