Samsung Galaxy Note 4 (GSM)
Info Photos News Forum 52 Reviews 13
Samsung and Think Tank today introduced a beta app called Flow, which is meant to help people transition tasks from one Samsung device to another. It is similar in concept to Apple's Continuity feature for iOS and Mac hardware. Flow offers Samsung smartphone owners two distinct use-cases: transfer an activity or defer an activity. With transfer, people can work on a particular activity and then move it to another device and pick up right where they left off. For example, users can listen to clips on Soundcloud on their smartphone and then transfer the activity to their tablet without missing a beat. The deferring feature lets people defer an incoming activity request on one device if, for example, it's not the right device for that particular task. They can then pick up the activity on whichever other device they prefer when they're ready. According to Samsung, Flow supports existing applications through Android's share mechanism. Samsung expects to add more features, including notify, mirror, and divide, to Flow over time. For the moment, Flow is limited to the Galaxy S5, S6, and S6 Edge; Galaxy Alpha; Galaxy Note 4 and Note Edge; and the Galaxy Tab S. The beta app is free to download from the Google Play Store.
---
T-Mobile plans to make some of its handsets compatible with its 700MHz spectrum through a software update. Today, only the Samsung Galaxy Note 4 and Galaxy Note Edge can use LTE on T-Mobile's 700MHz spectrum. T-Mobile said it will provide the system update to the Motorola Nexus 6 in the early part of 2015, followed by the Sony Xperia Z3 and Samsung Galaxy Avant in May, and the ZTE Max later this year. Two tablets and T-Mobile's Z915 LTE 4G Hotspot also support the 700MHz airwaves. T-Mobile is supplementing its AWS-based LTE network with its 700MHz holdings in select markets around the country. The company is still in the process of deploying LTE to all its 700MHz spectrum.
---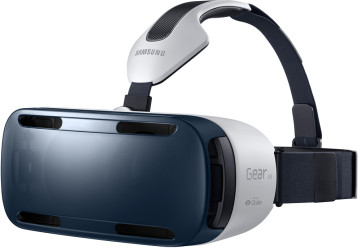 AT&T and Samsung today announced the availability of the Gear VR Innovator Edition, a virtual reality headset that works with the Galaxy Note 4 smartphone. Samsung, which worked with Oculus, announced the Gear VR earlier this year. It is a headset that encompasses the Galaxy Note 4 and uses it to create a 3D, 360-degree environment that can be explored. The sample content that ships with the Gear VR was made by Oculus and additional content can be downloaded from Oculus' platform. Samsung and Oculus hope early adopters will buy the Gear VR and use the available SDK to create their own apps and experiences for the headset. AT&T and Samsung are both selling the Gear VR online for $199 ($249 with recommended Bluetooth controller). It won't be sold in stores. The Galaxy Note 4 (required) is sold separately.
---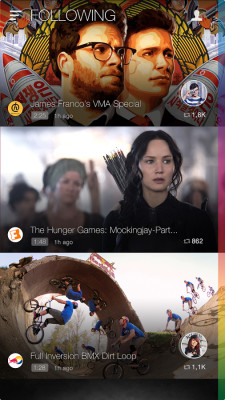 Samsung today announced Milk Video, a video content discovery service for Galaxy-branded smartphones. Like Samsung's Milk Music, Milk Video has a refined user interface that makes browsing the best way to find new and interesting videos. According to Samsung, Milk Video will learn and refine its content recommendations every time people use it to create a more personal experience. Some of the content partners include Condé Nast, Funny Or Die, Red Bull, Vevo, and VICE. Samsung says it is working to score more content down the road. Milk Video is compatible with the Galaxy Note II, 3, 4, and Edge; Galaxy Mega; and Galaxy SIII, S4, S4 Mini, and S5 smartphones. It is free for owners of these devices to download from the Play Store.
---
Samsung today announced the availability of Samsung Protection Plus Mobile Elite for the Galaxy Note 4 and Note 3. The plan extends warranty coverage to two years from the original purchase date of either phone. Subscribers to the plan will be eligible for three device replacements and/or repairs for accidental damage, including cracked screens or liquid ingress. The warranty also covers mechanical defects. Samsung Protection Plus Mobile Elite costs $129, and each replaced/repaired phone is subject to a $95 fee.
---
Nvidia announced that the U.S. International Trade Commission has agreed to investigate Nvidia's claims that Samsung is violating Nvidia's intellectual property. Nvidia filed legal action against Samsung last month, alleging some of its devices violate patents pertaining to graphics processing on mobile devices. Nvidia called out the latest Samsung handsets, including the Galaxy Note 4, Note 3, and Note Edge, as well as the Galaxy S5, in the litigation Last year, Nvidia said it would license its processor designs moving forward, but it has yet to score any such deals. The company has filed similar litigation against Qualcomm.
---
Samsung and the Car Connectivity Consortium today announced that the Galaxy Note 4 and Galaxy Note Edge are both MirrorLink compatible. MirrorLink is a connectivity tool for pairing smartphones and cars. It works across smartphone platforms and car manufacturers, and is the only vendor-neutral standard available. With MirrorLink aboard, the Note 4 and Note Edge will be able to connect to select in-car infotainment systems, allowing drivers to more safely access their phone's content when behind the wheel. Apple and Google have both announced their own connectivity solutions for cars, which are part of iOS 8 and Android Release L, respectively.
---
Nvidia today filed legal action against Qualcomm and Samsung, alleging both firms are violating patents it holds regarding graphics processing on mobile devices. "They're using our technology for free in their devices today and they're shipping an enormous number of devices," said Nvidia CEO Jen-Hsun Huang. Nvidia called out the latest Samsung handsets, including the Galaxy Note 4 and Galaxy Edge, as infringing on its patents. Nvidia filed separate complaints against the two companies with the U.S. International Trade Commission seeking to block the import of Samsung's devices into the U.S. Samsung said it will defend itself. Qualcomm didn't comment on the lawsuit. Last year, Nvidia said it would license its processor designs moving forward, but it has yet to score any such deals.
---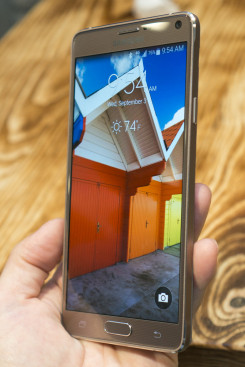 Samsung today announced its latest Galaxy Note phablet. This year's iteration refines the design with a metal frame and the latest specs, including a quad-HD display, 2.7 GHz processor, and heart rate monitor. We checked it out for you and share out first impressions.
---
Samsung today announced the Galaxy Note 4, the latest version of its flagship productivity phone. The Note 4 carries over a lot of the design ideas set forth in last year's Note 3, though it makes a number of refinements. The phone features a 5.7-inch quad-HD display with 2560 x 1440 pixels. Samsung stuck with its Super AMOLED technology for the screen. According to Samsung, the larger, higher-resolution screen enhances the phone's multitasking capabilities, with more content visible in each window. The Note 4 has two processor variants. The U.S. variant will use a Qualcomm Snapdragon processor with four cores at 2.7GHz each. It has 3GB of RAM and 32GB of internal storage, with support for microSD cards up to 64GB. The Note 4 ups the ante with the camera, which captures 16-megapixels and includes optical image stabilization, HDR, and ultra HD video capture. The user-facing camera jumps up to 3.7 megapixels and has a wide aperture of f/1.9. The phone runs Android 4.4 KitKat and comes with he latest version of Samsung's TouchWiz user interface, which includes S Health, S Voice, and other apps/services common to Samsung phone. The S Pen stylus has been refined to provide a more natural feel to the on-screen writing behavior, and it carries over the tools and functions from the Note 3, such as Air Command, Image Clip, and Smart Select. The Samsung Galaxy Note 4 will be sold by all four major U.S. carriers and should be available in the months ahead.
---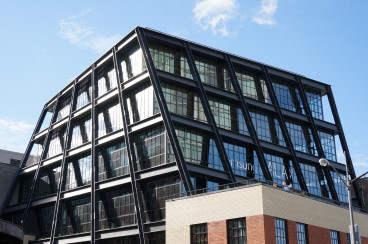 Summer is over, and that means it's time for Samsung to announce a new Galaxy Note device. We're live from the NYC event, where Samsung actually bought a large, trendy building in the meatpacking district for this and future events. Tune in for details as they're announced.
---