Amazon Fire
Info Photos News Forum 40 Reviews 1
Amazon has made Fire OS 4.6.1 available to the Fire Phone, which pushes the device up to Android 4.4 KitKat and makes a significant number of improvements. Fire OS 4.6.1 adds support for Bluetooth Low Energy and wireless printing; adds keyboard options and color choices for the calendar and lock screen; and makes improvements to the lock screen, notifications, messaging, and calling apps. The updates OS also adds new enterprise and accessibility features, and fixes dozens of bugs. Fire OS 4.6.1 is free to download and install.
---
Amazon has begun to distribute a significant system update to the Fire Phone. Fire OS 3.6.5 adds a wide range of new features to Amazon's smartphone, as well as the expected series of performance improvements and bug fixes. One of the new features is the ability to translate text and identify artwork using Firefly, Amazon's visual search tool. The camera gains a feature called Best Shot, which quickly takes three pictures in succession, allowing users to select the best of the bunch. Other new features include the ability to turn on/off SMS character counts, use more keyboard languages, block phone numbers, add custom ringtones, see more info on the lock screen, write and edit documents with WPS Office, connect to corporate VPNs, and sync calendars across Amazon devices. Amazon says the update also makes improvements to battery life. Fire OS 3.6.5 can be downloaded via WiFi or installed from a computer. The update is free.
---
Amazon today dropped the price of the Fire Phone to $199. The company, sitting on unsold stockpiles of the device, is offering it unlocked and without a contract. Further, Amazon is still including a free year of Amazon Prime, which has a value of $99. The Fire Phone went on sale over the summer. At that time, Amazon sold the phone for $199 with a contract. It later dropped the on-contract price to 99 cents. Today's mark-down signals Amazon's hope to clear out its inventory.
---
Amazon recently expanded the availability of unlimited online photo storage to all Amazon Prime customers. Before today, this feature was only available to owners of the Fire Phone. With Prime Photos, Android and iOS device owners can automatically upload, store, and access their photos from their smartphone or tablet. Prime Photo users can also access their photos from the web, via Fire TV, or via select smart TVs and gaming consoles. Amazon Prime requires a yearly subscription fee of $99, but also includes reduced shipping charges and access to Prime Music and Prime Video on demand.
---
Amazon today announced a new version of its FireOS platform. FireOS 4 Sangria further integrates Amazon's devices with its cloud-based content offerings. The revised operating system has a redesigned user interface and adds individual Profiles, which allows family members to have their own email and social media accounts, as well as settings such as display brightness, bookmarks, and game levels. Fire OS includes ASAP (Advanced Streaming and Prediction), which Amazon says can predict the movies or TV shows the owner may want to watch and streams them instantly. Another feature called Smart Suspend will use individual user profiles to determine when the device is most often dormant and can then proactively take steps to conserve battery life, such as turning off the wireless radios. FireOS 4 adds a function called Family Library, which makes it easier for families to share apps, games, books, and other Amazon content. Last, FireOS 4 brings Firefly to Amazon's tablets. FireOS 4 ships on Amazon's newest fourth-generation Kindle Fire tablets and will be available for Amazon's third-generation tablets through an over-the-air system update. Amazon said Fire OS 4 will be available on Fire Phone early next year. FireOS 4 Sangria is based on Android 4.4 KitKat.
---
Amazon and AT&T today announced the Fire Phone is now available for the price of $0.99 with a new two-year contract. The Fire Phone was sold for $200 on contract when it launched just two months ago. Alternately, consumers can pick it up for $0 down and $18.75 per month (for 24 months) with AT&T Next 18. The Fire Phone runs FireOS, a forked version of Android, and uses Amazon's services rather than Google's. It has several distinctive features, such as FireFly for searching/shopping; Dynamic Perspective, which provides a 3D-like user interface; and a free year of Amazon Prime.
---
Amazon today made available Fire OS 3.5.1 for the Fire Phone. The update (version 111009920) adds a range of new features to the Fire Phone. For example, the Lenticular Photo tool now allows owners to paste together 11 images into one rather than just three, and the email carousel now allows owners to delete emails directly from the home screen. The update adds the ability to pin favorite apps to the front of the home carousel; create folders of apps or content in the app grid; and, with a double-press of the home button, quick switch to other running apps. The system update also makes improvements to video sharing, which now permit high-resolution videos to be sent via MMS or email. Last, Fire OS 3.5.1 makes dozens of updates to system apps in order to improve battery life. Fire Phone owners can download and install the update over the air, or install it manually via USB. The update is free.
---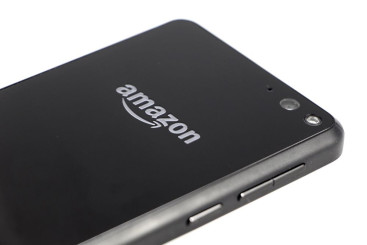 Amazon's Fire Phone has one of the more interesting user interfaces to reach consumers this year. Here's an in-depth look at how FireOS, Dynamic Perspective, and FireFly really work.
---
Skype today said it is preparing a version of its mobile communications application for Amazon's Fire Phone. The Fire Phone runs FireOS, a forked version of Android. The Skype app will launch alongside the phone when it goes on sale. Skype said it designed the app with the Fire Phone's user interface in mind, including a widget for the Fire carousel, and it will offer an experience that feels natural to Fire Phone owners. Skype said its 3D icon and notification badge make use of the Fire Phone's Dynamic Perspective technology, which provides a 3D-like experience through the use of four user-facing cameras. AT&T will begin selling the Fire Phone later this month.
---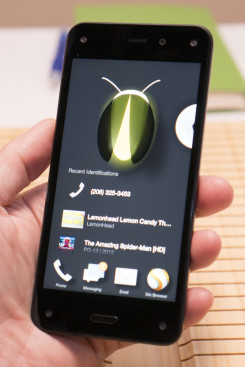 Amazon is finally ready to unleash its first phone, the Fire. An exclusive to AT&T, this unique phone sports a spiffy interface totally new to the phone world, and a few fancy hardware and software features. Read on for our hands-on first impressions.
---
The U.S. Federal Trade Commission today made good on its word to sue Amazon over the company's in-app purchasing policies. The FTC alleges Amazon didn't provide consumers with enough protection against unwanted in-app purchases. Specifically, children were frequently able to make purchases on Amazon Kindle Fire tablets without first obtaining their parent's (or the account holder's) permission. Amazon initially allowed in-app purchases up to $99.99 without requiring consent. Later, after some customers complained, Amazon dropped the maximum no-authorization dollar amount of in-app purchases to $20. The FTC says, however, that Amazon allowed in-app purchases for periods between 15 minutes and 60 minutes after account holders gave the app permission to make purchases, which often allowed children to rack up more charges. The FTC is seeking refunds for customers, and wants Amazon to make its in-app purchasing policies more consumer friendly. Earlier this year, Apple settled a similar complaint with the FTC by paying $32.5 million. Amazon said earlier this month that it will defend itself in court against any legal action brought by the FTC. Amazon is prepared to release its first smartphone, the Fire Phone, later this year.
---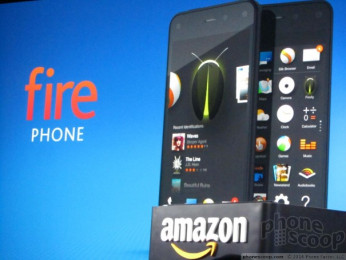 Amazon today announced the Fire Phone, the company's first phone. The Fire has a 4.7-inch display, quad-core 2.2 GHz processor, 2 Gb of RAM, a 13-megapixel camera with f/2.0 lens and OIS, and dual stereo speakers. One headline feature is Firefly, which recognizes objects, text, and audiovisual content using the camera and/or microphone, like Shazam on steroids. Firefly has a dedicated button, as does the camera. Amazon will make an SDK available to developers to let them integrate Firefly functionality with third-party apps. A camera-driven Dynamic Perspecive feature lets you view lock screens, images, and maps in 3D-like perspective. The system uses four infrared cameras to track your face, and can be used to navigate parts of the interface. The Fire naturally supports all Amazon Prime media services, such as music streaming, TV, and movies, and comes with one free year of Prime membership (worth $99.) It supports Miracast for streaming video directly from the phone to a large TV nearby. It also supports third-party music services such as Spotify and Pandora. It includes unlimited online storage via Amazon Cloud Drive. Fire also includes the Mayday 24/7 live support feature that debuted with Kindle Fire. The phone comes with premium earbuds with a flat cord and magnets to keep them from tangling. AT&T - which has the U.S. exclusive on the Fire - lists the phone for sale for $200 for the 32 GB version, and $300 for the $64 GB version, both with 2-year contract. It will be available July 25th. Amazon.com lists the phone starting at $650 without contract.
---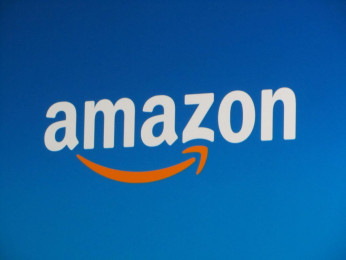 Amazon is announcing something big today, widely rumored and assumed to be their first phone. We're in Seattle to cover the event live. Tune in!
---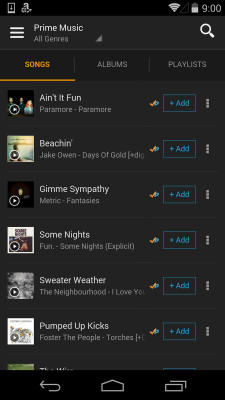 Amazon today launched Prime Music, its own streaming music service. Prime Music is free to those who subscribe to Amazon Prime ($99/year), which also offers perks such as discounted shipping and Amazon Instant Video. Prime Music is limited to about one million songs, as Amazon hasn't signed all the major record labels. Spotify, Pandora, and Beats Music each offers more than 20 million tracks. Reuters reports Warner Music Group, Sony Music Entertainment, and other smaller labels have signed up, but Amazon is still negotiating with Universal Music Group, which is the largest of the labels. Prime Music can be accessed through a web browser, and also via the Amazon MP3 application on both Android and iOS devices. Amazon updated both mobile apps today and added Prime Music, allowing Android and iPhone owners to stream music from Amazon Prime to their device. The apps allow smartphone owners to listen to full albums or playlists, both of which can be added to their online Amazon library of songs. The Amazon MP3 app for Android and iOS is free to download and use, but requires an Amazon Prime subscription to stream Prime Music tracks.
---