Amazon Intros Fire Phone
Article Comments 5
Jun 18, 2014, 1:16 PM by Rich Brome
updated Jun 18, 2014, 2:06 PM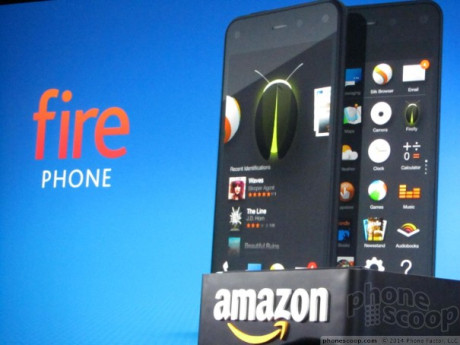 Amazon today announced the Fire Phone, the company's first phone. The Fire has a 4.7-inch display, quad-core 2.2 GHz processor, 2 Gb of RAM, a 13-megapixel camera with f/2.0 lens and OIS, and dual stereo speakers. One headline feature is Firefly, which recognizes objects, text, and audiovisual content using the camera and/or microphone, like Shazam on steroids. Firefly has a dedicated button, as does the camera. Amazon will make an SDK available to developers to let them integrate Firefly functionality with third-party apps. A camera-driven Dynamic Perspecive feature lets you view lock screens, images, and maps in 3D-like perspective. The system uses four infrared cameras to track your face, and can be used to navigate parts of the interface. The Fire naturally supports all Amazon Prime media services, such as music streaming, TV, and movies, and comes with one free year of Prime membership (worth $99.) It supports Miracast for streaming video directly from the phone to a large TV nearby. It also supports third-party music services such as Spotify and Pandora. It includes unlimited online storage via Amazon Cloud Drive. Fire also includes the Mayday 24/7 live support feature that debuted with Kindle Fire. The phone comes with premium earbuds with a flat cord and magnets to keep them from tangling. AT&T - which has the U.S. exclusive on the Fire - lists the phone for sale for $200 for the 32 GB version, and $300 for the $64 GB version, both with 2-year contract. It will be available July 25th. Amazon.com lists the phone starting at $650 without contract.
WHAT OS??
Is Android ,Firefox or a new one ?
Android, with their custom skin on top.
Wow!
If this thing lives up to they hype, I'm impressed. It's not the device for me, but it certainly sets itself apart from the crowd. I can see anyone who owns a Kindle snapping this up. Apple and Samsung should be worried. I think Amazon nailed it with this phone.
Hopefully they do. Looks promising and I hope they do well 🙂