Hands On with Amazon's Fire Phone for AT&T
Article Comments 10
Jul 17, 2014, 10:02 AM by Rich Brome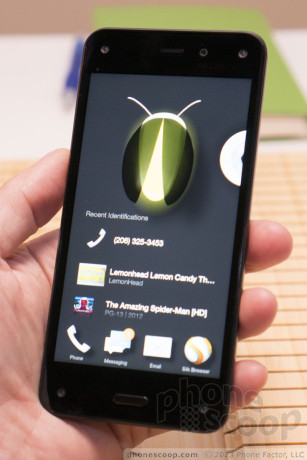 Amazon is finally ready to unleash its first phone, the Fire. An exclusive to AT&T, this unique phone sports a spiffy interface totally new to the phone world, and a few fancy hardware and software features. Read on for our hands-on first impressions.
The Fire phone sounds great on paper. It has great hardware specs, an innovative software platform built on Android and the successful Kindle Fire tablets, and some unique hardware and software that seems like magic. But is it something you should buy? We'll have to reserve proper judgement until we have quality time with a review unit. But in the meantime, we have some first impressions from using this fascinating device hands-on.
The hardware itself is quite nice. It feels high-quality and well-made. It's a good shape, good size, good weight, and uses good materials. The physical buttons all work very well. The design borrows heavily from the iPhone, executed with HTC quality (a good thing) yet it comes off a bit generic-looking. Not helping the design are the four very visible cameras at the corners of the front face. They clutter and distract.
Are those front-facing, face-tracking cameras worth it?
I went into the hands-on demo eagerly hoping the answer was yes. The geek in me was impressed with the raw technology on display. It tracks your face extremely well and performs seamless 3D motion effects and gestures. It's not confused by two faces; if you're showing a friend something, it somehow knows who's in control. Seeing that in action blew me away. It follows your face to extreme angles with very wide-angle lenses, helping you feel like part of the virtual 3D world lighting up the bright screen.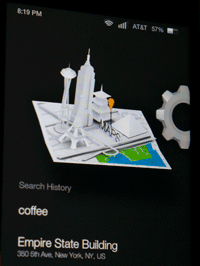 But after trying multiple demos of the face-tracking tech, it seemed to be just flashy 3D gimmicks with no real utility. The whole interface is littered with gratuitous 3D effects seemingly just to show off (and attempt to justify) the face-tracking tech. There are some twist-to-the-side gestures you can use to navigate the interface, but those didn't actually work very well. After just a minute, I got frustrated with them and just resorted to the optional swipe-the-screen gestures that did the same thing, but worked better.
More importantly, I saw nothing about the face-tracking demos that an iPhone can't do almost as well by sensing tilt with its gyroscope. If you've tilted an iPhone with iOS 7 and watched the icons move above the wallpaper, you've seen what the Fire can do, except the iPhone doesn't require four ugly cameras to do it. (Cameras that no doubt add to the cost and affect battery life, no matter optimized they are.) Amazon's technology is technically more accurate than a tilt sensor, but the way they've implemented it, there's no practical difference.
The face-tracking does require a lot of tilting the phone, which is a great demo of the excellent viewing angles of the display, which is great in every other metric as well. Of course with this phone, a display with poor viewing angles would be a catastrophe, but still, the display has some of the best viewing angles I've ever seen on an LCD panel. (I'm shocked they didn't go with OLED, but however they managed to do it with an LCD, it's gorgeous.)
One of the headline features is Firefly, which is actually quite impressive. You simply hold down the camera button on the left side for a moment to launch it. Then you see a camera viewfinder, but with cheesy animated "fireflies" buzzing around over the scene. They're just little points of light, so it actually looks more like Disney fairy dust.
You simply point the phone at something you want it to recognize, and it does its magic automatically. When it recognizes something, it outlines the object with the "fireflies" and darkens everything surrounding it, making it seems to pop off the screen a little. Then you can point it at something else. It keeps a running list of everything it's ever recognized. The Firefly feature works extremely well.
There are also buttons at the top of the Firefly viewfinder to switch to microphone mode for recognizing music (like Shazam) or TV shows and movies (also using audio.) It even notes what scene you're watching so it can tell you what actors were in that specific scene (neat!)
Then you can go to the list of recently-recognized things and tap one to see more about it. It offers to take you to Amazon to buy that thing (the main point of the whole phone, really) but it also gives you the option you share that item with a friend, and links to other services and sites. You can view related info on IMDb or Flixster, or discover that that musician has an upcoming concert in your town and jump directly to buying tickets. Third party apps can plug into this engine to offer additional types of actions for various types of recognized objects and contents. It's a powerful system.
The Fire is based on Android, but don't confuse it for an Android phone. It's not; it's Amazon's own Fire OS. It can run Android apps, but not Google apps, and almost everything about the main interface is unique and unlike Android.
The default screen - the home screen, if you will - is actually a side-scrolling list of recent apps. Each app occupies nearly the whole screen and you swipe sideways to scroll through them. A huge 3D app icon hogs the top half of the screen. The bottom half is a widget of sorts that exposes basic app info in a list of clickable shortcuts you can scroll through by swiping up and down. For messaging, it's a list of messages; for the camera, it's your recent photos; for the browser, it's your most-visited web pages; and for weather, it's the forecast. It's quite an innovative and useful interface convention.
Amazon says the final version of the software will allow you to "pin" your favorite apps to the start (left) of the list. That's good, because the pre-release version does not, so your apps are constantly re-arranged by most recently used, which is incredibly disorienting. It prevents you from using any muscle memory (or any memory, for that matter) to find a specific app quickly. Still, if you pin too many apps to the start, the recent app functionality becomes harder to get to, so there's a trade-off there. There is a dock for four app shortcuts at the bottom - as with Android and iPhone - but that doesn't give you the great widget functionality. Unfortunately, it takes a swipe and then another tap to reach the full grid of icons listing all apps.
Speaking of apps, the Fire can technically run most Android apps, but there's no Play Store; you need to get your apps from Amazon's App Store instead, which has a much smaller selection.
For apps that don't have a FireOS widget - which would be most third-party apps, including Instagram - the home-screen widget space instead suggests more apps for you to download from Amazon's App Store. In our demo, we saw free apps listed there, but when paid apps appear there, (and I don't see why they wouldn't,) this basically becomes a form of ad space on your home screen. This device really does exist just to sell you things from Amazon.
Swiping from the edge of the display summons various other screens. From the left edge, you have a "main menu" with options like apps, web, music, books, shop, docs, and Prime. From the right, there's a contextual screen with local weather, upcoming appointments, and recent messages. Within apps, this contextual screen offers app-specific functions. These left and right screens can also be activated by tilting the phone left or right, but as I mentioned earlier, I found it easier to swipe.
These gestures are necessary to navigate to the Fire, but they're not at all intuitive. Therefore, like BlackBerry 10, this is an OS where you absolutely must to pay careful attention during the tutorial when you first power on the phone. If you just skim through it, you'll be hopelessly lost. To be fair, newer versions of Apple's iOS also hide major features with un-intuitive gestures, but at least those features there aren't essential to basic navigation and functionality.
Swiping from the top brings down a notification shade that is the only part of the interface that looks remotely like Android. In fact, it's a pretty typical Android notification shade, but done better, incorporating some of the better ideas from Apple's Control Center. The settings shortcut controls are well thought-out, with recent alerts below that. Samsung, HTC, and LG should take note of Amazon's excellent example here.
Swiping up from the bottom performs a "back" action. I personally find it counter-intuitive to swipe "up" to go "back". Also, controversially, it's "back" in the history sense, not the "up one level" sense. So, like the back button in a web browser, it will obediently take you in infuriating circles if that's the path you took to get where you were. If you've seen 20 screens since the home screen, it will take you 20 up-swipes to get back to the home screen. I personally found it easier to ignore this function and just use the physical home button, like you would on an iPhone.
Amazon has its own mapping app. It's supposed to be a useful application of the face-tracking technology, but I was not impressed. Yes, you can tilt the phone and the map tilts in 3D enough to actually show you a bit more of the map in one direction. But it's far faster and less awkward to just scroll with a swipe like you would in any other map app. Tilting a certain way can act as a gesture to show more info in search hits, but it would be a stretch to call that innovative or useful.
In a limited run-through, the Fire seems to have enough of the standard functions of a smartphone to be useful. If there's a glaring omission, (like the lack of GPS on the very first iPhone,) then we have yet to find it. But it's clear that it's not as powerful or flexible as a true Android phone, an iPhone, or even a Windows Phone. It may be difficult for anyone used to one of those smartphones to adjust to the interface. Some may be turned off by the lack of a voice assistant or customizable grid home screen, for example.
Yet there are some excellent ideas and impressive technology in the Fire. We look forward to reviewing the Fire to see how well it works in more typical real-world use.
Interesting but not for me
I would think that anyone who prefers a Kindle Fire over a more traditional Android tablet would absolutely love this phone.
I think this is a bridge too far for Amazon. This may appeal to a niche market, but I can't envision enough sales to justify the investment. Phone geeks will want something close to pure Android as possible, iOS people will stick with iPhone, this s...
(continues)