HTC One (M7 / CDMA)
Info Photos News Forum 100+ Reviews 14
HTC announced via Twitter that the Sprint variant of the HTC One will gain access to the Android 4.3 system update beginning today. In addition to improving the base OS, the update also adds features to Sense, including Instagram integration and video highlights in Blinkfeed.
---
HTC today announced that the HTC One smartphone is its first HTCpro Certified smartphone. Devices certified as HTCpro meet certain security standards that make it more appealing as a choice for business customers. Chiefly, it meets the Federal Information Processing Standard (FIPS) 140-2 and offers 256-bit encryption. Further, it includes IPsec VPN for accessing corporate networks securely, and includes mobile device management APIs that can be used by businesses to control the One remotely. The One is available from AT&T, Sprint, and T-Mobile USA.
---
HTC today announced details of a promotion it is running between May 2 and May 5. The company is offering between $100 and $375 to people who purchase a new HTC One and then trade in their old smartphone. The trade-in value varies by device and requires customers to fill out a form on HTC's web site, receive a quote, and then ship their old phone to HTC with proof that they purchased a new HTC One. HTC will then mail a Visa gift card for the value of the old device. HTC is not accepting all phones, and has a list of devices it is willing to trade published on its web site.
---
Nokia today indicated that it has won an injunction against rival HTC regarding microphone technology used in the HTC One smartphone. According to Nokia, it developed the technology used in the STMicroelectronics-made component found inside the One. "HTC has no license or authorization from Nokia to use these microphones or the Nokia technologies from which they have been developed," the company said in a statement. The injunction was awarded in an Amsterdam-based district court. Nokia did not say what to which markets the injunction might apply, nor how soon it might go into effect. HTC had no immediate comment on the matter. The HTC One went on sale at several U.S. carriers last week.
---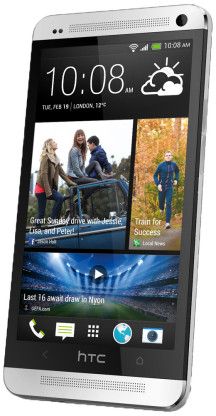 The HTC One is available for sale at AT&T and Sprint stores beginning today. Both carriers are selling the silver 32GB model for $199.99 with a new contract. AT&T is also offering the 64GB model for $299.99, and HTC said that AT&T will offer the 32GB black model in the coming weeks. In addition to the carrier stores, the One can be purchased at Best Buy, Radio Shack, Walmart, Target, Amazon.com, Costco, Sam's Club, HSN.com, and HTC.com. T-Mobile announced that the HTC One (silver, 32GB) is available online beginning today and will be in stores in select retail outlets starting April 24. T-Mobile is asking for a downpayment of $99.99 for the One, in addition to 24 monthly payments of $20.
---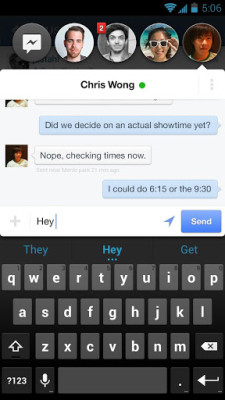 Facebook today made Facebook Home, its new launcher and user interface overlay, available to select Android smartphones. Facebook Home replaces the stock launcher on the device with one that presents Facebook content, such as the news feed, on the home screen. Facebook Home is preinstalled on the HTC First, which also happens to go on sale today from AT&T for $99, but it can also be installed on the HTC One X, One X+, One, and Samsung Galaxy S 3 and Note II. Separately, Facebook also updated the Facebook Messenger application for Android devices. The revised Messenger app carries over one of the main features of Facebook Home, called Chat Heads (pictured). With Chat Heads active, Android device owners can keep conversations with friends always at hand by placing a little icon with the friend's head in it on the home screen. Both Facebook Home and Facebook Messenger are free to download from the Google Play Store.
---
Sprint today announced that it, too, will offer the HTC One smartphone beginning April 19. The device can be preordered beginning April 5, and will cost $199.99 with a new contract. Sprint is selling only the 32 GB variant, in both black and silver.
---
HTC today provided an update about the availability of the HTC One. "HTC has seen unprecedented demand for and interest in the new HTC One," the company said in a statement. "The new HTC One will roll out in the U.K., Germany and Taiwan next week and across Europe, North America and most of Asia-Pacific before the end of April. We appreciate our customers' patience, and believe that once they have the phone in their hands they will agree that it has been worth the wait." U.S. carriers have yet to announce specific plans with respect to availability of the HTC One. Earlier this week, an HTC executive indicated that some supply chain problems have delayed the manufacturing of the One.
---
HTC today indicated that the launch of its HTC One smartphone will be delayed due to supply chain problems. "HTC has had difficulty in securing adequate camera components as it is no longer a tier-one customer," said an unnamed HTC executive to The Wall Street Journal. The company originally intended to launch the device in 80 countries by the end of March. The component problems, which also include the metal casing for the device, are going to prevent HTC from meeting that original March target. "We...are working tirelessly with all of our channel partners to ensure that we can fulfill as many orders as possible. We will start fulfilling pre-orders by the end of March in certain markets and will roll out to more markets as we approach April," HTC Chief Marketing Officer Benjamin Ho said in a statement. HTC's U.S. carrier partners, AT&T, Sprint, and T-Mobile USA, have yet to announce launch dates or pricing for the HTC One.
---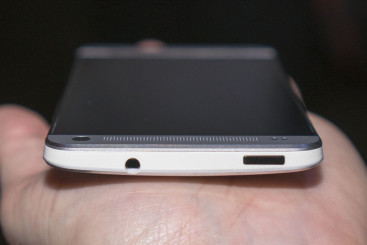 HTC is putting all of its eggs in One basket; the new One is HTC's flagship for the world this year. It take a few risks with the hardware and sports a striking new design manufactured using proprietary techniques. How did it turn out? Find out in our hands-on report.
---
HTC today announced Sense 5, the newest iteration of its custom software layer for Android, sporting significant new camera and media sharing features, and a new home screen that aggregates social and news content. The company also launched a media sharing service and updated its online backup, transfer, and get-started tools. Sense 5 has a simpler, cleaner look compared to past versions. The default home screen is now BlinkFeed, a scrolling stream of visual tiles that - like Flipboard - combines Facebook, Twitter, and news content. Swiping sideways reveals traditional home screens for widgets and shortcuts. A revamped app menu defaults to fewer icons, which can be re-arranged and grouped in folders. On certain phones- such as the new HTC One - the camera software can now capture "Zoes", which are taken and viewed like regular photos, but automatically include a 3-second HD video clip, bringing gallery thumbnails to life. Zoes also include a burst of additional full-resolution photos, starting before the shutter was pressed, so that a slightly earlier or later moment can be chosen if the timing was off. Photos are automatically sorted into galleries by day and location. Each gallery automatically shows a 30-second highlight video generated on the fly, combining photos, videos, and Zoes, which uses one of six themes with filters and timed music. Highlight videos can be saved and shared via a new web service, which supports Facebook, Twitter, and email. The sharing service also lets you share up to ten specific media items as a group. HTC's revamped Get Started and Backup services now support additional content and make easier to transfer nearly everything from any Android device to a new HTC Android phone. It also supports iOS, and can move contacts, calendar, photos, videos, music, and bookmarks from an iPhone to a new HTC Android phone.
---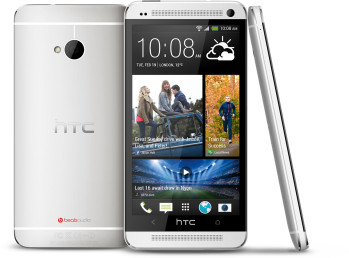 HTC today announced the HTC One, its global flagship phone for 2013. The One sports a 4.7-inch display with 1080p full HD resolution and 468 ppi, housed in a unibody shell machined from a solid block of aluminum. The unique "UltraPixel" main camera features oversized sensor pixels for better quality and low-light performance. The camera is 4 megapixels, trading pixel count for pixel size. The camera also sports optical image stabilization, an f/2.0 lens, and the ability to capture real-time dynamic HDR video. The One can capture a hybrid photo+video that HTC calls a "Zoe", which includes a burst of full-resolution photos plus a three-second HD video clip. The One also sports Android 4.1 and Sense 5, a cleaner, simpler version of Sense. Sense 5 includes a new Flipboard-like home screen called "BlinkFeed", that merges Facebook, Twitter, and news content in a stream of visual tiles. The One also includes an infrared transceiver and includes universal remote control software based on technology from Peel. Hardware features include a 1.7 GHz Qualcomm Snapdragon 600 quad-core processor, 2 GB of RAM, up to 64 GB of embedded memory, NFC, a 2300 mAh battery, and front-facing stereo speakers. The audio features also include a high-power amp and an extra "HDR" microphone for clearly capturing sound in unusually loud environments, such as concerts. The One will be available starting in March, from AT&T, Sprint, and T-Mobile.
---