HTC One Available from AT&T, Sprint, T-Mobile Today
Article Comments 2
Apr 19, 2013, 7:13 AM by Eric M. Zeman
updated Apr 19, 2013, 1:13 PM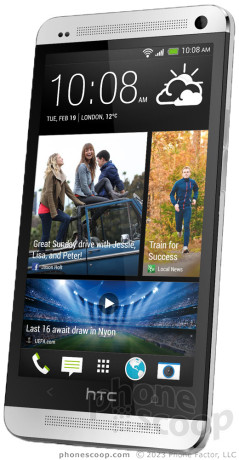 The HTC One is available for sale at AT&T and Sprint stores beginning today. Both carriers are selling the silver 32GB model for $199.99 with a new contract. AT&T is also offering the 64GB model for $299.99, and HTC said that AT&T will offer the 32GB black model in the coming weeks. In addition to the carrier stores, the One can be purchased at Best Buy, Radio Shack, Walmart, Target, Amazon.com, Costco, Sam's Club, HSN.com, and HTC.com. T-Mobile announced that the HTC One (silver, 32GB) is available online beginning today and will be in stores in select retail outlets starting April 24. T-Mobile is asking for a downpayment of $99.99 for the One, in addition to 24 monthly payments of $20.
source: HTC
initial setup (sprint)
hope the s4 doesn't "make" you provide a samsung account like the htc one does with an htc account.

atleast with the sprint version our customer had to either sign in with facebook or htc account

but we had 3 and sold 3 pretty fast.

nice phone though
you dont "have" to set up an HTC account, just be sure to uncheck the box to back up the phone daily and it will not ask you to create the account.