Review: HTC One for Sprint
Form Performance Basics Extras Wrap-Up Video Comments 30
Apr 8, 2013, 11:00 AM by Rich Brome @rbrome
originally published Mar 12, 2013
updated Apr 8, 2013, 11:00 AM
The One is HTC's new flagship Android phone for 2013. It has a slick unibody metal design and cutting-edge specs and features. Phone Scoop takes the Sprint version for a spin in this full review.
Advertisements article continues below...
Ed note: Phone Scoop has already previewed a near-final version of the HTC One. This full review is of a final version of the HTC One optimized for Sprint's network. We were able to test it in New Jersey and in San Francisco to get a good feel for the network and signal performance, and other properties that make this device unique to Sprint.
Is It Your Type?
The One is quite simply a flagship. Like the iPhone and Samsung's Galaxy S series, it should do everything. It's for people who want the best, but it's also for everyone. If you're on a tight budget - especially without a contract to lower the price - then this might not be the phone for you. But if you can afford it - and you're not put off by phones large enough to house a 4.7-inch display - then this phone is aimed at you.
Body
The unique, mostly-metal, mostly-unibody design is one of the selling points of the One. It feels different than anything else, and - for the most part - it feels great. It comes close to matching the finely-crafted feel of the iPhone 5. HTC used a unique manufacturing technique to bond the metal back to the white plastic bands that traverse the back and form the sides. The transition from metal to plastic is seamless in a way rarely seen.
Unfortunately, that process has limits. That limit is the front of the phone. Specifically, the metal parts above and below the screen didn't fit the rest of the phone quite as smoothly. These imperfections are small and normal in most phones. Still, the design and build quality of the One is leagues better than the vast majority of phones; at the end of the day, it feels great.
It's a big phone, as you would expect from any phone with a 4.7-inch display. But it's remarkably thin and the curve of the back helps it feel even thinner and slip into any pocket with ease. It's heavy enough to feel substantial and solid, but not so heavy as to weigh down your pocket. The smooth matte finish of the metal back feels sublime and looks great (especially since it doesn't pick up fingerprints.)
The trade-off with a phone this thin, curvy, and sleek, is that everything it sealed inside. You can't access the battery, and there's no memory card slot. The micro-SIM card has a tray on the left side you can access with an included tool or paperclip.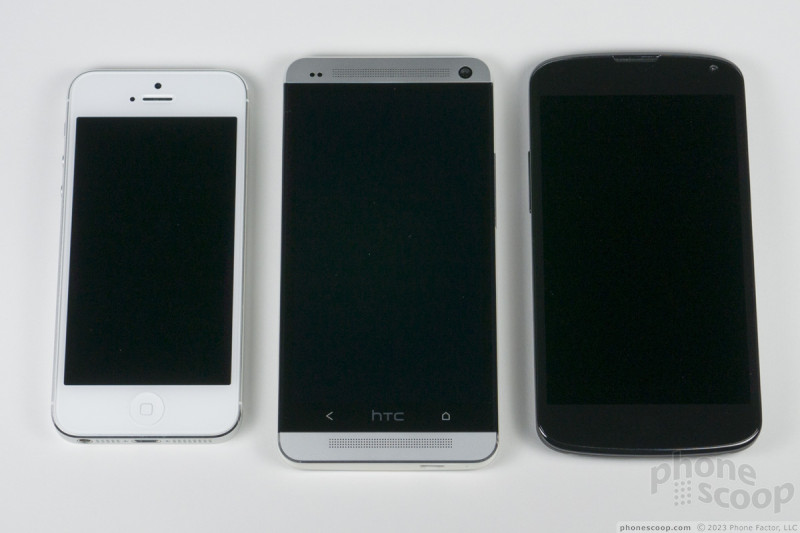 iPhone 5 / One / Nexus 4
For me, phones with a 4.7-inch or larger display are still simply too big. The problem is one-handed use; it's difficult and slow, and the phone feels unbalanced in my hand, leaving me constantly terrified it will slip from my hand. But according to the sales figures for huge phones, I'm in the minority, so I'll shut up about that now.
The display glass may look like it runs seamlessly from side to side, but the glass is framed by bands of glossy black plastic at the left and right edges. You have to look very closely to tell for sure; the visual effect is seamless. But the slight ridge where the plastic sticks up higher than the glass is easy to feel with your thumb. It's not sharp, nor is it noticeable during normal use, even doing sideways swipes. Manufacturers often use this raised-edge trick to help protect the glass from scratches when you place the phone screen-down on a table.
The lock button is on the top. It's made of glossy black plastic, because it doubles as the infrared transceiver for controlling your home theater. The button is very flush, sticking up only a tiny fraction of a millimeter. Yet the action is tight, working well once you know where to press (something you'll no doubt learn very quickly.) The volume keys have similar height and action. However, they're much trickier to find with your finger because of their location. HTC has given the volume control a fine texture to differentiate the volume buttons from the smooth side of the phone. If you can't feel the button texture, good luck adjusting the volume without looking. You'll never feel the volume buttons through gloves. Nor can you feel the lock button through gloves, but mashing the upper left corner works just fine.
The two - yes, just two - Android buttons below the display are capacitive, and backlit. Of course there's a back button, and home. The home key can be double-tapped to bring up the multi-tasking menu, and I'm just fine with that. I miss the search key, but that's Google's fault, not HTC's. You can press and hold the home key to activate Google Now and all of its magic voice-activated powers. By placing the home key off-center, however, many users will need to retrain their thumb muscles. This is an aggravating design choice made by HTC.
Why are ALL phones too big?
I'm so glad you came out and said how you feel 4.7" phones are too big! I entirely agree and really feel like the 4" screen on my phone is already beyond the limit of what I'd ideally prefer. The Droid 2 with it's 3.8" screen and qwerty keyboard remains the PERFECT size for a smartphone imo and I really wish there was anything remotely close to that coming out this year. I feel like there is a huge hole in the Android ecosystem for smaller phones with and without physical keyboards as all phones are giant, boring slabs I can't use with one hand.
I like the bigger screen. I work 2 jobs and I am not home a lot of the time to use a desktop. The bigger phone is a good size for me to work on and use a lot during the day. A small phone is to small when you need screen size. I am 6ft tall so a 3.8in...
(continues)
I couldn't agree more. There are a decent number of people working for the manufacturers who feel the same way. The issue, as far as I can tell, is the carriers. They seem to think that's what their customers want. That, and/or they find it easy to se...
(continues)
I have felt the same way for quite some time. The perfect size screen for me was the 4.3 Evo I had for almost three years. Never wanted anything larger.

Thanks to this new HTC offering that lacks removable battery and SD card, I made a very difficu...
(continues)
for a phone it's ridiculously big

for a Pocket Computer that I can make and receive calls from it's perfect

I rarely hold a phone vertical anymore, its always in two handed landscape position for web or games or texting..
I agree that there should be more variety in this regard. It seems like the smaller phones they make now are just messaging phones, or entry level smartphones. I for one cannot use anything smaller than a 4.3 inch screen. I had an Evo3d and broke it...
(continues)
There has been a trend toward bigger phones for the past couple of years. But what has caused every phone maker to jump into the shoebox phone size arena is putting an LTE radio in the phones. The LTE chipset is huge and requires a big heatsink for ...
(continues)
Customers who want a S4 mini are in the minority when compared to those who prefer the 5inch screen. Companies rather invest in the 5inch screen phone, so yes in the end money talks. But Sony is doing the midrange handset with great specs.
No Sprint LTE in San Francisco? Huh?
Sensorly definitely indicates otherwise:
http://i48.tinypic.com/e0xac.png »
Any reviewer who cannot locate any Sprint LTE in San Francisco for testing is incompetent, lazy, or has defective equipment.
Not a good showing, Phone Scoop...
AJ
I don't think they have the luxury of requesting a replacement demo phone to test out LTE, you kinda get what you get. They only have a certain amount of time with the device before they have to send it back.
http://www1.phonescoop.com/forums/forum »
...
(continues)
Eric was there for exactly one night, and most of that time was spent covering the Facebook event.

I wish we would have had more time there to test this, but we didn't. We did try, and we couldn't find it. It is NOT an officially launched market, s...
(continues)
Can someone verify for sure which WCDMA/UMTS bands are in this unit.
For the Sprint model, Phonescoop says 1900/2100; Engadget says 700/AWS.

Both of these however are rather unusual combinations (usually it's 850/1900/2100 or 850/900/1900/2100).

Does anyone know for sure?
PhoneMaster said:
For the Sprint model, Phonescoop says 1900/2100; Engadget says 700/AWS.

Both of these however are rather unusual combinations (usually it's 850/1900/2100 or 850/900/1900/2100).

Does anyone know for sure?
...
(continues)
We went with what HTC told us, although WiWavelength is correct about FCC approvals.

It sounds like Engadget confused this with one of the GSM models.
network performance.
Really a shame you werent able to test this phone where LTE is available such as in most of TX for example or part of California LA has had a 4G LTE signal for Sprint phones.

Saw that on a friends Sprint phone. Performed pretty well. Definitely smoked my Tmobile 3G (HSPA+) data speeds when we compared the two.

When I compare ATT LTE to my Tmobile 3G (HSPA+) its pretty sad that they are pretty much the same noticed it is pretty inconsistent ATT LTE.

Have nothing bad to say about Verizon LTE its just on point every time!
New camera samples
FYI, I added some additional camera samples, including some 100% crops so you can see the full detail, and a macro shot.
...and I just added some more, showing specifically how it performs in low light vs. the iPhone 5.
All USA reviews seem to have had European models - worrying?
I'm from the UK and I note that all the american reviews seem to have been done with European versions of the HTC One. The launch in the UK has just been delayed by at least 14 days due to shortage of phones. My dealer reporting that stock had been diverted to the USA. I pre-ordered on Feb 28th and had a date of March 15th for delivery now it's probably some time in April.
Just realised you are reviewing with my phone! I now we have a special relationship but this is taking it too far!
My understanding is that the Euro one is the only one ready at the moment. Only a handful were sent out to reviewers.

There's no way any UK stock is being diverted for sale in the U.S., as the hardware is different. Ours have different radios for d...
(continues)