Review: HTC One for Sprint
Article Comments 30
Apr 8, 2013, 11:00 AM by Rich Brome @rbrome
originally published Mar 12, 2013
updated Apr 8, 2013, 11:00 AM
The One is HTC's new flagship Android phone for 2013. It has a slick unibody metal design and cutting-edge specs and features. Phone Scoop takes the Sprint version for a spin in this full review.
Advertisements article continues below...
Form
Ed note: Phone Scoop has already previewed a near-final version of the HTC One. This full review is of a final version of the HTC One optimized for Sprint's network. We were able to test it in New Jersey and in San Francisco to get a good feel for the network and signal performance, and other properties that make this device unique to Sprint.
Is It Your Type?
The One is quite simply a flagship. Like the iPhone and Samsung's Galaxy S series, it should do everything. It's for people who want the best, but it's also for everyone. If you're on a tight budget - especially without a contract to lower the price - then this might not be the phone for you. But if you can afford it - and you're not put off by phones large enough to house a 4.7-inch display - then this phone is aimed at you.
Body
The unique, mostly-metal, mostly-unibody design is one of the selling points of the One. It feels different than anything else, and - for the most part - it feels great. It comes close to matching the finely-crafted feel of the iPhone 5. HTC used a unique manufacturing technique to bond the metal back to the white plastic bands that traverse the back and form the sides. The transition from metal to plastic is seamless in a way rarely seen.
Unfortunately, that process has limits. That limit is the front of the phone. Specifically, the metal parts above and below the screen didn't fit the rest of the phone quite as smoothly. These imperfections are small and normal in most phones. Still, the design and build quality of the One is leagues better than the vast majority of phones; at the end of the day, it feels great.
It's a big phone, as you would expect from any phone with a 4.7-inch display. But it's remarkably thin and the curve of the back helps it feel even thinner and slip into any pocket with ease. It's heavy enough to feel substantial and solid, but not so heavy as to weigh down your pocket. The smooth matte finish of the metal back feels sublime and looks great (especially since it doesn't pick up fingerprints.)
The trade-off with a phone this thin, curvy, and sleek, is that everything it sealed inside. You can't access the battery, and there's no memory card slot. The micro-SIM card has a tray on the left side you can access with an included tool or paperclip.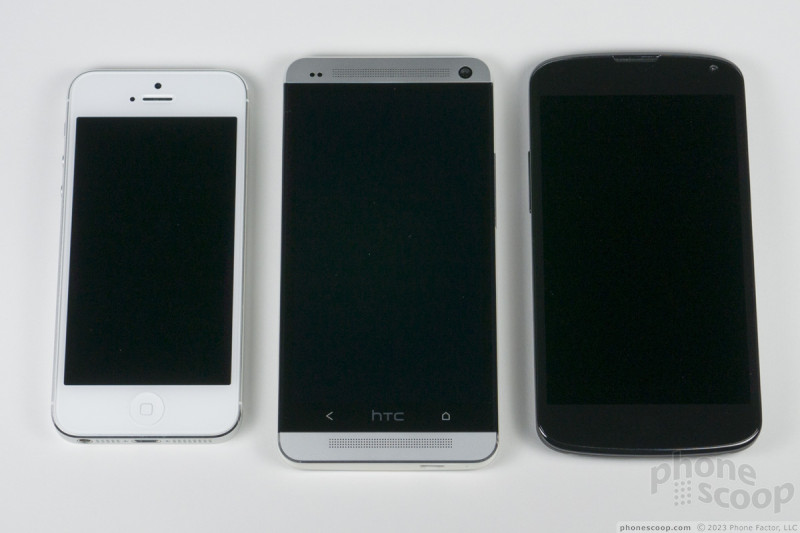 iPhone 5 / One / Nexus 4
For me, phones with a 4.7-inch or larger display are still simply too big. The problem is one-handed use; it's difficult and slow, and the phone feels unbalanced in my hand, leaving me constantly terrified it will slip from my hand. But according to the sales figures for huge phones, I'm in the minority, so I'll shut up about that now.
The display glass may look like it runs seamlessly from side to side, but the glass is framed by bands of glossy black plastic at the left and right edges. You have to look very closely to tell for sure; the visual effect is seamless. But the slight ridge where the plastic sticks up higher than the glass is easy to feel with your thumb. It's not sharp, nor is it noticeable during normal use, even doing sideways swipes. Manufacturers often use this raised-edge trick to help protect the glass from scratches when you place the phone screen-down on a table.
The lock button is on the top. It's made of glossy black plastic, because it doubles as the infrared transceiver for controlling your home theater. The button is very flush, sticking up only a tiny fraction of a millimeter. Yet the action is tight, working well once you know where to press (something you'll no doubt learn very quickly.) The volume keys have similar height and action. However, they're much trickier to find with your finger because of their location. HTC has given the volume control a fine texture to differentiate the volume buttons from the smooth side of the phone. If you can't feel the button texture, good luck adjusting the volume without looking. You'll never feel the volume buttons through gloves. Nor can you feel the lock button through gloves, but mashing the upper left corner works just fine.
The two - yes, just two - Android buttons below the display are capacitive, and backlit. Of course there's a back button, and home. The home key can be double-tapped to bring up the multi-tasking menu, and I'm just fine with that. I miss the search key, but that's Google's fault, not HTC's. You can press and hold the home key to activate Google Now and all of its magic voice-activated powers. By placing the home key off-center, however, many users will need to retrain their thumb muscles. This is an aggravating design choice made by HTC.
Performance
Screen
The screen is amazing and will spoil you for all other phones. Period. It looks gorgeous, and performs well outdoors. Brightness falls off sharply when viewed from an angle, but that's normal for any LCD, and colors remain true off-angle, which is better than many LCD panels.
The big news here is the pixel density. There are a few phones these days with 1080p screens that measure 5 inches, and those look great. But this screen packs the same number of pixels into a smaller 4.7-inch screen, resulting in simply incredible pixel density. If you thought Apple's Retina display looked great at 326 ppi, just wait until you see the One with its 468 ppi. It makes everything look like a work of art.
Signal
The HTC One can use both Sprint's CDMA 3G and LTE 4G networks. During our time testing it both in New Jersey and San Francisco, we never once encountered Sprint's LTE network. It's simply not available across wide swaths of the country. That said, the One's performance over 3G was consistent with other Sprint devices. When there was a strong Sprint network signal, the One was quick to sync email and refresh Twitter, but app updates and photo uploads were slow. In areas where Sprint's 3G network was weak, the One performed terribly. It often needed two attempts to connect calls, and it dropped several. Need to update an app? Don't bother when there's a weak signal. It just can't do it. We'd love to be able to tell you how the One performed on Sprint's LTE network, but we cannot.
Sound
The Sprint version of the One is good as a voice phone, but it doesn't quite live up to the experience on AT&T or T-Mobile's networks. I could hear callers loud and clear, and they said I sounded great. The background noise cancellation worked remarkably well. Walking by a packed, noisy playground, the person on the other end said they could hear zero background noise. To them, it sounded like I was standing in a quiet room, when I was actually standing next to fifty squealing kids. Calls in the earpiece may have been loud, but there was definitely some static and other network-related nonsense that we didn't hear in the unbranded review device we examined earlier.
The speakerphone works well, although it's not great at filtering room echo from the outgoing sound. Everyone sounded loud and clear to me, but people on the other end had a harder time hearing me in speakerphone mode.
With better source material, like music or video clips, the speakers sound absolutely amazing.
The ringers and alert tones are simply the best I've ever heard on a phone. HTC has created a suite of sounds that are unique, interesting, and sound fantastic through the One's clear and powerful stereo speakers. Importantly, HTC provides a solid variety, so no matter what kind of ringers you prefer, you're covered. Do you prefer something smooth that won't wake the baby? Got it. Need something shrill you can hear over the baby? Check. The ringers range from classic to futuristic to jolt-inducing, and they all sound great. There are even multiple ringers that sound like an old telephone bell.
The vibrate strength left something to be desired.
Battery
Optimized for Sprint's network, the HTC One's battery performed very well. I found it lasted through an entire intensive day of use in San Francisco with no trouble. (Keep in mind that LTE 4G was not available, however.) Further, it consistently lived through several days of light use in NJ, also under 3G only. In sum, the One's battery rates well, especially considering the large display and powerful processor under the hood.
Basics
Menus
HTC has rethought the Android menu system with its Sense 5 interface. On the one hand, they've "fixed" a lot of the things Google has done in Android 4 that I dislike. On other other hand, if you're really used to Android on any other phone, you're going to be disoriented at first. There's a re-learning curve, for sure.
HTC's research has shown that most users don't use many Android home screens, and most don't use many widgets. HTC has changed the interface quite a bit in response to that data, de-emphasizing the Android home screen to the point where you can avoid it completely. At the same time, the traditional Android home screen is still there if you want it, and HTC has even enhanced it in some nice ways.
HTC has added BlinkFeed (think FlipBoard, more on that later) as another top-level home screen equal to the Android home screen (it's the default home screen, actually), and enhanced the app menu to the point where it serves almost as a third type of home screen.
You move between BlinkFeed and the traditional home screen by swiping sideways. You move between those and the app menu with the app menu button in the bottom dock. And that bottom dock is present on all three.
The app menu is where you manage the persistent dock icons, instead of the home screen. That same icon dock carries over to the lock screen, where the icons serve as lock screen shortcuts to whatever apps you like.
The large HTC clock & weather "widget" is present on all of these screens. It's welcome on the lock screen and BlinkFeed. It's an optional widget on the Android home screen. But having the clock widget on the app menu can be disorienting because it can make the app menu look like an Android home screen, if you arrange your home screen in the common configuration of a clock widget plus some apps.
The app menu is a "first-class citizen" home screen in a few ways. For one, if you launch an app from the home screen and then hit the "home" key, you'll be taken back to the app menu. This is how HTC has made it so that you can easily avoid the Android home screen altogether. Of course the app menu also lets you rearrange icons however you like, and organize them into folders.
But HTC isn't leaving Android purists out in the cold completely. You can make the Android home screen the default instead of BlinkFeed. You can still put apps and shortcuts on your home screen and put any of those icons in folders. There's also a "plus" icon in folders that gives you an additional way to add any app to any folder on the home screen. (That doesn't offer shortcuts, though.) You can still use widgets, and it supports re-sizable widgets.
Going further, Sense 5 actually has a quite nice tool for managing your traditional Android home screens. Like old-school Android, you can just press and hold on a blank area of a home screen to launch the tool that lets you add anything to the home screens. (I always preferred this way of adding things to my home screens.) You can browse apps, widgets, and types of shortcuts on the bottom half of the screen, and drag them up to thumbnails of home screens on the top half. You can also add and remove home screens here. Oddly, HTC makes you use a drop-down menu to switch between widgets, apps, and shortcuts; wouldn't swiping sideways through tabs be easier? There's a search function here, but it's very limited. It doesn't search across apps, shortcuts and widgets at the same time, nor does it search on things you can create a shortcut to, like contacts.
Between the emphasis on the app menu and the old-school home screen editing, HTC seems to be taking Sense 5 in the opposite direction compared to what Google is doing with the interface of stock Android 4. Regardless of which way you feel is better, the two approaches are increasingly different.
While HTC has always been known for its great Android home screen widgets, there are far fewer of them in Sense 5. They've also cut down on the number of standard Google widgets. For example, there's no photo/gallery widget. Whenever I travel, I take a screenshot of my mobile boarding pass and put the barcode on my home screen for easy access. I can't seem to do that on the One. (The third-party widgets I've tried so far are clumsy at best.)
Another one of HTC's strengths is the lock screen. The default lock screen is simply great. It has smart notifications for new messages and missed calls, and simple but solid music controls when playing music. The clock and weather are easy to read. The date's a little small for me, though. There are four customizable lock screen shortcuts. All of this works properly with a security code, etc. You can optionally set the camera, music app, and message previews to be either "above lock" or protected by your lock code. It's a very well-thought-out system for configuring your lock screen security. You can also choose from several alternate lock screens that have even more features. Put all of this together and you have the best lock screen I've ever seen on any phone, period. Google would do well to take a cue from HTC here.
BlinkFeed
BlinkFeed is an intriguing concept that's still rough around the edges. It gives you a customizable visual feed that combines your Facebook and Twitter content, plus a few news feeds from a very limited list of sources (about 100, for starters). You can't add your own RSS feeds, so whatever you're into, you probably can't add your favorite blogs or other news sources. Prefer to get your gaming news from Polygon? You're out of luck.
Besides (limited) specific publications, HTC also offers categories like design, gaming, and politics. (I ran into glitches with that, which I hope will be fixed. For example, the "Design" category showed me articles about someone smoking pot, something about Justin Beiber and a guide to processor speeds. What?)
The BlinkFeed scrolling animation resembles roofing shingles blowing in a strong wind. HTC has created some great interface animations in recent years; this is not one of them. In my opinion, it's gratuitous and doesn't make much sense. The 3D tilt effect doesn't reverse when you scroll the other way, and having everything tilt in the first place is a little annoying. The scrolling isn't continuous; it's broken up into "pages". It's not terrible, but it's inconsistent with the rest of Android. It also slows you down. With continuous, kinetic scrolling, you can flick quickly and skip several pages at a time. You can't do that with BlinkFeed.
Curiously, BlinkFeed includes a search function. That's not a bad thing, I just have trouble figuring out the use case that HTC designed it for. It seems like an odd thing for HTC to put effort into, as opposed to, say, letting you put your favorite news sources in your feed.
BlinkFeed will randomly also throw in a tile with two upcoming calendar entries. It's a nice thought, but far too limited to be useful.
I want to like BlinkFeed, but it's hard to see me using it regularly. If you could add your own feeds from any web site, it would be a lot more interesting to me. The limited news sources HTC provides don't interest me much. You can use it just for updates from your social networks, but you'll get a much richer and complete feed by going into Facebook and/or Twitter apps.
Calls and Contacts
HTC Sense still has nice features for extending contact functionality, showing recent text and phone conversations, Facebook and Twitter updates, and photos from that person. But it could use some updating.
It's great that one tab of the contact card shows recent messages with that person, but it only shows one, which may be a message from you to them, saying something generic like "OK". That's not helpful. Showing the three most recent messages would make that feature vastly more useful.
HTC has great tools for linking your Google contacts with Facebook and Twitter profiles. There's a bulk tool for linking everyone at once, and there's an option in each contact as well. There's some interface inconsistency, though. In an individual contact card, a broken chain icon means "link this contact", while in the bulk tool, that same exact icon means "don't link". Once you learn the quirks, the linking tools seem to work well, and enables a lot of great functionality.
Messaging
HTC has put their touch on the Android messaging experience.
At first glance, I couldn't discern which message threads had unread messages; they're all the same color. It took me a day to notice the thin blue bar at the left that marks threads with new messages. Unfortunately, its terrible design blends right into my friend's faces. (And no, they're not all from Pandora.)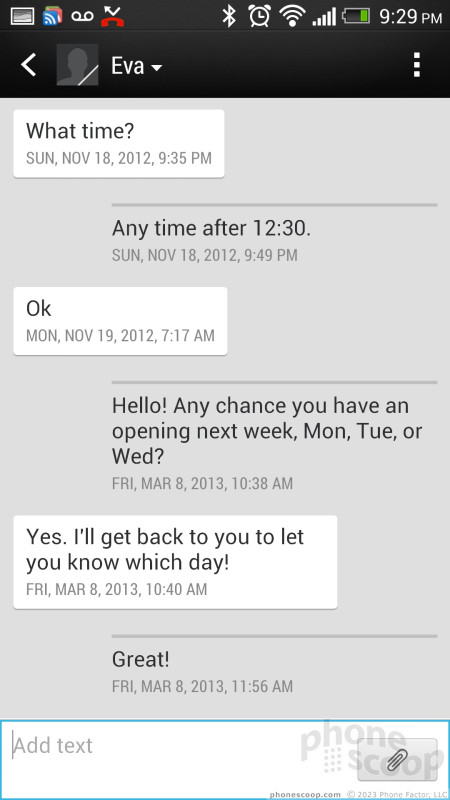 I love the way message threads emphasize what the other person says with a high-contrast bubble, leaving your own messages almost in the background. I know what I said, so that's very smart highlighting.
There's also a backup and restore function for your messages. It can save to a local file or to an email account. The restore function can filter duplicate messages. It seems robust, except I couldn't find an option to schedule automatic backups. If you're like me, you'll back up your messages once, then forget to ever do it again. The next thing you know, it's too late. You need that backup, but it's a year out of date.
Beyond the basic SMS/MMS tool, all the other standard Android apps are available.
Extras
Media
Android media software is fairly standard these days.
HTC has HTC Watch, their own content market. After Netflix and Hulu, I personally don't have the patience for yet another TV and movie service.
The music app has some nice added features, like a visualizer, although no custom equalizer. Your choices are plain or Dre's equalizer.
When playing music, you do have a handy control in the notification shade, and on the lock screen. The lock screen music controls can be swiped up to take you directly into the music app. There's also a setting to bring the music app "above" the lock screen, meaning you can not only control music from the lock screen without entering your security code, but dive into the music app itself, just like you can with the camera app. Neat.
The real media story here is the screen and the sound. The sound is the best I've ever heard from phone speakers, bar none, and the screen is just gorgeous.
The Beats audio enhancement kicks in automatically when needed, and there's a little indicator for it in the status bar at the top. It sounds great. Audiophiles have been known to criticize Beats for jacking up the bass more than it should. Through headphones, I tend to agree. That's a personal preference, and you can easily make your choice in Settings.
But through the built-in phone speakers, the Beats enhancement sounds fantastic. In side-by-side tests with the same music on an iPhone, the One sounded dramatically better with every type of music I tried. I certainly don't recommend doing your main music listening that way, I'm just saying they're phenomenal as phone speakers go. Playing games, I noticed details in the soundtracks that I had missed on other phones.
In a more practical use case, I watched some movie trailers and YouTube clips. The 1080p full-HD display resolution is really noticeable here. Watching video on the One was as close to "cinematical" as I've ever experienced on a phone. It looks and sounds so good that you're drawn into the content, which is how it should be.
NFC
One of the more amazing engineering feats that HTC accomplished with the One is putting NFC into a phone with a metal body. That's supposed to be impossible, as NFC typically requires a large, flat antenna that takes up half the back of a phone. An antenna that a metal body would block.
I tried Android Beam between the One and a Nexus 4. I was able to tap and send photos and web pages both ways reliably.
Based on my tests, the One's NFC antenna is somehow built into the top of the phone, near the camera. Perhaps that's related to the (otherwise odd) small vertical strip of plastic just above the camera lens.
Camera
HTC's big gamble with the One is betting that you'll accept fewer megapixels if it means better photo quality. It makes sense; how often do you honestly print your camera phone photos at 8x10 and frame them? If, like most of us, most of your photos are shared online, then the 4 megapixels of the One's camera sensor is more than enough. The relatively low pixel count of the sensor allows each pixel to be much larger, letting in more light, improving quality all around, but especially in low light. HTC calls this an "Ultrapixel".
Having fewer pixels to process - plus HTC's exclusive ImageChip hardware technology - lets HTC offer Zoes. A Zoe is an innovative new type of media. You capture it just like a photo, but behind the scenes, the One is also capturing a short HD video and a rapid burst of full-resolution photos. Plus, the capture starts before you press the shutter button, so you never miss a moment. It's a great idea and very fun to use.
The camera is very fast all around and relatively easy to use.
Relatively. It could be simpler. There's a Zoe button on the main viewfinder screen, a menu to choose between Scene, HDR, Night, and Panorama, and then sub-menus for "Scene" modes, with options like Landscape, Text, and Macro. They're all mutually-exclusive still camera modes, yet they're spread across three different, inconsistent interfaces. Zoe is the only mode with its own button on the main viewfinder, presumably because HTC wants to promote it. That I get, but the dedicated Zoe button makes it look like you can combine Zoe mode with other modes, like night mode. You can't. Why isn't there just one "mode dial" for all of these modes?
I had an issue with focusing on one occasion. It was a well-lit room at night, and my first two tries resulted in completely blurry photos. But that could be a software glitch in my pre-production unit that HTC will fix. The other 99% of the time it worked quickly and accurately.
Photos
The One's camera delivers decent results, but really shines in low light. In dimly-lit rooms, it could see better than I could. No joke. I was consistently amazed with its ability to accurately capture very dim scenes and deliver a photo with almost no visual noise. Going head-to-head with the iPhone 5 in low light, the One beat the iPhone every time. Not by miles, but noticeably and consistently.
While the One has most impressive low-light performance in normal photo mode, that doesn't carry over to Zoe mode. At all. Don't even try using Zoe mode in low light, or you'll miss whatever you were trying to capture. Really, Zoe mode should detect low light and warn you about that. Still, the low-light performance (in normal mode) is impressive, and no other phone even has Zoe mode, so the One still has a leg up on the competition.
The sweep panorama mode works well. It's extremely easy and fast.
I was not impressed with HDR photos. It seems to be doing some real HDR using multiple exposures. It captures and processes very quickly. But the resulting shots go a little far in pumping up the shadows, and do nothing to bring out details in the highlights, resulting in HDR photos with a very over-exposed look including very blown-out highlights. I hope this is something HTC will address in its final software tweaks.
UPDATE: HTC says my HDR photos should have looked much better. They're investigating the issue.
Camera vs. iPhone 5 in low light
Macro photos look great, even though I'm not sure "Macro" mode actually does anything. You can get as close as about two inches from your subject in Normal mode, and the same in "Macro mode".
Video
Video looked great. Performance was in line with what I saw on the still side. As with stills, the HDR mode was consistently overexposed, bringing out the shadows but blowing out highlights.
HTC's "HDR" microphones are excellent. They pick up every sound with remarkable clarity.
....Including background noise. Like the camera sensor in low light, the One's microphones have genuinely super-human sensitivity. If you have foreground sound like someone speaking, the background noise is clear, but stays mostly in the background, as it should. But if you're trying to film a quiet scene, the mic gets ambitious. I filmed a relatively quiet street scene from the top deck of a parking garage above a supermarket. When I got home, I was shocked by how loud it was. It was mostly loud street noise, but I could almost make out conversations of people walking by far below on the sidewalk. I swear I could even hear the registers beeping inside the supermarket three floors down and through two sets of doors. That's absolutely remarkable. The problem is, it didn't come close to representing what I heard in person at the time.
But for most situations, you're going to be impressed with the picture and sound quality of your videos.
Gallery
The gallery app focuses heavily on your friends' Facebook photos and videos. By default, that's mostly what you see on the top screen. It looks and works like BlinkFeed, complete with the same gratuitous animation. You see a friend's name and their most recent photo. Tapping that takes you to all of their photos. Near the top is a weird tile that says "Friends" which leads not to photos, but to a text list of your Facebook friends, even ones that have no photos available to you. That doesn't make much sense to me.
Also at the top of the feed, you'll find the redundant "My photos" and "Camera shots". There's a "Camera shots" in "My photos", too. The top-level "Camera shots" won't show you a thumbnail view, just your most recent photo, and you can swipe sideways to see older photos. If you go to the "Camera shots" under "My photos", you see thumbnails in a nice, continuous-scrolling grid. In both places, photos disappear from "Camera shots" once you assign them to albums.
It's under "My photos" that you'll find everything you would normally expect to find in a Gallery app. I'd personally prefer that HTC skipped the social stuff and put my albums at the top levels.
It took me awhile to figure out My Photos. It's not intuitive. When you start out, you don't see any albums, even though it says "Albums" at the top. You see a menu with types of albums. You'll have to click "Picasa" and go one more level down to see the Google photo albums that would be at the top level of the Gallery app on a stock Android phone. You also have to drill down a level to see your Facebook and Flickr albums.
For a long while, I couldn't figure out how to create or organize albums, nor access any of the cool features of the gallery app that HTC had previously demo'd for me. Eventually I discovered the easy-to-miss tiny blue triangle next to the word "Albums" that you're supposed to tap to access "Events" mode. It's only in Events mode that you can create albums, which then appear in both Events and Albums.
Events mode works completely differently from Albums mode. So different, that they feel like two different gallery apps, created by different companies. There's a lot of inconsistency in how things work between the two modes.
In Events mode, you'll see a single vertical list of photo albums. By default, they are virtual albums grouping photos by day. You can move photos to your own albums by pressing and holding on an album, then choosing the "Split to" command. Let's pretend that makes sense.
When viewing an album in Events mode, the first screen includes a large, automatically-generated video highlight reel, plus a few thumbnails below that. Those thumbnails look like the start of the album, but they're actually selected highlights from the album, so if you scroll down, you'll see those same photos again. It's confusing, especially because you're presented with the same view when choosing photos to move, share, or delete. Seeing the same choice twice in a list of checkboxes drove me nuts until I figured out what was going on. HTC is trying to make the first screen a "cover page" for the album. It's a cute idea, but in practice, it's just confusing. Albums in Events mode also have the same paging and animation as BlinkFeed.
In both Albums mode and Events mode, Burst shots are helpfully grouped together and get a special icon badge. Zoes automatically play as video in thumbnails. That's neat, but only one plays at a time, so you can't see at glance which photos are Zoes. An indicator badge on Zoes would be helpful. If you tap on either a group of burst photos or a Zoe, (which also includes a set of burst photos,) you get a very nice interface for editing that collection of media.
For burst photos, you can simply mark the best one as a "cover" photo, or just delete some of the worst ones, or, in one step, choose the best, deleting all of the others. It's a great interface for dealing with a set of burst photos.
A Zoe is both a photo and a video, so opening one plays the video part, then defaults to the photo from when you pressed the shutter button. That photo is always the default. You can use a control below the photo to scroll to other full-resolution photos that were captured as a burst while the video was captured. The only thing you can do with those other photos - again, including ones from before you pressed the shutter button - is extract them and save them as separate photos outside of the Zoe.
With all types of media - photos, videos, and Zoes - you have the simple on-screen options to "highlight" (star), share, delete, and edit. "Highlighted" media appear in their own album, and get priority in album covers and 30-second video highlight reels.
Editing options include the standard crop and rotate, plus the now-common retro-film-style filters. There's also a handy "straighten" feature and a red-eye tool.
Then there are the "retouch" tools, which, quite simply, make you and your friends look better. You, too, can look just as unnaturally good as a magazine cover model, in just a few dead-easy steps. The tools automatically recognize your face and the only control for each is a simple slider for how much enhancement you want to apply. Various options will make you thinner, smooth blemishes, remove shine, and make your eyes brighter. It's spooky how well these tools work; you will look more like you belong on a magazine cover, and it won't be obvious that the photo was edited. If you have a vain streak, this feature is a godsend. If you value photographic integrity, it's depressing. Then again, let's be honest; that ship sailed a long time ago.
One of the headline features besides Zoe is the the ability to create a slick 30-second highlight reel of a group of photos, videos and Zoes. You can do this from the virtual event album of all the photos you took on a certain day, or an event album you create yourself. A highlight video is generated on the fly when you simply go into any event album. Tapping on it takes you to a full-screen mode where you can tweak it. You can hit a "shuffle" icon to simply re-generate the video if you didn't like how it randomly arranged your content. You can choose a different theme; there are several, and each has its own music and visual style. Some themes apply more filters to your content than others.
I was consistently impressed with how this feature worked. It made even my most boring test photos and videos look interesting and fun, but in a tasteful way.
When you're happy with your video, you can save or share it, and there are many sharing options. If you send to Zoe Share, you get a web service that will display the video and album appropriately for various services and device. But Zoe Shares only last for 30 days, then disappear, so this is really just about on-the-fly sharing, not long-term storage for your memories.
TV
I'll be honest: I was not expecting to be impressed with the TV app. It is, as its core, a universal remote control. It's based on Peel. It doesn't tap into your DVR content. It doesn't magically solve "the TV problem" that everyone's hoping Apple will solve.
But I was pleasantly surprised. Setup was fast and easy. It was - no exaggeration - easily 30 times faster (and less frustrating) to set up than my Logitech Harmony universal remote. And I didn't have to plug it into a computer to do it. Within two minutes, I had something that does about 90% of what my Harmony does. The IR blaster works better than many of my dedicated remotes, easily reaching my equipment from anywhere in my large living room.
I don't watch much live TV, so it's just a bonus that it shows you what's on now with a nice interface and lets you change to any of those shows with one tap. There's also a traditional channel guide interface. Although it doesn't tap directly into my DVR content, I can still control my DVR with ease using the controls it does have.
It's not the ultimate universal remote. There's going to be some button you like or need that it doesn't duplicate. You can't turn your whole system on or off with one tap. But it came much closer to replacing my Harmony than I expected.
It thoughtfully has shortcut controls that stay in the notification shade, giving you easy access to your new remote control as you check email while watching TV. (You can dismiss the shortcut control when you're done watching TV.)
Honestly, I want this in every phone from now on.
Personalization
Previous versions of HTC Sense had the confusingly-named "Scenes" and "Themes" options. HTC "fixed" this confusion by removing both features from Sense 5 completely. I find the HTC's design of the interface to be quite handsome, but if you wanted to change it, you're out of luck. I'm not sure how many people used "Scenes" to manage different sets of work vs. personal home screens, but if that was important to you, I couldn't find it in Sense 5. It's a curious time to omit such a feature, when BlackBerry is making its related Balance feature a selling point of BlackBerry 10.
As always, HTC gives you multiple types of lock screens. There are optional lock screens for productivity, music, and photos. There's also an option to disable the lock screen altogether, so that just pressing the lock button take you right to a home screen.
In all, the One offers fewer personalization options than past HTC phones. On the plus side, the standard theme, the included wallpapers, and the ringers are fantastic. Plus the tool for setting your own music as a ringer is great, complete with a nice trimmer feature.
Clock & Weather
If there's one thing HTC has always nailed, it's the clock. That doesn't change in Sense 5. Actually, they've trimmed the clock options, but at least the default is close to what we'd call the perfect digital clock.
The old clock widget is now baked into the lock screen, BlinkFeed, and even the app menu. There are no options for different clock styles, such as analog. There is a matching widget you can put on the Android home screen (that syncs with the same settings for date format and weather.)
Integrated into the clock area is a pretty but quirky weather feature. Ours defaulted to London weather. It's just silly that it doesn't default to your current location. Getting it set to our city manually was an exercise in frustration. HTC says a software update will fix this. After testing several pre-production units and this final Sprint unit, the weather app still doesn't work appropriately. It rarely displayed the local weather, and instead offered an unhelpful message that read "unknown location" even after we programmed in a zip code.
The default main weather screen shows some very pretty full-screen video animation representing the current weather, and the current temperature. In tiny fine print are today's forecast high and low temps. You have to swipe over once for an hourly forecast, and twice for the multi-day forecast. That's a hassle. If you dig through the options, you can make either forecast the default, but that's a terribly boring grey view compared to the pretty "Now" screen. It's a shame that you have choose between the pretty view and the useful view.
HTC Transfer
HTC Transfer is HTC's software for transferring everything from your old phone to your new phone. It's very robust and seems to cover every technically possible way to transfer as much as possible from every type of phone.
One pet peeve: there's an option to use a QR code to start the transfer process. What good is that when a QR code reader doesn't come with most phones? Sure you can search for and download a third-party app, but if HTC is going to suggest people use QR codes, shouldn't they start by putting the necessary reader software in their own phones?
On issue I have with HTC Transfer (and the related HTC Backup) is that Google is now duplicating much of this functionality with its cloud services, which kick in automatically when you simply sign in to Google for the first time. Sitting at the the start of the HTC Transfer process, I found myself wondering what I should let HTC move and what I should just let Google sync from the cloud. HTC Transfer should have guided me through those choices, but it didn't.
HTC Sync
Thoughtfully, when you plug your One into a computer, up pops the window for transferring photos and music, plus a window with an icon that says "HTC Sync Manager". That icon is actually just a link to download the app from the web, presumably so you're always getting the latest version. It's a nice touch.
The software was a bit temperamental for me, but it worked.
When your photos are synced and downloaded to your computer, some interesting things happen. First, HTC buries everything inside redundant folders like a Russian nesting doll. There are four levels of folders that serve no purpose whatsoever. Some of these folders must serve a purpose on the phone, but they should be stripped when moving things to you computer.
On the plus side, once you get to your content, you'll find that HTC actually organizes your photos and videos into folders that match the albums you've created in the Events part of the gallery app. They're actually stored that way on the phone, too, which is a nice touch.
Zoes, however, are stored as a large list of files. An album containing nothing but two Zoes translates to a folder with 40 photo files and two video files. That's much better than having your content locked up in some proprietary file format, but it's a lot of files to wrangle.
One important note: the Zoe files create substantial problems if you auto-upload your camera images to online services such as Dropbox or Box. Zoes files are all combined into folders, one folder per Zoe. Each folder holds dozens of files, including videos. These folders cannot be managed by online services, which choke on them. For some users, automatic backups of photos might be a must-have feature. The folders created by the Zoes complicate auto-uploading and could be a problem to those users. If you buy the HTC One, you'll have to turn off automatic uploads.
Bluetooth
The One's Bluetooth radio worked perfectly. The device paired with other phones, tablets, PCs, and headsets in a snap. When placing calls through a regular Bluetooth headset, the quality was quite good, but not as good as through the regular earpiece. In a car, using my car's hands-free system was pointless. The speakerphone of the One is so loud and so clear that I had no need to actually use my car's Bluetooth features. That said, it worked properly and sounded good.
GPS
The One was slow to perform on GPS networks. It often timed out when I attempted to use Google Maps to plot my location (this is with GPS, cell-based, and Wi-Fi-based location services all turned on). Google Maps software, however, remains as useful as ever.
Browser
The One arrives with both a generic Android browser and Chrome installed. Both performed about the same with respect to rendering and loading web pages. They have slightly different controls, but are otherwise on equal footing at delivering usable web sites. As we've noted in past reviews, the Chrome browser is particularly useful if you also use the desktop version. Many browser alternatives are available in the Google Play Store. Web sites were slow to render over Sprint's 3G network, though, unless there was an incredibly strong signal.
Wrap-Up
HTC has no doubt crafted a fine piece of hardware in the One. The aluminum shell, stunning HD screen, and incredibly loud speakers really set the One apart from the plastic competition. The device scores well when it comes to the physical device and its capabilities. It offers very good battery life, excellent (and loud) call quality, and signal performance that's in line with other Sprint devices. The software is a somewhat different story.
HTC's Sense 5 has some really great ideas and powerful features, but also some rough edges that make it far less intuitive than it could be. If you take the time to learn its quirks, you're rewarded with gems like the best lock screen in the business, the powerful and innovative camera features, and the surprisingly useful TV remote app. I'm not sold on BlinkFeed, but it's a neat idea. You can easily push it out of the way until HTC (perhaps) makes it more useful in Sense 5.1.
After spending plenty of time with the One, exploring and testing every feature inside and out, I'm impressed. The camera is one of the best I've ever seen on a phone. The sound is the best I've heard on a phone. The screen is the best I've seen on a phone. The engineering is astonishing and the design, lust-worthy. With solid performance and no major faults, this is an easy phone to recommend.
Video
Why are ALL phones too big?
I'm so glad you came out and said how you feel 4.7" phones are too big! I entirely agree and really feel like the 4" screen on my phone is already beyond the limit of what I'd ideally prefer. The Droid 2 with it's 3.8" screen and qwerty keyboard remains the PERFECT size for a smartphone imo and I really wish there was anything remotely close to that coming out this year. I feel like there is a huge hole in the Android ecosystem for smaller phones with and without physical keyboards as all phones are giant, boring slabs I can't use with one hand.
I like the bigger screen. I work 2 jobs and I am not home a lot of the time to use a desktop. The bigger phone is a good size for me to work on and use a lot during the day. A small phone is to small when you need screen size. I am 6ft tall so a 3.8in...
(continues)
I couldn't agree more. There are a decent number of people working for the manufacturers who feel the same way. The issue, as far as I can tell, is the carriers. They seem to think that's what their customers want. That, and/or they find it easy to se...
(continues)
I have felt the same way for quite some time. The perfect size screen for me was the 4.3 Evo I had for almost three years. Never wanted anything larger.

Thanks to this new HTC offering that lacks removable battery and SD card, I made a very difficu...
(continues)
for a phone it's ridiculously big

for a Pocket Computer that I can make and receive calls from it's perfect

I rarely hold a phone vertical anymore, its always in two handed landscape position for web or games or texting..
I agree that there should be more variety in this regard. It seems like the smaller phones they make now are just messaging phones, or entry level smartphones. I for one cannot use anything smaller than a 4.3 inch screen. I had an Evo3d and broke it...
(continues)
There has been a trend toward bigger phones for the past couple of years. But what has caused every phone maker to jump into the shoebox phone size arena is putting an LTE radio in the phones. The LTE chipset is huge and requires a big heatsink for ...
(continues)
Customers who want a S4 mini are in the minority when compared to those who prefer the 5inch screen. Companies rather invest in the 5inch screen phone, so yes in the end money talks. But Sony is doing the midrange handset with great specs.
No Sprint LTE in San Francisco? Huh?
Sensorly definitely indicates otherwise:
http://i48.tinypic.com/e0xac.png »
Any reviewer who cannot locate any Sprint LTE in San Francisco for testing is incompetent, lazy, or has defective equipment.
Not a good showing, Phone Scoop...
AJ
I don't think they have the luxury of requesting a replacement demo phone to test out LTE, you kinda get what you get. They only have a certain amount of time with the device before they have to send it back.
http://www1.phonescoop.com/forums/forum »
...
(continues)
Eric was there for exactly one night, and most of that time was spent covering the Facebook event.

I wish we would have had more time there to test this, but we didn't. We did try, and we couldn't find it. It is NOT an officially launched market, s...
(continues)
Can someone verify for sure which WCDMA/UMTS bands are in this unit.
For the Sprint model, Phonescoop says 1900/2100; Engadget says 700/AWS.

Both of these however are rather unusual combinations (usually it's 850/1900/2100 or 850/900/1900/2100).

Does anyone know for sure?
PhoneMaster said:
For the Sprint model, Phonescoop says 1900/2100; Engadget says 700/AWS.

Both of these however are rather unusual combinations (usually it's 850/1900/2100 or 850/900/1900/2100).

Does anyone know for sure?
...
(continues)
We went with what HTC told us, although WiWavelength is correct about FCC approvals.

It sounds like Engadget confused this with one of the GSM models.
network performance.
Really a shame you werent able to test this phone where LTE is available such as in most of TX for example or part of California LA has had a 4G LTE signal for Sprint phones.

Saw that on a friends Sprint phone. Performed pretty well. Definitely smoked my Tmobile 3G (HSPA+) data speeds when we compared the two.

When I compare ATT LTE to my Tmobile 3G (HSPA+) its pretty sad that they are pretty much the same noticed it is pretty inconsistent ATT LTE.

Have nothing bad to say about Verizon LTE its just on point every time!
New camera samples
FYI, I added some additional camera samples, including some 100% crops so you can see the full detail, and a macro shot.
...and I just added some more, showing specifically how it performs in low light vs. the iPhone 5.
All USA reviews seem to have had European models - worrying?
I'm from the UK and I note that all the american reviews seem to have been done with European versions of the HTC One. The launch in the UK has just been delayed by at least 14 days due to shortage of phones. My dealer reporting that stock had been diverted to the USA. I pre-ordered on Feb 28th and had a date of March 15th for delivery now it's probably some time in April.
Just realised you are reviewing with my phone! I now we have a special relationship but this is taking it too far!
My understanding is that the Euro one is the only one ready at the moment. Only a handful were sent out to reviewers.

There's no way any UK stock is being diverted for sale in the U.S., as the hardware is different. Ours have different radios for d...
(continues)