Motorola Droid RAZR M / Luge
Info Photos News Forum 35 Reviews 12
Motorola recently revised the customer support page that lists which smartphones will receive updated versions of Android and approximately when those updates will arrive. The RAZR M, RAZR HD, and MAXX HD have all received Jelly Bean. The Atrix HD is next on the list, and should get Jelly Bean beginning this month. Devices slated to receive Jelly Bean during the first quarter of 2013 include the Electrify M and the Xoom tablet. Other devices that will receive Jelly Bean at some point in the future include the Photon 2, Electrify 2, RAZR, RAZR MAXX, Droid 4, and Bionic. As a reminder, Motorola is offering a $100 rebate toward an Android 4.x device to current owners of Motorola smartphones running Android 2.3 Gingerbread.
---
Intel CEO Paul Otellini will leave his role as executive officer and chairman of the board by mid-2013, the company announced today. Otellini has been CEO for the processor maker for eight years. "After almost four decades with the company and eight years as CEO, it's time to move on and transfer Intel's helm to a new generation of leadership," said Otellini. "I look forward to working with Andy, the board and the management team during the six-month transition period, and to being available as an advisor to management after retiring as CEO." Intel has begun searching for a replacement CEO, but has not yet named anyone. Otellini oversaw Intel's transition from primarily providing desktop processors to mobile processors for laptops and netbooks. The company has targeted mobile devices, too, but has yet to see any real success from its line of Atom chips for smartphones. Intel has launched just three Atom-equipped smartphones this year, including a variant of the Motorola Droid RAZR M for world markets called the RAZR I.
---
Verizon Wireless has provided details about the upcoming Android 4.1 Jelly Bean system update for the Motorola Droid RAZR M. The update adds features specific to Jelly Bean, such as Google Now and Voice Search, actionable notifications, the new smart keyboard, and resizable widgets. The update includes some bug fixes, and makes improvements across the board to the M's Wi-Fi, Bluetooth, 3G, 4G, GPS, and mobile hotspot performance. The update removes the Color application, updates VZ Navigator and QuickOffice, and makes the RAZR M compatible with the Isis mobile wallet service. The update is free and can be downloaded over the air. It will be pushed out in waves starting today. It may be several days before it is available to all devices.
---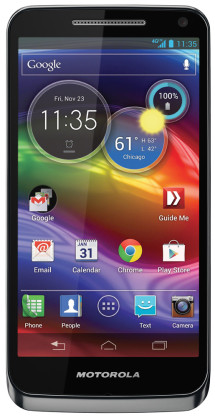 U.S. Cellular today announced that it will launch the Motorola Electrify M on November 8. The Electrify M is an Android 4.0 smartphone that has a 4.3-inch display, dual-core 1.5GHz processor, and 8-megapixel main camera with 1.3-megapixel user-facing camera. Other features include a scratch-resistant and water-repellant outer shell, Gorilla Glass, NFC, a 2,000mAh battery, and support for U.S. Cellular's LTE 4G network. The Motorola Electrify M will cost $149.99 (but only $99.99 in LTE markets) after a $100 mail-in rebate. Motorola said the Electrify M will be upgraded to Android 4.1 Jelly Bean at some point in the future.
---
Motorola has updated the list of devices that will receive updated versions of Android and is revealing for the first time those slated to get Android 4.1 Jelly Bean. The Droid RAZR M, RAZR HD, and MAXX HD are all schedule to receive the Jelly Bean update before the end of the year. Other devices that will be updated to Android 4.1 include the Atrix HD, Photon Q, Electrify 2, and the Droid RAZR, RAZR MAXX, 4, and Bionic. Motorola didn't say when this second group will receive Jelly Bean. Devices not on these lists are likely to be updated only as far as Android 4.0 Ice Cream Sandwich.
---

Motorola today announced the RAZR i, a version of the Droid RAZR M that swaps its Qualcomm processor for one made by Intel. The RAZR i is the first smartphone from Motorola to use a 2.0 GHz Intel Atom processor. The partnership between the two companies was first announced in January this year. The RAZR i won't be sold in the U.S., and is instead aimed at European and South American markets, where it will debut in the coming weeks. The RAZR i shares most features with the RAZR M, save for the processor.
---
Motorola and Verizon Wireless today announced that the RAZR M Android smartphone will go on sale September 13. The RAZR M costs $99 after rebate with a new contract. It is a compact device that still includes a 4.3-inch AMOLED display, 8-megapixel camera, and LTE 4G.
---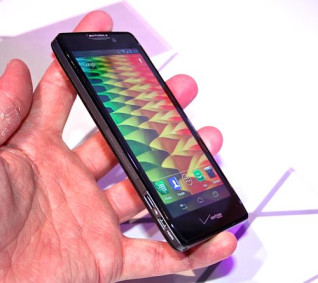 Motorola introduced three new Android smartphones today, all of which push the edge in terms of design and features. Phone Scoop takes a look.
---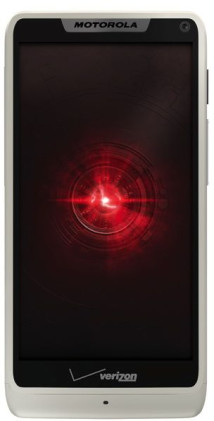 Motorola and Verizon Wireless today revealed the Droid RAZR M, a new Android smartphone that offers high-end specs in a small device form factor. The RAZR M has a smaller footprint for those who don't want a large device, but it still includes a qHD 4.3-inch display thank to edge-to-edge screen technology used by Motorola. The RAZR M, which will be available the week of September 10 for $99, has a 2000mAh battery, Android 4.1 Jelly Bean, and LTE 4G. Other features include an 8-megapixel camera, NFC, Kevlar lining, Gorilla Glass, 8GB of storage, 1GB of RAM, and a 1.5GHz dual-core processor.
---