Hands-On: Motorola RAZR HD, MAXX HD, RAZR M
RAZR HD / MAXX HD RAZR M Comments 16
Sep 5, 2012, 2:29 PM by Eric M. Zeman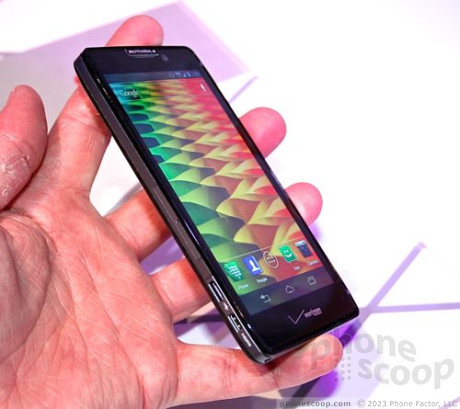 Motorola introduced three new Android smartphones today, all of which push the edge in terms of design and features. Phone Scoop takes a look.
The Motorola RAZR HD and MAXX HD are all about making improvements to the 2011 RAZR and RAZR MAXX. They are essentially the same phone, with only 0.9mm in thickness separating them physically. In fact, the difference is so slight, you can't notice with the naked eye. The RAZR HD is 8.4mm thick, and the MAXX HD is 9.3mm thick. What's in that 0.9mm? A slightly larger battery for longer device life.
Both devices are impressive, and are instantly superior to their predecessors. The screen has been pushed from 4.3 inches and qHD resolution to 4.7 inches and 720p resolution. The difference is night-and-day. One thing I disliked about the original RAZR as the large bezel around the display. The RAZR HD eliminates that bezel without making the footprint of the device any larger. The screen looks really good. It is bright, colorful, and, heh, razor sharp.
The design language isn't exactly like last year's phones. It has been updated with more metal and more Kevlar. The result is a stronger, more solid phone that feels great to hold and use. The side edges, for example, are made of a metal band (similar to iPhone 4/4S). The buttons located in that band, such as the volume toggle and screen lock key, have an excellent feel. They are easy to find and have very satisfying travel and feedback. I'd call both phones a bit weighty, but the MAXX HD is noticeably heavier in the hand.
The user interface is the exact same that we've seen on other recent Motorola devices, such as the Photon Q or the Atrix HD. It runs Android 4.0 Ice Cream Sandwich at launch, but will be updated quickly to Android 4.1 Jelly Bean. The user interface I saw was smooth and quick, with no stuttering or janky-ness when transitioning from screen to screen or app to app.
Both phones support Verizon's LTE network, run on dual-core 1.5GHz Snapdragon S4 processors, include support for microSD cards, and offer the latest apps from Motorola and Verizon. The RAZR HD has 32GB of interna storage, and the MAXX HD has 16GB of internal storage. Because they run on the LTE network, they use microSIM cards. The microSIM card and microSD card are both accessed via the same tray, which can only be removed with the help of a paperclip or other tool.
In all, I like that hardware. They both have an excellent feel to them, and if the battery life is as good as Motorola brags that it is, these phones will be worthy successors to last year's models.
Kevalr is a gimmick
So, they "line" the device with kevlar, or make the base piece of the device partially out of kevlar to increase the strength of the actual device above what it would normally be. If you were to put your phone in a situation where the added strength of the kevlar was put to the test, it wouldn't even matter - your phone would already be destroyed.
Kelvalr may be a gimmich but having used kevalr in my military service I know that my phone wont break easy. Military personel regard Kevalr highly, because if it hasn't saved our lives it has saved one of our buddies lives.
Kevlar was used because it is strong and light weight.

It isn't a gimmick at all.

And the added strength is to offset the thinness of the phone. For those folks that like to put a phone in their back pocket and sit on it.
A valid question...
Would anyone like to speculate the performance of the camera function on this phone. I know nothing replaces a digital camera, but with the advances of tech. you would think that motorola would bring it up a notch in such a competitive mobile phone market.
My experience with the motorola camera feature on previous phones (unrooted) is not too good.
RAZR M
Finely Motorola figured out why the iPhone is so successful. Big isn't always better.
Way to go Motorola & Sky net...I mean Google. 👀
What I don't get is why they keep calling these things 'RAZR', I get that the RAZR was a popular phone and they want they cachet of the RAZR name...but the RAZR was a flip phone, if it's not a flip phone how can you possibly call it a RAZR?
Verizon Logo
I was going to get this new phone, but with the Verizon logo ont the phone, I think I'll pass. Not that I minf the logo but it wastes the space on the display. I don't like the idea of giving something up in order to promote Verizon. I'll pass thanks.
Also, Why would the not have dis-appearing keys to give more room. Kinda scrtaching my head on the poor design of this phone. Yeah, I'll pass. (Shudder) I really dont want to go to iphone
That's not how phones are designed. The logo doesn't make the display smaller. The phone was designed - including the screen size - then they figured out where to put logos with the space left.

Phones need some space below the display, or they'd be...
(continues)