Hands On with the SoundCore Liberty 4 earbuds
Article Comments
Oct 14, 2022, 11:17 AM by Rich Brome
updated Oct 14, 2022, 11:57 AM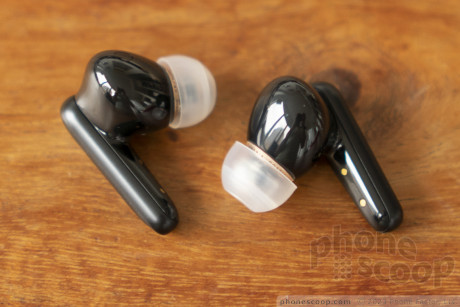 Anker SoundCore has a new pair of feature-packed earbuds on offer. The Liberty 4 have everything you'd expect: ANC, pass-through modes, hi-res audio, personal tuning, and a wireless charging case. They also have Spatial Audio and heart rate tracking. But what are they actually like in person? We tried them out for a few days and have some thoughts. Read on for first impressions.
Basics and Setup
My first impression upon unboxing the Liberty 4 is that the packaging is not very eco-friendly. It looks nice, but it's larger than it needs to be, and the cardboard has a lot of plastic and some metal (and magnets) glued in that makes it difficult to recycle. All wireless earbuds are already a thorny e-waste problem, (as the batteries eventually wear out and can't be replaced,) so wasteful packaging feels like adding insult to injury.
But out of the packaging, it's a more pleasant story. The charging case is very well-designed. It has USB-C and wireless charging. It's a nice, compact size; not as small as the AirPods case, but still smaller than average. The lid slides open and closed with a very satisfying spring action, although it doesn't feel super sturdy when open. Getting the buds in and out is very easy: it's obvious which one goes where, and they snap into place solidly on the first try, every time. It's a great charging case.
The buds themselves are also compact and well-designed. They fit into my ears easily, comfortably, and securely. After a lot of early experimentation when true wireless earbuds were a new thing, the industry has now figured out how these things should be shaped to fit most people, and the Liberty 4 seems to take all those lessons to heart. I used them while running a bunch of errands around town and to the gym. I was impressed with both comfort and how they stayed in place. I rarely felt the need to adjust the fit. When I did, it was really just out of habit, and I just confirmed that they were still seated well.
The stems have clever controls. There's a small indentation that my index finger-tip found easily. Squeeze the stem there and you get the audio feedback of a click. It's designed to fool your brain into "feeling" the click, and it works surprisingly well. I also love that the controls are well-designed so that you won't activate them accidentally when adjusting the fit.
I can never intuit the morse-code voodoo of what a single press or long press does on each new earbud I try, and this was no exception. At first — before fooling around with the app — I thought the controls did nothing. I eventually figured out that a double-squeeze on the left one seemed to toggle transparency mode (pumping in sound from the outside or blocking it out.)
I tried the app a couple of times, and immediately ran into frustration as it kept trying to get me to create an account or sign in. I got into a password-reset situation and gave up, (twice) as I was busy with other things at the time. The third time was a charm, as the app seemed to give up and let me use it without an account (as it should have done the first time).
The app is otherwise well-designed and puts the most important thing up front: switching between "Normal", Noise Cancellation, and Transparency modes. There are also clear battery-level indicators, and quick links to everything else important, including control customization. There, you can assign single, double, and triple presses to anything you want, for each bud. Oddly, long-press isn't an option, which is a shame, because I'd much prefer that to the annoying triple-press. (I just disabled triple-press.)
Performance
The controls worked very well most of the time, although I did have a single-press register as a double-press once.
I was impressed with the sound quality in Noise Cancellation (ANC) and Transparency modes. Switching to "Normal" mode made the sound surprisingly more distant and tinny; the difference was dramatic.
I found the bass response to be almost too much in Noise Cancellation and Transparency modes, but too little in Normal mode. You can easily correct that with the eight-band custom equalizer function, but unfortunately the equalizer settings are global, not specific to each mode. So if you turn down the bass for Noise Cancellation mode, you're just making things worse for when you switch to Normal mode.
Another consideration is that Noise Cancellation and Transparency modes use up your battery faster. So if you want well-tuned sound at all times, you need to decide what your priority is: If battery life is paramount, tune your EQ for Normal mode and keep it there. If you want to use ANC at times, tune your EQ for Noise Cancellation and Transparency modes, and don't use Normal mode.
I found that Transparency mode amplifies too much background noise. To be fair, this is still a common problem with many earbuds in this class. (You need fairly advanced sound processing to fix this.)
I found that I could still hear everything I needed to from the outside world in Normal mode. Noise Cancellation mode did, in fact, reduce outside noise considerably, but it doesn't come close to blocking it.
You can configure the controls to toggle between whichever two (or three) modes you like best. I preferred Noise Cancellation and Normal modes, leaving Transparency mode effectively disabled. But again, that means the sound tuning is off for one of those modes.
I also tried them for a few phone calls, and people seemed to be able to hear me clearly.
One of the potentially really interesting features is the built-in heart-rate tracking. The sensor is in the right earbud. But that function is only accessible via the app, and that part of the app requires an account. The big bummer here is that heart rate data remains siloed in the Soundcore app; it doesn't sync with services like Google Fit.
Summary
My favorite thing about the Liberty 4 is simply the all-day comfort and secure fit. They're not perfect, but they're pretty good for $150. They've already replaced my other earbuds, including my regular AirPods.
No messages