Nokia N95
Info Photos News Forum 100+ Reviews 31
The Nokia N95 8GB is the first mobile phone to be certified as a Digital Living Network Alliance device. Consumer electronic equipment that is DLNA certified shares a common platform and offers easier interconnectivity for transferring media and content. The DLNA has certified the N95 8GB as a mobile digital media server due its ability to store and share large quantities of photos, music and video. The DLNA has certified over 1,800 other devices, but the N95 8GB is the first phone to meet the DLNA standards.
---
Nokia announced two new versions of the N95 for the U.S. market. The first is a version of the N95 8GB that has quad-band GSM/EDGE and dual-band 850/1900 WCDMA radios compatible with AT&T's 3G network. It has a larger screen and black styling as well as 8GB of internal storage. Nokia will also be offering the standard N95 U.S. with a red backplate.
---

Nokia updated its N95 multimedia computer with a bigger battery, more memory, and U.S. 3G. See the improvements here.
---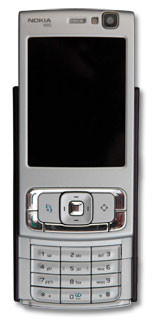 A third version of the Nokia N95 multimedia computer has cleared the FCC. This newest version includes quad-band GSM/EDGE and dual-band WCDMA 850/1900 for use in the States. It carries over most specifications from the standard European version, including 802.11b/g Wi-Fi, stereo Bluetooth, GPS and a 5 Megapixel camera. It runs the Symbian S60 platform, and has a microSD slot for media storage. None of the versions are officially offered by any U.S. carrier, but this version will work on AT&T's 3G network. There is no word on what pricing will be.
---
The N95 is packed with so many features that not even our in-depth video could cover them all. But we can show you most of them.
---
Hands-on with the new Nokia N75, N95, and 5300.
---