U.S.-Specific Version Of Nokia N95 Approved By FCC
Article Comments 97
Aug 20, 2007, 3:40 PM by (staff)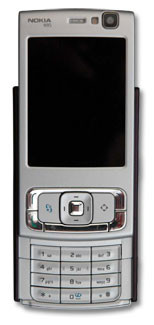 A third version of the Nokia N95 multimedia computer has cleared the FCC. This newest version includes quad-band GSM/EDGE and dual-band WCDMA 850/1900 for use in the States. It carries over most specifications from the standard European version, including 802.11b/g Wi-Fi, stereo Bluetooth, GPS and a 5 Megapixel camera. It runs the Symbian S60 platform, and has a microSD slot for media storage. None of the versions are officially offered by any U.S. carrier, but this version will work on AT&T's 3G network. There is no word on what pricing will be.
front facing camera?
was this just a stock pic, or did it come directly from the FCC filing?

Also, can you guys confirm that it has a higher capacity battery than the original (that was the rumor, anyway).

just to vent: now that they have an 8Gb version in the pipes (that looks awesome in black BTW) this looks like yesterdays lunch
i was in shock regarding the front facing camera too. maybe now that cingular has video sharing they see the front facing camera as a benefit?

also we checked the manual and there's absolutely no reference about what size battery is included. i wis...
(continues)
AT&T Release?
Is this phone going to be released with AT&T? I know some people said it hasn't been announced yet...but I'm just curious if anyone has any info. Thanks.. 😁
If the N75 experience is anything to go by, be prepared to add at least 6 months to any release date AT&T advertises. And unless you do the smart thing and buy it unbranded and unlocked, prepare to deal with the panoply of AT&Ts intrusive, cumbersome...
(continues)
U.S. N95
Finally a worthy replacement for my Nokia 6682. 😈 I've been interested in a slider and wanted the original N95 but it had no support for U.S. 3G networks, more specifically at&t. I will be getting this phone....
I'm curious, are you going to WAIT for AT&T to launch it, or are you actually going to pay $750 for an unlocked one???

I just can't allow myself to pay that much, I really can't, I paid $500 for my Sharp V903, and as far as I'm concerned, that's pl...
(continues)
Ill take one unlocked. Now that ive had an unlocked unbranded phone i wont go back to Branded. I really dont know about Nokia unbranded phones so i cant say you will be able to download mms settings if buying unbranded . SE however has a site wher...
(continues)
Worth the $$
I'm pumped for the N95 US Version but will I still be when the price is unvailed? I currently have an N80 and wanted the N95 but was scared do to the price as well as the non-us support for it. So now I've waited and solved one problem that being theres a US version which will be able to get the best of my AT&T network even without having them as a dedicated carrier but will the price of this really drag my hopes down. I mean the Non-US is $750 (if your lucky) and up so how much cheaper can it be its the same phone with American bands? The iPhone was $600 bucks cant picture the N95 US version being much less.
I can see it costing around $400 with contract and like $600 without. Which more or less is inline with AT&T's top of the line phones (excluding the iphone). And probably with a $50 rebate as a teaser.
FINALLY
that is all.

I hope T-mobile will get wise and pick this up.
hopefully this will be for amp'd!
T-Mobil wont get this cause its 3g uses wcdma 850/1900. Like it says, most likely at&t will get it.
6263: yes
N95: no
that's it
T-mobile NOPE if anything AT&T
Why no HSDPA?
With AT&T gearing to upgrade their network to HSUPA, why are these phones not offering at least HSDPA
I'm Just Waitin'
I'm just waitin' for another AT&T "employee" who have just received word from corporate to inform us that AT&T gonna carry it.

I thank all the true employees that inform us, but, please, no more spurious claims.
And by the time AT&T does carry it, Chelsea Clinton will be ending her second term as President.
If only
if only the 8GB verison was the American one.
Personally, I'd rather have a handset with a microSD slot, than a whole butch of internal memory, or 8GB's of internal, AND a microSD slot would be awesome,...I just like removable memory, that's all.

Who knows, maybe we'll get lucky, and AT&T will...
(continues)
Drool.....
🤤 I want 2, I phons got nothing on this thing...