Everything 5G
You have questions about 5G. We have answers. Our hub page for everything 5G. Learn the basics, learn what matters and what doesn't, we answer your questions about safety, and all of the latest 5G news in one place.
Intro to 5G Series:
Important Glossary Terms:
5G Phones:
Recent 5G News:
All Verizon AT&T Samsung T-Mobile more... Discuss
Sprint LG Motorola Nokia Ericsson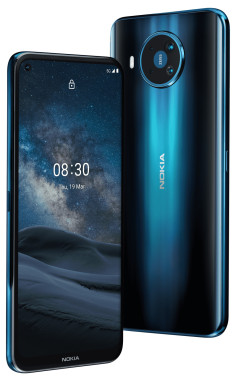 HMD Global today announced the Nokia 8.3 5G, the company's first 5G phone. HMD claims it supports more 5G networks than any other 5G phone to date, supporting sub-6 GHz 5G networks in 12 different frequency bands, including ones used in the US, such as bands 2, 5, 41, 66, and 71. The 8.3 5G supports both today's NSA (non-stand-alone) 5G networks, as well as forthcoming SA (stand-alone) 5G networks. It's powered by a Qualcomm Snapdragon 765G chipset paired with 6 or 8 GB of LPDDR4 RAM and 64 or 128 GB of storage. It has a 6.8-inch full-HD display with a corner hole-punch for the front camera, and a 4,500 mAh battery. Its rear camera array uses Zeiss lenses and includes a 64-megapixel main sensor, 12-megapixel wide camera, 2-megapixel macro camera, and a depth camera for portrait effects. The front camera is 24 megapixel. The Nokia 8.3 5G also has a side-mounted fingerprint reader, memory card slot, 3.5mm audio jack, USB-C, fast charging, and a dedicated Google Assistant button. It will ship globally this summer starting at 599 Euros (approx. 640 USD).
---
Nokia and Sprint today said they've made the first live 5G NR connection using a Massive MIMO antenna array. The setup can support up to 120 MHz in Sprint's 2.5 GHz spectrum. The companies claim this arrangement can deliver peak 5G download speeds up to 3 Gbps while maintaining active LTE service. This means Sprint can offer 4G and 5G on the same radio. Sprint and Nokia believe this is a win for handset makers and, eventually, consumers. Sprint believes it will be able to deploy 5G NR via Massive MIMO on its 2.5 GHz spectrum during the first half of 2019. 5G is expected to offer 4K and 8K video streaming, as well as high-definition virtual reality and ultra-low latency.
---
Verizon Wireless today said that together with partner Nokia it has taken another step forward its eventual launch of mobile 5G. The company says it completed the first "over-the-air, end-to-end data transmission on a commercial 3GPP 5G New Radio (NR) network." The test, completed in Washington, D.C., used a real-world 5G base station and transmitted data using Verizon's 28 GHz (mmWave) spectrum to a Nokia van on the city street. Last month, the two companies completed a successful hand-off between two 5G cell sites in a controlled setting. Verizon is preparing to deploy fixed 5G service as an in-home broadband replacement later this year. It won't launch mobile 5G service, which this test covered, until 2019.
---
Verizon Wireless today said that together with partner Nokia it has completed a mobile 5G call with the receiving device moving from one cell to another. This is an important step in the development of 5G, as it will eventually allow people to use 5G devices freely when moving around outside. Verizon says it completed the test at Nokia's Murray Hill, NJ, location using the 3GPP New Radio (NR) 5G standard. It used two radios on Nokia's building to broadcast 28 GHz (mmWave) to a receiver in a moving vehicle. Verizon says the vehicle traveled between the two radio coverage zones and made a successful handoff from one to the other. Verizon is preparing to deploy fixed 5G service as an in-home broadband replacement later this year. It won't launch mobile 5G service, which this test covered, until 2019.
---
Nokia today announced new 5G chipsets that will triple the throughput of base stations while also drastically slashing power consumption. The ReefShark chipsets pair Nokia's antennas with artificial intelligence in order to push the performance of base stations. Nokia claims the ReefShark chips were designed for plug-and-play with its existing AirScale baseband module. The basebands will only require a software update to accommodate the ReefShark chips and can be updated to full 5G when needed. Nokia says it was able to halve the size of the massive MIMO array in the chipsets, which reduces power consumption in baseband units by 64%. ReefShark also triples base station performance from 28 Gbps to 84 Gbps per module. Chaining together six baseband modules will support throughput speeds as high as 6 terabits per second at a single base station. Nokia says 30 operators have committed to ReefShark, which it expects to deploy during the third quarter. Nokia today also announced its Future X network architecture, which will further improve speeds and cut costs for deploying 5G. Nokia says Future X combines the 5G New Radio standard with a software-defined network controller to provide a complete set of network capabilities for commercial 5G deployments. Together with Nokia's ReefShark chipsets, the Future X network architecture has the potential to deliver machine learning-based automation that will reduce the cost of deploying 5G by 30%. Nokia didn't commit to a timeframe for deploying Future X.
---
Qualcomm and Nokia today said they plan to jointly test potential 5G technologies in an effort to speed up adoption of the standard. Specifically, the companies intend to conduct over-the-air field trials of 5G New Radio (NR) Release-15, which is still being developed by the 3GPP. Nokia will supply its 5G First AirScale base station and Qualcomm will supply a prototype device capable of connecting to the network. They will explore 5G NR in the 3.5 GHz and 4.5 GHz bands, as well as mmWave spectrum in the 28 GHz and 39 GHz bands. They'll use technologies including massive MIMO, beamforming, adaptive TDD, scalable OFDM waveforms, advanced coding and modulation, and a low-latency slot structures. The goal is to reach multi-gigabit per second speeds with latency as low as 1ms. The interoperability testing will start in the second half of 2017. The companies hope to have their technology developed in line with the official adoption of the 5G standard, which is expected in 2019 or 2020.
---
AT&T today announced plans to extend its 5G testing to three more cities. AT&T will continue to test in Austin, Texas, and will also begin testing in Atlanta, Ga., Middletown, N.J., and San Ramon, Calif. AT&T says it recently reached a milestone in testing: it pushed speeds higher than 10Gbps with partner Ericsson. AT&T's tests are all being performed in labs, though the company says its labs are able to simulate real-world environments and scenarios. For example, AT&T can test how its 5G network might react at a sporting event, where a large number of customers might connect at the same time. Aside from speed, latency is an important aspect of 5G. AT&T says its early latency tests are promising, though it declined to share any numbers. Latency needs to be as close to zero as possible for situations such as self-driving cars, so they may react appropriately to unexpected changes in driving conditions. AT&T believes it will move to outdoor testing of fixed locations in Austin and Middletown by the end of the summer. The company hopes its progress will help it contribute to the international 5G standard, which has yet to be defined. Last, AT&T said it has added partner Nokia to the list of vendors helping it with 5G. Nokia is, specifically, researching millimeter wave spectrum use, beamforming, and higher levels of throughput.
---
Verizon Wireless wants to stay ahead of the curve and be among the first to launch fifth-generation (or 5G) wireless network technology. The company plans to begin field tests at its Innovation Centers, which are dedicated sandboxes for testing apps and services, located in San Francisco and Waltham, Mass., at some point in 2016. Verizon will use gear supplied by partners Alcatel-Lucent, Ericsson, Cisco, Nokia, Qualcomm, and Samsung to conduct the trials. Moreover, Verizon expects to reach "some level of commercial deployment" as soon as 2017, according to Roger Gurnani, chief information and technology architect for Verizon. Verizon's timeline is ambitious, especially considering 5G hasn't been defined. The International Telecommunications Union only agreed on the basic framework for developing what will eventually become the 5G wireless data specification in June of this year. The 5G roadmap is being referred to as IMT-2020, which the ITU hopes to have finalized by the year 2020. The core definition of 5G will be wireless networks that can transmit data at speeds up to 20Gbps. Most of today's LTE networks are allowing for connections as fast as 50Mbps in real-world conditions. Verizon's Gurnani said the company is targeting real-world speeds that are 30 to 50 times faster than current LTE 4G. Verizon didn't say if it intends to adhere to the ITU's vision for what 5G technology should truly be. Verizon is the first U.S. network operator to put 5G on its public roadmap, but others are sure to follow quickly.
---
A large and diverse group of mobile companies have formed a new group to work on potential 5G radio technology. The group is focusing specifically on technologies that will work below 6 GHz, near the frequency bands of current mobile networks. Some recent "5G" demos have relied on much higher millimeter wave (mmW) frequencies, which have short range and cannot pass through walls. Many major players are exploring including mmW technology in 5G, but it is not expected to be the core of the standard. The new group - called FANTASTIC-5G (Flexible Air iNTerfAce for Scalable service delivery wiThin wIreless Communication networks of the 5th Generation) - includes Alcatel-Lucent, Huawei, Intel, Nokia, Samsung, Sequans Communications, and Wings ICT Solutions, as well as several European mobile operators and research institutes. Their goal is a new air interface to replace LTE that is more efficient and flexible, supporting diverse needs from fast broadband to small, low-power sensors.
---
The European Commission and South Korea today announced plans to together define the future 5G wireless standard, as well as develop the technologies to support it. The two bodies signed a Joint Declaration on Strategic Cooperation in Information Communications Technology (ICT) and 5G to increase the discussions and research around the topic. A wide number of companies will participate, including Alcatel-Lucent, Deutsche Telekom, Ericsson, Nokia, Orange, Telecom Italia, Telenor, and Telefonica from Europe, as well as Samsung, LG, SK Telecom, and others in Korea. One of the key ideas behind 5G is not to just increase speeds, but to significantly boost capacity. Capacity improvements will help the 5G networks of the future handle all the potential devices connecting to them, such as phones, tablets, wearables, vehicles, and the broader Internet of Things. The collaboration has three main goals: First, to develop a broad definition of the key functionalities of 5G and create a time table for its creation by the end of 2015; Second, to kick off joint research in the pursuit of 5G by 2016 in coordination with 3GPP and ITU: and Third, to agree on global radio frequency bands for 5G in order to promote interoperability and roaming between carriers and countries. "5G will become the new lifeblood of the digital economy and digital society once it is established. Both Europe and Korea recognize this," said Neelie Kroes, Vice-President of the European Commission for the Digital Agenda. "This is the first time ever that public authorities have joined together in this way, with the support of private industry, to push forward the process of standardization. Today's declaration signals the our commitment to being global digital leaders." LTE, which is what most 4G networks use, has some room for growth in terms of speeds, but capacity is limited and the potential for global roaming is limited due to the wide number of spectrum bands used by carriers around the world. It is these and other issues that the EU and S. Korea hope to resolve in their pursuit of 5G.
---