Everything 5G
All Verizon AT&T Samsung T-Mobile more... Discuss
Sprint LG Motorola Nokia Ericsson
US carriers have revealed launch plans for the new LG V60 ThinQ 5G flagship-class phone. T-Mobile will offer it starting March 20th for $800, or $900 in a bundle with LG's Dual Screen accessory. T-Mobile is also offering a buy-one-get-one (BOGO) deal where customers with two or more lines can get a second V60 for free, if both phones are purchased on a 24-month payment plan. AT&T will start taking online orders for the V60 on Friday, March 20th. The phone will cost $900, which includes a free Dual Screen accessory from LG. AT&T is also offering a BOGO deal, but it requires a new line of service. Verizon's version will be slightly pricier and ship later, reflecting that its unique variant supports mmWave 5G, which requires extra components and engineering. (Versions for other US carriers only support sub-6 5G, which is generally slower but offers broader coverage.) Verizon brands mmWave 5G as "Ultra Wideband", which is why its unique variant will be called the LG V60 ThinQ 5G UW. Verizon will sell the phone for $950, with pre-orders starting March 26th. Like AT&T, Verizon is offering a BOGO deal for customers adding a new line, and Verizon customers purchasing a V60 are eligible for a free Dual Screen from LG.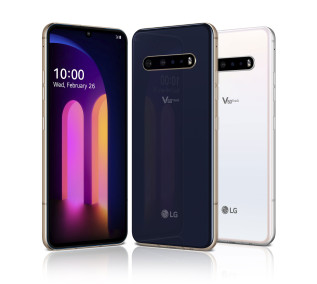 LG today announced the V60 ThinQ 5G with LG Dual Screen. Its specs are flagship-level, but not quite as top-end as past V-series phones. Verizon, AT&T, T-Mobile, and US Cellular will offer the V60 "in the coming weeks". As with the Samsung Galaxy S20, Verizon's version will supports both mmWave and sub-6 5G, while other versions will only support sub-6 5G (which offers better coverage but not the fastest 5G speeds.) The V60 will be packaged with LG's Dual Screen accessory, which adds a second display identical to phone's main display, connected to the phone with a 360-degree hinge, plus a 2.1-inch monochrome outer display. The V60's is powered by a Qualcomm Snapdragon 865 chipset, and features a 6.8-inch full-HD+ OLED display, 5,000 mAh battery, 8 GB of RAM, 128 GB storage, memory card slot, and Android 10. It also features two rear cameras plus a ToF depth camera. The main camera is 64 megapixel (f/1.8), while the wide-angle camera is 13 megapixel (f/1.9, 117º). It can capture 8K video, as well as 4K time-lapse or 60 fps video. It has stereo speakers and 4 microphones, plus an ASMR recording mode. The phone also features an in-display fingerprint reader, 32-bit Hi-Fi Quad DAC, Quick Charge 4+, IP68 water rating, NFC, Bluetooth 5.1, Wi-Fi 6, and USB-C (3.1). It will be available in blue or white. Specific launch dates and pricing will be announced by US carriers in coming weeks.
Verizon has revealed that it will light up its mmWave 5G service in New York City in one week, on September 26th. As with all mmWave deployments, it will focus on dense, downtown areas and public spaces, rather than broad citywide coverage. The coverage areas include parts of uptown, midtown, and downtown Manhattan, along with select parts of Brooklyn, the Bronx, and Queens. NYC is Verizon's 11th 5G city. The company has promised to launch 5G in 30 US cities by the end of the year. Verizon's lineup of phones with integrated 5G include the Samsung Galaxy S10 5G, LG V50 ThinQ 5G, and Samsung Galaxy Note10+ 5G.
Qualcomm today revealed an accelerated timeline for bringing integrated 5G to its Snapdragon chips for mid-range phones. An unnamed 7xx-series Snapdragon chip that fully integrates a 5G modem is already sampling to customers such as LG, Motorola, and Nokia / HMD Global (among others), with the chip launching commercially before the end of 2019, and phones using the chip available "soon thereafter". The chip fully supports all mmWave and sub-6 GHz frequency bands for 5G worldwide, as well as both NSA and SA networks, both TDD and FDD modes, and DSS (Dynamic Spectrum Sharing, which allows 5G and 4G to share existing frequency bands). The company also plans to bring 5G to its 6xx-series Snapdragon chips, with devices using those those chips expected to be commercially available in the second half of 2020.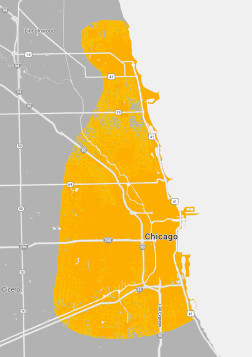 Sprint is launching its 5G network in Chicago this week. Utilizing the company's 2.6 GHz (band 41) spectrum, the network offers better coverage and building penetration than the mmWave 5G networks launched by other companies in Chicago to date. The coverage area reaches from the historic IL-64 in the north to Stevenson Expressway in the south, and as far as California Avenue in the west. It covers 700,000 people. Chicago joins Atlanta, Dallas-Fort Worth, Houston, and Kansas City among Sprint's 5G cities, and the company promises to launch 5G in Los Angeles, New York City, Phoenix, and Washington, DC "in the coming weeks". Sprint customers in Chicago will be able to buy a 5G device starting Friday, July 12th. Sprint currently offers the LG V50 ThinQ 5G and Samsung Galaxy S10 5G.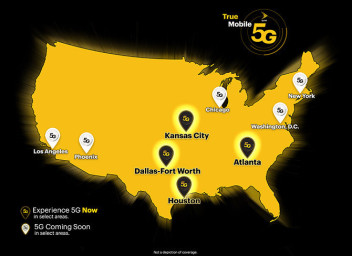 Sprint's 5G network launches tomorrow in Atlanta, Dallas-Fort Worth, Houston, and Kansas City, as previously announced. In the coming weeks, Chicago, Los Angeles, New York City, Phoenix, and Washington, DC will also gain 5G service. At that point, Sprint's 5G network will cover a total of 2,180 square miles and 11.5 million people, the largest 5G coverage area in the US by far. Sprint is using the 2.5 GHz frequency band (band 41) for its initial 5G network, which offers much better coverage and building penetration than the mmWave frequencies that Verizon and AT&T have launched 5G with so far. Sprint also uses band 41 for LTE, and its new Massive MIMO antennas are delivering 4G LTE and 5G NR simultaneously in band 41, with similar coverage for each technology. Sprint's 5G network in Dallas-Fort Worth covers approximately 575 square miles and 1.6 million people. In Houston, Sprint 5G covers approximately 165 square miles and 800,000 people. In Kansas City: 225 square miles and 625,000 people. In Atlanta: 150 square miles and 565,000 people. Sprint's first 5G phone is the LG V50 ThinQ 5G, which goes on sale tomorrow in cities with Sprint 5G service. Sprint will offer the Samsung Galaxy S10 5G later this summer.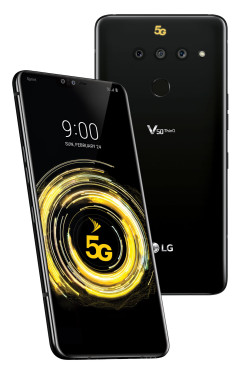 Sprint's first 5G phone — the LG V50 ThinQ 5G — will launch on May 31st. Pre-orders start tomorrow, May 17th, and the company is offering special pre-order pricing on the LG V50: 50% off ($24/month with a "Sprint Flex lease"). The company is also offering a 5G mobile hotspot from HTC. Sprint's initial 5G coverage includes Atlanta, Dallas, Houston, and Kansas City. In "the next few weeks", Sprint will switch on 5G in Chicago, Los Angeles, New York City, Phoenix. and Washington, DC. Sprint's initial 5G network uses band 41, which is near 2500 MHz, offering much better coverage and building penetration than the mmWave bands Verizon and AT&T are using for their initial 5G networks. Sprint is offering a free three-month trial of the Hatch game-streaming service on its 5G phones, including the LG V50.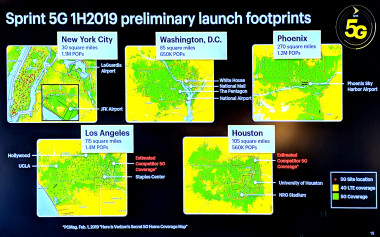 Sprint today released new details of the 5G network it will launch this May and June. Chicago, Atlanta, Dallas, and Kansas City will launch in May, while New York City, Los Angeles, Washington DC, Phoenix, and Houston will launch in June. The NYC, LA, and Phoenix networks will each cover over 1 million people. Los Angeles, Phoenix, Houston, Atlanta, Dallas/Ft. Worth, and Kansas City will all launch with over 100 square miles of 5G coverage, up to 270 square miles for the Phoenix area. The LA network will cover from downtown to the coast, The NYC network will cover most of Manhattan, La Guardia airport, and JFK airport. Ericsson, Nokia, and Samsung are providing the network equipment. Sprint's first 5G phone will be the LG V50 ThinQ, followed by the Samsung Galaxy S10 5G in the summer.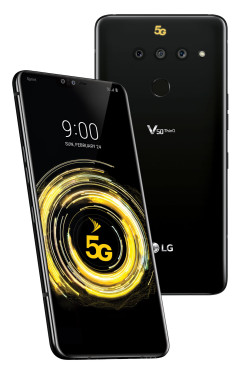 The LG V50 is the same size as last year's V40, but manages to include both 5G and a larger battery. Most other 5G phones this year are noticeably larger than their 4G counterparts. (The V50 is technically 0.7mm taller and 0.4mm thicker (8.3 vs 7.9mm) than the V40, a difference not obvious in person.) The V50's battery rates 4,000 mAh (compared to 3,300 in the V40). The V50 includes three rear cameras (standard, wide, and tele) plus two on the front (standard and wide). Its quad-HD OLED display measures 6.4 inches. A new vapor-chamber cooling system should reduce processor throttling during gaming sessions. Like the smaller G8, it has a Snapdragon 855 processor, 6 GB RAM, 128 GB built-in storage, stereo speakers, IP68 water resistance, fingerprint reader on the back, Quick Charge 3.0, NFC, stereo speakers, and 32-bit Hi-Fi Quad DAC. It has both a memory card slot and 3.5mm audio jack. Sprint will carry the V50 ThinQ first, this spring, followed by Verizon in the summer.
Qualcomm expects to see two major waves of 5G handsets arrive throughout 2019. Speaking at the 4G/5G Summit in Hong Kong, Qualcomm president Cristiano Amon said, based on its viewpoint, there will be an initial set of launches along with the arrival of 5G mobile networks themselves. U.S. carriers are expecting to get their 5G mobile networks up and running during the first six months of 2019, and some may launch during the first quarter. Amon believes a second wave of 5G phones — all flagships — will hit the market in the latter part of the year ahead of the holiday shopping season. OnePlus CEO, Carl Pei, who joined Amon on stage, says his company will have one of the first, if not the actual first, 5G phones to reach consumer hands. Pei noted that OnePlus has already begun conducting 5G tests with partner Qualcomm in San Diego. OnePlus is prepared to launch the OnePlus 6T at an event in New York on October 29. It is likely the 6T's successor that will include 5G. Earlier this year, Sprint claimed it would be the first carrier to launch a 5G handset with partner LG. Given OnePlus' recent tie-up with T-Mobile, it's possible OnePlus' 5G smartphone will operate on T-Mobile's network. Neither Sprint nor T-Mobile has provided a firm 5G launch date for 2019.
AT&T today said it has launched what it calls 5G Evolution in 99 new markets, bringing the total of pre-5G markets to 239. AT&T is on track to reach its goal of 400 markets by the end of the year, and nationwide coverage during the first half of 2019. The company says its 5G Evolution technology — which is not 5G NR — can deliver theoretical speeds up to 400 Mbps to properly equipped phones. AT&T expects to launch true 5G mobile service in a dozen markets by the end of the year, with another seven joining the list in early 2019. Further, AT&T has expanded its LTE-LAA footprint to parts of 20 markets and expects to reach 24 by December. LTE-LAA can push speeds to a theoretical max of 1 Gbps. A handful of phones sold by AT&T are LTE-LAA capable, including the Samsung Galaxy S8, S9, S8+, S9+, Note8, Note9, and S8 Active, as well as the LG V30 and V35, the Motorola Moto Z2 Force Edition, and the Netgear Nighthawk Mobile Router. AT&T's first real 5G NR mobile device will be a mobile hotspot.
Sprint today announced that together with LG it will bring its first 5G mobile phone to market during the first half of 2019. Sprint said the "innovative handset" is being "built for the country's first mobile 5G network." Sprint claims its forthcoming 5G network will allow customers to download full-length HD movies in seconds instead of minutes, and stream graphic-heavy videos and games without delays or lag-time. Specifics concerning the device were not provided. Sprint plans to launch its 5G mobile network in Atlanta, Chicago, Dallas, Houston, Kansas City, Los Angeles, New York City, Phoenix, and Washington, D.C. Sprint says more 5G devices are in development and will be announced over time. All the major carriers are rushing to be first to launch 5G. AT&T expects to offer a 5G mobile hotspot by the end of the year, while Verizon Wireless and Motorola will offer a 5G Moto Mod to the recently-announced Moto Z3 smartphone early next year.
The 3GPP today ratified another piece of the 5G specification, termed the Standalone 5G New Radio, or SA 5G NR. This spec is for 5G networks that are developed on their own, apart from legacy or pre-existing networks. The Non-Standalone portion of the 5G spec was ratified late last year and covers 5G that hooks into existing LTE 4G systems. "The freeze of Standalone 5G NR radio specifications represents a major milestone in the quest of the wireless industry towards realizing the holistic 5G vision," said Balázs Bertényi, chairman of 3GPP RAN. "5G NR Standalone systems not only dramatically increase the mobile broadband speeds and capacity, but also open the door for new industries beyond telecommunications that are looking to revolutionize their ecosystem through 5G." The SA 5G NR and the NSA 5G NR standards will together include the technology used by commercial entities, the air interface, and end users. The spec was approved by more than 600 delegates from the world's leading carrier, handset, and silicon vendors. Some participants included AT&T, DISH, Ericsson, Huawei, Intel, Kyocera, LG, MediaTek, Nokia, Qualcomm, Samsung, SoftBank/Sprint, Sony, Verizon, Xiaomi, and ZTE. The 3GPP said the technical specifications for the ratified SA 5G NR will be published in the days ahead.
AT&T today said it has launched what it calls 5G Evolution in 117 new markets, bringing the total of pre-5G markets to 141. The company says its 5G Evolution technology can deliver theoretical speeds up to 400 Mbps to properly equipped phones. AT&T expects to launch 5G service in in a dozen markets, including Dallas and Waco, Texas, and Atlanta, Ga., by the end of the year. Further, AT&T has expanded its LTE-LAA footprint from three markets to parts of seven markets. LTE-LAA can push speeds to theoretical a max of 1 Gbps. The new LTE-LAA markets are Boston, Sacramento and McAllen, Texas. A handful of phones sold by AT&T are LTE-LAA capable, including the Samsung Galaxy S8, S9, S8+, S9+, Note8, and S8 Active, as well as the LG V30 and Moto Z2 Force Edition. AT&T's LTE-LAA is already available in The Loop in Chicago, Lucas Oil Stadium in Indianapolis, downtown LA, and the business district of San Francisco. AT&T plans to deploy LTE-LAA in at least 24 markets by the end of the year.
Sprint will use its 2.5 GHz spectrum holdings to provide the backbone for its planned 5G network, which is on deck to go live during the first half of 2019. The company is already hard at work on what it calls its Next-Gen Network. Sprint plans to deploy 64T64R Massive MIMO 2.5 GHz radios, which it says will increase capacity by as much as 10 times that of current LTE systems, in addition to boosting data speeds. Massive MIMO will support both LTE and 5G New Radio services at the same time on the same towers. The company is already in the process of upgrading its towers in all three spectrum bands (800 MHz, 1.9 GHz, and 2.5 GHz). It plans to build thousands of new cell cites as part of its densification project, and hopes to deploy up to one million Sprint Magic Boxes. The Sprint Magic Boxes are small cells already being used at 80,000 sites across 200 cities. "We're working with Qualcomm and network and device manufacturers in order to launch the first truly mobile 5G network in the United States by the first half of 2019," said Sprint CEO Marcelo Claure today during the company's quarterly earnings call. Sprint competitors AT&T, T-Mobile, and Verizon Wireless have all committed to launching some form of 5G service later this year, though none has a nationwide footprint on deck for launch. Sprint has 160 MHz of 2.5 GHz spectrum in the top 100 markets around the U.S. Sprint's competitors are eyeing other spectrum bands for their 5G networks. For example, T-Mobile plans to use some of its 600 MHz holdings. Sprint says chipsets and devices are in the works, too. "We have come to an agreement with Qualcomm that they are going to be able to release this toward the later end of 2018, the new chipsets," said Claure. "And we have had a conversation with a leading Korean manufacturer to basically have devices ready by the first half of 2019." LG and Samsung are both based in Korea. Sprint expects to charge more for unlimited 5G service. Claure believes it has more wiggle room with respect to price than its competitors because it currently charges less for unlimited 4G service. In other Sprint news, the company said it added 256,000 postpaid customers during the fourth quarter of 2017, as well as 63,000 prepaid customers.
The European Commission and South Korea today announced plans to together define the future 5G wireless standard, as well as develop the technologies to support it. The two bodies signed a Joint Declaration on Strategic Cooperation in Information Communications Technology (ICT) and 5G to increase the discussions and research around the topic. A wide number of companies will participate, including Alcatel-Lucent, Deutsche Telekom, Ericsson, Nokia, Orange, Telecom Italia, Telenor, and Telefonica from Europe, as well as Samsung, LG, SK Telecom, and others in Korea. One of the key ideas behind 5G is not to just increase speeds, but to significantly boost capacity. Capacity improvements will help the 5G networks of the future handle all the potential devices connecting to them, such as phones, tablets, wearables, vehicles, and the broader Internet of Things. The collaboration has three main goals: First, to develop a broad definition of the key functionalities of 5G and create a time table for its creation by the end of 2015; Second, to kick off joint research in the pursuit of 5G by 2016 in coordination with 3GPP and ITU: and Third, to agree on global radio frequency bands for 5G in order to promote interoperability and roaming between carriers and countries. "5G will become the new lifeblood of the digital economy and digital society once it is established. Both Europe and Korea recognize this," said Neelie Kroes, Vice-President of the European Commission for the Digital Agenda. "This is the first time ever that public authorities have joined together in this way, with the support of private industry, to push forward the process of standardization. Today's declaration signals the our commitment to being global digital leaders." LTE, which is what most 4G networks use, has some room for growth in terms of speeds, but capacity is limited and the potential for global roaming is limited due to the wide number of spectrum bands used by carriers around the world. It is these and other issues that the EU and S. Korea hope to resolve in their pursuit of 5G.