Review: HTC myTouch 4G Slide
Article Comments 9
Jul 28, 2011, 10:06 PM by Eric M. Zeman @zeman_e
The HTC myTouch 4G Slide for T-Mobile boasts a fast and powerful camera, QWERTY keyboard, and a blazing fast dual-core processor. Phone Scoop puts it through its paces in this full report.
AD article continues below...
Form
Is It Your Type?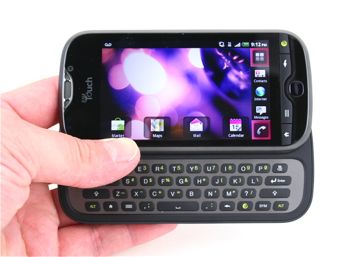 The HTC-made MyTouch 4G Slide is the latest evolution of the myTouch line. Follow the path set by the myTouch 3G and myTouch 3G Slide, the myTouch 4G Slide arrives with a slide-out QWERTY keyboard, as well as significant improvements to the camera. Pair these characteristics with the blazing fast data radio and screaming dual-core performance, and the myTouch 4G Slide might be the answer to your prayers.
Body
The myTouch 4G Slide is a medium-sized phone that favors function over form. Where the slab-style myTouch 4G was a pretty handset with a nice mix of colors, the 4G Slide is chunky due to the sliding keyboard and comes off a bit boring as far as looks go.
The back and sides have a soft-touch finish to them, which lends a bit of grip to the 4G Slide. The tapered sides let the 4G Slide sit deep in the palm of your hand, where it feels comfortable. It is a weighty phone, and though its overall footprint isn't terribly huge, you'll notice it in your pocket when walking about.
The front panel of the 4G Slide is nearly identical to that of its myTouch 4G. Tucked at the very bottom, the 4G Slide has four physical buttons (Home, Menu, Back, and "Genius" — not search). Sort of tucked below and in between these keys is the optical trackpad. The physical controls and trackpad all feel a bit on the plastic-y side for my taste, but they are easy to find and have excellent travel and feedback. The optical trackpad is a bit superfluous given that this is a touch phone. It does come in handy for editing text, when it works. I found it to be a bit inconsistent.
Typical of HTC phones, the volume toggle is placed on the left side of the phone. It's a long, thin sliver of plastic. I would prefer it to have bumps, notches or some other physical indicator to let the user know if their thumb is at the top of the bottom. This key also has minimal feedback. So many HTC phones have terrible volume toggles; I wish the company would improve them. The microUSB port for charging and data transfer is below the volume toggle.
The 4G Slide has a dedicated camera key on the right side of the phone. It's a two-stage key for focusing and activating the shutter. Both stages are well-defined, which makes it easy to take photos. The 3.5mm headset jack is placed on top, as is the power/lock key. The lock key is easy to find with your thumb, and has decent travel and feedback.
The top half of the 4G Slide glides open smoothly. It doesn't have spring assistance, but the action feels really nice. It locks firmly into place.
The keyboard is pretty typical for an HTC phone. It has four rows of flat keys, which are covered in the same soft-touch finish that the battery cover is. The travel and feedback is disappointing, but I suppose it isn't terrible. There's plenty of space around the keys so that you won't accidentally press several at a time. HTC thoughtfully duplicated the Home, Menu, Back and Genius keys at the bottom of the keyboard, and also included must-haves, such as dedicated period, comma, and @ keys. One if the things I like best about HTC keyboards (and this is something HTC has done forever) is that has two small lights that glow when you've hit the ALT or SHIFT keys. This is a nice visual indication that you've pressed them.
In order to access the microSD card, it's necessary to remove the battery cover. Luckily, it pops off easily. The battery itself does not have to be removed to replace the microSD card.
The Three S's
Screen
The myTouch has a 3.7-inch Super LCD display with 800 x 480 pixels. It looks fantastic. It is bright, colorful, and text, and graphics are nearly 100% free of any sort of pixelization. You'd have to break out a magnifying glass to see individual pixels. Indoor viewability is no problem. Outdoors, it dims some, but it's still readable for essential actions such as answering calls.
Signal
The signal indicator on the 4G Slide displayed two or three bars of coverage pretty consistently. Only a couple of times did it swing up to a full five bars or down to just one. No matter what the signal indicator showed, the 4G Slide was still able to access and use T-Mobile's network. Only once did I miss a call because the network couldn't find the phone (or vice versa). The 4G Slide works with T-Mobile's HSPA+ network at 14.4Mbps. It isn't the fastest service available from T-Mobile, but it is certainly fast enough for most situations. Web pages loaded swiftly on a consistent basis.
Sound
The majority of phone calls I placed with the 4G Slide sounded very good. There was often a slight background hiss during calls, but that was the only interference or noise I encountered. The earpiece is quite loud, and will be easy to hear most places you take the 4G Slide. Don't expect to be able to hear your friends while you're at that rock concert this summer, but busy city streets won't be a problem. Call quality through the speakerphone was equally clear, but not nearly loud enough. I had trouble hearing speakerphone calls in my quiet office, let alone somewhere noisy like a loud car. The ringers and alert tones were a bit on the weak side; I would have preferred more volume and strength from both.
Battery
The 4G Slide doesn't offer any pleasant surprises when it comes to battery life. As is typical for a modern smartphone, it lasted just over 24 hours from a full charge to absolutely dead. You can save yourself some battery life if you keep the social networking to a minimum. If you use it more for browsing, messaging, and email, you can squeeze a few more hours of use out of the battery life. Most of the time, you'll still probably need to charge it each night.
Basics
Menus
The 4G Slide skips the full version of HTC's Sense user interface and instead favors a toned-down version that keeps some of the essentials but loses the polish of Sense 3.0.
It ships with five home screen panels, which can all be adjusted in any way that you like with widgets, shortcuts and so on. The home screen panels can spin like they do on Sense phones, and you can pinch any of the home panels to see all five of them at once.
The 4G Slide offers a handful of themes, but they don't do much more than change the colors on some of the menu screens and wallpapers.
There are five permanent app shortcuts in a dock at the bottom of the screen for the phone, messages, browser, contacts, and main app menu. The app menu is a typical grid, with a four-by-four set of 16 apps visible at any one time. The main menu can be sorted into groups, as well as listed alphabetically, and so on.
The settings menus are unaltered from stock Android, and the notification shade offers access to recently-used applications in addition to notifications. It also provides access to the radio controls (Wi-Fi, GPS, Bluetooth, etc.) that other Android phones show.
The 4G Slide also has a "KidZone" setting that can be used by parents to lock down certain functions (such as the phone, email, etc.) so that kids may use the phone safely to play games and not get themselves into trouble prank calling your boss.
Performance is fantastic. With a dual-core 1.2GHz processor working its magic inside the 4G Slide, everything about the phone performed instantaneously.
Calls/Contacts
Calls
The basic calling application works the same as on any other Android phone, though HTC has moved things around a bit. The tabs for sorting through groups of contacts are placed below the dial pad instead of above it. Otherwise, most functions are unaltered.
The 4G Slide also supports T-Mobile's Wi-Fi calling service, which allows customers to make phone calls via their home broadband network.
The 4G Slide carriers over one of my favorite features from the myTouch 4G. Say you dial an area code with the number pad. All the matches in that area code are immediately pulled up into a cover-flow-esque graphic at the top of the screen. You can then swipe left or right through those contact cards to find the right contact/number. It will also tell you how many matches you have for the digits dialed, and preview Facebook profile photos if you've synced a Facebook account. Touch the face of the person you want to call, and the myTouch 4G Slide connects you. Neat.
But who are we kidding, you're not going to do that; you're going to go through your contacts list to find people to call.
Contacts
The contact application behaves similar to the one on HTC's Sense phones, and gets rid of the novel "Faves" feature found on the myTouch 4G. Instead, the 4G Slide takes a more standard approach for managing contacts.
The 4G Slide syncs mail and Facebook databases together and each contact card can include a tome of information about each person. There are some tabs across the bottom that can be used for checking your recent call history, Facebook posts, emails, and text messages to/from the contact being viewer. Reaching out to them in any way requires but the touch of a finger.
Messaging
There is little new to report when it comes to messaging features. The 4G Slide follows the well-worn path pioneered by its Android predecessors. It includes the stock email, Gmail, SMS/MMS, and GTalk applications. These all function as they do on other Android handsets, which is to say well. The Android Gmail application is still one of the best mobile email experiences available on any device. The SMS/MMS app offers threaded conversations, and Google Talk is a snap to use. If you want any other flavor of IM, you'll have to seek it out via the Android Market.
Beyond these basics, the 4G Slide includes HTC's FriendStream software. This is a catch-all social networking application that lets you watch your friends and family's Facebook and Twitter posts scroll by. This type of application is fairly commonplace on Android handsets, and it has a handy home screen widget. This is one app you want to pay attention to, however, if you value battery life.
For whatever reason, the native Facebook and Twitter applications aren't on board, so you have to grab them yourself from the Android Market.
For the Foursquare-averse, Google's Latitude app is on board for location-based social networking.
Lastly, the 4G Slide has Qik for video chatting using the front-facing camera. The latest version of Qik makes some usability and quality improvements, but it is still somewhat clunky. You can have video chats with other platforms (i.e., iOS), but only from Qik user to Qik user.
Extras
Media
Music
I am happy to say that the 4G Slide carries forward one of my favorite features from the myTouch 4G, the Media Room.
Go to the media room, and you have access to your on-board music and video. Additionally, the Media Room software also integrates an FM radio and Slacker Radio into the same media interface. It's a neat way to sort through your various types of content.
HTC has also re-skinned the player itself. When music is playing, rather than a static picture of the album cover with playback controls under it, you can swipe through the songs in the current playlist.
When you press the lock key once, you see the album cover and you have access to the music controls without fully unlocking the phone. This means you can shut off the music player quickly when it needs to be silenced.
There's no way to purchase music directly from the handset, however. You have to download the Amazon MP3 Store yourself. The 4G Slide does include the doubleTwist syncing client, which makes it much easier to manage music between your PC and the phone.
Video
The 4G Slide has a number of video playback options. First, there's the stock YouTube application. Video content that has been captured by the 4G Slide or sideloaded to it is viewed via the Media Room application, which includes a video player.
T-Mobile TV is also included, which offers streamed video content from T-Mobile. This app, which costs $10 per month to subscribe to, includes some live TV channels (mostly news), as well as some reality TV programming. The user interface has received a make-over and its pretty intuitive to use. It's too bad the quality of the video is so crummy.
If you're looking to rent movies, you can do so through the Netflix application, which is also included.
Camera
Camera
The 4G Slide has a powerful camera. It shoots up to 8 megapixels and includes a bevy of new shooting modes that may lead to better results.
Pressing the physical camera button for about one second launches the camera — even when the phone is locked. HTC took a large from Microsoft's playbook it seems. There is a duplicate software shutter button on the right side of the screen, and some quick controls on the left. These let you adjust the different shooting modes (Auto, HDR, Burst-shot, panorama, night, etc.), as well as the flash. You can also switch to the video camera and front-facing camera.
The 4G Slide offers touch to focus, meaning you can touch the object in the viewfinder and it will focus there. In truth, it is focusing constantly. Every time you move the camera, it automatically focuses on whatever is there. This helps the 4G Slide take pictures a lot faster than most other cameras, because chances are what you want to shoot is already in focus.
The shooting modes are really great and can make all the difference if used correctly. The HDR setting, for example, helps balance out light and dark areas in certain settings. The panorama mode is helpful for stitching together wide vistas and landscapes. The burst-shot captures several images in quick succession and is useful at times when there is fast action (such as sports).
The camera also has a full settings menu that can be used to fine-tune all of the camera's settings and features.
When you're ready to take a picture, I'd suggest you use the on-screen button if you're in a hurry. The 4G Slide takes pictures almost instantly. If the subject isn't in focus, it focuses incredibly fast and then shoots the image immediately. I can't think of a camera phone that is faster. The focusing-shooting process happens faster with a touch of the software shutter button. The software reacts just a bit slower when you use the physical shutter release.
The camera software is good, and I like any camera that focuses and shoots quickly.
Gallery
The gallery can be opened from either the camera or the menu, and presents pictures sorted into different albums/categories such as Facebook, Faves, My Albums, and Flickr. In other words, pictures that you've shared to any of those services will be pulled into a separate album for that particular service. It also appears in the main gallery. This is a neat way to help you organize your photos and help you remember what photos you've shared with what services.
There are always some software buttons along the bottom of the screen when viewing images that let you access menu options, share photos, delete them or get back to the camera. This time around, there are more editing functions. Photos can be cropped and rotated, and effects can be applied. None of the editing features lean towards advanced, however, and you'll find no silly frames or text bubbles here.
Photos/Video
Photos
The images I captured with the 4G Slide were very good, but just short of excellent. Colors looked good, white balance was typically spot on, and exposure was perfect in most cases. What is it that bugged me? Focus. I noticed that a lot of images I took were not quite as sharp as they should have been. Bear in mind, I am being really picky here. You don't really notice it until you blow them up big on a computer screen. On the phone, they'll look great, and they are certainly worth sharing.
The extra features work as they are supposed to. See the two white flower shots below. I took the first with the camera set to Auto and the second with it set to HDR. You can see how the detail comes out of the shadows in the HDR shot.
Images were free of grain for the most part, and the dual-LED flash does a great job of lighting things up in dark rooms. You may just get a good shot of your friends at that dinner party.
Video
The 4G Slide captures video up to a full 1080p HD. That's ridiculous. The resulting files are enormous (1 minute = ~100MB), and you can chew through a memory card really, really, fast. It's worth it, though, because the video looks great. I was surprised at how clear everything was in my results. The colors, white balance, and exposure are all accurate, and the sharpness is crazy good.
The videos will definitely be worth sharing — especially on your HDTV.

Browse/Customize
Browser
The 4G Slide pairs HSPA+ at 14.4Mbps with the Android browser and a fast processor and the result is speedy mobile browsing. The 4G Slide's stock Android browser doesn't do any special tricks when compared to other Android handsets, but it sure does load web pages fast.
Customize
Though it is not quite as customizable as a full HTC Sense phone, the 4G Slide still leaves plenty of room for personalization. Five home screen panels means there is plenty of real estate for the average user to place widgets, shortcuts, and so on. It helps that there are a handful of themes, too, though I wish it had come with more stock wallpapers. Android handsets are highly adjustable.
Extras
Bluetooth
The myTouch 4G Slide supports both stereo and mono Bluetooth headsets. I had no trouble pairing with a number of different devices. Sound quality of phone calls through mono headsets was very good. Sound quality through stereo headphones and speakers was also good. I was also able to pair the myTouch 4G Slide with my PC and other phones and pass files back and forth with no problems.
Clock
The clock and weather apps have been really downplayed on the myTouch 4G Slide when compared to other HTC phones. They are there, and can be added/customized as you'd expect, but they aren't front and center out of the box. A number of different clock faces are available, and you can always check the time quickly with a quick press of the lock key. It also has the desk clock app, which can be used when the phone is sitting on a desk or charging at night. It lets you see the time, weather, and a few other bits of data.
Genius Button
Instead of offering Google Search as the native search function, the myTouch 4G Slide carries forward the "Genius Button" concept. Press it, and rather than a simple search box, you get a voice-activated search tool. There are four main categories: Call Someone, Send Message, Search Web, and Find a Business. Basically, the app wants you to say the word "Call", then a contact name. Or say "Send", then a name. Or "Search" for something on the web, etc. Once you get the hang of it, it works OK. I much prefer a regular old Google Search box. Thankfully, you can choose to add the regular Google Search tool to the home page.
GPS
The myTouch has Google Maps preloaded, as is TeleNav. Google Maps with its Navigation feature works just fine for getting around town — or out of town, as the case may be. Google Maps provides a straight-forward version of mapping and navigation. The GPS locked onto satellites quickly, and it was accurate when determining location (especially if you set the phone to get help from wireless networks). The TeleNav software also works well and is better at adjusting to problems encountered along the route, but it costs $10 per month to use.
Video
Here is a video tour of the HTC myTouch 4G Slide. You can watch it here:
Or visit YouTube for more viewing and sharing options.
Wrap-Up
The myTouch 4G Slide adds a whole heck of a lot more than just a slide-out QWERTY keyboard. It may be a bit dull to look at, but it's a powerful mobile device that offers a good range of features.
The keyboard isn't the best I've used, but typists who prefer real buttons to tapping on glass will appreciate the thoughtful design of the 4G Slide's keyboard. Sound quality was good, but if you need a rampagingly loud speakerphone you might need to look for something else. Battery life was acceptable for this class of device.
The 4G Slide could benefit from HTC's Sense user interface, but even without it it has a lot of easy-to-divine features and options. The Android 2.3 Gingerbread system really screams on the 4G Slide with its powerful dual-core processor.
HTC did a great job of endowing the camera with extra features — such as HDR — that have a noticeable impact on image quality. With the excellent feature list and speedy interface, chances are good you'll get the shot you want.
The 4G Slide strikes a good balance. It's not a superphone, but it's no slouch, either. For the text-happy photographer, the myTouch 4G Slide offers all the right touches.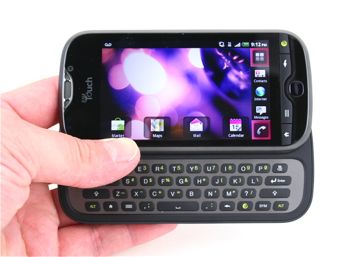 WHICH PROCESOR IS BETTER???
dual-core ARM Cortex-A9 OR SNAPDRAGON 😕
If you have the software to support it, then any dual core processor should be faster than any single core as long as the clock speeds are comparable. If the software can independently access each core, then that is however fast the processor is PER ...
(continues)