Snapdragon 8 Gen 2 Redefines AI in Flagship Phones
Article Comments
Nov 15, 2022, 6:00 PM by Rich Brome @rbrome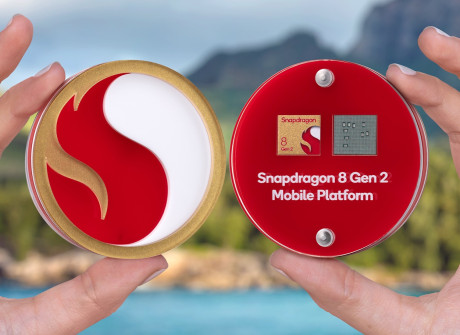 Qualcomm has announced its newest top-end chip, intended to power most flagship-level Android phones in 2023. As expected, the Snapdragon 8 Gen 2 is more powerful and power-efficient across the board (compared to Gen 1), but the most impressive improvements and new features involve AI. The chip also makes several architectural changes compared to previous Snapdragon chips. The new Qualcomm AI Engine doubles the size of the Tensor accelerator and has a new, dedicated power delivery system. It also implements INT4 (a first on mobile), an alternative level of precision for AI math, and Micro-Tile Inferencing. These changes result in an AI performance improvement of up to 4.35x, and up to 60% better power efficiency. A new, direct link between the Hexagon AI cores and the Spectra imaging cores enables features such as a Real-time Semantic Segmentation, where the phone can "see" and understand different parts of a scene in real time, allowing different image enhancements to be applied to faces vs. clothes vs. skies, for example. Qualcomm calls this Cognitive ISP. The Sensing Hub now has two AI processors and more memory, for smarter always-on features. The Kryo CPU cores have been shuffled around. An Arm Cortex-X3 at 3.2 GHz serves as the prime core, but there are now four performance cores and three efficiency cores. The performance cores are split between two Arm A715 and two Arm A710, with the latter optimized for legacy 32-bit apps. Overall, Qualcomm says these new CPU cores are 35% faster and 40% more efficient. On the GPU and gaming side, the new Adreno cores are up to 25% faster and more efficient, and support real-time hardware-accelerated raytracing as well as Unreal Engine 5's Metahumans technology. The X70 modem includes AI technology and supports 4-carrier aggregation for downlink speeds of up to 10 Gbps. The onboard FastConnect 7800 system is the first to support Wi-Fi 7 with High Band Simultaneous Multi-Link (for speeds of up to 5.8 Gbps) and latency below 2ms. Updated Snapdragon Sound now supports Spatial Audio with dynamic head tracking. Latency has also been reduced to 48ms for better gaming audio. The Snapdragon 8 Gen 2 will appear in phones shipping before the end of 2022.
source: Qualcomm
Advertisements article continues below...
The 8 Gen 2 includes OLED Aging Compensation to improve the look of displays as they degrade over time.
Qualcomm has also been working with Samsung and Sony to ensure the 8 Gen 2 is optimized for latest flagship camera sensors, and vice-versa.
Finally, the new chip also also the first from Qualcomm to include the AV1 codec, with support for video playback up to 8K HDR at 60 fps.
Phone makers publicly committed to the Snapdragon 8 Gen 2 so far include Sony, Motorola, and OnePlus.
All of our content related to this week's Snapdragon Summit in Maui is our own, with no editorial input nor oversight by Qualcomm. Qualcomm did provide travel, lodging, and meals for the author to attend the event.
No messages