Review: LG Vortex
Article Comments 3
Dec 8, 2010, 3:05 PM by Philip Berne
The LG Vortex brings the compact LG Optimus family to Verizon Wireless. Is this compact smartphone the black sheep of the flock?
AD article continues below...
Form
Is It Your Type?
Is It Your Type?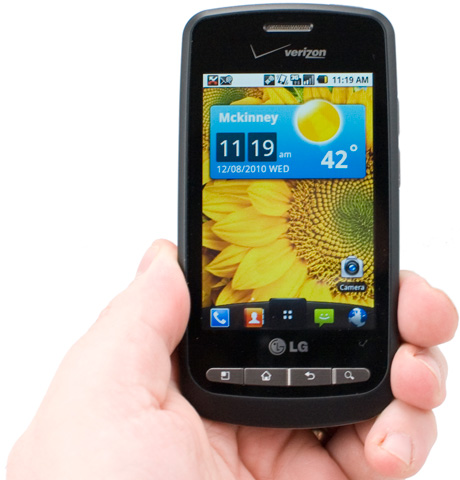 The LG Vortex is Verizon Wireless' version of the LG Optimus, a phone I've reviewed on Sprint and T-Mobile as well. The Vortex, like all the Optimus phones, offers a modern Android 2.2 system in a compact, touchscreen body. It packs all the same features of the other Optimus phones, though it launches at more than twice the price of T-Mobile's version. Is Verizon's LG Vortex worth paying for?
Body
Little changes between the different LG Optimus family models, and the LG Vortex on Verizon Wireless - in its all-black shell - might be the most non-descript and bland phone of the bunch. Verizon loves all-black smartphones, so this design won't stick out on the carrier's lineup. The phone is lightweight and nicely rounded with a slightly grippy soft-touch finish all around. It's easy to hold in the hand and comfortable to slip into a pants pocket.
The basic button layout on the Vortex is unchanged from its cousins. Up front, you have a 3.2-inch touchscreen, with the four familiar Android buttons beneath: Menu, Home, Back and Search. Those are real hardware buttons, not touch controls, clad in metal and slightly raised off the surface of the phone's face. They were a bit stiff, but I prefer stiff hardware buttons to unresponsive touch buttons, given the choice. That screen, on the other hand, was not stiff enough. It's obviously covered in plastic, and there was enough give when I pressed that I considered leaving the phone in the back yard for kids to bounce on.
Up top you'll find the power / screen lock button, and the volume keys are on the right side. All of these are also metallic, part of the band that encircles the phone, and raised just enough to make them easy to find without looking. On the left side you'll find a microSD card slot, hidden beneath a solid cover that feels like it will last the life of this phone. There's a microUSB port on the bottom, and a standard 3.5mm headphone port up top.
The Three S's
Screen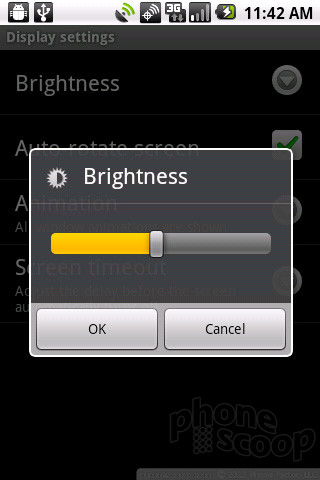 The 3.2-inch, 320 by 480 pixel display on the LG Vortex is not bad, though it won't compete with the much higher resolution displays on other Verizon Wireless Android devices. The screen was colorful and bright, which made it easy to use indoors, and it held enough of its brightness to be useful outside under bright sunlight. Still, text and application icons could look jagged, thanks to the low pixel count. Pictures usually looked fine, unless you hold the phone up close, and then you'll see the screen door effect.
Sound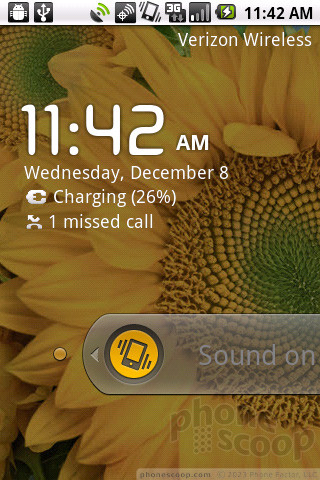 Sound quality on the LG Vortex wasn't great, but it was still usable. I heard plenty of crackling through the phone's earpiece, and voices would occasionally drop out at inopportune moments. This seemed to be more of a problem when the signal was low. On their end, my callers reported a slightly digitized tinge to my voice. The speaker on the phone was quite impressive. It could get very loud. Ringtones were always easy to hear, even with the phone stuffed in a backpack. Speakerphone calls were even better, and I almost never set the speaker to full blast during a call. Even for music playback, the speaker sounded very good. With the sound turned down, though, the phone could still use a stronger vibration.
Signal
Reception on the LG Vortex was pretty good. The phone usually reported a bar or two more signal than other Verizon Wireless phones I have on hand. In practical terms, the phone never seemed to lose a data connection, and I never dropped or missed a call during my test run. When the phone reported low signal, only a single bar, call quality would suffer. But otherwise the phone was very consistent in its performance.
Battery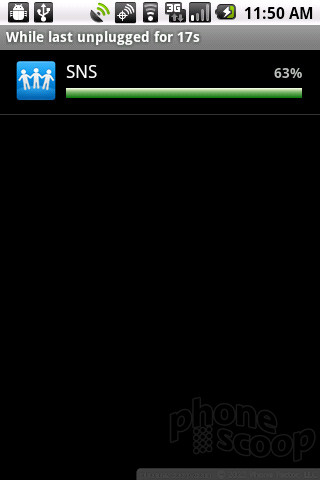 Battery life on the LG Vortex was fine. The phone lasted through a full day of testing, with plenty of calls and Web browsing, but no GPS navigation, which drains the battery much faster. I would suggest charging the phone every night, but if you're only making calls and avoiding excessive data use, you could probably go a couple days between charges.
Touch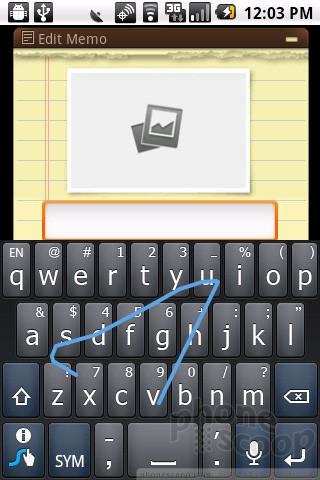 Touch response on the LG Vortex was dreadful. I had similar problems on the LG Optimus T on T-Mobile, but things seemed even worse on the LG Vortex. I'm guessing the cheap, plastic screen is the culprit. The phone often missed taps, especially near the edges of the phone (mostly the right edge, for some reason). This caused problems navigating the homescreen panels, but it was even more trouble when the phone missed letters while I was typing. The phone also registered some gestures incorrectly, which is especially frustrating. I would try to swipe, but the phone thought I was simply tapping on the screen, and it would choose some item from the menu or launch some app as I tried to swipe from screen to screen. These are the sort of problems I would expect from a cheap, resistive touchscreen phone, not an Android device, especially a device on Verizon's pricey lineup.
Basics
Menus
The LG Vortex uses almost the exact same interface design as the LG Optimus T on T-Mobile (Sprint's Optimus S is slightly different with Sprint ID). For the most part, you're looking at a standard Android 2.2 design with some welcome improvements. On the homescreen, you get five icons at the bottom that stick around as you swipe side to side. Those are buttons for the phone, contacts, messaging and the browser.
Pulling down the notification shade reveals a row of settings shortcuts up top, always a welcome addition. With a quick tap you can turn off the sound, or toggle Wi-Fi, Bluetooth, GPS and background sync features. Again, it would be nice if you could customize these, to swap out the background sync for a brightness control toggle, for instance.
The LG Vortex keeps the great Optimus application menu design. You can create subcategories for the app menu, and rearrange the menu to your liking. So, instead of an alphabetized list of all your apps, you could group apps by "social networking" or "multimedia." Whatever you like. You can also uninstall apps directly from the application drawer, which is a very nice and intuitive shortcut that saves some time digging through the settings menus.
There is one significant difference on the LG Vortex. The phone uses Bing for search and maps, and VZ Navigator for turn-by-turn navigation. This seems to be Verizon Wireless' way of punishing phones that are not exclusives to their network, and the experience isn't quite as good as the standard Google Maps and Google Search kit. It isn't bad. Search results were still useful, and the features are nicely integrated into the system, so you can tap on a contact to start navigating, just as you can with Google Maps. But Google search results are still better, with a more refined interface, and voice search features seemed to work better with a regular old Google phone. Both Google Search and Google Maps are available for free from the App Market if you like, but when you hit that Search button, you'll always get Bing.
Calls / Contacts
The calling and contacts experience on the LG Vortex is nearly identical to calling with the LG Optimus T. For a more detailed look, you can check out my full review here. It's mostly standard Android stuff, except that you can ignore a call and send a pre-set SMS message at the same time. When calls come through, you also get a quick look at the last status update posted by that caller, if they are a friend on Facebook or Twitter. Once again, LG's changes are subtle, but useful and welcome.
Skype is preloaded on this phone, and it was easy to set up and use. It does not work like a normal VoIP app, instead it routes calls through a separate phone number and simply gives you the minutes free, if you are making a SkypeIn call, or at a discount for SkypeOut calls. Sound quality on Skype was on par with normal calling, so if you have a Skype account, this is a nice way to save money, especially on international calls.
The contact list is slightly improved from normal Android phones. You get the last status update for each contact just below that person's name in the full contact list. There are also some convenient filter controls to help keep your contacts manageable, like the ability to view only contacts with phone numbers, or only contacts synchronized from certain accounts.
One difference I did encounter came through the Facebook for LG and Twitter for LG apps bundled with the phone. You can use these apps to synchronize your contacts, but the LG-branded apps don't work as well as the official Facebook and Twitter apps, which are still available as free downloads from the App Market. In the official apps, you can choose to sync contacts with folks already on your existing list. On the LG versions, you can pick and choose each contact individually, or synchronize all of them at once, but the apps aren't smart enough to match that information with contacts already in your address book. Best to ignore the LG versions and head to the App Market for the real thing.
Messaging
Basic text messaging and email features on the LG Vortex were identical to the LG Optimus T. The phone uses a standard SMS app, with a threaded, conversational style of messaging. Pictures did not show up in the threaded conversation, though. Instead, you get a link to start a slideshow, even if you just have one picture attached to an MMS messages. Even then, the first half of the slideshow was only a black screen, which was confusing the first time I received a picture.
For email you get the standard Android toolkit, which means there is a Gmail app and a separate email app for every other type of account, including IMAP, POP and Exchange accounts. During setup, for some reason the LG Vortex assigned my Gmail account to both apps. So, when I got a new incoming message, I would get two alerts, one from Gmail and one from the more basic Email app. I was able to delete the account from the Email app, but I'm sure this problem will cause confusion for new users, who might be vexed by double notifications, at best, or might find themselves using the inferior Email app instead of Gmail, at worst.
In addition to Google Talk, the Vortex also gets Verizon Wireless' IM client for AIM, Yahoo and Windows Live. It's nothing to write home about. It's basically the same IM app Verizon has been using since Moses invented instant messaging back in Egypt. But, aging interface aside, it gets the job done if those are your chat networks of choice.
The messaging experience is hurt by the LG Vortex's touch response problems. The phone offers the great Swype keyboard, but Swype requires fast and accurate swiping response, which the Vortex couldn't manage. So, I would start tracing my finger from letter to letter, (which is how Swype works,) but the phone would start recording my trace path late. Or if I typed by tapping, it would miss letters, especially on the periphery. I often had to jab hard at a letter to get it to register, as if this were a resistive screen and not a more sensitive capacitive screen. It was bad enough that I found myself dreading typing long messages. It was even worse when the keyboard would fail while I was entering a hidden password.
Social Networking
I'm not sure why LG bundled its own inferior versions of Facebook and Twitter with the LG Vortex. These apps were not included on other Optimus-family phones, and with good reason. The apps are basically the last generation of the official apps. They look and feel identical to last year's model. Except that they are not quite as responsive, they take longer to load just about every photo and update, and they lack the more intelligent contact sync you'll find in the real thing. The official apps are still available as free downloads from the App Market, but the phone doesn't handle having duplicate apps perfectly. Once I installed the official Facebook app, I got errors from the LG versions, telling me I could only use one Facebook account at a time. This just caused more frustrating delays, but no real errors or other problems. Still, it seems very odd that LG would slap its name on an inferior product and try to preclude users from having a seamless social networking experience. It's made worse that you can't delete these apps from the phone.
Otherwise, social networking worked just fine on this phone. LG includes a useful My Status widget that lets you post a status update to Twitter, Facebook or both at once. It's quick and easy, with no frills attached. The contact list integrates nicely with social networks, displaying recent status updates next to your contacts' names in the long list.
Extras
Music
For the most part, the LG Vortex uses the stock Android music player, exactly as I found on other LG Optimus phones. The phone had no problem finding all of my music tracks on the microSD card. While music is playing, you'll see the current track on the phone's lock screen, but there are no music controls for that screen, you'll have to unlock the phone to control the music. Like with its cousins, the LG Vortex had a speaker that was nice and loud enough to act as a simple music player. It lacked bass and wasn't the best sounding speaker around, but it could certainly fill a small room with music in a pinch.
The Vortex also gets Verizon Wireless' own VZ Music download store. It's one of the most miserable apps you'll find on an Android phone. Even on the best phones, the VZ Music store is unresponsive to touch input, slow to load new pages and counterintuitive to use. On the Vortex, with its touch sensitivity issues, these problems were amplified. The Amazon MP3 store is still available as a free download from the App Market, and it not only does an infinitely better job delivering purchased music over-the-air to your phone, it also sells tracks for half the price.
Camera
Camera
The LG Vortex gets a very nice camera app, the same app I found on the LG Optimus T. There are plenty of onscreen controls, including a small selection of scene modes. It was easy to make some changes quickly, like switching from normal auto focus to macro focus, or face tracking mode. There's even a manual focus mode, which is a rarity on camera phones. Some features, like the panorama stitching, are hidden deeper in the settings menus, but the phone still packs plenty of options, even if some are buried.
Camera performace was on par with other Optimus phones. I wish this phone had a camera button. That would make auto focus faster and more useful with a two-stage button. But tapping the camera app icon on screen brought up the viewfinder quickly and I was ready to start shooting in about 3 seconds. That's fine, but a faster response would keep me from missing more shots.
Image Gallery
As an Android 2.2 phone, the LG Vortex gets the newest, 3D version of the image gallery, with its galleries that lean as you tilt the phone to the right or left. Your images are grouped in stacks by dates or organized in your own custom albums, and you can spread these stacks apart with two fingers to watch the images fly by for a slick preview. You can also see images as a basic thumbnail grid, or view them individually. There are plenty of sharing options, perhaps too many. You can send photos as picture messages or email attachments, or upload them to Picasa or your own favorite site, if there is a supported app available. You also get upload options from the Facebook by LG and Twitter by LG apps, in addition to separate options if you have the official versions of those social networking apps installed. The duplication can be confusing. You can also crop or rotate pics, but that is the extent of image editing on the Vortex.
Image Quality
Photos
After using the great, refined camera app on this phone, it was disappointing to see the resulting images, which were just lousy. Photos I shot with the 3.2-megapixel camera on the LG Vortex were a mess. There were some occasional winners, but most of my pictures were unusable for even social network sharing. Smaller picture messages might be more appropriate.
The lens could not focus properly, which made me miss not having a dedicated two-stage camera button to better aim and control focus. Details were mostly lost, leaving much of the picture fuzzy, especially on subjects that were a deep red. This is a common problem on camera phones. Even outdoors, objects that were in shadows seemed to disappear into the darkness. Bright lighting also blew out the sensor, resulting in shocking white spots or a blue rim around the edges of objects.
With no flash, the LG Vortex had even more problems shooting indoors. Even with plenty of natural light, the camera still produced underexposed images that looked like shots taken in a dark room. With all of my interior lights turned on, my images still looked faded, with a general haze in spots and a lack of detail throughout.
Video
Video quality was just as bad as the still images. The camcorder produced videos with plenty of blocky compression artifacts, which made my videos seem more blurry. The phone also had trouble quickly switching from brightly lit scenes to darker spots. Unless you spot a sasquatch crossing the road in front of you on a bright, sunny day, you'll want to skip shooting videos with this phone.
(video no longer available)
Browse / Customize
Browse
The standard Android browser did a fine job rendering pages on the LG Vortex. The Web connection on this phone wasn't the fastest I've seen, so pages could take some time to load, but it never stalled or stopped loading pages once it started. Swiping through long pages presented a problem on the LG Vortex, as expected. Often the phone would register a tap on a link I happened to brush while swiping. This meant canceling the new page loading and reloading my original starting point, which was very annoying. Even though the Vortex uses Android 2.2, it is not powerful enough to handle Flash, so you won't even find the app available in the App Market.
Customize
Even among Android phones, the LG Vortex does an impressive job offering customization options. Beyond the normal widgets and shortcuts you can add to the homescreen panels, you can also rearrange the application menu to suit your needs, which is a welcome and surprisingly rare feature. You can also add extra panels to your homescreen, jumping from 5 to 7 panels on the fly if you need more space. The phone can handle Live Wallpapers, but the extra processing power required will grind things to a halt. If you're not into Bing for search and maps, you can still download Google Search and Google Maps from the app store.
Extras
Bluetooth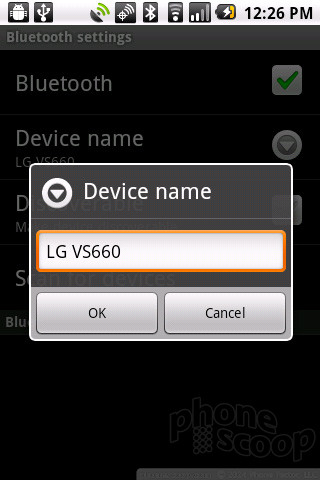 Bluetooth pairing worked just fine on the LG Vortex. I was able to connect with my Bluetooth headset as well as my stereo speakers. Reception through my headset could be spotty, and I encountered plenty of static during calls. Music playback was much better through my speaker system. I was also able to transfer pictures easily to my laptop from the image gallery using Bluetooth.
Clock
The Lg Vortex has a nice big clock on the lock screen, so you can check the time quickly without unlocking the phone. You can place clocks as widgets on the homescreen panels, and LG offers a nice selection of clock designs. There is a clock in the notification bar, and this persists through most apps, though not all of them, so sometimes you'll need to jump back to the homescreen. LG has a nice alarm clock widget, a feature I appreciate since I use my phone as a timer frequently. This eliminated the need to dig through the app menu for the clock app itself.
GPS
VZ Navigator does a fine job handling navigation and some location based services. Though I found the search results from Google Maps to be more current and accurate, there are a few nice extras in VZ Navigator that make it worth keeping. The phone offers a carousel of information on the VZ Navigator home screen. You can quickly check local movie listing, gas prices, special events and concerts in your area, and more. The app did a fine job following me on my trip around the unnamed country roads near my house, and corrected me quickly when I was off course. The navigation interface also looks great, though it does not work with pinch-to-zoom gestures, and it can be difficult to pan around if you want to take a peek at upcoming turns. The biggest problem with VZ Navigator? It costs $10 per month (or as low as $3 if you only want to use it for a single day), while Google Maps, with navigation, is free.
Verizon Extras
There are numerous Verizon apps that you can download from the App Market, but the real attraction will be NFL Mobile. Unfortunately, I did not find the app lived up to its promise. Videos usually refused to load, even if I was just watching simple, short clips. When the video player did work, videos looked choppy and pixelated. It was fine for a quick blast of highlights from time to time, and great for checking stats and other league news, but if you're a real football fanatic, you might want a more powerful device.
The LG Vortex can create a portable Wi-Fi hotspot. Verizon Charges an extra $30 per month to use this feature, though, which is the most you'll pay among the major carriers. Network speeds were not impressive enough to justify this extra expense. If this feature is important to you, you're better off buying a faster Android phone.
There is a bunch of bloat on this phone that cannot be removed. For as long as you own the LG Vortex, you'll have to stare at the demos for Tetris and Scrabble, unless you buy those apps. You can move them to a separate section of the app menu, thanks to the Vortex's customization options, but you can't remove them entirely. Even worse, you can't get rid of the Facebook and Twitter for LG apps. These are sub-par compared to their official counterparts, and having duplicate apps on board clogs up other menus, like the sharing menu in the photo gallery. It would be best if you could simply dump these two unnecessary apps altogether.
Wrap-Up
It's hard to recommend the LG Vortex. The poor touch response made the entire experience a hassle, especially in typing and basic menu navigation. The camera is lousy, and the camcorder videos are unwatchable. The phone is bloated with apps that either clutter the menu or, in the case of LG's puzzling and mediocre Facebook and Twitter options, confuse the user. The Vortex can feel underpowered at times, taking a while to load Web pages or handling the advanced features of Verizon's NFL Mobile app poorly. Bing and VZ Navigator replace the more powerful and familiar Google Search and Maps, though these are still available as downloads. Though LG does offer some customization options and a few useful widgets, the phone is basically a stock Android device with some nice tweaks thrown in.
If you're a Verizon fan looking for an Android phone on a budget, this is still your best option, even while the Vortex launch price is high at $80. You could spend a little more and buy a refurbished HTC Droid Incredible, which is a vastly superior phone, but any new models will cost you almost twice as much (though bargain hunters will find great deals on better Droid phones at Amazon). At the least, this phone is much better than the horrible Motorola Citrus, a cheaper Android phone on Verizon. If you're carrier agnostic and you want to join the LG Optimus family, either the Optimus S or Optimus T would make a better choice. The Optimus S has Sprint's fledgling Sprint ID feature, which can be useful for new smartphone users, and the Optimus T costs much less than the Vortex.
This is the cheapest acceptable Android on Verizon Wireless, but there are better cheap Androids elsewhere, and Verizon's high-end smartphones are so impressive that they completely outshine this dud.
1 Thing thats incorrect with the review
The 3G Mobile Hotspot app is only $20 per month for 2gb not $30 stated in the review.
Again--
--why bother with an Android phone not powerful enough to handle Flash? It's inane.