CES 2006
Intro Part 1 Part 2 Part 3 Part 4 Comments 100+
UTStarcom Moto TXTR Spotwave Wherify
The Spotwave Zen is a solution to indoor coverage issues. Although there have been products like the Zen before, this seems like the first one to be really mass-marketed.
It's designed for situations where you might get only a bar or two of signal outside or on the roof, and none indoors. The Zen will take that weak signal and give you full bars inside. It's also useful for situations where you get service indoors, but only one or two bars. In that case, using a repeater like the Zen will improve both battery life and data speeds.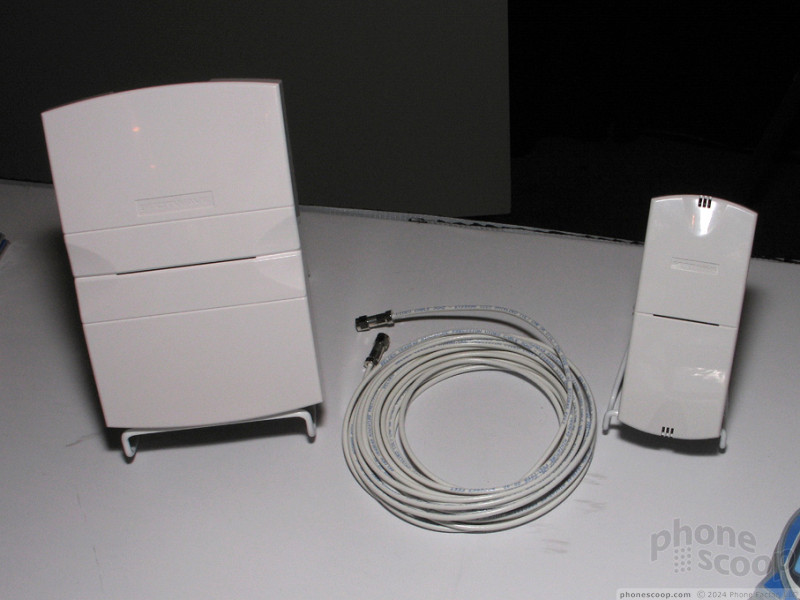 AD article continues below...
The Zen has an antenna that you point in the direction of a tower (the large box) and a smaller box that goes inside and provides indoor coverage. A single thin cable links the two boxes, and power is only needed for the smaller box.
It acts as an intelligent repeater, only boosting power as much as necessary to provide good coverage, so it plays nice with networks, meaning better performance overall.
Unfortunately, it only works on the 1900 band, but it will handle any technology in that band, including GSM, CDMA, WCDMA, and EV-DO.