CES 2006
Intro Part 1 Part 2 Part 3 Part 4 Comments 100+
Cingular 3G ROKR E2 Samsung D807 Samsung T709
As anyone following the industry knows by now, Cingular recently launched their 3G service. In a rare turn of events, a U.S. carrier actually launched a new technology before anyone else. That technology is HSDPA, and Cingular currently has the first and only large-scale deployment of this new WCDMA/UMTS-based 3G technology.
What's available now is just a data card for laptops, but later this month, Cingular will launch its first two WCDMA phones for consumers: the Samsung ZX10 and the LG CU320.
The two phones are fairly similar in terms of features, although the LG CU320 (above) has Bluetooth and tri-band GSM (850/1800/1900). The ZX10 lacks Bluetooth, but does feature quad-band GSM for better global roaming. Both phones have swivel megapixel cameras and a microSD memory card slot. Both phones can also handle simultaneous voice and data connections, which is something that current EV-DO phones for Sprint and Verizon can't do.
The ZX10 and CU320 are the whole lineup for this quarter, but things will take another step forward in the 2nd quarter, when more 3G phones are added to the lineup, including the first models with HSDPA for even faster data rates.
The Samsung ZX20 will be one of the first HSDPA models for Cingular. It looks identical to the ZX10, but adds Bluetooth in addition to HSDPA. In fact, the only way we could tell them apart was to look for Bluetooth in the menus.
Also in the 2nd quarter, Cingular plans to add an HSDPA model from LG, as well as 3G models from Nokia, Motorola, and Sony Ericsson (although none with HSDPA).
The Nokia model is expected to be the recently-announced N80, although it won't be the exact version Nokia announced. Nokia announced the N80 with support for WCDMA 1900, but not WCDMA in the 850 MHz frequency band. That's a problem, because WCDMA 850 is a Cingular requirement. At the moment, Cingular's 3G network is 1900-only, but that will change in a few months as Cingular lights up 3G in more east-coast cities, some of which will be 850-only.
Look for the tweaked N80 (with WCDMA 850 and 1900) in the 2nd quarter. It's not clear if Nokia will tweak the recently-announced 6282 to add WCDMA 850 as well. Apparently there was some confusion between Cingular and Nokia about the WCDMA 850 requirement, but now Cingular spokespeople are making it quite clear that they simply will not offer any 3G phones without WCDMA 850.
Finally, later this year, look for Cingular to offer this data card from Option that supports HSDPA at the full 3.6 Mbps data rate: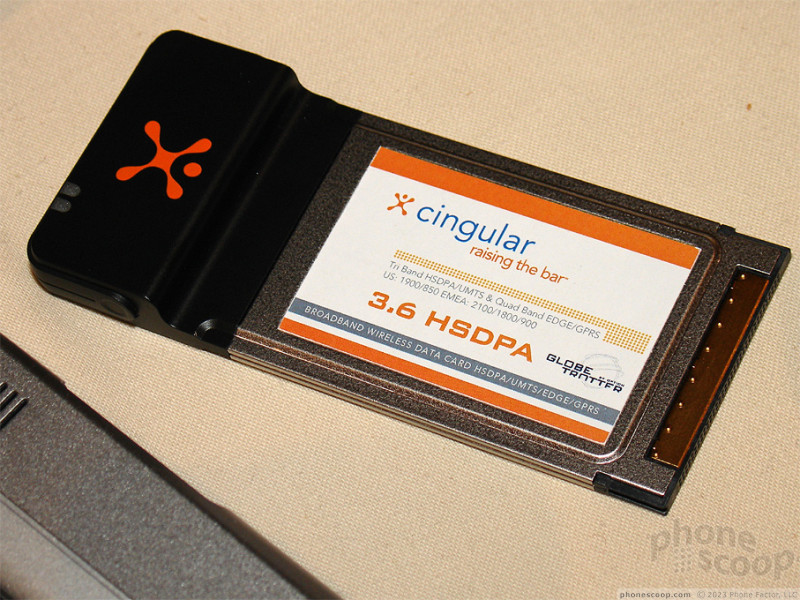 The current cards (and the forthcoming first crop of HSDPA phones) can only do 1.8 Mbps, even though the network supports 3.6 Mbps. This Option card is the same one that recently made headlines for being the first to achieve the 3.6 Mbps rate in tests in France. Cingular is doing a live demo of the same card here at CES, proving that their network already supports the fast rate.
The Option card supports just about every technology and every frequency band you've ever heard of, which is why they call it the "Globe Trotter". It not only does WCDMA and HSDPA in the 850 and 1900 bands for the US, but also in the 2100 band for the rest of the world. It also supports quad-band EDGE and GPRS.
Cingular also showed us a quick demo of "Cingular Video", their video-on-demand service to compete with Verizon's VCast, etc. It's pretty similar, but using Real (RealPlayer, RealVideo, etc.) The interface is pretty straightforward, with a menu tree of available content, and the ability to bookmark favorite TV shows and other content. Videos load relatively quickly, with only a couple seconds of buffering, and playback is fairly smooth and clear for most content, although not perfect. HBO, ABC, and Comedy Central will be among the featured content providers at launch.