CES 2006
Intro Part 1 Part 2 Part 3 Part 4 Comments 100+
LG Pantech 1 Pantech 2 Samsung
Although LG didn't announce any new phones before the show, they were showing off the LX350, a new CDMA clamshell due out on Sprint. Although the 350 is a mid-range phone - it is only 1xRTT data - it is fairly elegant and feature rich. It has a 1.3 megapixel camera, dual color displays and Bluetooth. The version shown at CES even had the DUN profile enabled, which should make power users happy.
LG was showing off a number of their high end Korean phones, but not just to tease us. If things go well, we may see some of these in the States in one form or another before long.
One of the hottest phones LG was showing has been nicknamed the Chocolate Bar by Korean users, who have gone quite gaga for it. It is a sleek looking slider with no obvious buttons other than the D-pad select key when the phone is off, but once on, lights below the surface indicate where touch-sensitive keys are hidden, much like the Olympus m:Robe music players from last year. The phone gets it name from the keypad, which slides out to reveal a grid of square keys much like KDDI's infobar, which also looked more like something from Hershey than your typical phone.
While the current model is a Korea-only CDMA unit, LG is working on a GSM version of this phone for Europe due out late this Spring. There is a possibility that an American version could become available later, however LG has not committed to this yet.
LG was also showing off digital TV phones using a number of different protocols. The phones all have the same basic form factor, differing mostly by TV standard. DVB-H and MediaFLO were represented - both of which will come to the U.S. later this year - as well as Asia's DMB platform.
The phone suffers from some serious design flaws, and will most likely evolve before release - for instance it is impossible to do anything other than answer or end a call without flipping the screen to its horizontal orientation. However flipping the screen is actually pretty cool, as it rotates out from a corner instead of from the center, keeping the display centered.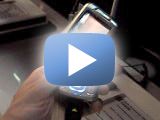 QuickTime format
File size: 747 KB
While the form factor may not be ready for prime time, the services certainly are. Both DVB-H and FLO looked crisp and smooth most the time, (both suffered from some choppiness and pixelation here and there,) and had user friendly program guides.