CES 2006
Intro Part 1 Part 2 Part 3 Part 4 Comments 100+
Cingular 3G ROKR E2 Samsung D807 Samsung T709
The ROKR E2 is Motorola's newest music phone, and their only all-new phone being announced at CES.
The E2 isn't really anything earth-shattering in the world of music phones. There's no hard drive, and it doesn't do over-the-air (OTA) music downloads.
The version announced at the show has iRadio instead of iTunes, although that could be a blessing considering the 100-song limit imposed by Apple on the ROKR E1. However in a press conference Thursday night, Motorola executives mentioned that the ROKR E2 can support a variety of music software, including iTunes. Carriers who offer the E2 will be able to choose the music software they want installed, so carriers that support iTunes (like Cingular) can offer it with iTunes, those who support the new iRadio service can offer the E2 with iRadio, and other carriers can offer it with generic music player software.
There is a lot to like about the E2, such as the easily-accessible, hot-swappable, full-size SD card slot supporting up to 2 GB, and the stereo 3.5 mm headphone jack on the top. It also sports a full set of dedicated music keys on the left side, and a sliding key-lock switch on the other side (can someone please tell me why more phones don't have that?)
Looking past the music aspects, the E2 is an all-around decent phone. (That's a relief after the E1, which had badly dated specs when it launched.) The E2 uses Motorola's new Linux-based platform. The specs include a nice QVGA display, a 1.3 megapixel camera*, and Bluetooth (supporting stereo, of course.)
The E2 is also a nice size, and has a nice, solid, comfortable feel to it.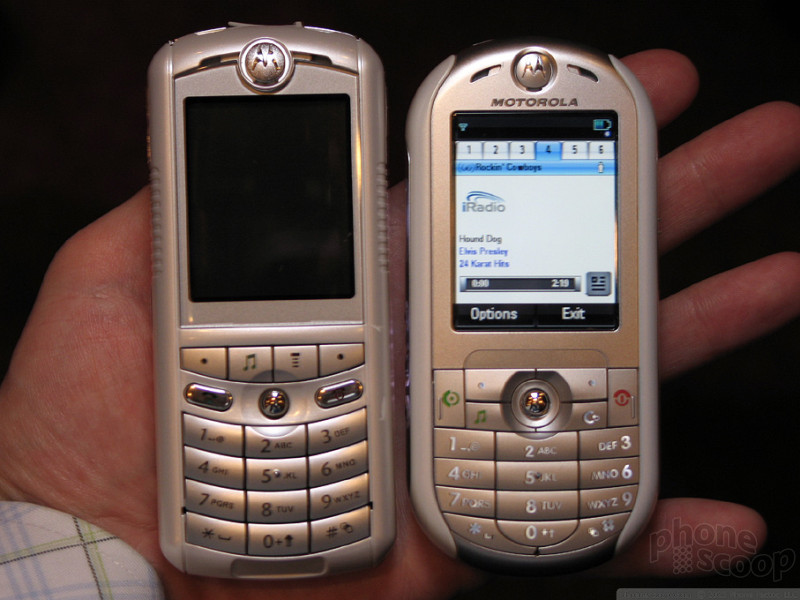 ROKR E1 vs E2
I think it's fair to say that the E2 is what the E1 should have been. If Motorola had made this the first ROKR, they probably could have avoided all the bad press that followed the first ROKR launch.
There are two colors that will be available, depending on region and channel: a silver/white one, and black:
The ROKR E2 is expected to be available in the first quarter of this year.